Are you looking for an Affiliate Marketing Training Program? Well, I've got you covered in this post, writing about Affilorama.
Most people jump into Affiliate Marketing without proper training and when they don't make money after a few months, it begins to appear like it's not working. This free professional Affiliate Marketing training will get you established and comfortable online.
Affiliate marketing is a simple activity on the Internet where you promote and sell others products and be paid a commission. It's by far the highest way to make money online even without a product or website of your own.
Affiliate marketing is capable of turning your life completely from a poor no-body to full blown moneybag. All you have to do is learn the system and do it rightly.
I have been doing affiliate marketing for some years now and making cool money from it. Recently, I came across an exceptionally good training program with 100+ free lessons. The best part is this is free. Affilorama.com gives you free and unlimited access to over 85 video tutorials with PDF lesson notes.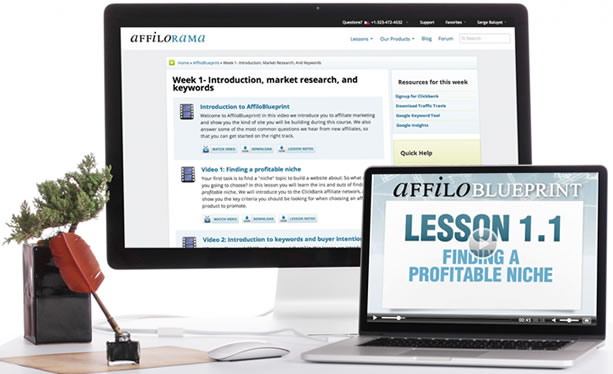 Affilorama's Affiliate Marketing Training Program – What's inside you you
What do you get when you sign up to Affilorama's free training program?
Lesson 1:

How Does Affiliate Marketing Work?
In this lesson you get the no-hype low-down on how affiliate marketing works, 6 great reasons to be an affiliate marketer, how much money you can make and how you can get started today.
Lesson 2:

Market Research for Affiliate Marketers
This lesson shows you how to properly research a market before you sink time (and maybe money) into creating campaigns. This will save you a lot of time, money and heartache in the long run. And it can help you find profitable markets that you wouldn't have known about!
Lesson 3:

  Pay per Click
Pay-per-click (or PPC for short) is one of the major methods affiliates can use to get traffic to their websites but do you know how to go about it and not waste money? Why not take this excellent free training program?
Lesson 4:

Site Building
As an affiliate, chances are you'll end up building a website or two. This section covers aspects of site building from purchasing your first domain and uploading your website, all the way through to creating 301 redirects in your htaccess.
Lesson 4:

Marketing Ideas
In this lesson of this affiliate marketing training program, you'll find a bunch of suggestions for thinking "outside the box" in your affiliate campaigns. If you've whacked up a website and peppered it with affiliate links and you're not sure where to go next… take a look at some of this lesson.
Lesson 5:

Content Creation
Want content for your website (blog), viral e-book or newsletter? This section is all about how to create content, how to get it created for you and how to write headlines that drive your sales through the roof.
Lesseon 6:

Guruviews
In this section, you meet some of the biggest names in affiliate marketing! These interviews give you an insight into the minds of some of the most successful people on the internet.
This free training program is a set of over 85 videos and pdf to hold your hand, step-by-step till you start making money as an affiliate.
You need tools and resources to build a successful affiliate marketing business. That brings us to Affilorama Premium
Affilorama Premium – More inside for Affiliate Marketing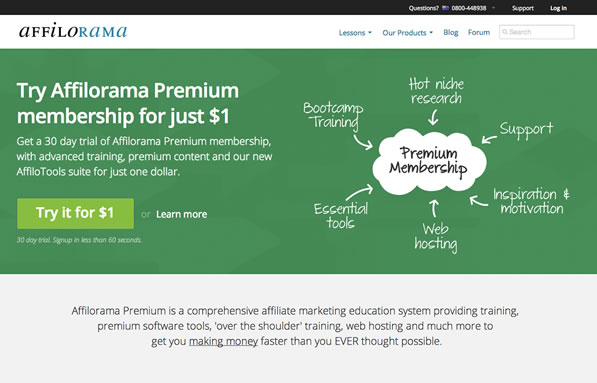 With the free training program I mentioned above, you are on for a good walk into affiliate marketing. However, you need premium tools and more resources.  Now, rather than having to pay high at different places to get domain names, web hosting, keyword research tools, link tracking tools, PPC tool, etc, all of these things have been bundle in one place for the price of one. That's exceptionally more profitable. So what's in  affilorama premium?
Affilorama Premium Resources
It combines vital marketing software suites into one. It saves you from having to purchase these individually, and it saves your time by having it in one place. So what do you get?
A range of internet marketing tools that pulls data from MOZ, SEM Rush, Twitter, Facebook, Google Analytics, Bing, ClickBank, enom and Namecheap
A backlink checker that uncovers the backlinks from a website
A high-PR link finding tool to uncover new linking partners.
A website health checker, monitoring on-page SEO errors, page speed, pages indexed and page errors.
Keyword research tool to find new PPC keywords previously missed.
Domain research tool to find related available domains.
A social media tool letting you monitor and update Facebook and Twitter from one place.
A search engine ranking monitor for Google and Bing (including regional variations).
New, updated training each month that keeps you updated with Mark Ling's latest tips, tricks and methods.
A 'blog bootcamp' video series. In 4 over-the-shoulder videos, it shows Mark Ling creating a video from scratch – and then shows the results he achieved.
Access to hundreds of PLR articles in numerous niches, updated monthly.
Website hosting for up to 15 websites for a year.
Are you making enough money with Affiliate marketing? Have you checked out these free lessons?
Thanks for reading and taking an action.