Coming shortly after Thanksgiving, Designhill is thinking of  its customers and readers of EnstineMuki.com
Designhill is one of the most outstanding Artificial Intelligence Logo creation platform and tools. I did a designhill review here so you may want to read more about it.
I had a chat with them and we concluded to do a giveaway for you (my valued readers) to stand a chance of walking away with some awesome gifts.
In this Giveaway, we are going to pick three winners:
First Price: Premium Licence worth $65 + $50 cash sent to Paypal.
Second Price: Premium Licence worth $65 + $20 cash sent to Paypal.
Third Price: Premium Licence worth $65 + $10 cash sent to Paypal.
How to participate
Participation is very simple!
[thrive_link color='blue' link='https://enstinemuki.com/giveaways/designhill-contest/' target='_blank' size='big' align='aligncenter']First, go to the contest page here[/thrive_link]
Read the description and move to step 1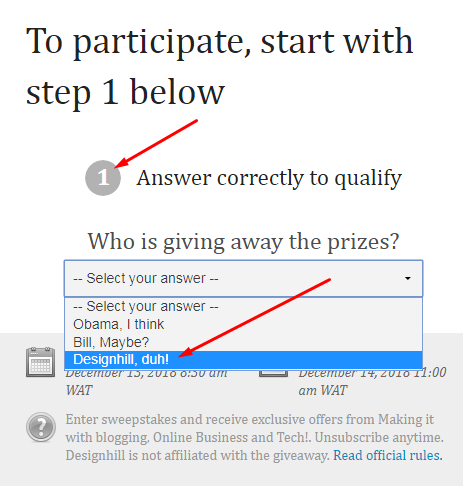 Now, answer the question correctly and of course the right answer is Designhill, duh.
Note that this is not  meant to fail any participant. It's just to stop bots from taking part.
Fill the short form (just your name and email) and you are in. No complications at all.
Confirm your entry
A validation email will be sent to you to confirm your entry.
Click the link in the mail to confirm your entry. Without this, the system will exclude you from the list of participants.
How to add to your chances of winning
You can actually walk your way to position 1 in this giveaway by sharing and earning more points.
Once you validate your entry, a unique link will be generated for you and you will be giving the tools to share your link on social media: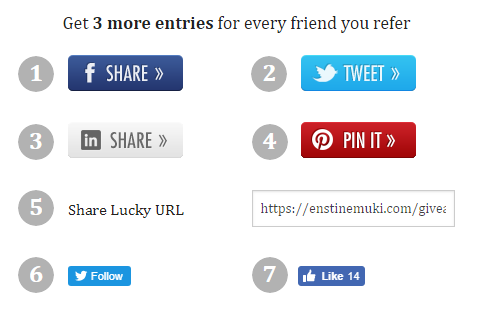 Share your link with your friends (But do not spam), send to your list or create a blog post about it. Send more people to the contest URL. The more you add to the contest, the more your points and the more your chances to win.
Each new entry you bring in adds 3 points to your entry. The Giveaway app will pick the 3 winners giving priority to participants with more points.
You may also want to drop a comment below and let me know your thoughts