21
How to Create Content Upgrades with Thrive Content Builder!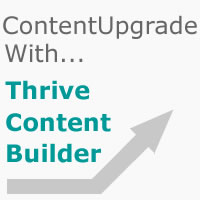 We've all be made to believe that the only way to easily create content upgrades is to buy some dedicated plugins. That's not true! Thrive Leads is a powerful list building tool. But in this post, I'll show you how to create high converting content upgrade with Thrive Content Builder.
NB: Thrive Lead and Thrive Content Builder are two different plugins by the same company!
If you don't have a copy of Thrive Content Builder, you can get one here. The reason is that this will allow you create animated, eye-candy, stunning and sticky blog posts.
More...
In addition, you are going to have to remove many other plugins from your blog because Thrive Builder is a bunch of functions​ that do the same things over 10 different plugins can do.
How to Create Content Upgrades with Thrive Content Builder!
Content Upgrades is one of the most powerful list building methods out there. Thrive Content Builder makes this incredible method more easy for us and more accessible to use.
Content Upgrades is simply a situation where you make post-specific opt-in offer. This is not a generic offer but something that specifically extends the purpose of a post and that is made just for the post.
How to Create Content Upgrades with Thrive Content Builder and remove 10+ additional plugins from your blog!
​Here is a quick sample:
You write a blog post teaching your readers different methods to make their first $5000 a month and In the content upgrade, you write an ebook in which you give details (including tools, products, traffic,etc) how you made your own first $5000/month.
I'm very certain a majority of those who read that post will be interested in knowing exactly your own practical steps in making your first $5000/mo.​
The idea is simple....
Make people see phase 1 of something. But for them to access phase 2 (or phase 1 in a different format), they should submit their emails.​
What do I mean by phase 1 in a different format?​
Sometimes you may have a long blog post and you want to have a pdf version of it as an upgraded content. It could also be a video or podcast version so some readers may want to get the same post but in another format.
Thrive Content Builder makes it very simple to deal with this. So let's see how:
​
GET YOUR HTML FORM CODE READY
First, you have to create your signup form with your email marketing platform (AWeber, MailChimp, GetResponse, iContact, etc) and get the subscription form's html code ready.
CREATE THRIVE CONTENT LIGHTBOX
The next step will be to return to your WordPress dashboard and create a lightbox using thrive content builder. This is quite simple so just follow steps below
Go to Thrive Lightboxes and click Add New!
Then your next window will look something like this:​
Now, there are three things you are going to do here;
1 - Enter the title of the light box. This is for internal use only. You'll see it at work as you continue reading
2 - Click "Publish" to save and activate the light box. Don't be afraid. It's not going to be added to your list of blog posts or pages​.
3 - Click "Edit with Thrive Content Builder" to start adding flesh to your lightbox​
Once you click to edit the lightbox, your next Window should look something like this:
Now, this is just the skeleton. What we'll do now is to add the form and some text. So drag and drop the Lead Generation object from the Content Builder Tool bar. Follow the red arrow.
After dropping the Lead Generation element, this will create your form with two form fields and the submit button. ​
The next step will be to add some text to the form and make it more beautiful. You have the Paragraph/Text Element tool on the Tool bar. See it as indicated by the arrow in the image.
Drag and drop above the form fields within the white space.​ This will allow you type some text (Heading) on the form. See my example below:
There are a couple of things I have done here and I want to explain:
1 - I added a text box where I entered this title and made it bigger and bolder. Note that you can play with text the way that fits you
2 - I added another text box where I typed the short description
3 - I changed my form display from vertical to horizontal. Once you click on the form with the left mouse button, you see tons of options.​
4 - I added another text box where I typed another text. This is purely optional.
Note that you can add images, videos, etc by dragging and dropping the elements from the tool bar​
ADD THE HTML FORM SCRIPT TO THE LIGHT BOX
Now we have our light box created. Let's add the html form we got from our email marketing platform above (in step 1)
Now, click on the form with the left mouse button.
This will pop up a toolbar window. See image below:
Here, there are tons of options to control and design your form. If you click "Horizontal", (In my case) you will have the option to change your form back to vertical.
But we are more concerned here about connecting our form to our email service through the HTML form code generated. So click Connect with Service as indicated by the arrow​.
If you've not connected any service, this is the window you are going to see:​
Just click on the "Create a new Connection" button to move to the next step. On the next Window, select "HTML Form code" from the select list and click to the next step.
On the next screen, you are certainly going to see a large box where you should insert your HTML form code copied from your email marketing platform.
Just paste the code in the form field and click to generate fields​
Perfect!
Now, what comes up is even more interesting. The form building wizard will scan through your HTML form code and identify your text form fields. You will see them lined up with different settings options: ​
Take note that your field properties may be completely different from mine. The Name and Email fields should be properly named and marked as required.
If you want more beauty and professionalism, check the options to add icons and pick relevant icons from the library​.
​Once this is done, click 'Save'
Now this is what my lightbox looks like after going through this process​:
Have you noticed any difference now?
Ok!
The red arrows show the field labeling while the green arrows show the icons. Looks great right?
Ok let's test it. Click here to see how it pops up!​
ATTACH THE LIGHTBOX TO ANY LINK OR IMAGE
Now, we've done three things already:
Generated our HTML form code from email marketing platform
Created out lightbox
Attached the form from email platform to the new lightbox. So each time the lightbox is called, it will load the actual form from the newsletter platform
The next step is very simple but crucial. We are going to attach the lightbox to a click event on text. That is, if a reader clicks the text, the light box should beautifully show up.
Did you click above to see how it works?​ Click here again to see it
Remember we are working on how to create content upgrade with Thrive content builder.
Now, we are able to just add a text link anywhere in the content and link it to the light box or actually create a call to action box that shows the value of the offer. Here is a simple Content Upgrades Call to action:
So how do we attach the light box to a link?
First, select the text you want to link the lightbox to and use the hashtag as the value of your href attribute.Then click "INSERT"
Once the link has been applied to the text, click it. This will popup the tool box, this time with the Event Manager activated.
NB: The Event Manager can only be seen on objects or active links. Selecting raw text will not enable it​
You notice from this image above that the Event Manager is active. See the arrow.
So let's click on the Event Manager button!​
And this is what you see next so click the green button to add the trigger to the click event
On the next window, we will select the Open Thrive Lightbox option from the list of actions.
This will take us to the next Window where we have a list of lightboxes we have created, including the one we just created above:
Now, select the light box from the list. Just below it is an option to animate it. Try around and get something that's good for you. Then click to save the event.
Complete!
Click the 'Close' button and make sure you save changes before previewing to see the created content upgrade at work​.
Pretty simple to create content upgrades with Thrive Content Builder right?.
So here is a recap of the steps we've just taken​ to create contentupgrades with Thrive Content Builder!
We've got the HTML form code from the email marketing platform.
We've created our lightbox and linked it up to the email platform through the HTML form code.
Finally, we've been able to tie the lightbox to a hyperlink. So each time the link is clicked, the box will nicely show up.
So that's just how simple it is to create contentupgrades with thrive content builder. Like I mentioned earlier, you don't need another plugin for this. Once you have thrive content builder, you have tons of things to do without need for additional plugins (with this risk involved)
So please let me know what you think. Drop a comment below!​