25
How to boost revenue by 50 – 100 % with Ezoic Google Certified Publishing Partner!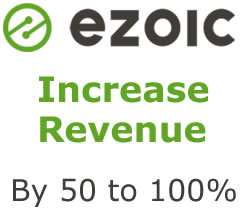 Generating income online these days is increasingly becoming difficult. Traditional money making methods are more and more becoming a disappointment. But there is still a growing need to make that money. That's why Ezoic, a Google Certified Publishing Partner is here to help online entrepeneurs scientifically analyze, test and improve their sites.
With myriads of Ad Networks jumping on the scene every single moment, we constantly get overwhelmed and often confused. There is need for some intelligent tool to get all put together in one place for improved performance.
More...
Whether you are selling direct ads or running ads from networks like Google Adsense, Outbrain, OpenX, Tabools, Criteo, Media.NET, Infolinks, etc, you agree with me that the pain to manage your business at this time is immeasurable.
So how does Ezoic help?​
​Ezoic helps you increase your revenue 50% to 100% by utilizing its inbuilt advanced ad tester tool to find the best ad locations,sizes and colors for your properties.
And there is more to that...​
If you've been working with ads from different networks, you certainly have understood how enormous and head-aching it goes trying to test to find out which network performs best, which position should I fit what, which color goes where and which size to use.
These unfortunately are unavoidable exercises you need to perform frequently to grow your business and maximize profit.​
But you need a tool that's certified to lift the load off your back, do the complete testing job, choose for you which network performs best for your audience, increase your revenue while you focus on other areas to grow your business.
Ezoic Website Performance improvement platform
Maximize your website's revenue without negatively affecting your users. Most sites see revenue increases of 50 - 200%!
---
4 SIMPLE STEPS TO GET STARTED
---
Integrate your site
Setup Ad Testing
Apply for Google Ad Exchange
Turn on the system
Once you add your site to the platform, you should see the Integrate Your Site link​;
Clicking this link takes you to the next page where you are presented with two options to activate Ezoic on your site.
You take any of the integration methods. But I think the CDN methods adds some more security to your site. If you ain't on any CDN, this will be highly recommended.
NB: Check this post where I shared how a CDN network helped kick over 500 attacks away from my blog in 24 hours​.
If you have any difficulties at this level, it will be good thing to contact the Ezoic help team. They are often very available and answer so quick.​
Once you have your site well integrated, you should return to dashboard and click "Setup Ad Testing" This step will allow you place Ezoic ad units on your properties.
On the page that follows, just click "Continue to step 2"​
Ezoic intelligence will now scan your site to locate ad codes from different Ad Networks. After running this on my blog, here is what I found:
The Google ad code was found at the bottom of the content zone on my blog. There are a couple of other elements you are going to see on this page. These essentially are;
The devices to display this ad
The different sizes to choose from
Once you are through with these settings, click "Convert Ad". Don't panic! This will not send any signals to your website.
What Ezoic does is just generate a new piece of code for you to replace the old code on your website. Here is what it looks like: ​
What you do now is just copy the new code over to your blog. If you have an ad management plugin, you should still be fine with it.
You should repeat this process to generate and replace different ad codes on your blog.​
If Ezoic scans your site and finds some ad code you would like to maintain, just click the "Skip" button​:
Wrapping Your Ads
---
If you are not comfortable with completely replacing your ad network code, Ezoic allows you to maintain it and still have your site optimized using their code wrapping feature.
For complete, step-by-step instructions on how to wrap your ad code, check out this post on Ezoic blog​
Is Ezoic Mobile Friendly?
It is absolutely a terrible thing for any online business to pay less attention to mobile friendliness in today's world where mobile technology is setting the pace.
As a matter of face, more of my traffic comes from mobile visitors so I won't dare to mention something that's not a perfect fit here.​
Besides, while almost everyone is carrying some sort of a smartphone connected to the Internet, Google is hitting badly hard on websites that are not responsive.​
Ezoic understood this earlier and created a platform that does not mess up your website on mobile devices​.
​
Ezoic automatically creates tablet and mobile versions of your site.​ According to stats:
The average Ezoic mobile site earns 2.6x more from mobile visitors.
Visitors are 79% more likely to stay on Ezoic mobile sites.
Users spend 45% more time on Ezoic mobile sites
3 REASONS TO TRY EZOIC RIGHT NOW!
---
Being a Google Certified Publishing Partner, Ezoic has access to the

Google Ad Exchange

as well as

premium CPM

advertisers that most competing platforms don't
Ezoic is in partnership with more than 100 other premium ad companies such as Outbrain, OpenX, Tabools, Criteo, Media.NET, Infolinks and more. These all compete for your inventory automatically.
The highly advanced machine learning ad system will manage bid floors, network competition and

header bidding

for you automatically
IMPROVE YOUR WEBSITE...
Get your website performance boosted...