35
Corinne Kerston ~ The blogger to connect with this week!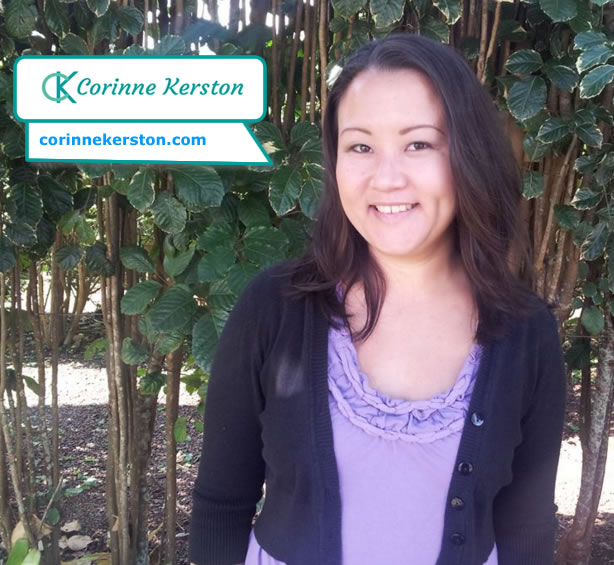 Hey! We are here again to meet someone worth connecting with. As you know, this Thursday series is waxing strong here on my blog. I love the people in my community so I'll keep talking about them 😉
Last week, it was Jasper from Netherlands. Of course, before him, there were many others you can find here.​
As the journey continues with much more excitement, we are flying to Hawaii, where we shall meet an interesting blogger and writer.​
More...
Corinne Kerston
Corinne was born and raised in Hawaii; in fact she's never lived anywhere else. She lives with her husband and two young children who do their best to drive her insane. She enjoys walking, yoga and caffeine (because caffeine is a hobby, right?)
Corinne got into blogging in an unconventional way. Pregnant with her second child, she knew she wanted to leave her job in finance and stay home with her children. But she had no idea how or what to do.
She started looking into work at home options, like transcription. By luck, she met a freelance writer on a parenting forum, and she had what she calls her "aha!" moment. Corinne had always loved writing, she grew up writing stories and poems for fun (yes, she was that kind of kid). She also earned her Bachelor's degree in English, though somehow ended up in finance. Freelance writing was a perfect solution!
Slowly But Surely
Corinne started her writing career like many others back then, on content mills. The money was slow, but it was coming in. She wrote on just about anything, not really finding a niche.
At that time, she also worked on her own website and blog, used primarily to attract potential clients. But something clicked. She found herself wanting to learn more and more about blogging and online business. She started devouring information and taking courses. She found a niche she was really interested in.​
Blogging – The Dark Years
For next few years, Corinne floundered. She started (and failed at) a couple of other niche blogs that never really got off the ground. Throughout it all, she did freelance blog work, but her passion was in blogging. She wanted what others had. She tried to follow the advice of successful bloggers and took the online courses, trying to recreate the success others had.
Unfortunately, what works for one person isn't always going to work for another. Maybe it's a niche thing, or an audience thing. Or more likely, maybe it's a personality thing. But she just couldn't find her own way online.​
Finally, It Clicks
After years (5 years in total!) of struggling, seeing low traffic and making little to no money with her blog, Corinne grew tired of wasting time and money. She grew fed up with not being about to figure out how to make it in the online world.
Luckily, it finally clicked.
In late 2015, Corinne started focusing on methods that work for her. Things that she was comfortable doing and marketing tactics that she enjoyed.
What did she do?
She focused on relationships. She realized that the best jobs and opportunities she had been getting had all come from meeting people online. She started commenting more and doing expert roundup posts like this one.
But even more important, Corinne realized that connecting was something she enjoyed. And it was something that worked!
Through building relationships and blogger outreach, Corinne connected with well-known bloggers like Sue Anne Dunlevie, Adrienne Smith, etc. Blogging friends who are always ready to return a comment or even share a post.
Moving Forward
Through tons of trial and error, Corinne managed to find tactics for growing her blog that worked for her. And she learned a lot along the way.
​This year, Corinne is focusing on continuing to grow her blog, but also on helping others find their freedom from all that trial and error. Her goal is to help others get over the frustration of not knowing what to do, and help them find their own best strategies for growth.
A GIFT FROM CORINNE
Corinne has a free "Grow Your Blog" 12-month printable planner for you because you are my readers. Use it to track your focus for the month, big goals for the year, revenue, traffic and more. It's what Corinne uses to plan her big launching and track her monthly traffic and income. Get it here
She also has a new course coming soon. If you really want to make the connections that will help you grow your blog and get traffic the smart way, get on her waiting list now​
She will be announcing the launch of the beta run for the course soon, at a very discounted rate. Get the details here.
Not keen on courses and want something truly customized to you and your blog? She also offers one-on-one consulting. Get a free 30-minute discovery call to see if she's right for your needs by going here.