CommentLuv Premium discount code 25% off single and unlimited sites licenses: ENS25OFF
Hi everyone, this is some good news for those of you who still were planning to buy CommentLuv Premium to speed up your blog's growth.
I spoke with Andy, the plugin developer and he was kind enough to generate a special discount code for my readers.
This will chop 25% off both single and unlimited sites licenses. But you have to act fast and take advantage of this special price before the end of August.
NB: This is time sensitive promotion.  If you are new to commentLuv, it's the most engaging WordPress/Blogger commenting plugin that has even been. It has engagement, traffic, Social Media and SEO benefits all bundled in one plugin.
NB: Most of you have asked me how to set commentluv up in Blogger. My friend Ayesha Anwar has written a post with details how to go about this. Check out the post here!
There are 5 functions in this plugin;
CommentLuv Premium itself.
G.A.S.P. premium – Fight spam and keep them away from your blog.
KeywordName – SEO benefits for commentators.
TwitterLink – Social media benefits for commentators.
ReplyMe – Magic tweak to keep your visitors coming back.
Some of you are still hanging on the fence! It's time to jump to the positive camp and meet the pros.
You want your blog to grow right? You have to invest in acquiring the right tools. I have written in this post how this plugin can help you get dofollow backlinks. Check out the post and pay attention to the growing comments.
That's just part of it!
CommentLuv Pulls traffic!
A lot of people search for commentluv enabled blogs. Others create contents listing commentluv blogs. If you have this plugin, you get traffic from bloggers who are interested in interacting with you – because your blog has the plugin.
Commentluv hidden gem!
There is something precious about this plugin that most users don't even know. This is the favorite post feature. When a post is set as 'favorite', it shows up on the list of your articles on other commentluv blogs each time you want to drop a comment.

Here is my idea…
Create a hot money making blog post.
Set the post as favorite in CommentLuv.
Comment on other CommentLuv blogs and link to the favorite post.
If you are accepting advertisements on your blog, create the famous '

advertise here

' page and set it as favorite.
Link to it on other pages and pull traffic to it.
When you link to your favorite posts from other blogs, you get 2 things;
Direct traffic.
SERP position improvements.
These are hot money making tips I'm giving you here but unfortunately, you don't have the right tools. Grab your copy of commentLuv now!
Apply the commentluv premium discount code!
Go to the sales page here and select your package. Note that this discount code applies to all those packages. I however recommend the Unlimited Sites version. With this, you can use the plugin as many blogs you own  as possible.
Click on "Add to Cart"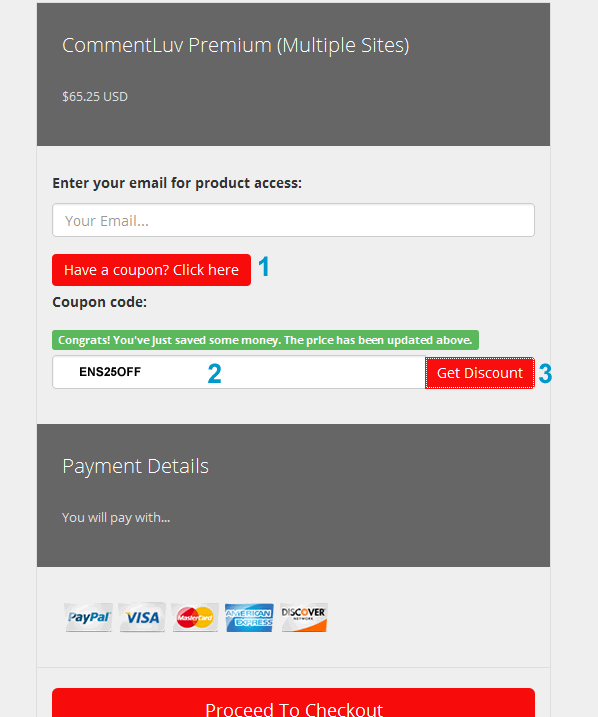 On the order page, click "Hava a coupon code? Click here" This will show up to coupon code field.
Enter the coupon code ENS25OFF
Click "Get Discount"
After the code is applied and your price reduced by 25%, enter your email and proceed to checkout safely with Paypal.
That's it!
So go grab your copy 😉
I'll also like to hear from you if you have this plugin already. What are your experiences.