Podcasts have become a very popular way of broadcasting in the past couple of years. They moved to websites that are created either by hosts or producers. If you're thinking of becoming a podcaster, the first thing you'll need is a podcast host, and then you'll be in need of a WP theme – if you're going with WordPress, that is.
We suggest you pick WordPress as your CMS of choice as it provides many useful functionalities and supports a vast array of useful plugins that can make up for anything it lacks by default. For podcasts, you need a theme that supports video files, audio files, and pictures, and WordPress themes offer all of that. In the following text, we will list some of the best ones we found.
1. Tusant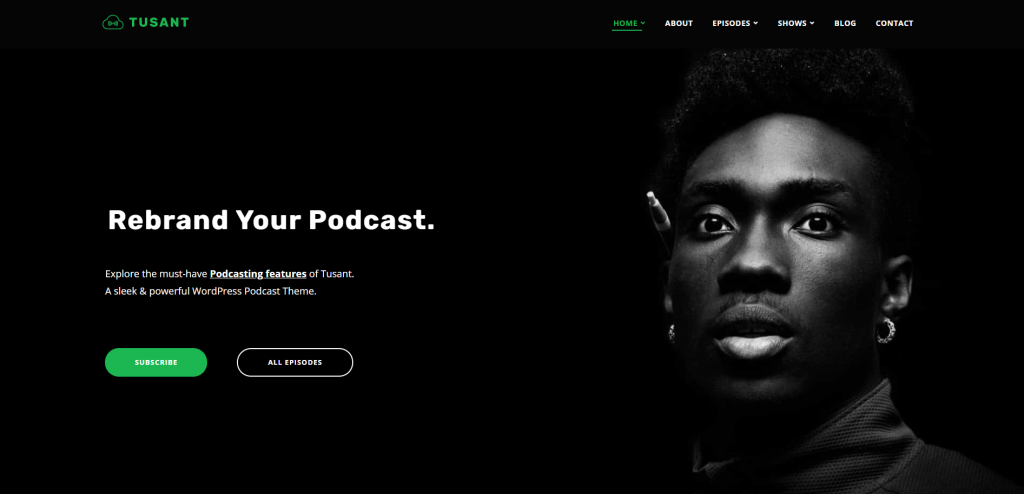 Tusant is a WordPress theme created for those in need of a podcast or music website. It is easy to install and customize to suit your needs. With it, you can run podcast shows regardless of the number of episodes since they are unlimited. You will get full support to create not only podcasts but albums, vlogs, or pages for bends.
2. Megaphone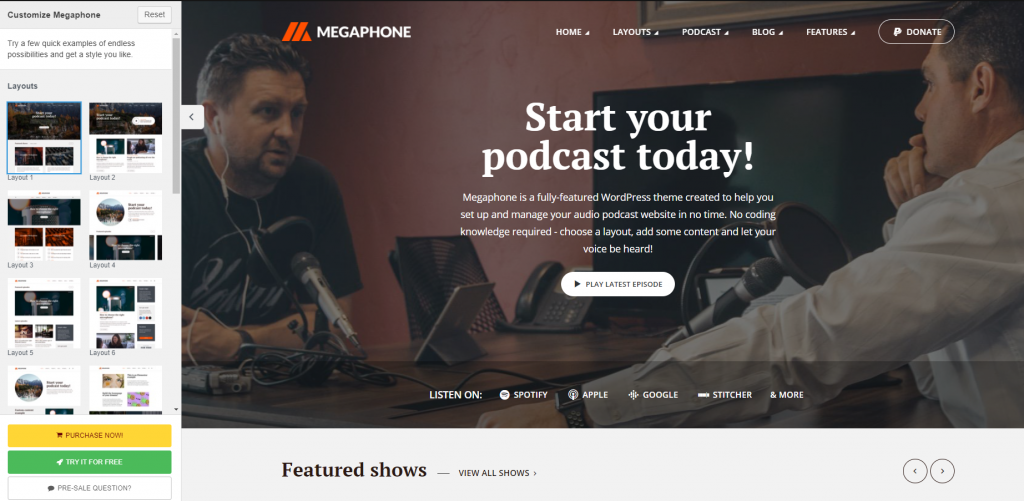 Megaphone is an audio theme and can be used for one personal podcast or networks with many shows and hosts. It's also great for an online radio show that wants to move up by creating a website. This is a theme that supports popular plugins that are created for podcasts.
If you want to create a show with specific categories, you can, and you can also select them to run as "shows" with a different theme of common interest. With Megaphone, you will also get a translation tool that works for all on-page texts. And, of course, you can play with colors and fonts in it this theme to create a layout that you like.
3. Dixie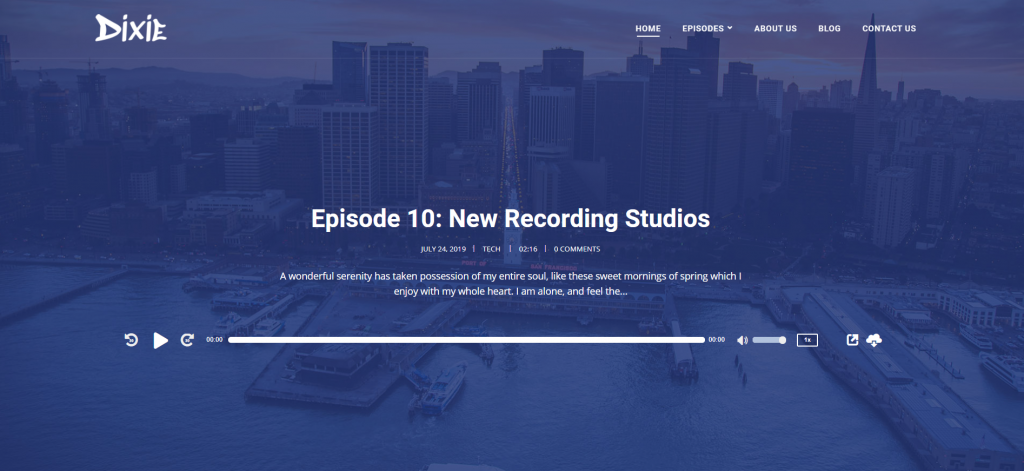 Dixie is a theme for podcasts and blogs. On the homepage, you will find an audio player that plays music continuously every time someone opens it. Of course, this can be disabled if you want. It also supports MP3 files from external sources.
In the Dixie theme, you can choose from already defined steels that are finished, and you can use them immediately, or you can create your content with different colors and fonts. In addition., this theme comes complete with support, which is always handy to have around when an unexpected issue pops up.
4. Podcast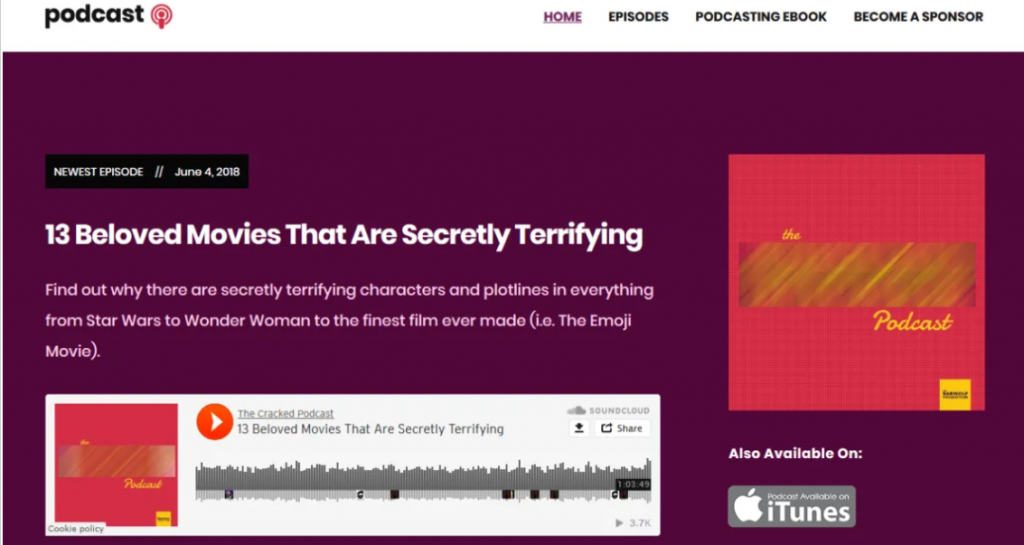 If you prefer a free WordPress theme, then Podcast should be right for you. To customize it, you can choose from already built-in color pallets such as black, red, etc. It was designed for radio hosts. YouTubers, and of course, podcasters. It's super easy to install and use and has everything you need to get started.
5. Podcaster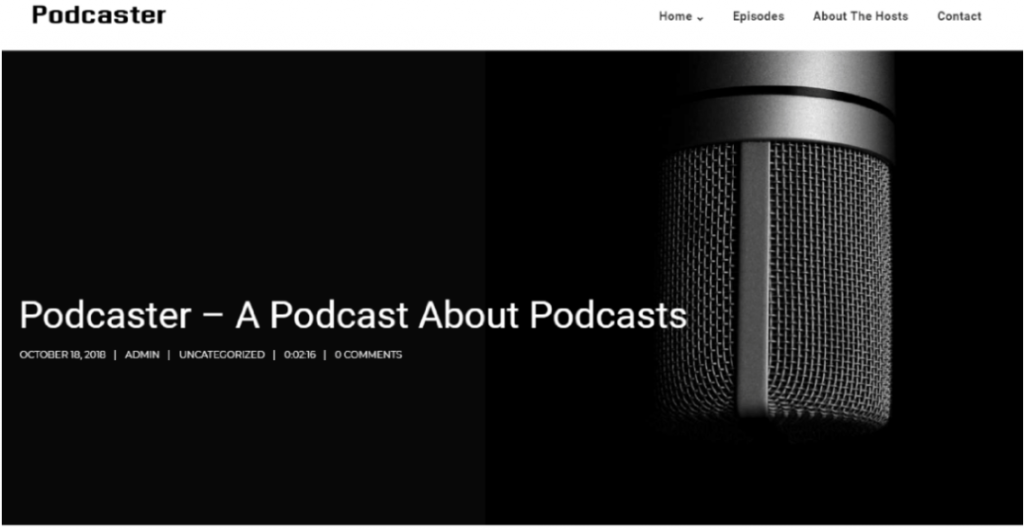 Much like our previous recommendation, Podcaster is a free WordPress theme. It is very popular for podcasts, and in it, you can use audio, video, and other media to make your podcast unique and attractive to listeners. It is simple enough and easy to follow. Plus, it's very light, so there won't be any issues with loading times.
6. Lifecoach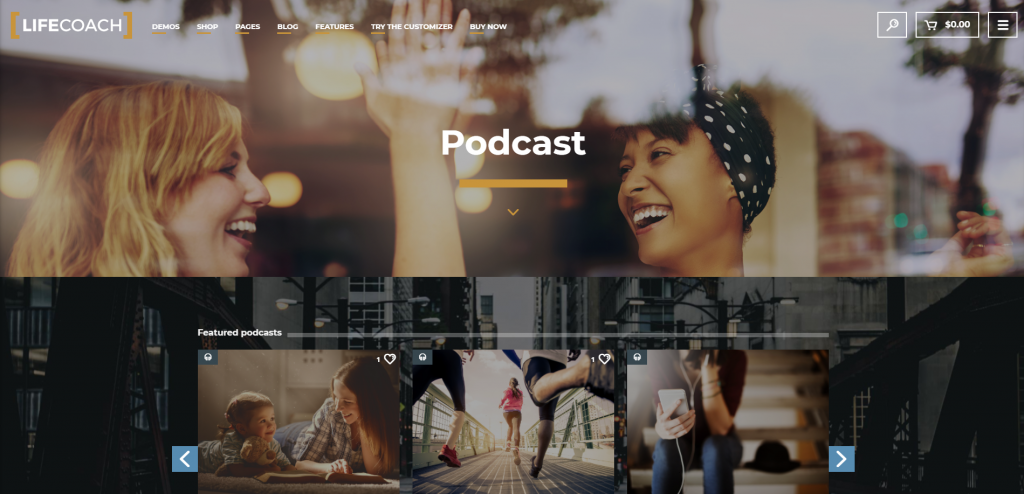 If you are interested in creating more of a "lifestyle" type of podcast with a website to match, the Lifecoach theme could be a great choice. You will get access to four ready-made demos, a translation tool, and a whole heap of easy-to-use customization features.
There is an option to schedule events, meetings, and classes and run them. If you want to eventually start selling merch or something of similar nature, you'll be glad to hear that this theme is fully e-commerce optimized. This podcast theme also supports MP3, YouTube, Mixcloud, and Soundcloud.
7. Viseo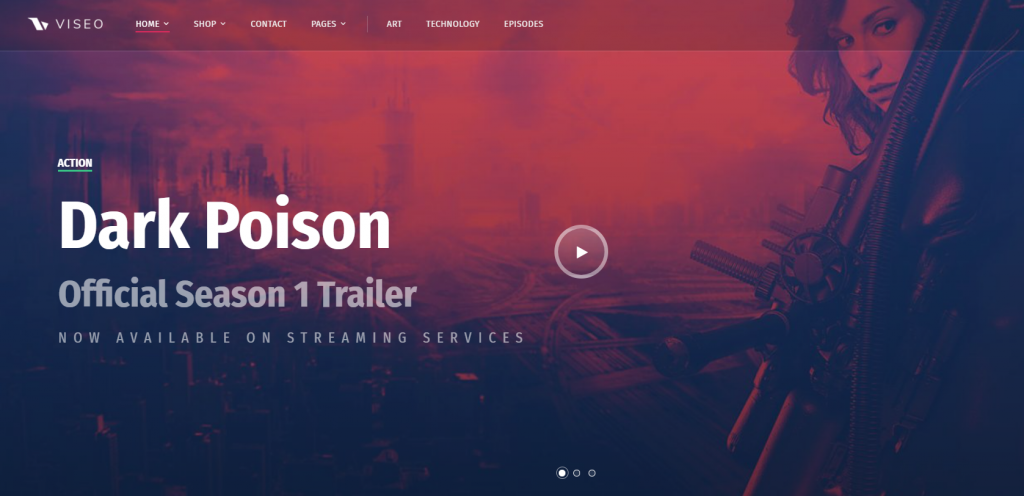 Viseo is a theme most suitable for news movies and podcasts. If you chose this theme for your podcast, you will have a drag-and-drop builder, so there's no need to hire somebody to build your site for you, even if you don't have any experience in coding. The entire process is made that much simpler by the addition of ready-made templates.
You can play with colors so that you customize your podcast site as you like. If you want to include a chop, there are also e-commerce features, plus a translator so that users from all over the globe can enjoy your content.
8. Megabyte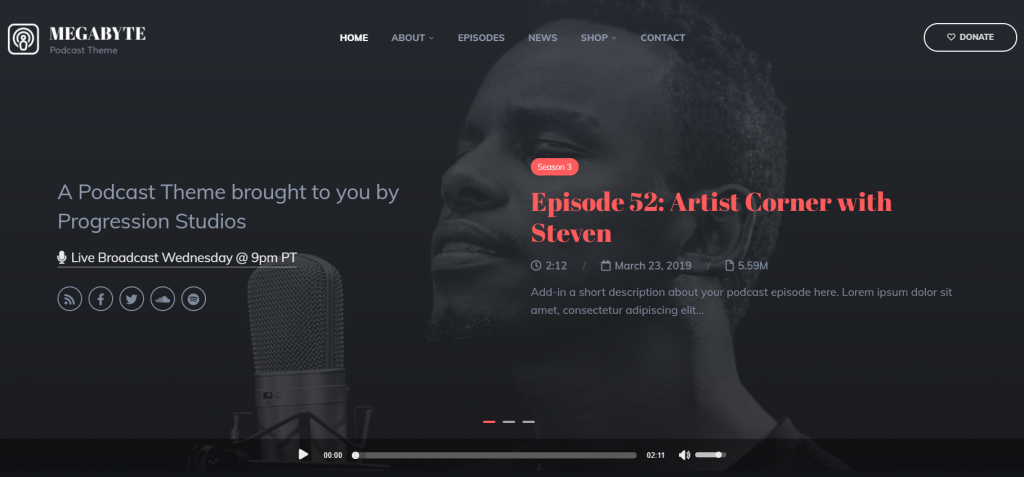 Megabyte is a podcast theme that offers podcast and audio features. With this theme, you will receive a help file that explains in detail all you need to know about it. This is a theme fully responsive theme, which means it doesn't matter if users are accessing it via mobile or desktop – it will look good either way.
Of course, you will have an unlimited colors customizer, a premium slider, and lots of other great features. Creating a great site is super simple as pretty much everything is either pre-built or customizable to the max; no coding needed.
9. Rare Radio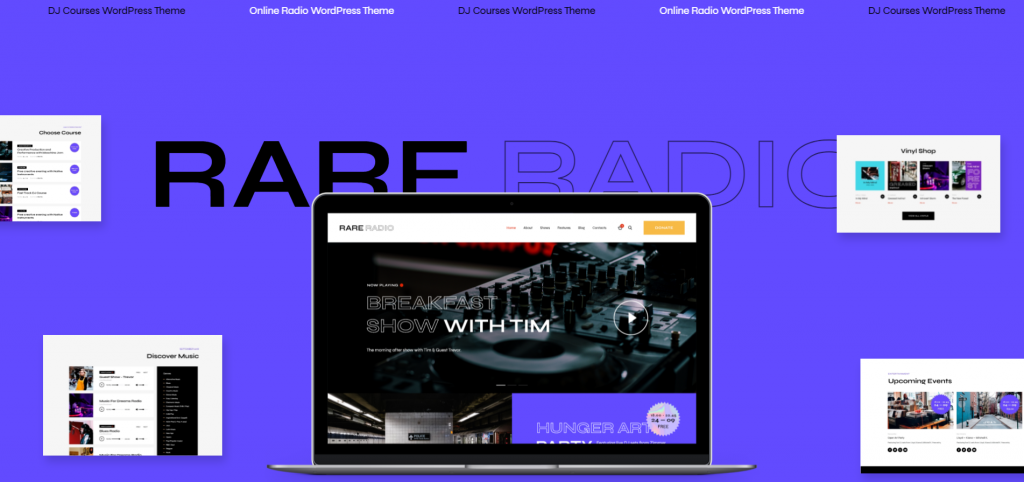 With the Rare Radio WordPress theme, you will certainly get a lot of color and brightness. It is a good theme for podcasts about music, the music industry, bands, radio, etc. You can set up photo or video galleries' of music events as well. It includes three website homepage layouts that you can use if you don't feel like designing your own. This theme supports virtually every social media platform popular in the world.
10. Satchmo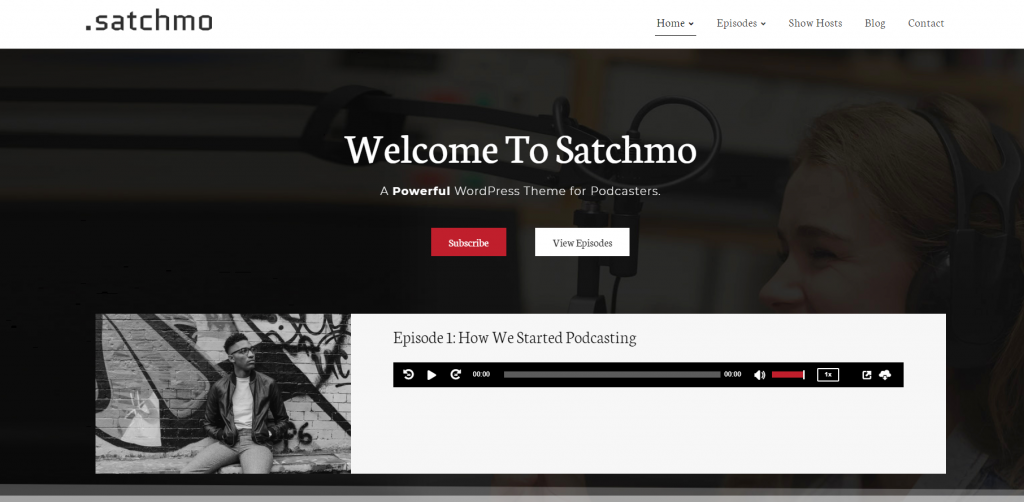 With Satchmo, you will get a design created especially for podcasters. This theme has a handy feature that enabled the listeners to get a notification every time you post, so they don't have to be on a stakeout for your next episode. Satchmo is great and easy to use, both for listeners and podcasters alike.
You can also display your podcast on social media with a share button and will never have to worry about any bugs as it supports the latest version of WordPress and offers great customer support. When it comes to the design itself, you'll be glad to know that this theme comes with the Elementor plugin, so the whole process is really easy, even for those with minimal experience.
Conclusion
We presented you with some of the best podcast themes. Depending on what your podcast will be about, any one of these themes could be a perfect choice. Pick the one that suits your needs the best, and keep in mind that most of them sport a wide variety of features, so let yourself be creative.