A good marketing strategy is crucial for every business. First of all, you want to attract visitors and convert them to your customers. To make it happen, it is necessary to meet some conditions. Some of them are social media marketing, search engine optimization (SEO), content management, Google campaigns, email marketing, etc.
All these features are essential online resources for a successful business. So, what is HubSpot Marketing? It is an online platform that unites all the features mentioned under one roof. It means that you are getting a powerful tool for growing your business and engaging leads.
You can start for free, but if you want to enjoy all the features you need to choose one of the premium plans. For some small startup businesses, it can cost too much and this is where alternatives come to the fore. HubSpot alternatives are similar tools that you can use instead of HubSpot. You can find plenty of those tools, especially if you are not looking for something in particular.
To make your decision easier, let's present some of the most commonly used ones. The following will be more about the four best alternatives for HubSpot Marketing, so find what those tools offer.
1. VBOUT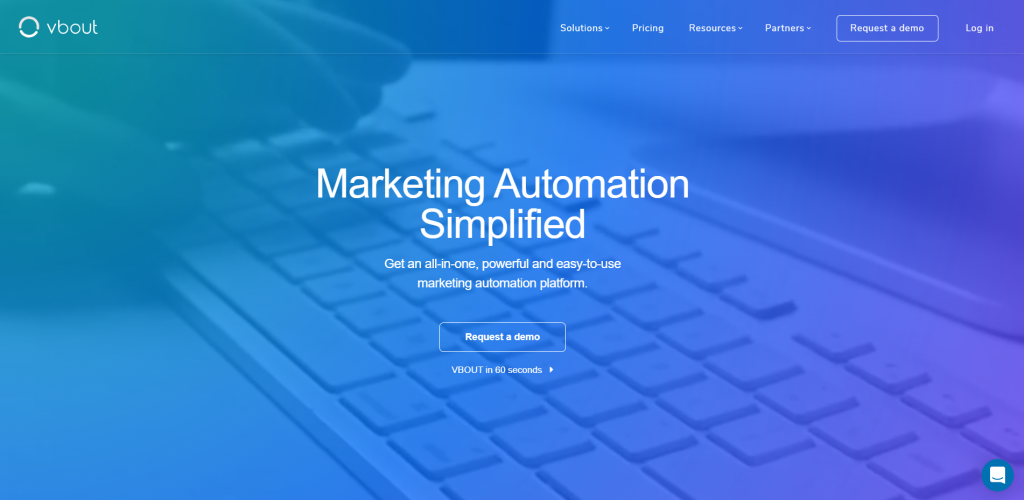 If we wanted to describe VBOUT in one sentence, we could say that it is an all-in-one marketing automation platform. But, one sentence is not enough for this powerful platform. With all-powerful marketing automation tools integrated into this platform, you can generate leads, increase reach, and improve your business.
There are 30+ available widgets, and you can easily drag and drop the components to make them fit your campaign. You can connect all your social media accounts with VBOUT. Your email campaigns can become better with a drag-and-drop email template builder.
These templates allow you to create a good design without knowing a single line of code. Builders are welcome to create landing pages too. As far as pricing is concerned, all pricing plans are one-time purchases. This tool is available in three plans starting at $79, depending on the number of users and emails you need.
2. ActiveCampaign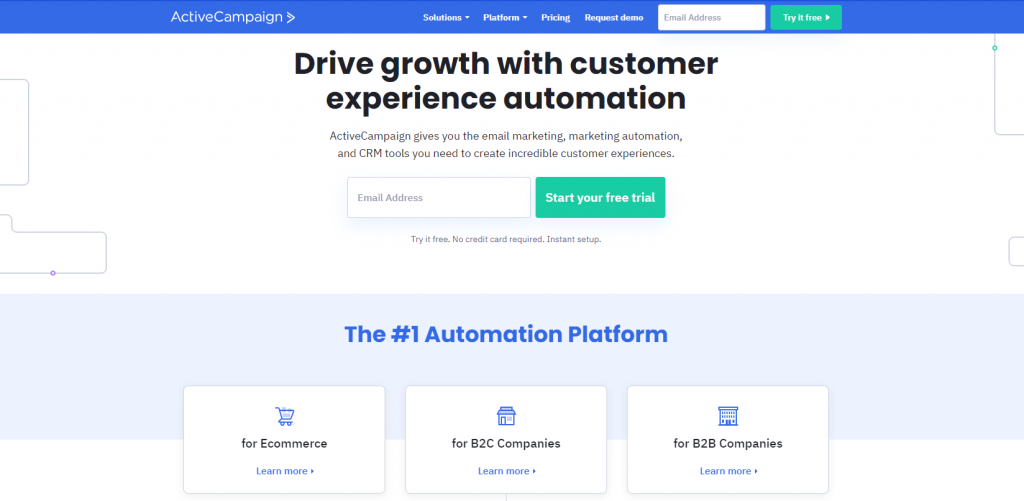 There is another platform for an all-in-one marketing solution. Automation is the number one feature of this platform. Besides the automation, ActiveCampaign provides many powerful solutions, such as email marketing, social media marketing, machine learning, and others.
This platform covers different industries too. Do you have a small business, an e-commerce store, or you are an influencer? It doesn't matter. You can find a lot of features that can grow your business.
Smart automation is the number one in all processes because it saves your time and allows you to create a unique experience with your customers. With CRM and sales automation, you can track leads and improve your sales. In regards to email marketing, you will have an option to choose the type best suited for your campaign. Some of those emails are broadcast, triggered, or targeted emails.
You can try ActiveCampaign for free through a free trial. After that, choose one from the four pricing plans depending on the number of your contacts. The first plan starts from $9 per month.
3. EngageBay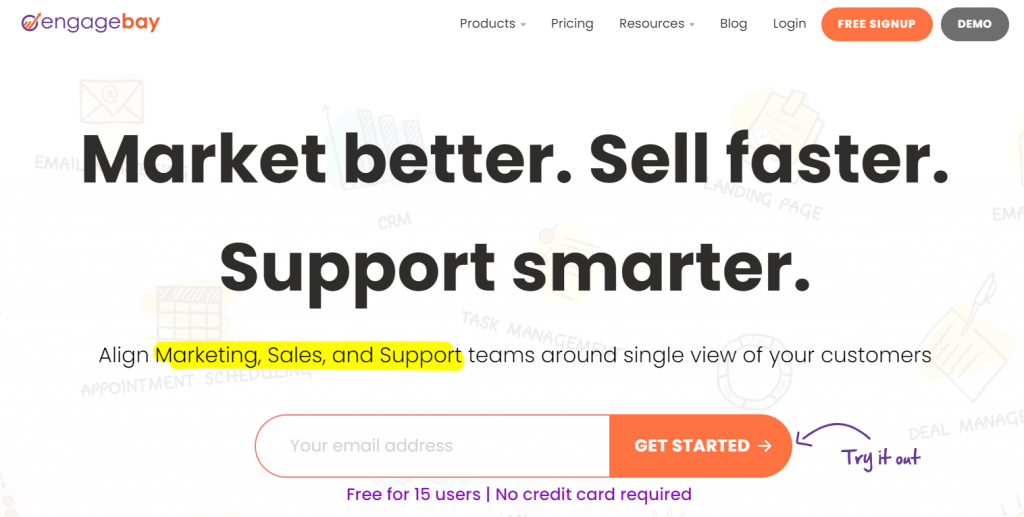 Let's present one more platform that can match HubSpot in many features. With EngageBay, you will get marketing automation, email marketing, landing pages, web forms, and other products related to marketing.
There are a lot of automation tools that improve business for over 28000 satisfied customers. Besides the automation tools, the platform offers valuable CRM tools such as pipeline visualization or targeted marketing.
What do you actually get with EngageBay? Your business doesn't have to be huge to use this platform. The CRM software is available, and it's pretty easy to use. Customer support is very important if you want to provide a good customer experience.
With software for ticket routing and ticket automation, your customer experience will be on an enviable level. And we shouldn't forget the importance of landing pages either. With a powerful landing page builder, you can build great and responsive landing pages that will increase your conversion rate.
The platform offers four pricing plans that start from free. The next, basic plan, costs $8.99 per month and provides more branded emails and other features.
4. GetResponse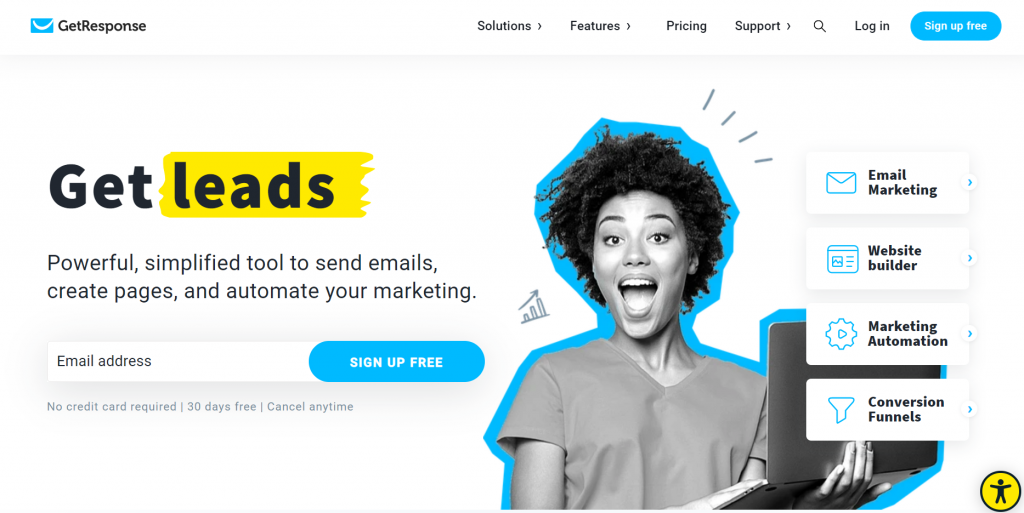 Do you want to get a response to the following question: "Which platform to use for page building, automating marketing processes, and sending emails?" The answer is the GetResponse platform that offers a number of solutions for engaging customers, generating leads, an email creator, list management, etc.
Powerful lead generation tools will help you to share valuable information about your brand. As a result of that, more visitors will become your customers. Besides automation, an email builder, landing pages, these 15 years of experience have helped the platform to offer more helpful features.
One of the newly available options is a website builder. You can create your website with a custom design without writing a single line of code. To make the whole thing as simple as possible there's also a whole set of ready-made templates you can use to create a stunning site in mere minutes.
One more great solution is selling knowledge. It means that the platform allows sharing knowledge and earning money from that. With the GetResponse platform, you can get any pricing plan free for the first 30 days. After that, you can buy one of the four available plans starting from $15 per month.
Conclusion
As you can see, we can find plenty of alternatives that can replace HubSpot. The previous text was about the four of them, to help you with making the final call. All of them offer some cheaper solutions that can replace most of the features offered by HubSpot.
If you are still in doubt and want to get a platform that can increase reach and improve your business, then we recommend using VBOUT. With about ten powerful tools, that the platform providers, you will be convinced of their efficiency and easy-to-use marketing automation.