As a blogger or business owner with a WordPress site, you have spent so much time and effort to launch your online business. For the same reason, you should have as much control as possible over your online presence.
You've chosen a self-hosted platform for a reason, and it would be a shame to lose all of your hard work or become tied to a bad web host because you don't have a backup plan in place.
The Importance of Backing Up Your WordPress Site
If losing everything in the blink of an eye would be devastating, you need to set up a system for WordPress backups. You might think that disaster won't happen to you, but it easily could.
WordPress is the most-hacked CMS, but this makes sense because it's also the most used. Beyond hackers, servers can crash, and developers can make mistakes – all things that can wreak havoc with your site.
One study by Vanson Bourne concluded that the value of electronic data loss was $1.7 trillion and that the per-incident cost has risen 23% to roughly $3.8 million.
It would be a mistake for not having a backup and recovery solution and rely only on your web host to back up your data for you. As these may not be regularly scheduled, they aren't specifically designed for WordPress, and you may not be able to restore just one site from a hosting backup.
Bottom line: you should know how to backup and move your WordPress site, which is simpler than most people realize.
3 Steps to Backup and Migrate your WordPress Site
By creating and maintaining your own backups, you get peace of mind about the security of your data. This also gives you the ability to move your website to a different host or load a version of your site onto another server for development or testing.
Here are the 3 simple steps for backing up and migrating a WordPress site:
Step 1: Backup your WordPress Site
Before you begin, it's a good idea to make a backup of your entire site. This can keep your site safe in case you make an error, use a plugin that doesn't agree with your theme, or get hacked.
You can backup your WordPress site using a variety of migration plugins such as Updraft Plus, BackUp Buddy, All-in-One WP Migration, and Duplicator. Once you've done this, you're ready to go on to the next steps of moving your site from one location to another.
Step 2: Move Content from One WordPress Site to Another
Let's assume that you just want to move all of the content from one WordPress site to another. When we say "content," we're referring to your site's posts, pages, comments, terms, custom fields, custom posts, and navigation menus.
The downside to doing this is that you won't be moving your site's plugins and themes. But, this is something that you can accomplish with a migration plugin (covered further down) or by exporting your full database through MYSQL.
So, here are the steps to migrate your content from site A to site B:
Export WordPress from Your Existing Site
Login to the site that has the content you want to move. From the WordPress dashboard of Site A, go down to Tools and click on Export.
Since you want to export all of your content, under "Choose what to export," select "All content." Then, click the Download Export File button.
This will give you an XML file of your site's content. Note where this is stored on your computer because you're going to need it again soon.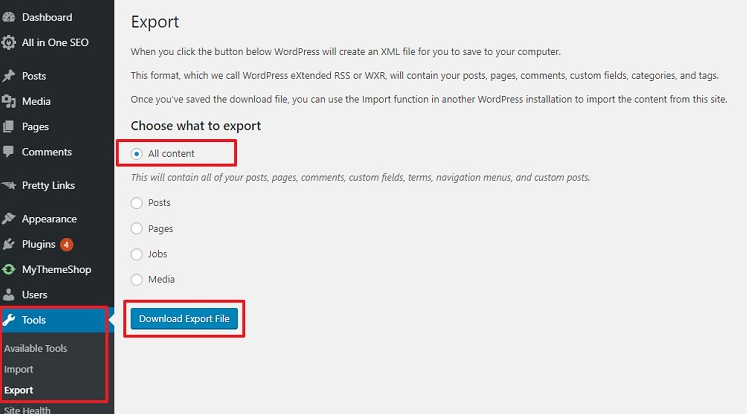 Import WordPress to a New Site
Now it's time to bring that content into Site B. Go to the WordPress dashboard of Site B. Find Tools and select Import.
WordPress allows you to import files from multiple systems, such as Blogger, LiveJournal, and Tumblr, but we're focusing on WordPress as the source site. So, go to the bottom and choose Install Now under WordPress. This will install and activate the correct plugin for your migration.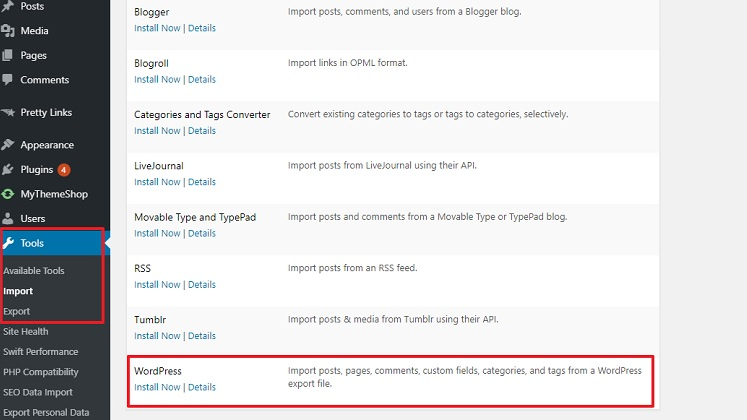 Run WordPress Importer
Now that you have the right import plugin installed, you can continue with the process. Go to Tools again and choose Import. Under WordPress, select Run Importer.
You'll get a window that says "Import WordPress." Click on the "Choose File" button and navigate to the XML file that you downloaded from Site A. Then, click on the Upload file and import button.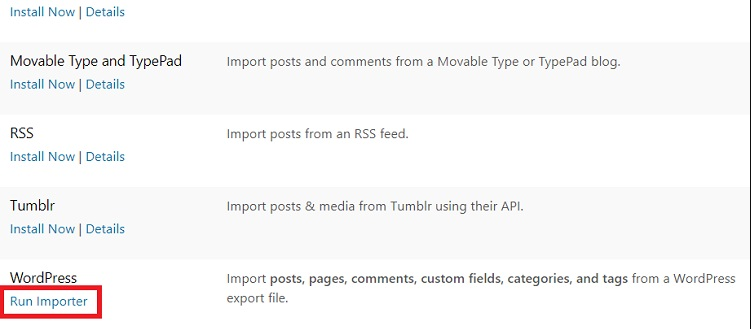 Step 3: Setup the DNS to redirect from old host to new
If you're transferring a site completely (i.e. – no longer using Site A), you'll need to update the DNS of your domain name so that it points to the new host. You don't need to modify your .htaccess file for this. You just log into your domain registrar account to change the DNS for your new web host.
For example, if GoDaddy was your old host, your nameservers might be:
NS1.DOMAINCONTROL.COM
NS2.DOMAINCONTROL.COM
If you move your WordPress site to WPX Hosting, your nameservers might be:
NS22.WPXHOSTING.COM
NS23.WPXHOSTING.COM
Alternatives to Migrate Your WordPress Site
While those three steps are fairly simple, they only move your content – not your entire site. Fortunately, there are some alternatives to migrating your WordPress site.
1. Use WordPress Plugins
We briefly mentioned it earlier, but you can use a variety of WordPress plugins to backup and move your website. Some examples of the most popular choices include:
2. Find a Web Host That Offers Migration Services
One of the services that many web hosts provide is free site migration services for new customers. If you're planning to switch to a new host, find the best web host that offers the best features, and that can help with moving your WordPress site at the same time.
3. Look for Professional Services

If you just don't want to deal with any of this, the last option is to engage with the pros. You can look for companies that offer WordPress maintenance services and can offer WordPress support. All of them will help to solve your WordPress problems including site migration. Otherwise, you can purchase the one-time service, for example, WP Fix It charges a one-time fee of $47 to move your WordPress to another location.
Conclusion
While the thought of having to back up or move your WordPress site to another host might cause some anxiety, it would be worse to lose all of your hard work because of not implementing security best practices or get stuck with a web host that isn't living up to its promises. Fortunately, these options can help you back up and move your WordPress site quite easily.