One very cool aspect of online business is the fact that you can automate up to 99% of business procedures and then focus on other areas that grow your business or maybe pay more attention to family.
Can you steal my brain?
Well, this is exactly what I do so I want you to clone my method. The reason is this:
When you too have more of your business effectively run by bots, we are surely going to meet at the beach, have more time to catch fun while the business runs on its own, generating income and profit. Yeah!
Most of you hanging around me know that being a blogger, I love developing apps for my fellow bloggers. Recently, there was BroadedNet (sold on Flippa) and now, I'm currently running BlogExpose.
So in this post, I want to completely reveal to you how this platform (BlogExpose) is automated – from the very signup form to where ever…
NB: More Free tools to help run your business
What do I mean by "automate my online business"?
Well, it's not just about having the script. Note that if you have just the script, you don't really have a business. What makes a business is the community around your script.
So my sense of automation on BlogExpose is how I interact with Bloggers and Companies to create a constant flow of activities.
Must of the interactions (between companies, bloggers and me) that happen on the platform is handled by my automation tools. This makes the business quite easy to run.
Once a blogger fills the signup form, he is automatically added in the automation routine. As the blogger moves from one level to the next, one of the automation tools carefully shifts him from one automation point to the next.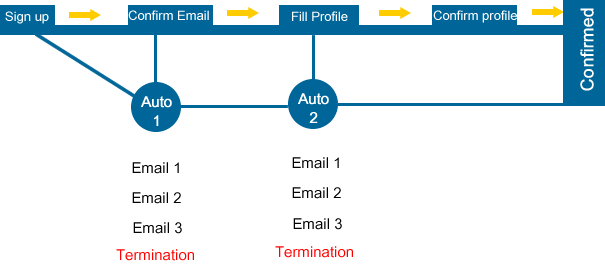 As you fill the signup form, your email is captured into Auto 1. You don't become a community member at this time.
The automation tool expects you to confirm your email (to prove that you are human). If you don't confirm within the next 24 house, Auto 1 will send you a friendly reminder.
If after 72 hours your account is still pending email confirmation, Auto 1 sets in with another friendly reminder. On the 15th day, you get the last reminder from Auto 1. On the 20th day, Auto 1 will remove your account from the system.
Auto 1's job is to make sure anyone that signs up is a real person 😉
Now, if you confirm your account by clicking the confirmation link in the message sent to your email, you will be shifted to Auto 2.
Note that after confirming your account you won't still be able to apply for jobs on BlogExpose. The reason is that we want you to help companies make a quick decision in hiring on the platform. To do this, you are required to complete your profile.
It's simple:
There are just 2 form fields you are required to fill;
Main url or your blog – This will help companies find more information about you
Brief brio – Tell companies a little information about you.
Ok!
So Auto 2  will be sending you a couple of mails if your profile is not confirmed. Once you don't confirm your profile after the 3rd reminder, Auto 2 will remove your account from the platform.
If you confirm your profile (which is what you should do), Auto 2  will move you to Auto 3. This level of automation is only interested in buying members.

Once you make a purchase on the platform (publish a paid job offer or pay to get featured), Auto 3 will shift you to the buyers' list.
As an online marketer, you know this is the most exciting email list you will ever have online. Now, I have a unique way I will be treating my buyers. They are my most important community members 😉
My Business Automation Tools
I know through out this post, you have been curious to know about the tools I use to automate BlogExpose.
As a matter of fact, there are 2 tools
– > Tool 1- IninBox
INinbox is an interesting email marketing platform and an autoresponder. It has a wide range of tools to help automate your business.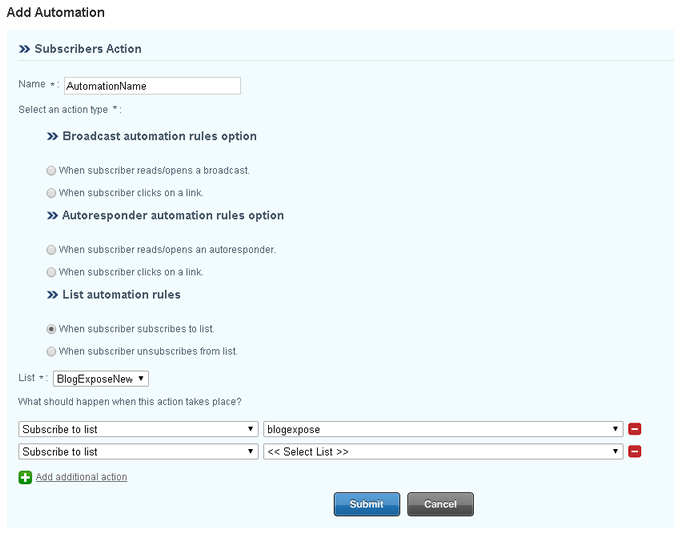 Now this is something very simple to do. It's like this;
When someone subscribes to list A, remove him from list B or add him to list C. That's just how it works to move subscribers from one list to the other.
Most email marketing systems have this automation facility. So you don't have to switch over to Ininbox for it. However, if you don't have this with your current email marketing platform, you may try out INinbox.
The next feature provided by INinbox to all its members is the autoresponder. This is what I use at each Auto level to trigger and send the different mails.

Click here to signup. It's free
– > Tool 2 – Crons
Crons are simply tools on Linux servers used to automatically run scripts. These are task managers in Windows Operating System.
Creating cron jobs is quite straight forward. For those of you using cPanel, you can easily access crons by moving to the advanced

NB: This may depend on your cPanel skin
How did I do it?
I have written a piece of PHP code that runs daily and checks for idle accounts. This helps remove accounts that have been idle for a given number of days. So I don't have to manually go through the system to remove dormant accounts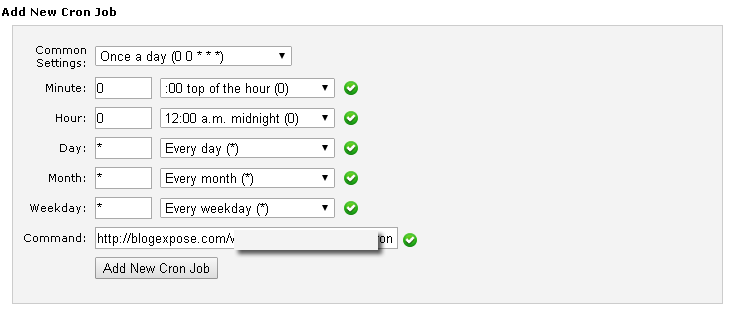 Here is my cron settings that runs once per day.
That's it
As I add more features to the platform, there's surely going to be need for more automations. I'm sure you've gotten the idea so go ahead and try to implement it.
If you think I can help, shoot me a mail through my contact form.
Let me hear what you think. Drop a comment below and let me know your mind. I'll also be excited if you share this post on social media.