Do you want to learn how to build a blog community? Do you want to take your blog from a ghost town to a busy and noisy city? Do you want to learn the hidden secrets of networking with the right people in your niche?
Now, in today's Thursday post, I'm going to tell you the story of someone that's an icon in blogging. She's helped many (including me) to be successful in blogging today.
Adrienne Smith has what you need to grow your blog from an almost abandoned home to a busy business ground where everyone signs up to receive important materials.
Note that we are continuing our journey of discovering awesome bloggers. You may want to check out this list of some more bloggers I have featured in the past.
Meet Adrienne Smith, the Engagement Superstar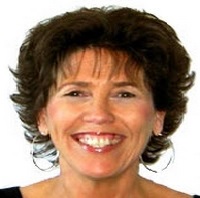 If you've ever had the chance to speak to Adrienne on the phone, via Skype or Google Hangout the first thing you'll notice is her southern draw!  It's pretty much a dead giveaway that she's from Texas, born and raised.
One thing that I find different than most of the people I've connected with online are that Adrienne didn't find her way to the internet until she was five months shy of her 50th birthday.  She's not bashful to tell her age either because she knows that she's earned every single wrinkle.
How This Online Thing Really Began
Those close to Adrienne know her story but for those of you who don't here is a little about how she got started in the online world.
February 23, 2003 was the date her father passed away.  He had a really rough life with more illnesses than a human being should ever encounter but it was due to his strength and determination that he lived to be 80 years old.
That's why when he passed away due to the neglect of his physician it devastated her to the core.  She fell into a deep depression that took two years to climb out of.  As soon as she started to get her spark back she knew the corporate life was no longer for her.
Everyone should wake up each morning eager to do what they love and after having been in corporate America for over 31 years, the thrill was definitely gone.
But what is a 48 year old woman with no other experience supposed to do?  Who starts their careers over at that age?
A friend told Adrienne about this movie everyone was talking about back in December of 2006 called "The Secret".  Like most that watched it they too thought all you had to do was believe you could do anything you wanted and you could.
So in January of 2007 when the company she worked for downsized, she was let go from her position but instead of being upset she danced her way right out the door and into the unknown.
She looked into a few other things first before coming online but her journey started in March of 2007.
You name it she tried it, bought it and has the t-shirt to prove it.  It wasn't until she bought a $37 eBook that changed everything for her.  It taught certain things you needed to do each day for seven days straight in order to promote affiliate products.
Most were told you wouldn't make a dime for months but she not only made the money back she spent on the eBook within just three days, she'd made a profit by the end of those seven days.  To say she was hooked was an understatement.
The Turning Point
Affiliate marketing was very good to her over the years but the frustrations with Google were exhausting.  She was also tired of always having to find another product to promote because they were really becoming fewer and fewer that she cared to associate her name with.
It was November 2010 that she purchased a course from Alex Jeffries that would teach her how to build a business from scratch.  A real business,her business and not one that promoted other people's products.
In that course though the traffic method they taught was blog commenting.  That's what started Adrienne's journey that lead her to becoming the Engagement Superstar her readers and friends now know her to be.
She saw commenting as a way of connecting with others instead of just a traffic method.  Because of the comments she left, more and more people started getting curious about her and were eager to visit her blog.  A friend entered her into a contest that Danny Iny was holding promoting his new book at that time, Engagement from Scratch.
Adrienne was elated when she learned she was the winner of that contest which crowned her with the coveted title of "Engagement Superstar". If people hadn't noticed her by this time they sure were now with people like Danny Iny shouting your name all over the internet.
She's gone on to create her own product from all that she's learned through this process called Build a Blog Community.
Her students have had marvelous results just from implementing what she teaches in this course.
It's all about making those important connections and through those connections can come experiences like she's had over the past four years.
She has a successful consulting practice now that has grown out of her love for helping others figure this blogging thing out.  There is so much involved and so many people who will steer you wrong.  Those that prefer to take their time and figure this out on their own; well it might take them a year or two longer to reach their desired goals.
She works with those who believe their time is much more valuable implementing the strategies that will get them to where they want to be within those few years others are willing to waste because they don't want to spend money on their education.
The Personal Side
Adrienne is less than one month away from her 58th birthday and living the life most people only dream about.  Although she's traveled some during her life she prefers to stay home with her four legged daughter, Kayla.
She did recently return from a week's vacation with her family ona cruise to the Bahamas.  They all gathered to continue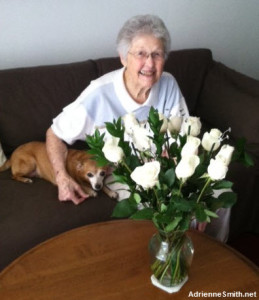 celebrating her mother's 90th birthday which she turned this past May.
She has been divorced for over 25 years with no children of her own but here beloved dog Kayla.  She's just one of the many reasons she loves working from home.
She's owned her one bedroom condo for over 24 years.  Three years ago in August they moved her mother next door to her so that she could be close to care for her.
You can find Adrienne on her blog at AdrienneSmith.net so please be sure to stop by and say hello, especially if you haven't had the chance to meet her yet.
She's one of the few people you'll ever meet who is eager to help you if you need it.  Most only wish they had someone to turn to so she would like to be that person for you.
My Links to Social Sites
She has a number of guest posts but some of her more recent ones are:
How To Keep Your Readers Always Coming Back For More
How to Build an Active Blog Community
She has been mentioned in numerous posts over the years but the most recent are:
Influencer Marketing: 11 Memorable Ways To Gain Influencer's Attention
Engage with Adrienne
Time to engage with Adrienne. Drop a comment for her. Check her posts and social media. She will be here to reply to comments and to engage with you.