When I got into blogging in August of 2012, commenting was (and is still) one of my favorite blogging activities. I have been able to connect with many exciting (I mean very exciting) folks in the industry.
If you are just new to blogging, trust me commenting on blogs in your niche will quickly drive your business forward.
You don't just comment for the sake of it. Comment for relationships. Don't even comment for backlinks. Add value in your comments and watch what happens.
From the point of view of blog owners, I was thinking about things to do to say Thank You to my comment authors.
One of these is to reply to their comments of course. But beyond that, I created  this free plugin. What it does is generate a list of all your comment authors for the specified month.
It's backend-based and only runs once you are on it. It doesn't impact your load speed in anyway. So once you generate the simple HTML code, open the code view of your content editor and paste.
There are three different templates in the current version and one of them is what you see below.
Use the free plugin to attract more comment authors
By generating and publishing a list of your comment authors (with dofollow/nofollow links), you actually  get them back. The plugin's inbuilt email alert system sends a friendly mail thanking them and linking back to the article on your blog.
Of course the mail isn't triggered automatically. You have to write some stuff (or just send the template), and then insert the link to the Thank You post.
For more on using the plugin, checkout this post
Top comment authors of all times
One other neat information you get is the names of top three commentators on your blog since its history. This information is displayed by default on your dashboard.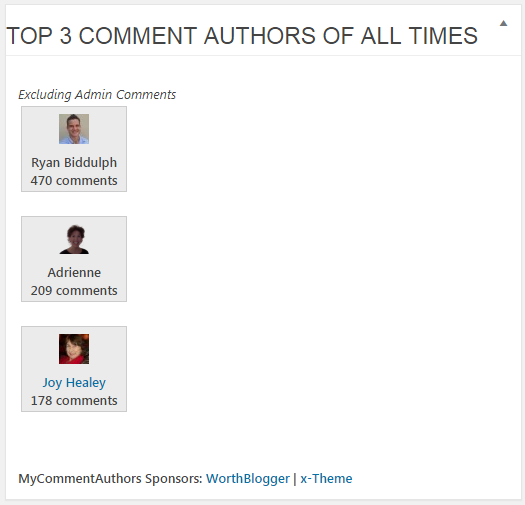 You may as well displayed this on your front-end using the sidebar widget.
Displaying the list of commentators in a blog post
This is actually something very simple to do. Go to plugin dashboard: Settings ->MyCommentAuthors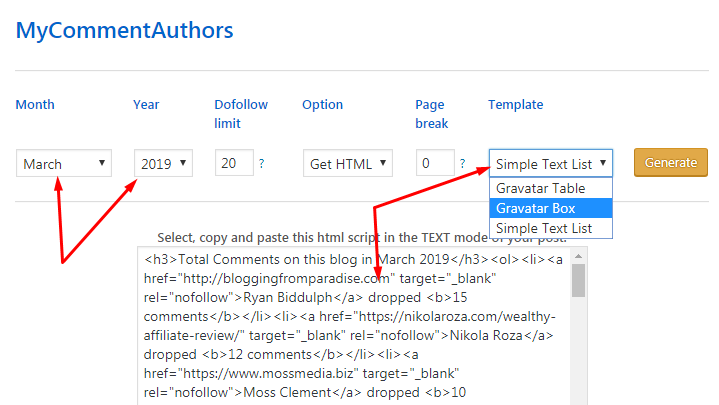 Select the Month and Year.
If you want to reward your commentators with dofollow backlink, you need to specify the number of comments to quality. By default, if someone drops 20 comments, the plugin rewards with a dofollow backlink. That can be changed though.
Use the Page break option to break a long list into different pages.
There are currently three templates in the current version. It's your choice which to use. In this post, I have chosen to use the Simple Text List template.
Once you are done with the options, click "Generate" and the HTML code will be generated. Grab it and paste on the blog post to publish.
Sending a friendly Thank You mail and basic Settings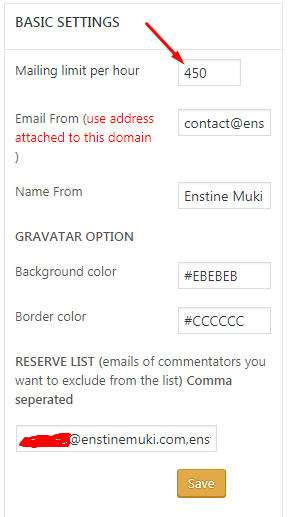 If you are on the list below, you must have received a mail from me thanking you for your comment. Of course that mail came with a link to this post.
The Basic Settings allow you get a few things set.
First, must servers don't allow you send more than a certain number of emails from your domain per hour.
Unfortunately, we cannot go above that limit. The current version of the plugin uses your native mail() function. However, you may want to use an SMTP plugin like this.
Other options include the from Name and Email Address used in the alert mail.
Use the Reserve List field to filter comments made by some readers. Generally, you may want to remove comments replies from administrators and authors from the list. Simply enter those emails in this field, comma separated.
The content of the email to send
Just below the generated HTML code is the button to send the alert email.
I didn't want this plugin to be misused. So I hard-coded the email subject.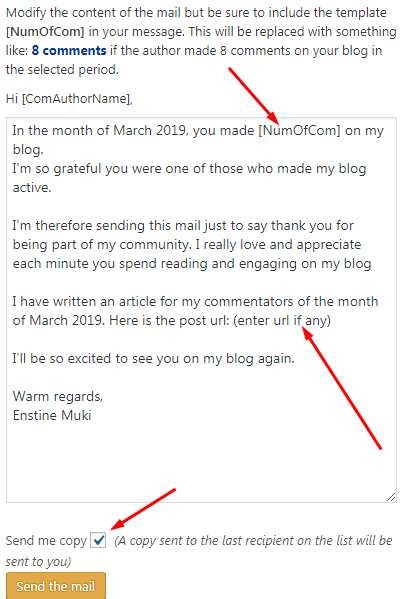 More instructions on how to use this alert option are on that page. But you have to be careful how to use it. If your server has some limitations, I'd recommend you contact your administrators.
In the next versions, I will be adding the option to connect to an external SMTP server for unlimited emails.
Here is the list for the month of March:
Total Comments on this blog in March 2019
Ryan Biddulph dropped 15 comments
Nikola Roza dropped 12 comments
Moss Clement dropped 10 comments
Lawrence dropped 4 comments
Anil Agarwal dropped 4 comments
Abigale Smith dropped 4 comments
Pedro Okoro dropped 3 comments
Ryan K Biddulph dropped 3 comments
socioon dropped 3 comments
Tushar Dey made 3 comments
James McAllister made 3 comments
Steffi Trott dropped 3 comments
Liton Biswas made 2 comments
Lisa Sicard made 2 comments
Muhammad Faisal dropped 2 comments
Haseeb Ahmad dropped 2 comments
Navin Rao made 2 comments
Oskaaay dropped 2 comments
digipack dropped 1 comment
Gaurav kumar made 1 comment
Joy Healey dropped 1 comment
imran khalid dropped 1 comment
Tricia dropped 1 comment
arpita singh made 1 comment
saida ettaqi made 1 comment
mahmudul dropped 1 comment
Ray made 1 comment
Donna Merrill dropped 1 comment
Malcolm McNeill made 1 comment
Fernando made 1 comment
Kaushal Dhawan dropped 1 comment
Kyra Rodriguez made 1 comment
Vivek made 1 comment
Elvis Michael made 1 comment
Johan Smith dropped 1 comment
Mogisa dropped 1 comment
Chester Loke dropped 1 comment
Swankyy dropped 1 comment
Nico made 1 comment
Nico Prins made 1 comment
Mudassir dropped 1 comment
Sai krishna made 1 comment
Paul made 1 comment
Shamsudeen Adeshokan made 1 comment
Devriti dropped 1 comment
Iliyas Khan dropped 1 comment
malik tabish made 1 comment
Benjamin Robert dropped 1 comment
Nia Jax made 1 comment
Mahmudul hasan dropped 1 comment
Venkat made 1 comment
Lily @ FindingBalance.Mom dropped 1 comment
Ibezim chukwuemerie made 1 comment
Kevin dropped 1 comment
Pallavi Mathur dropped 1 comment
Nat made 1 comment
Liliana Mabel Nicoletti dropped 1 comment
Hannah Lagdameo made 1 comment
Magloire dropped 1 comment
Gaurav Jain made 1 comment
Martin says dropped 1 comment
Simon made 1 comment
Priya Florence Shah dropped 1 comment
Tim Kettler dropped 1 comment
Petersen dropped 1 comment
Sajid Bashir made 1 comment
Adrina dropped 1 comment
Ashish Patel made 1 comment
Jamiu Oloyede made 1 comment
Parth made 1 comment
Brandon Baker dropped 1 comment
Philip V Ariel made 1 comment
Arash Ghaemi made 1 comment
suresh dropped 1 comment
PamG made 1 comment
Yam dropped 1 comment
Tonya made 1 comment
Pascal Côté made 1 comment
Aditya dropped 1 comment
addy dropped 1 comment
Vishwajeet Kumar made 1 comment
Alison David made 1 comment
Boishakhi made 1 comment
Jan Verhoeff made 1 comment
Jeff dropped 1 comment
Bubbie Gunterbg.bubbie dropped 1 comment
Ahmad Nazir made 1 comment
Ronit Sharma made 1 comment
Daniel Hommers dropped 1 comment
Ketam Batu dropped 1 comment
90 comment authors with 151 comments in the month of March 2019
This list was generated by MyCommentAuthors