My ebook Affiliate Marketing for bloggers can now be gotten for free and this is for a limited period of time.
Free?
Well, yes! You are going to have 100% discount on it today. You normally would spend $27 to get it but I'm completely neutralizing that amount.
I'm not being ugly towards those of you who've bought copies. The thing is someone bought copies in huge quantities for the rest of us. But we have to do him a little thing.
Is it even worth it? What's there in the ebook?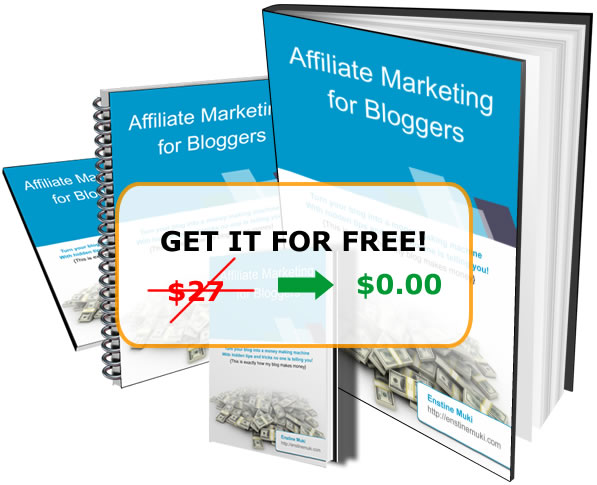 If you ever wanted to make money as a blogger, you need a copy of my book. It's full of meat and contains actionable steps you need to take to generate over $1000 a month from your blog with Affiliate Marketing.
Don't be fooled!
Affiliate Marketing works and many of us bloggers are making real money doing it.
What I discuss in this book are my proven steps. I show you blog posts on this blog that generate income. I also step out of this blog and show you things that happen on some well known blogs and how they make they money.
You may want to check out details on the sales page here
So how do I get my free copy?
You just have to follow these simple steps:
Go check out this WordPress Theme
Join its affiliate program here
Grab a banner from your affiliate account and publish on your blog.
Drop a comment on this post what you think about the ebook and Solopreneur Theme
Once you have it on your blog, contact me here with your blog url
I will manually send your free copy of my ebook

This is to help you make money
Now, we are all about affiliate marketing here. You will be promoting a Premium WordPress plugin as an affiliate and you still get your commissions on sales.
At the same time, the ebook will show you how to do the promotion. Every bit of thing you need to succeed is inside.
It's costing you nothing. On the other hand, you are going to make money with this.
Here again are the instructions.
Signup to FancyThemes Affiliate program here
Copy any banner html code from your account
Drop a comment on this post what you think about the ebook and Solopreneur Theme
Paste on your blog and then contact me for your free copy
Over to you!