If you've just started blogging, or if you want to begin a career as a blogger, there are a few key factors that you should consider.
The first, of course, is cost. Many people want to start their own blogs, and most of them have great ideas. However, they think that it's expensive to get and run a great website. 
So, that puts them off. After all, who wants to spend hundreds of dollars on a venture that may or may not work?
It's easy to fantasize about having a blog where you can share your thoughts. However, the optics aren't great. Websites look expensive, and they seem like they take a lot of work. 
But is that true? Or is it just terrible PR? 
Well, the truth isn't far off. With the wrong tools, getting a functional and good looking website can be difficult and expensive. 
However, with the right tools, that's quite easy and it can be done in less than thirty minutes. 
Yes, you've read that right. You can get a fully-functional and ready to use website in less than half an hour by using a website builder.  
In this post you will:
Find out whether website builders are a good choice

Get familiar with the best website builders on the market
Are Website Builders A Good Choice?
There are two ways you can get a fully functional website. 
The first, and usually the most expensive option, is to hire a web developer and have them design a website based on your requirements. 
The second, and by far the cheapest option, is to do it yourself with the help of a website builder. 
Apart from the fact that web developers command a sizable fee, you may even not hire a competent and reliable one. If you don't partner with the right expert, you can also get swindled. 
The risks associated with hiring a web developer are definitely not worth it when compared to the safer and cheaper alternative.
However, with a website builder, everything is in your hands. There are so many options that you can choose from and most of them actually do a decent job. 
All you need to do is sign up, pay a cheap subscription fee, and get access to the builder. The next thing is to tell the platform how you want your site to look, and the software immediately provides you with a template of a website. 
After that, you add your photos, texts and links (if you have any) and your website is ready. 
It is as simple as that. 
But to create a great website, you need to have a good website builder. 
To help you make the right choice, we are giving you two of the most highly rated builders on the market.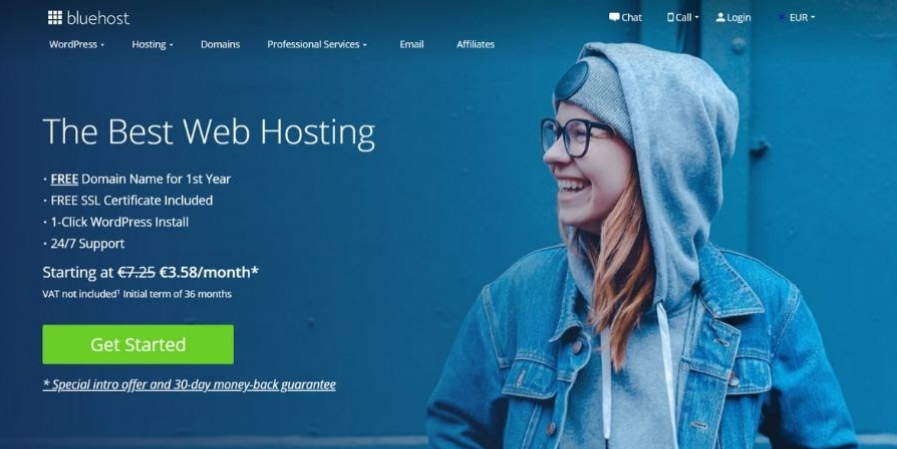 Bluehost – Top Web Host With A Free Website Builder
Bluehost is a hosting company that specializes in shared hosting services. If you want to start a blog, there are very few choices better than Bluehost. 
In fact, if you have a constrained budget, you're not likely to get a better alternative than this tool. 
But what makes Bluehost so great for bloggers? 
On the one hand, it's very cheap. The web host offers plans that are as low as $2.95 per month. And hiring a web developer and having them maintain your site will most likely cost double than this. 
On the other hand, this platform makes use of Weebly, a very effective website builder. This means that you can launch and run your site easily and quickly too. 
Bluehost also has an interface that is quite easy to understand.
Are there cheaper options than this tool? 
Of course. But the thing with cheaper options is that they always have problems with value. This includes slow loading time and a terrible uptime. 
Unlike these cheap options, with Bluehost, you will never face such problems. This is what makes the platform one of the best hosts to build a website on.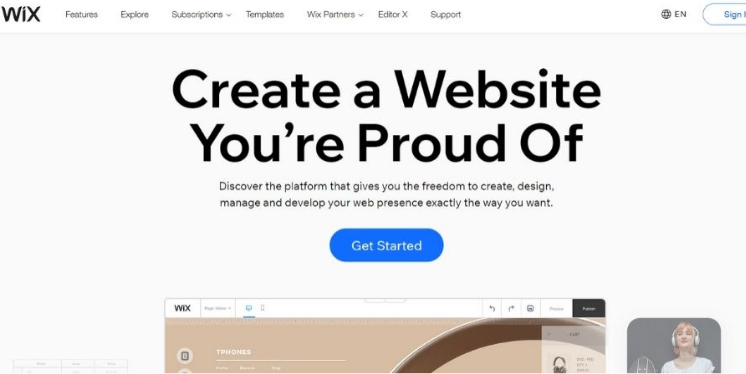 Wix – The All-in-One Hosting Solution
Wix is another great platform for hosting your blog. Similarly to Bluehost, it is a cheap option and makes setting up a website quite easy. 
If you have determined your website needs beforehand, choosing between Bluehost and Wix should not be hard at all, as they both target very specific customer needs.
Wix is less expensive than Bluehost on a whole and offers slightly less value, but the difference is negligible enough to be insignificant. 
Wix also has a premium and free website builder that rivals the best in the world, so you can be sure that you're getting a great value for the money. 
However, this free website builder has some disadvantages as well. 
These include:
Free plans carry Wix branding

: The websites that are built with the platform's free plan will always carry the company's

logo

. While some bloggers don't mind that, you should since it does nothing for aesthetic appeal. 

Analytics are included in the paid plan

: If you want to access analytics and track your website performance then you will need to pay some extra money and purchase a premium plan.  

Websites are not transferable

: Wix's websites are not transferable. So, if you decide to stop using this free website builder, you will need to stop using your blog. It's as simple as that. 
All in all, the Wix website builder offers great value for money, fast and reachable sites. 
Recommended: Wix vs WordPress – Choosing the right platform to build your website!
Bluehost vs. Wix: Which Web Builder Should You Choose?
Our vote goes to Bluehost. The value offered is amazing, and although they don't have free options like Wix, their plans are still pretty cheap. 
But, that doesn't mean that you should choose this builder as well. If you're low on funds and don't mind a bit of official branding, then the Wix website builder can be a more sensible choice for you.
However, if you want flexibility and would want the option of moving a blog elsewhere open to you, then Bluehost is a better alternative. 
It all depends on your requirements.
One thing that you can learn from this post, though, is that you don't have to have hundreds of dollars to build a website. And, you don't even need to be tech-savvy. 
All you need to have is basic computer literacy, a few bucks and access to the right tools. 
However, this doesn't end here though. Bluehost vs. Wix stack up together more comprehensively. 
But as a prospective blogger, you can start your blog with the option that suits your needs the best. 
In essence, everyone and anyone can have a blog, and luckily for you, you've just discovered how.