The last time I visited your blog, I was so disappointed. So I took the hard decision never to come back again.
As I'm writing this post, I'm sure you are still losing more visitors. I'm not the only one who left regretting to have clicked your link. Personally, I want to let you know 9 points that pushed me to this decision.
I'm sure after reading this points, you are going to sit up. There are millions of blogs out there with wonderful attractions. So I won't regret keeping away from yours. I'm sure I'll find what I want somewhere. I didn't just want to go without letting you know why I'm leaving. So here are my reasons to quit for good;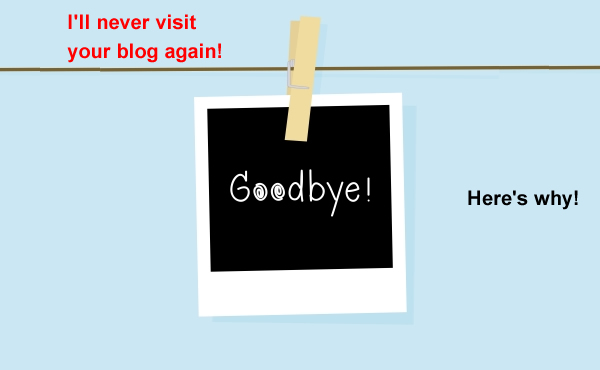 1 – You have not solved my problems
Yes! I have been visiting your blog for the past couple of months but through out, none of your posts has impressed me. You are not making any effort to  help me. None of your articles has helped solve any of my problems. So why should I come back?
2 – You are not unique
That's very correct!
You are not unique in any way! All you try to do is reproduce what others have published. I'm not asking you to reinvent the wheels though. But you have to do a lot of research to enable you publish helpful posts. Every post I have read on your blog so far is a hidden copy you grabbed from somewhere.
You try to sound like that other blogger you know. You are not building your identity. You are fake and lazy. I even found out you copied one of my articles shamelessly. Who told you that's how to succeed in blogging?
3 – Ads everywhere
Come on! I know you want to make money with your blog but plastering ads everywhere is not the method to generate an income. Give your blog some breathing space. I have ads on this blog but not as stuffy as yours.
While I was trying to read one of your posts, I had Google Adsense stirring at me just before the content of the article. Your right sidebar was full of some more Adsense and Chitika. I saw a popup jumping from the bottom of your blog. And somewhere as I was struggling to read, there were more clumsy, ugly looking  ads. Is all of that making you millions?
4 – So many errors
I'm not saying I'm more perfect. I know there are errors in my writings but what drove me away from your blog is the fact that yours are alarming. There is no paragraph without an error. You either are misspelling a word or writing in some foreign language that looks like English.
I know you are a non-native English speaker (like me) so it's not your fault. I'm just struggling to improve my skills too. I read a post by Sylviane Nuccio on how to improve your English writing skills. I recommend you read what she has written there.
5 – Poor formatting
I almost hurt my eyes trying to read your last post. Your formatting is horrible. Long clumsy paragraphs, poor fonts, no images long and complex sentences, etc .
You probably are using some free theme. Did you read my post on why free is expensive ?.
WordPress themes are so cheap these days so I encourage you invest on themes. If you really have to go the free way, I think Genesis has some pretty awesome free themes.
6 – Your name is "Admin"
I came to your blog once and left quick. Why? because your name is Admin. Isn't that terrible? Are you trying to hide your identity or you are just not educated on how to brand yourself?
All your articles are published by Admin. Who is Admin? It looks like an easy blog to hack 😉
I want to create relationships with people who have an identity. Admin is no name so we are never going to be friends.
7 – It took centuries for your blog to load

I'm beginning to think you are hosting your blog in your bed room. It's horribly slow. Damn!
Who has the time to wait? Maybe moving to WPX Hosting or SiteGround could help speed up your blog by up to 300%.
8 – You are an Island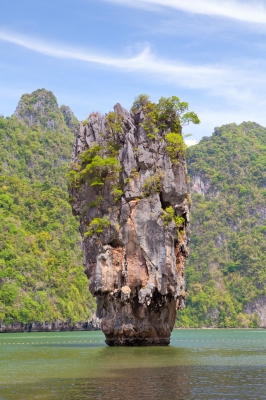 I don't see you commenting on my blog. I have not even seen your face on other blogs around. Not even on interacting with others on social media. Blogging is community building. If you stand alone, you will have it difficult.
NB: You must not comment on my blog for me to come around yours. However, leaving a comment is a great way to let me know you were around and I visit ALL blogs that are left on approved comments on my blog. I don't promise to come drop a comment on your blog too but I'll be around.
9 – You are ungrateful
I have been to your blog and commented on your articles. But I never got any mail from you to tell me thank you. Visiting your blog, sharing your articles on my social media profiles is promoting you. You've never sent me a Thank You tweet or comments on Facebook. I don't feel recognized so I'll never be back.
I have a solution however. Grab this free plugin. It will help you to send a thank you mail to your comment authors. So simple and you'll see them coming back to your blog. Check out this post for more on how it works.
I have some more reasons to stay away completely from you but I think these 9 are worth mentioning.
Try to sort them out so that we can be friends again.
NB:
I have written this post to help you be a better blogger. If you try to see into these 9 and more points, putting things right, I'm sure you'll soon grow and build an exciting blog.
What do you think?
Drop a comment!
img src: freedigitalphotos.net