ViralContentBee is one of the platforms I use for social media and referral traffic. Its authenticity has driven me into writing this post.
As a matter of fact, what makes a platform is not the script. It's not the server where the script is hosted. It's the quality of its members.
ViralContentBee (VCB) is a plaform filled with pukka members. Both front-end and back-end users are the attraction of this platform.
I'm particularly excited about the mods making sure no trash is published on the platform. They do manual check of every posted content, rejecting anything that doesn't meet the kind of quality standard  to attract savvy users.
But What is ViralContentBee and how does it function?
VCB is a social media content exchange platform. Through this platform, you are able to get your content to the social media profiles of other users.
For instance…
If you have 1000 Twitter followers, VCB allows you to reach 100,000 and more followers. But it doesn't end on Twitter. Other social media platforms covered are:
LinkedIn
Facebook
Pinterest
StumbleUpon
Google Plus
ViralContentBee is based on a credit reward system:
You offer credits so that other platform members share your content and earn your credits.
They will now use the credits earned from you to offer to other members who share their content.
You too will have to share others' content to earn their credits.
If any member doesn't want to share other members' content to earn credits, he'll have to buy from the platform, which is how the platform owner makes the money.
The quantity of credits earned depends on the exposure you bring to the community. I have 11k Twitter followers. So each time I share a tweet, I earn 4 credits. With about 5k friends on Facebook, I earn 5 credits per share.
So you don't decide how much credits you offer members to share your content. The system automatically handles this, which is something I appraise.
Step-by-step: How to start using ViralContentBuzz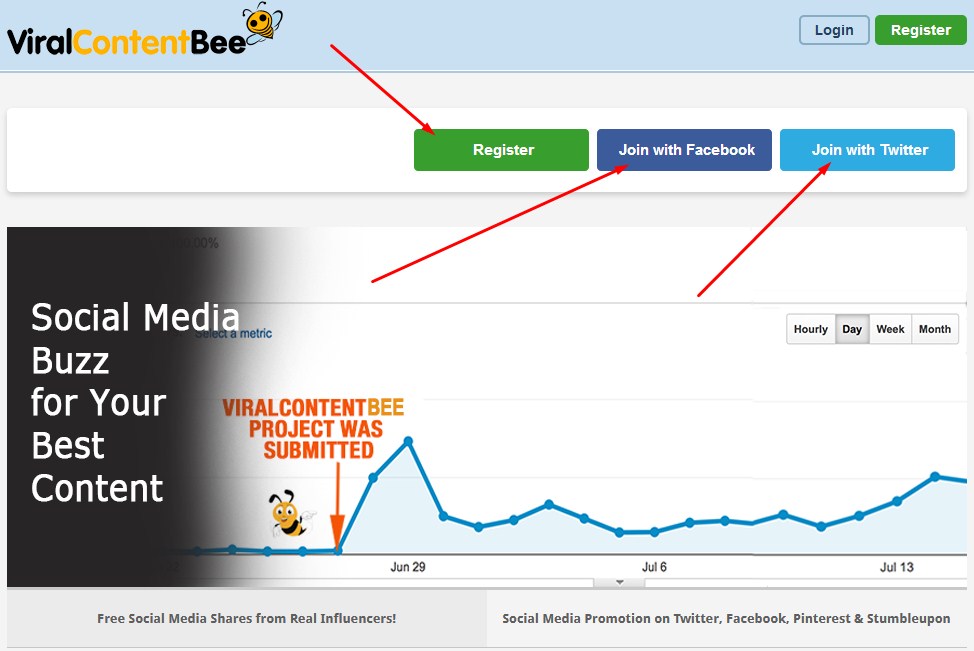 Once you've signed up, go to Settings -> Social Accounts to connect and enable your social backends. Next, go to Settings -> Profile and complete your profile as well. These are important first steps to take to prove you are real .
2 – Add credits to your account
Without credits in your account, you won't be able to get your content shared. At the moment, there are two ways to add credits to your account:
Buy credits directly
Share others' content to earn the credits allocated.
Currently, there is just one package to purchase. Maybe the admin will be adding more but you'll need to have $20 to purchase 200 credits.
To share contents and earn credits, go to Dashboard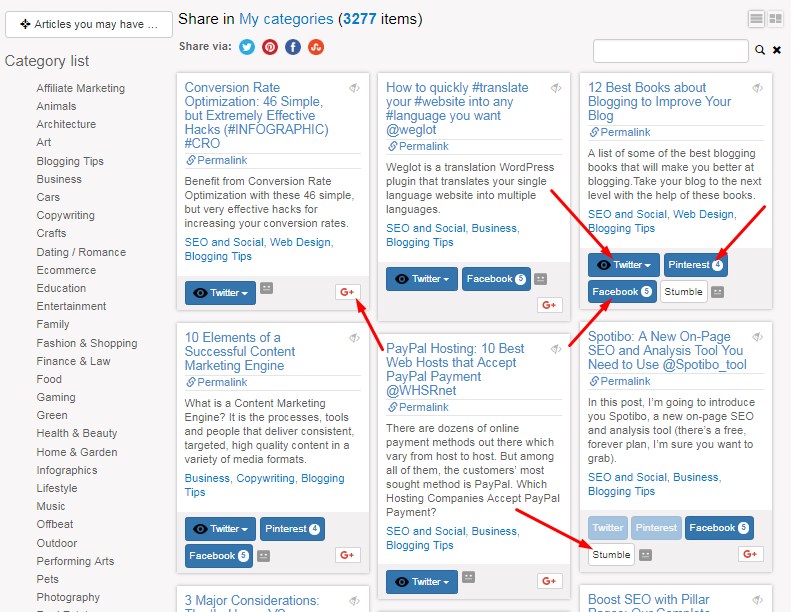 It's quite clear here what to do. The default items are picked based on the categories selected on your profile page. But you still have the list of categories here. Just click to show category items.
Tweet, schedule and buffer
There are three options to share a tweet and earn credits
Instantly tweet
Schedule a tweet
Buffer a tweet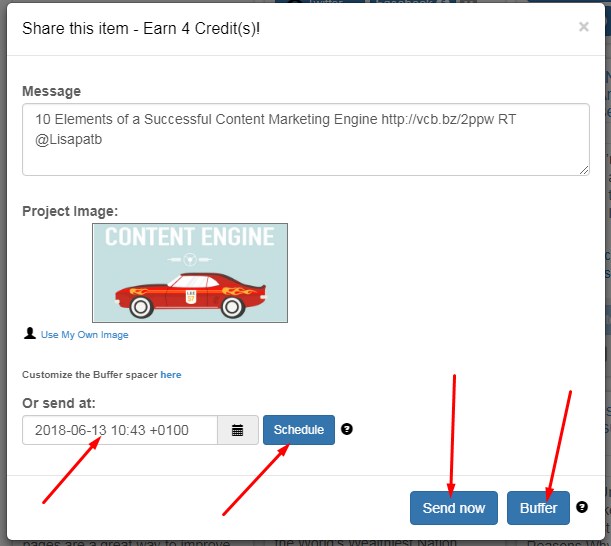 The difference between Scheduling and buffering is that the schedule option allows you to set a date and time. The buffer feature simply holds back the tweet for a short while.
I like the fact that I can schedule tweets for the next 48 hours. That keeps my Twitter busy while I earn the credits. But note that it's a bad practice to push content to Twitter without engagement. So always make time to connect and engage (like, retweet, reply, etc)
3 – Add your own content
You've earned some credits from sharing contents or simply buying from the store. Time to add your own content. You need a minimum of 10 credits to proceed.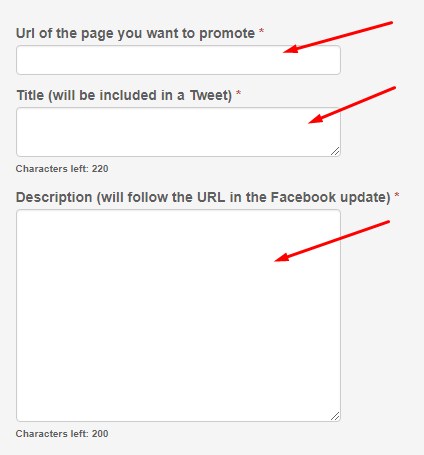 You have to follow instructions on this page to decide the different sharing platforms of your content:
Add your content (URL, Tweet and Facebook post).
Pick the categories to display your content.
Set the budget (Minimum is 10 credits).
Select which social platforms you want your content shared.
Accept the terms and submit.
Wait for Approval
This is where the platform admins make the community exciting. By manually reviewing and approving content gives no room for spam and trash.
So once your content is submitted, you have to wait for admin to approve/reject.
Does ViralContentBee really work?
My straight answer to this question is YES. The platform is made up of real members. If you post your content in the right category and very attractive titles, you can't avoid shares: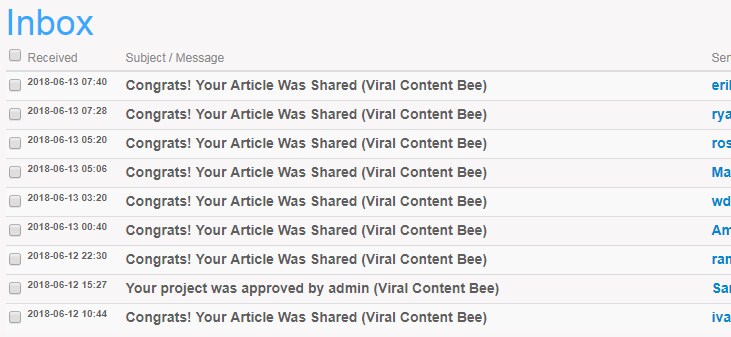 Referral traffic from ViralContentBee
This tool was designed with social media traffic in mind. But it happens members are getting referral traffic from the member zone.
Members often click to view the content to be shared. They don't just share based on the attractiveness of your titles. They click to find out if the destination page has content that's worth sharing.
My Jetpack stats today tell me I have had some referral traffic from VCB members and that's awesome:

If your blog is attractive, many of these visitors will end up being subscribers. I'm personally connected with some awesome bloggers thanks to VCB dashboard. While I tried to find out if what I'm about to share is valuable, I discovered the bloggers themselves are worth relating with.
Signing off
If you are not using ViralContentBee right now, you certainly deliberately have decided not to get more traffic from social media.
Go ahead and signup for free. Drop a comment let me know what you think. Share this post on social media.