Twitter is the second most popular Social Media site after Facebook with a huge capacity to drive traffic and profit. Unfortunately, it is also one of the most misused and most spammed social media tool today. However, like the big guys, you can get through the noise and draw huge targeted traffic to your websites and blogs.
To be able to use Twitter like a pro, you need to go through a learning curve. The veritable problem is most of us think we know Twitter yet we are unable to get the benefits of using it. Stop wasting time and learn how it works from the experts… Learn to use Twitter like a pro
What is 'Learn to use Twitter like a Pro' course?
It's an in-depth step by step video course (28 videos, 4 resources collections, 2hrs of content) by the social media pro, blogger and web developer Ashley Faulkes.
Ashley is a fulltime blogger, web developer and social media professional who owns and runs Mad Lemmings. He has been working with various multi-national companies developing web solutions for nearly 15 years. Let's watch Ashley in this video:
In this actionable and power packed course, Ashley will take you to the next level on Twitter by showing you, step by step, how to use Twitter like a Pro.
You'll get to know how to:
Improve your Twitter Profile to make sure you get noticed
Improve your tweets to get more clicks and interactions
Use some of the advanced features of Twitter effectively
Use simple tools to make your Twitter life easier and more effective
Find targeted followers in your niche, and increase your following with ease
Etc
NB: The author of this course, Ashley shows us all the techniques he uses to make Twitter his number 1 source of social media traffic. That's quite impressive and you won't afford to jump over this.

Why am I recommending this course?
Most of you reading my blog know I don't recommend thrash. I recommend what I have used and know can yield required results. I have full access to this course and I know what's inside.
What I found quite interesting is that Ashley has thrown in quite impressive walk-through on some free tools I never knew before. I have been working on Twitter for years. I have even created some widely used Twitter tools but there was still something in this course for me. If you want to build a serious Twitter account (or accounts) able to drive traffic and generate sales for your business, take this course.
The special deal
I have been working with Ashley to seal a special deal for you. He went beyond my expectations and cut off up to 50% just for you. So order this course here and up to $25 will automatically be taken off your order. Your order page should look something like this: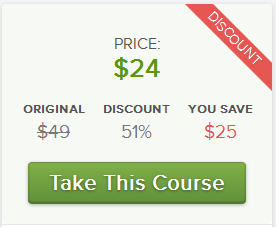 Throwing in some bonuses
Now, I want this to make more sense to you. While this course alone is a huge pack of gold for just $24, I'm going to push more into the package.
After grabbing this course through my link, just contact me with some details of your purchase. I'll get for you free copies of ViralBird and CashDonator.
While CashDonator will help you monetize your blog in an optimal way, Viralbird will spice your Twitter traffic activities.
Steps to follow
Clear your browser cache first. This will make sure I get the credits after your order
Follow this like to the product page and grab your copy
Contact me to claim your bonuses.
Now time to take action. Go check out the product page and be sure to jump on board.
->> Learn to use Twitter like a Pro