Are you a business owner who is tired of constantly being surrounded by messy stacks of paper that require a signature? Are you wanting to stop wasting time on printing, signing, scanning, and reformatting your documents? If so, an eSignature app might just be the solution to your problems.
What are eSignature apps?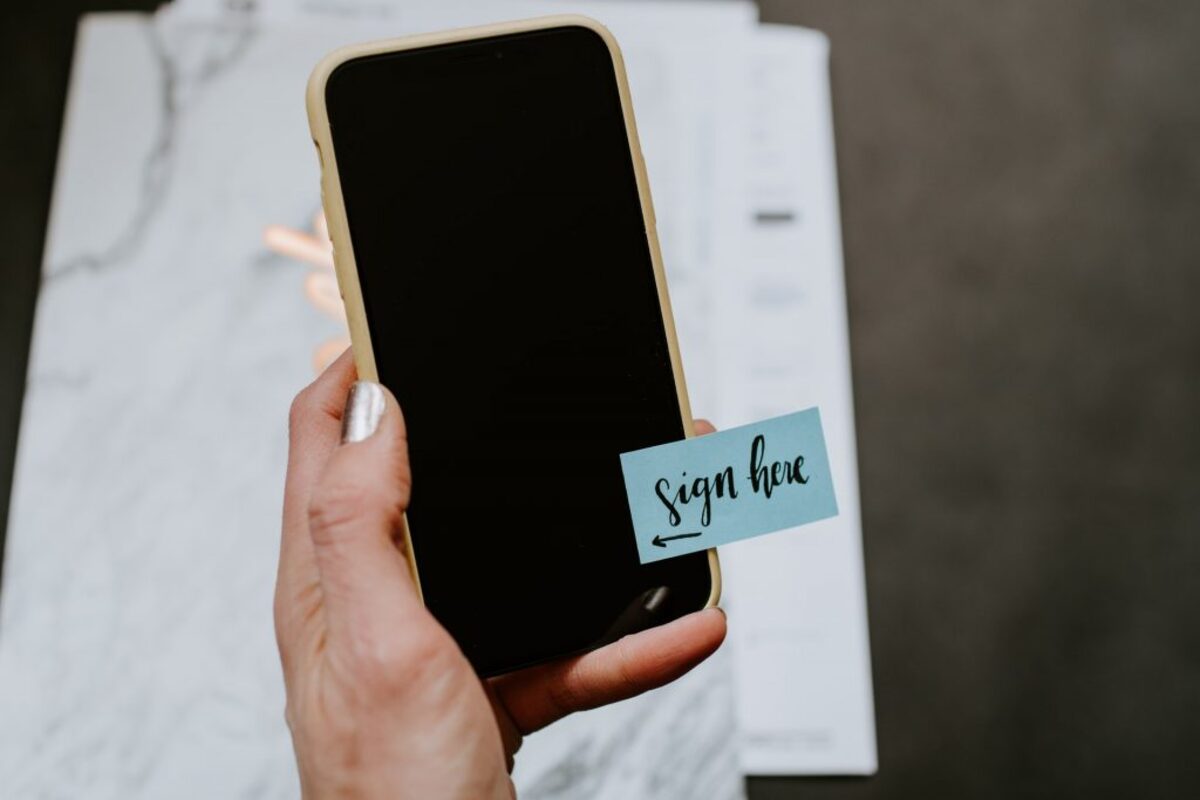 In today's digital world, we have eSignature apps – apps that enable you to digitally attach your signature to a certain document or agreement form in a matter of seconds. Just like with regular handwritten signatures, by signing your name with an eSignature app, you agree to all the terms of a digital document or form.
However, since there are various eSignature apps these days, working out which app is the right one for your unique business might be quite difficult. Luckily, we are here to present you with the top 7 eSignature apps in 2021.
1. Grabsign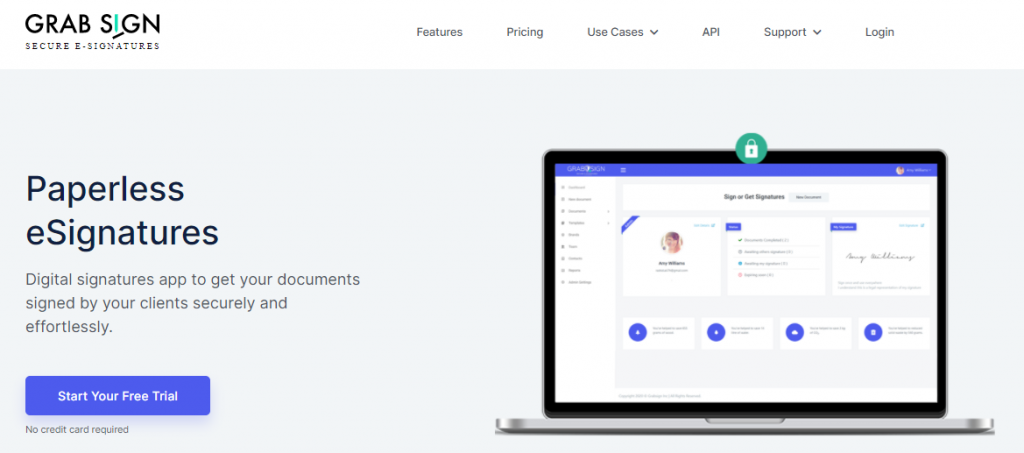 Grabsign is one of the best eSignature apps currently on the market. With it, you will have total control over your documents by creating templates with indicated document recipients and either sequential or simultaneous signing, as well as by being able to manage your content and team.
It has an in-person document signing feature, which enables people to sign documents from any device directly on your webpage. Grabsign uses strong security protocols to safely store your documents and guarantees the validity, authenticity, and safety of your sensitive and confidential documents.
If you choose this eSignature app, you will never again have to be worried about your document recipients or team members overlooking any important steps of the signing process because Grabsign enables both you and your team to seamlessly communicate without utilizing other channels and track the status of all your documents.
2. DocuSign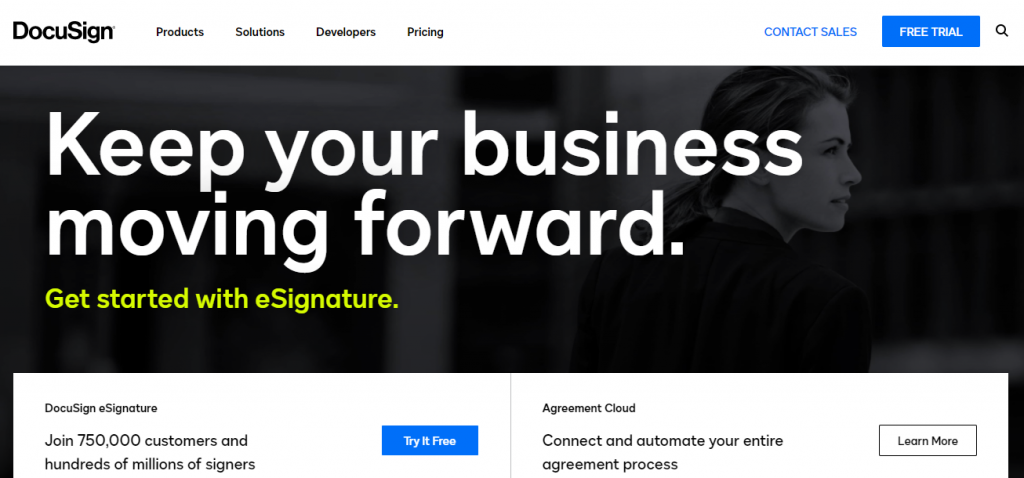 One of the most popular apps that provide you with an eSigning solution is most certainly DocuSign. It is a pretty straightforward and easy-to-use piece of software that integrates with many third-party tools such as Google, Windows, Apple, and even apps for mobile devices. Not only that, but DocuSign's API also permits integration with your current systems.
It allows you to efficiently upload and prepare a document for signing, choose your recipients, and track your document's status with Quick View. Plus, it even notifies you regarding the expiration dates of your documents.
If you are worried about your documents' confidentiality, you shouldn't be because DocuSign adheres to binding corporate rules (BCRs). That is the highest level of certification for transfers of personal data outside the European Union within a group of enterprises.
3. PandaDoc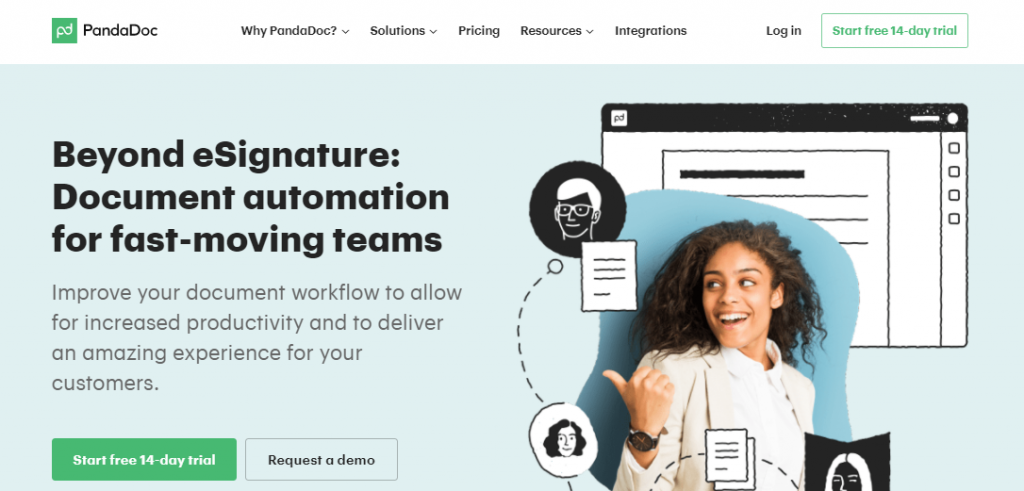 PandaDoc is an all-in-one eSignature app that stands out from the rest of eSignature apps. It allows you to create great proposals and interactive quotes with its drag-and-drop editor, as well as to customize your documents with both customer and deal data from your CRM.
With a number of CRM and sales tools, PandaDoc is an eminent tool when it comes to integration.
By having great round-the-clock customer support, it will provide you with answers to your every question in an instant.
When using PandaDoc, you have access to both a content library and advanced analytics. What's more, this app is great for teams of all sizes.
4. HelloSign

If you are on a budget but still want a simple and easy way to sign your documents and collect signatures, HelloSign is a great option. With its unique, completely free eSignature tool, your business will thrive.
It is integrated with Dropbox and Gmail; therefore, you have the ability to send documents via email directly from the app. It is a real timesaver because of its drag-and-drop options and the efficient document tracking option linked in the sidebar under Documents.
5. Adobe Sign
Many people opt for Adobe Sign thanks to its well-known name in the software business,  and they are not in the wrong; this app is one of the first apps on the market to provide an eSigning solution.
It offers features for both electronic and digital signatures and allows you and your document recipients to use secure devices such as USB tokens and smart cards.
This app is a great choice for people who already use Adobe software.
6. signNow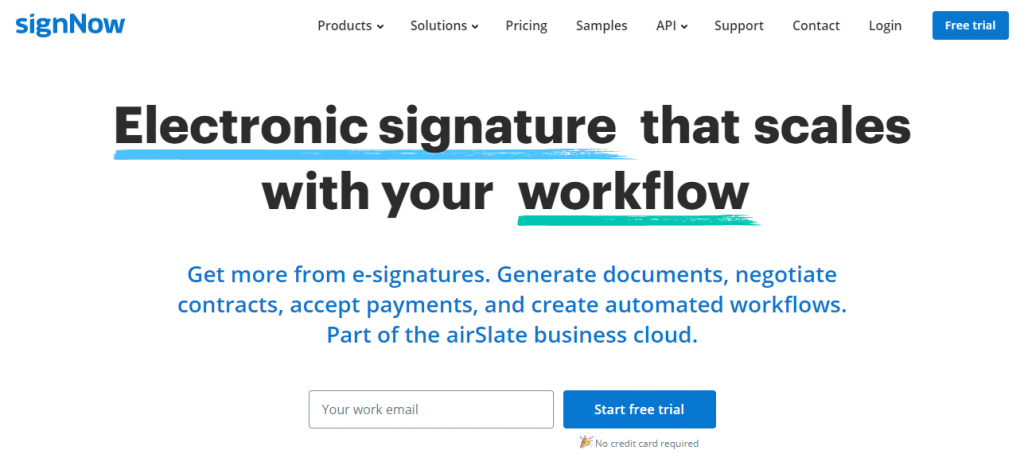 With its web and mobile-friendly software, signNow is a great option for leaving signatures on-the-go. This app accepts files such as images, PDFs, and numerous types of text files.
It is not only a collaborative electronic documents tool but also a signature collection tool that provides users with preset templates for sending documents that require a signature, a straightforward interface, and even a custom API. Therefore, signNow is a great option for you if you own a smaller business.
7. SignEasy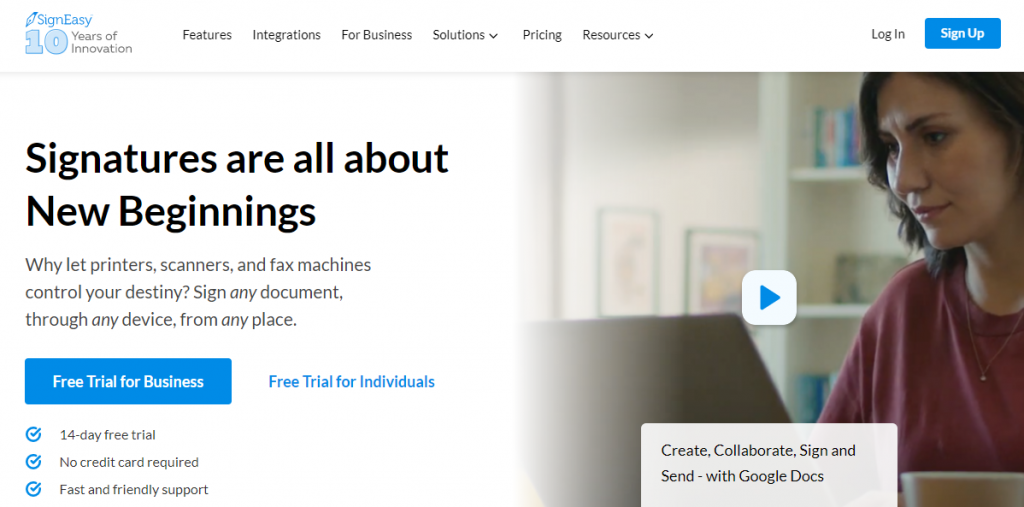 By simplifying the user interface, SignEasy wants to emphasize its easy-to-use feature as well as simplicity. This app is useful for small to medium-sized businesses and is used mostly by people working in the finance and healthcare sectors.
With SignEasy, you will have the option to design the document's signing order and set up templates for reuse.
As the above-mentioned eSignature apps, SignEasy enables you to create documents within their platform, provides you with drag-and-drop functionalities, and integrates with other tools.
Conclusion
If you are a business owner, having an eSignature app is a must. Not only will it save you time, but it will also help you organize and track your document status.
Depending on your business's size and needs, you can choose an app that suits you the best. Grabsign is a great choice if you own a medium-sized or a big business and strive for a neat and precise organization. But, if you have a smaller business with a smaller budget, I would definitely recommend HelloSign.
In the end, it is up to you to make the right decision for your business.