When starting a website, you must know that the process of making it well-known is not easy and that the competition out there is really fierce. That is why you need to put some effort into optimizing your website, so it joins other websites on the first page of Google search results.
Doing this gets so much easier when you know a couple of important things about SEO.
First, let's explain what SEO is. SEO stands for "search engine optimization", which in essence helps you optimize your website, so it gets recognized and ranked highly by search engines. By doing this, you get a higher number of visitors to your website and your popularity, as well as business, grows more and more each day.
In order to get your SEO to perfection, many things need to be done. Even people who know a lot about optimizing websites sometimes need some extra advice to improve their work.
So, we can agree that search engine ranking and SEO are very important elements of having a successful website. That might be a huge problem if you do not know anything about SEO. But, don't let that scare you! There is one great solution to your problem – The SEO Checklist!
The SEO Checklist was made to be super easy to use by anyone, even beginners. Great, right?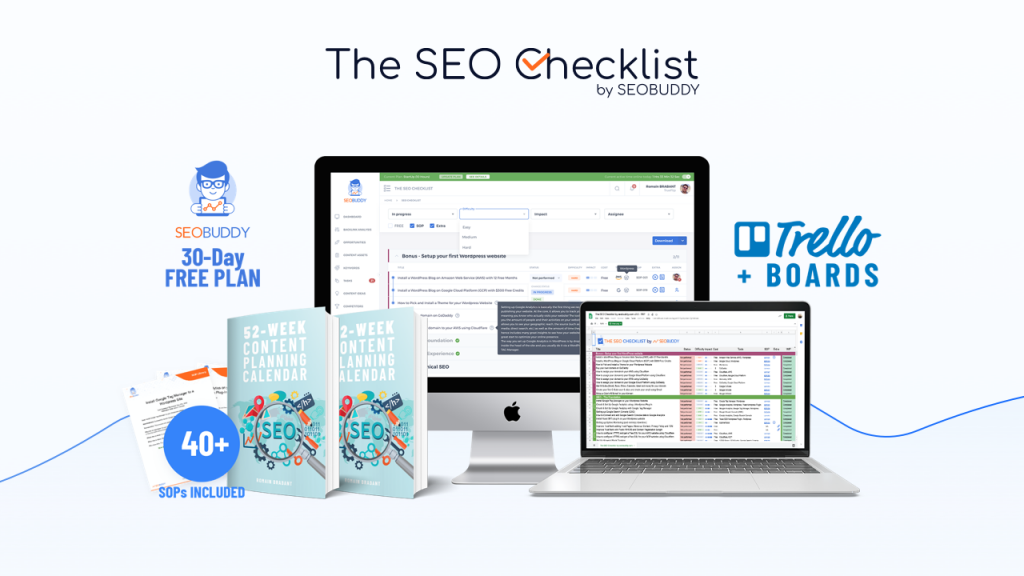 Now, you might have many questions about how it works, what it is, and how it can help you. No problem, we have the answers you're looking for. So, let's find out a bit more about The SEO Checklist!
What is The SEO Checklist, and why is it so helpful?
This is a checklist that contains the most important steps and actions that need to be done if you want your website to be successful and ranked highly. It is perhaps an unusual way of improving your work, but it is indeed really efficient and easy to follow.
It is not an eBook or a long, annoying article that will take too much time to read and give you little in return. It's a simply formatted checklist that contains important steps and tips, and instead of wasting your time, it allows you to start working on your SEO problems immediately and figure out how to solve them as soon as possible.
Thanks to its unique format, it's something that gives you a laser-focused vision of what you need to be doing. Also, it is a practical Google Sheets document you can work from each day. Really useful!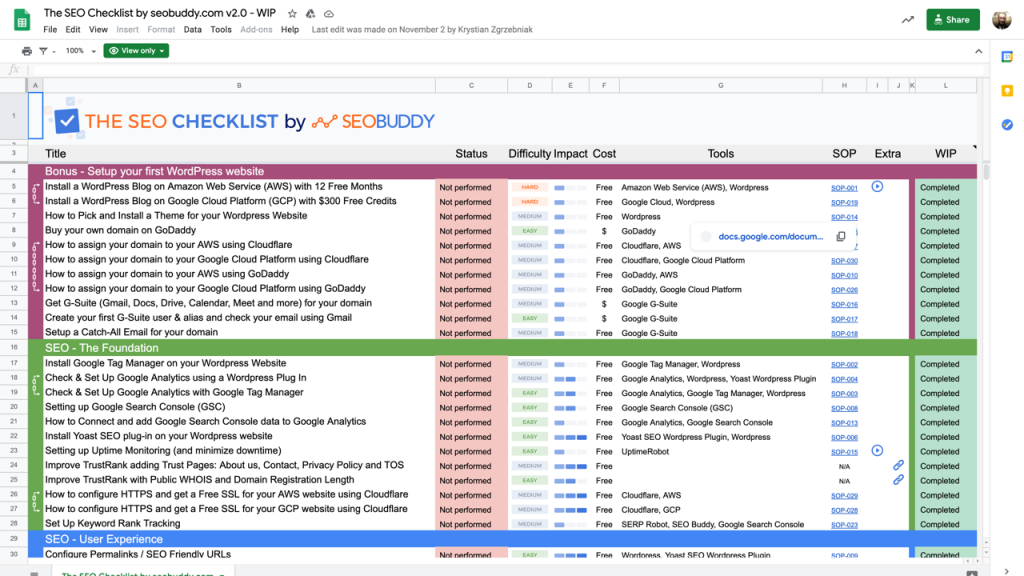 The SEO Checklist consists of 8 different parts, and every part is concerned with a different aspect of SEO.
So, you will start with "the foundation", and then follow the tips for user experience, performance, technical SEO, content, on-page SEO, off-page SEO, and local SEO. At the end of the checklist, you get some bonus advice on creating and managing your first WordPress website.
In the checklist, each step is marked with a level of impact. This makes you focus on what is important. Plus, the checklist also provides you with a list of all the tools you need to use.
Everything in it is simply written and clearly explained so you know what you need to do and all the steps you need to focus on. So, with a little bit of hard work, you could have a truly amazing website that your visitors will love, and that is what you want, right?
SOPs
Don't worry if you are not sure what to do after you have flicked through the checklist because it is not the only thing you get when you make a purchase. Along with The SEO Checklist, you will get some additional instructions so you can do all the things from the checklist properly.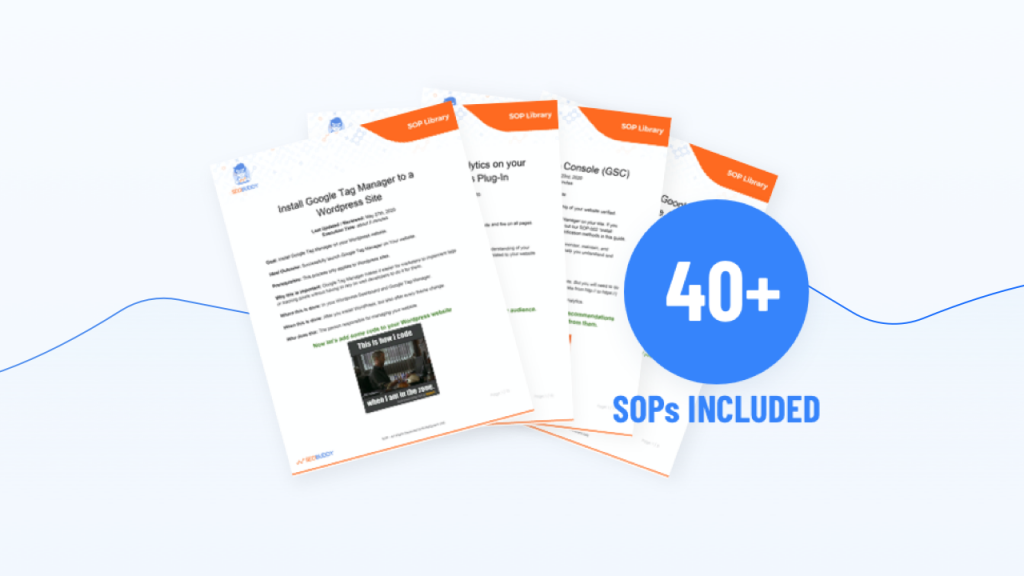 The instructions are very clear and come in the form of detailed standard operating procedures (SOPs). Through them, you can check everything you want, even the smallest details, which is very important if you are unsure whether you are doing everything right or simply need some additional explanations.
You'll get all the explanations along with screenshots for each step, so you will know what you need to click and why.
By following the checklist and the SOPs, you'll learn a lot of useful things. For example, how to achieve SEO-friendly URLs (more on that at this link: https://seobuddy.com/blog/seo-friendly-urls/).
In the SOP collection, you get over forty documents that contain great advice and tips that will guide you. Plus, they will not only teach you the basics, but they will also provide you with some advanced steps you need to take.
Every step from the checklist has a dedicated SOP document, and in one easy click, you can open the SOP document and thus make sure you know what you are doing.
Now when you know how this checklist works, it is much easier to believe that a beginner can use it with no problem, right? But that is not it! There are many more things you get in The SEO Checklist bundle, so let's check that out.
What does The SEO Checklist bundle include?
If you thought that those two things listed above are all that The SEO Checklist bundle has to offer you, you were wrong! If you make a purchase, you will get many more useful things that will be truly helpful when you start improving your website's SEO.
The SEO Checklist bundle includes:
The 102-point SEO Checklist Google Sheets document & web app
44 step-by-step process documents (detailed standard operating procedures spanning over 200 pages)
50-point Content Distribution Checklist Google Sheets document
The SEO Checklist eBook (PDF of 63 pages)
The 52-Week Content Planning Calendar Method (PDF of 12 pages)
Isn't this a great offer?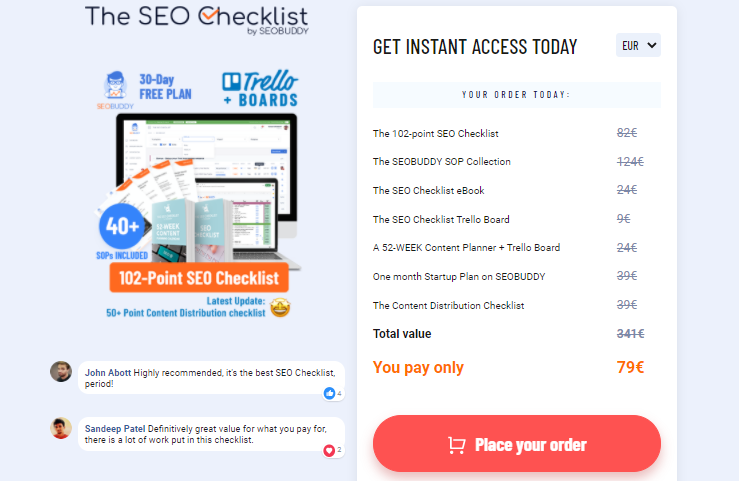 Let's learn more about all the extra things you get.
The SEO Checklist Trello Board
Since you will need to plan many things, you will certainly want some help to make sense of all the tasks you need to complete. The SEO Checklist Trello board is all the help you need. It will help you decide on a certain task's priority, you will be able to set deadlines and more details with it, and thanks to that, you will always know what needs to be done next.
You will also get the ability to add notes to every task on the board. And the great thing is, if you have other people that work with you, you will be able to coordinate your work with theirs in a few clicks.
When you finish a task, simply move it to the "Done" folder to clear the board up a bit. You will easily see your improvement, and the board will make you feel more satisfied and less stressed.

Content Planning Calendar Method
The quality of the content on your website is one of the most important things to take care of when you want your website to succeed. It is known that Google prioritizes quality content. So, when you get this Content Planning Calendar Method, it will be so much easier to plan out all the content you need, and it will also give you the option to select the content that should be easily promoted.
So, in other words, you will have some sort of content schedule, you will know what to do next, and you will stay organized.

One month access to the "Startup" plan on SEOBUDDY
First things first. What is SEOBUDDY even? SEOBUDDY helps you find keywords you should be using, and it shows you what your competitors are up to. Its competitive analysis framework is really useful since it helps you pinpoint keywords and topics that are popular among your target audience and that you haven't covered in your content. Also, with it, you can see all the websites from which your competition receives backlinks, and this could point you towards opportunities you've missed.
When you buy The SEO Checklist, you can try using the Startup plan on SEOBUDDY for one month completely free. SEOBUDDY offers you some really smart and useful features that will help you make the process of improving SEO much easier.

Content Distribution Checklist
Yes, this is another checklist, but in this one, you get to focus on your content a bit more. It is mostly concerned with spreading the word about your website and its content. It shows you the best ways to get likes and attract people who are a part of your target audience.
It is very easy to use and track.
With this checklist, new visitors will appear on your website in no time!

Is SEO worth investing in?
The importance of SEO is huge. So, everything you put into improving it, you get back in the form of boosting your website traffic, follower and visitor count, and your work in general. That's why you should definitely consider investing in SEO Malaysia.
With a bit of hard work, planning, and good ideas, you can get your website to be among the most relevant results on Google's first page, and in that way, you can boost your growth quite quickly.
Don't forget that you need a few weeks to see some greater improvement since nothing can be done overnight. Also, it is important to do your SEO the right way because it might get you even more traffic than you expected.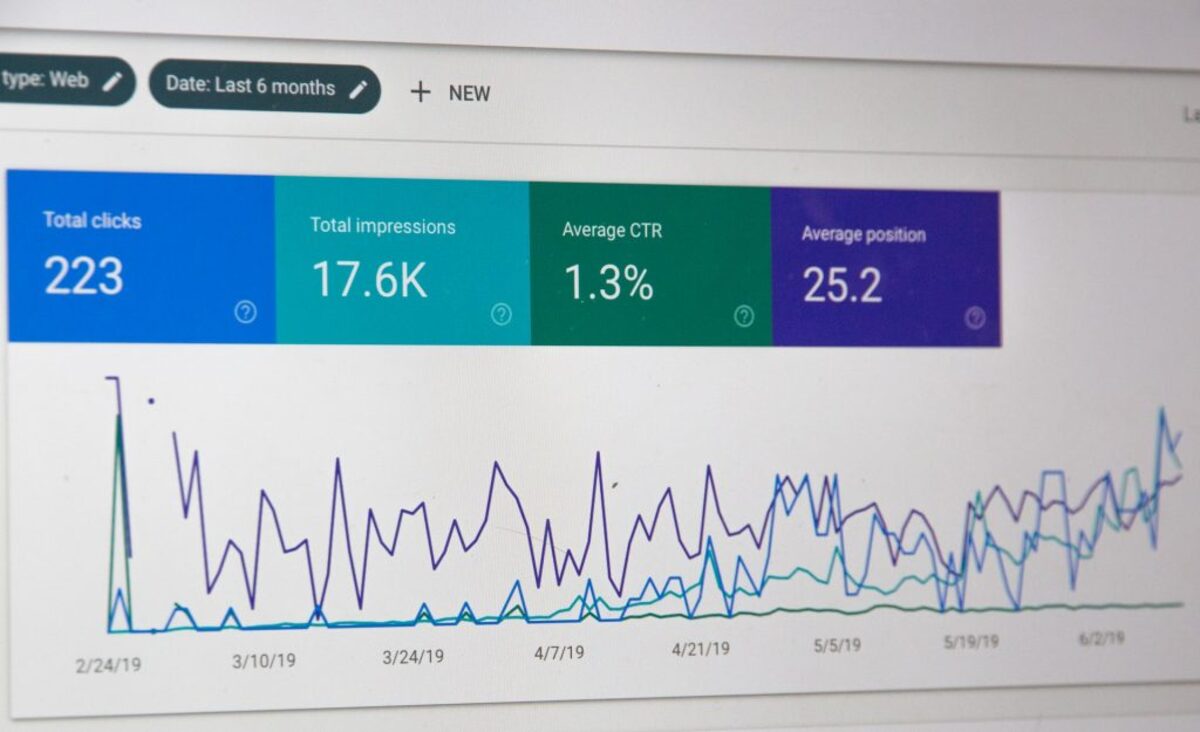 With that said, remember that it's not all about reaching Google's first page either. Instead, your content will have more quality and relevance, so visitors will find scrolling through your website enjoyable. Thanks to this, you will have people that follow your work religiously.
To sum things up
SEO is an extremely powerful tool when it comes to improving your website's quality. When you started your website, you surely wanted to be among the most relevant results on Google. And even if you are a beginner, The SEO Checklist by SEOBUDDY is here to lead you through the process of creating and running an amazing website that contains quality content.
With all the steps you need to do explained one by one, it will be easy to focus on what you need to do and when you need to do it. That is why everyone who wants to improve their website should use this checklist, put some effort into following the well-explained steps, and watch the great results coming in.
If you use the promo code "WEBFACTORY", you will get 25% off The SEO Checklist. So, why not check it out yourself and see why it is a great resource.