114
20 Top Bloggers & their blogs to follow in 2015!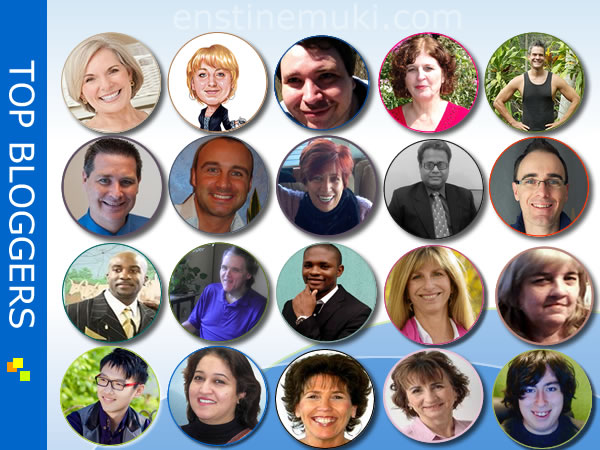 Here are some top bloggers I recommend you follow this year 2015. I have followed some of them since 2012 and constantly, they deliver value. I have also featured some of these on my blog here before so I can tell you from my practical experience that dealing with them individually is worth every bit of your time.
Now, why do you have to care about who is featured here on the list of tops bloggers?
It's important to to know and interact with people. I have said a couple of times that you can't succeed as an Island. Show me any successful blogger and I'll show you one that has a huge community of active members.
If you are on the list, I want just to remind you that you are very important to me and I cherish every moment you spend here on my blog. I know I have interacted with many of you on a more personal note. We have had a chat a couple of times on social media and this year, one of the things I work so hard to do is to make sure our relationship grows.
If you are here, I want you to know I visit your blog and that's why I want everyone here to come over to yours. You are special and your articles are just awesome. So I'll very much appreciate if you share this post on social media, link to it from your blog and let others know you are awesome. Send me link if you mention this post somewhere.
NB: Before you continue, here are 15 top bloggers who shared with us how they make money online.
I know I have not listed everyone that's a top blogger. I accept my limitation. However, that doesn't change the fact that you are awesome. As we continue, be very sure that better days are ahead.
20 Top Bloggers & their blogs to follow right now!
[Tweet "20 Top Bloggers & their blogs to follow in 2015!"]
Donna Merrill is a must-follow lad and her blog is constantly getting better. She has a soft voice. Yes, I can hear her when I read her articles. Donna & David have great products for bloggers and I promise you both of them will soon be here on this blog exclusively to give details of their products.
Hey! My second guest article for 2015 just went live on Donna's blog and I'm so excited she invited me 😉 It's on fire so you have to check it out as I share some little known tricks to boost affiliate commissions. Here is the article.
Don Purdum is the magic button of doing business online. I didn't make a mistake in saying that. Just spend some time reading his articles and you'll find out yourself.
There are 3 things Don will teach you to start seeing results in your business;
Knowing the business you are into.
Know the problems you are trying to solve.
Know the people whose problems you are trying to solve.
Don makes you to understanding that success online/offline in business is about solving problems and that's indisputably true. Follow Don if you want to take your business to a different level. Give him a call for business coaching.
Check out Don's blog here!
There is no way I can talk about Top bloggers this year without mentioning Kevin Duncan. One thing you'll notice is that this guy has a unique writing style. Kevin has a background as a teacher and that explains why he's post often go deep into the topics he treats. He's one of those that helped me in the beginning of BroadedNet. You can't end this year without hooking up with this brilliant guy.
Here is another tough lady you have to hook up with this year 2015. Sherryl Perry taps into her past experiences (as a teacher, CIO, business owner and consultant) to provide her readers with easy to understand information with concrete examples of what works and what doesn't.
Check out Sherryl's blog here
Mi Muba is a veteran media professional with 20 years multiple experience of public relations, media management, event management, public awareness, social media marketing, content marketing, journalism and blogging. Mi is now a full time blogging sharing exceptional tips on how to be a money blogger on his main blog. If you fail to connect with bloggers this year, don't fail to connect with Mi.
Erik Emanuelli is a personal friend and I love that he's always there to share his ideas with me. He helped me out on BroadedNet and is one of the top users.
This guy worked for 6 years in the banking and has been an Export Manager for different companies during 9 years, visiting customers in many countries all around the world. Erik is an excellent professional blogger and freelance writer. He has put in place a platform to help bloggers get exposure and traffic. Yeah. He's the guy behind Klinkk
Now, if you have not connected with Carol, I recommend you stop here first and check out her blog, follow her on social media and send her a mail. She's a very fine lady with a sharp eyes for quality. Her blog is pure air and makes you feel comfortable reading.
Not only does her blog look so clean, it also has power and value-packed content. Carol invited me on her blog last year so check out my guest article on her blog that got over 150 comments. She also made my beautiful caricature as a gift 😉
Go straight to Carol's blog here
Have you been to paradise before? The answer definitely is no but here's someone who is right there and blogging. Ryan's fingers already know the keyword so well that he can publish exceptional ebooks so frequently and write great posts of thousands of words.
Ryan is a ready-to-help guy and despite being busy traveling and blogging, he creates time for his readers. He came to me when I needed him to put a few things right with BroadedNet.
Check out his blog and grab his books
Ashley Faulkes is an expert in online marketing and creating WordPress sites. He's been in the field of Website Design for over 12 years so you understand why he is the go-to guy to get your site up and running.
Ashley is also a social media expert, focusing on training companies on how to use Twitter for business. In his advanced course "Twitter for Small Business", Ashley shows you how to do everything from optimize your profile and tweets, find great content to share, increase your following and much more.
Time to checkout his blog here
Sue Anne is a blogging coach so if you need one, time to contact her. She believes that smart bloggers who want to be successful need to be able to communicate, connect, create anticipation and be able to persuade others to build their business online. This however turns out to be tough for many. Many businesses are experts in their fields but they still lack the skills to connect repeatedly with their target audience. Sue is here for you!
Check out her blog and connect with her!
Maxwell Ivey is the most exciting blogger I have come across because of his force and move forward despite his physical challenges. Yes, the guy's physical eyes are blind but he really isn't. I think the real blindness is when we fail to make use of those eyes.
Some people like Maxwell don't even have those eyes in their right order yet they do exploit. I'm highly convinced you'll be excited meeting Max. He's definitely a top blogger to follow this year 2015.
Now, let's meet the guy that has moved from zero to Worth blogger. Definitely, Jackson is a blogger to connect and stay with from now hence. With impeccable writing skills, Jack (as I call him) has featured on top blogs including ProBlogger.net, JohnChow.com, SearchEngineJournal.com, etc.
He's one of the strengths behind BroadedNet and constantly talks to me on ways to make the platform better. One of the bloggers I spend time with on chat and phone is this guy. He's not only an awesome blogger but an interesting friend. You can't fail to network with him.
Connect with Jack on his blog!
My list of top bloggers to follow this year cannot be complete without Sherman Smith. He is computer technician/network administrator, he plays piano and conga drums, and on top of that he dances salsa. Of course, Sherman is a pro-blogger you should connect with this year. Now, you need to spend sometime on his blog to know what I'm talking about.
Deborah Tutnauer is one of the bloggers I came to connect with just last year and I have become so hooked to her style. She's not only a top blogger but a business coach you have to listen to.
If you are leaving your corporate job or making a career change and searching for the right business idea and format for your entrepreneurial venture, here is Deborah to hold your hand through.
Now, there are also frustrated entrepreneurs who have already spent time and money on training, coaches, retreats, education, and are still not seeing the results they desire. Give Deborah a try this time.
Check out her blog here!
Monna Ellithorpe is a wonderful person from whose blog I came to know about Power Affiliate Club (PAC) where members help themselves to make money with Affiliate Marketing. She's been doing Affiliate Marketing since 2000 so you see where she can take you to with her well of experience. She's one of my top bloggers to connect with this year and if you want to be an author, you really have to hook up with her.
Here is her blog so connect with here!
Reginald is an awesome friend, is a serial entrepreneur, marketer, blogger and consultant from the small country of Malaysia. This guy is a WordPress lover who has been creating multiple websites for himself and clients. His latest project AskReginald.com (in beta) is a solid platform that brings other top bloggers and influencers to collaborate and find lasting solutions to problems.
If you are an entrepreneur, blogger or just want to make it in the new world, that's probably one resources you should not overlook.
Sign Up to his platform now!
The truth is it's difficult to list top bloggers this year without Harleena Singh of Aha-now. She is noted for her ability to drop excellent comments and help promote newbies.
Working closely with her partner Vinay, they have succeeded in putting up a blogging community (AHA!NOW BLOG COMMUNITY) which is fast growing to be huge resource center for bloggers. Are you already an AHAIAN?
Connect with Harleena on her blog here!
Adrienne Smith is the top blogger who has given so much to the blogging world. She's the engagement superstar and she will stop at nothing to help everyone know how it's done creating and maintaining fruitful relationships.
Her product Build a Blog Community is the most recommended training course if you want to take your blog to a whole new level.
Adrienne has been known for her willingness to support new bloggers gain exposure through constantly reading, commenting and sharing their blog post. Definitely, she is one of the top bloggers to hook up with and follow in 2015.
Check out Adrienne's blog here!
Joy Healey makes connection exciting. Since knowing and connecting with her, I have enjoyed a lot from her constant presence on my blog, sharing my articles, blogging about my products and linking back to my blog.
I think Joy knows the secret of maintaining a relationship so I highly encourage you hook up with her this year. She's definitely the top blogger to create a relationship with.
Connect with Joy on her blog here!
James is an awesome young man who has taken the drastic decision to drop out of school to dedicate more time towards achieving his entrepreneurial goals. James is a wonderful blogger and writer. He's someone I encourage you hook up with year.
It's not been long I know him but constantly reading his posts, I definitely will not want to miss out his growth this year.
James is dropping out of college! Read more!
Now, these are some 20 top bloggers to connect with this year. The reason of this post is to help you grow in relationship. These are well chosen bloggers. Some of them are young but I think they are TOP (because Top doesn't mean old) and if you visit them, you'll understand why they are.
I can definitely not list everyone on this post. However, let me hear you out…
Drop a comment below and let's know what you think about these top bloggers. You may also let us know about you and how we can connect with you and grow as bloggers.
Over to you…
[Tweet "20 Top Bloggers & their blogs to follow in 2015!"]