Hi everyone, I'm sure you need targeted traffic like everyone else with a website. Today, I'v got my friend Shamsudeen with a hot, meaty piece for you. This is exceptional and I know you will get your plates full of goodies.  Fire on bro …
Contrary to what you've been made to believe about how to drive traffic to your blog or offer; you've been told thousand times that traffic is the hardest part in internet marketing and to make things worse, you've tried all you can to drive traffic to your offer but always same story – Lack of it.
Traffic is the easiest thing to achieve on the internet only if you're ready to take the giant stride and face the truth, get out of your comfort zone and see your blog as a business tool not hobby as most people have made you to believe. 
Let's face the truth; they say the good things in life are always FREE, but not when you can get better ones at reasonable price.
As I continue to blog, and meeting with different bloggers, I have discover that what most marketers depends on for traffic building are easy to implements strategies, free stuffs, free traffic systems, blog commenting, group posting etc.
All these are good stuffs to start with but not what you should depend on if you're aiming to start seeing your alexa traffic rank moving up at a very fast pace or you want your blog to rank among the top 100, 50 or even in the first 10 thousand blogs on the internet.
This is the truth that no one is willing to tell you, or you've been told but you're scared to risk your pocket over it:
If you want traffic, buy targeted traffic.
It's as simple as that, and anything else will only leave your blog traffic system crawling like a snail. Don't get me wrong, I know there are blogs out there that drive almost 95% of their traffic from search engine and mix with direct traffic, but in my experience, those are exceptional instances and not the norms.
Those blogs have established long before you and I know the internet exist. Things have become more crowded or should I say over crowded now; getting your voice heard is now very difficult than it used to be.
There are countless of blogs writing on same topics as you, even with more quality information than yours. The race is now fiercer than ever, the world has moved from creating products to marketing product.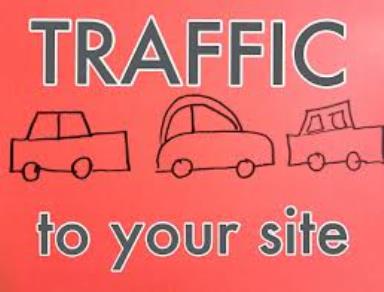 And come to think of it, the search result pages will only display 10 pages at most for any giving search queries. This mean if just about 5% of millions of pages competing for same keyword got "everything" about their SEO right, only just 10 pages will still make it to the first page of SERP.
What will happen to the rest?
If you don't know how to market your product effectively to achieve your goals, no matter what you manufactured, creates or produce…people won't buy it; because, there are thousands of exact or similar products as yours in the market reaching more target audience than you're currently doing.
Today, I want to show you those large traffic streams than won't break your bank account and yet, give you the best return on investment. Though, these depend on the quality of your offer or products.
But before we go on, one piece of advice I would like to give is, if you're not certain that you have something of value to offer your visitors when they come dine with you, don't bother reading further. Go back to your blog and work things out first, make sure you have good solid piece of information that your target audience will love when they arrive your blog.
If you're sure of this; good, let's ride on. I tried my best to make this list good for everyone by making it short and include both FREE and paid channels I know of that will produce significant measurable success if done right.
1. Facebook Post Boost Option.
You want traffic? Try Facebook post boost option and I bet if you don't get traffic with this one, come back here and slam Enstine and I in the face for giving out crap information.
I have used it and could tell first-hand how effective it is. It is a no nonsense traffic pulling system and you not only get traffic in the process, you also get some page likes along with it; cause some users won't visit but like your page in the process of viewing your ads and even give your post a like.
But there is something to think about when advertising on Facebook, and that is your ads headline. If your ads headline sucks, then you might not get the expected result.
You have few texts to display with Facebook ads, so craft out a very strong compelling headline to get the attention of viewers and make them click through to your webpage.
It only cost $5 to reach closely 4,000 plus targeted traffic and in my opinion; this doesn't cost much to market your blog post to such numbers. If you know what you're doing and your sales funnel is well set up, getting back your $5 isn't a big deal.
Facebook post boost option is well good when you're promoting affiliate stuffs with your blog post or making announcement of newly created products, services or event, so you're sure of ROI.
And don't forget to accompany your ads with a very catching big images. An advert without an attractive image on Facebook won't receive the attention needed.
2. Redd It.
You can beat a web site that rank 58 in the world according to Alexa, and simply put it – this where the traffic you been seeking for lives.
There are two ways to get your ads rolling on Reddit, either on the front page or Subreddit. Subreddit can be compare to Facebook groups; these are Subs of people with same interest which makes your ads in these places much targeted.
Like the Facebook ads format, you determine what you're willing to pay and how long you want the ads to run. It cost 75 cent for every 1,000 CPM your ads is shown to users. This mean you pay a flat rate regardless of how many times people click on your ads.
Wait!
Before moving on, Enstine has written an excellent article on how to build a very popular blog in 90 days. This is an exceptional article I recommend you check out just after reading this one.
Want your blog to be very popular only within 90 days?
3 .Stumble Upon Paid Discovery
Rank 155 according to Alexa traffic rank at the moment, StumbleUpon stands as one of the best resource to drive swarm of traffic to your site. But caution as to be taken with this type of paid of advertisement.
Not all type of topics perform fairly well on StumbleUpon; first take a trip down there and see what type of information Stumblers are reading and see if you can build your content around such topic or if your existing ones fit in.
Create an account, fund it – it cost $20 to start with – and set all parameters to fit in according to your target audience and wait to see what result you'll get. You get the chance of setting what your daily budget limit is and how much you're ready to pay for the entire duration your ads will run.
This post by SiegeMedia will help you get started on the right track of Stumble upon Paid Discovery.
4. Slide- Share Front Page.
With an estimated millions of page views every month, slide share remain one of the best source of traffic for internet marketers. I recommend you turn your old blog post into power point presentation and upload them onto slide share.
With Microsoft office 2010, you can achieve everything from creating the slides to turning it into pdf format that would fit in to slide share presentation. No big deal about turning your old post into slides, just give it a try and before two or three test, you become master at it.
Create beautiful slides and if you're lucky your slides get pick up as one of the feature presentation of the day, that may simply turn into rush in traffic. I know is not an easy thing to get featured on the front page, but it is not impossible also. Give it a try and remember, someone had to get feature – it may be you.
Ana of Traffic Generation Cafe might be all you need to get started with getting the best of Slide Share presentation.
5. Solo Ads.
With solo ads, you can't go wrong and especially if you have something very quality to offer and a very good bait to use with a very nice looking landing page to capture leads.
And this is one thing to consider when using solo ads to drive traffic to your offer; make sure you're not marketing the products directly but driving the traffic to your landing page so you collect potential visitor's information such as name and email address.
Be careful where you buy this type of advert program, so as not to fell victim to scam activist. Confirm the email list you're sending your promotional message that it's an active one and well-targeted to your kind of offer.
If all things fell in their right places, you should build your email list in the process and also gain exposure on top of the traffic you'll sure drive to your offer.
6. Guest Post on High Traffic Blog.
When I say guest blog on high traffic blog, I mean a very high traffic blog like EnstinMuki.com. This is no flattering or exaggeration, when you see a blog in the range of first 30,000 blogs in the world, that sends a message that the blog in question receive lots of traffic.
But the problem is how do you get your post accepted by this so called high traffic blog as most of them don't just accept guest post from every author?
Well, I have come to know Enstine sometime late last year and within that time and now, I have manage to get closer to him by following him on social media places like twitter, G+ and sometimes, on Facebook comment.
Each time I visit his blog, I always tried to read and understand what he his saying in the post and by this, I could leave a good remarkable comment.
There was a time I could remember on Harleena's Aha-Now blog, Enstine ask a question about an alternative to PayPal for African blogger, I took that moment to move one step closer by supplying the answer to his question.
You remember that Enstine?
Sometimes after reading his blog post, I would share it on different social media sites. All these while I'm preparing the way for my post to get accepted the very first time I would ask for guest post on his blog.
You don't wake up one morning and just hit up a blogger with guest post opportunity, NO! It won't work out like that; not after Matt Cutts has laid out his weapon on spammy guest post and guest post network blogs.
You have to start by building friendship, get closer to this blogger and establish meaningful relationship, only after that, you can ask for favor.
There you have it friends!
Getting traffic is not as hard as you've been told; the important thing to keep in-place is good quality information that add value to your potential audience so you can keep them when they visit the first time.
Keep working your way up according to your pace as you implement those free methods to promote your blog; also remember the BIG push your blog could get if you can just spend that little extra bucks on it.
Your blog is your marketing tools, treat it like a business.