NB: Payoneer has resumed services in India (edited April 5, 2015)
Payoneer is a huge relief and the angel of most Internet Marketers and Freelancers in areas with poor financial infrastructural development. We know however, that Payoneer services have been discontinued in India following instructions from Reserve Bank of India (RBI).
Knowing how Internet Marketing, Freelancing and blogging is rapidly growing in India, one can see these restrictions as a mighty impediment.
This limitation is not only from Payoneer. Paypal, the biggest online payment platform has placed a lot of restrictions on users from India too. This is making things even more difficult for freelancers and bloggers from this country.
I remember after running this blog commenting contest, the winner was from India. Sending him the prize was a bit like an ant trying to lift a butterfly. After several days of trying one and many other accounts, I succeeded to get the $70 cash prize to him through a friend. Don't ask me if he finally got the cashed out.
Payoneer is rapidly growing
We know we can receive to your Payoneer account from over 2000 companies, including Clickbank, CJ, Paypal, Elance, Freelancer, Amazon, Fiverr, SEOclerks, etc. The US Payment service is the hot piece of cake. With a checking account with Bank of America, you are literally able to be paid by any company in the US (I'm sure this service will soon extend to other countries)
This means not allowing Indians access to this global service is tantamount to asking Indian small businesses to quit doing business online. What use is it to do business online, earn much money in your Clickbank or Elance account, and then sit and start wondering how to get it over to you?
I know payment has been done in the past by checks and bank wire. But common! I think Indians also need a more practical solution.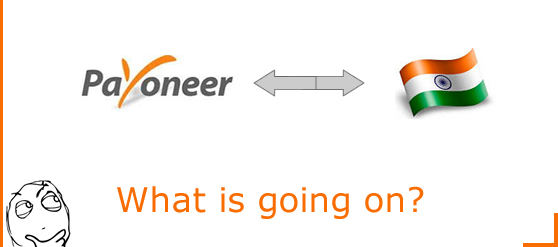 I'm not a financial expert though but I don't know what level of damage Payoneer is causing Indian financial system. I think there will be more excitement and growth in online business if this restriction is lifted.
Payoneer India! Is there really any hope?
What is going on right now? I'd like to know if something is being done to salvage the situation. If you have any valuable information, can you tell us?
Isn't it possible for Indian online entrepreneurs to come together as one person and face this barrier? I think it's something you guys should think about. Well, maybe something is under way 😉
India is a big digital market
You agree with me that when it comes to computers and the Internet, India is a force. Check Alexa stats for some popular site. You will discover a huge portion of traffic coming from India.
Payoneer and Paypal limitations are cutting off a considerable fraction of  the global market. That is affecting everybody selling some stuffs online. Many readers from India have complained to me on how they are unable to buy my plugin. They suggest they will use a friend's Paypal address and this hardly will work.
I think these obstacle imposed by these financial giants is affecting everyone, including vendors that would have benefited from the results of free access to these services in India.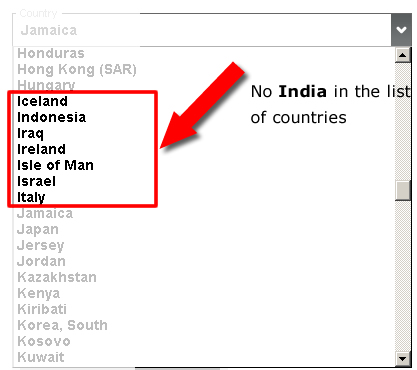 Payoneer Africa – What's going on?
I'm from Africa, Cameroon to be more precised. I'm also a proud user of Payoneer, at least for now. I'm able to withdraw my Clickbank earnings, Peerfly earnings, SEOClerks, Fiverr, etc. I use the Payoneer Mastercard locally to withdraw in local currency. I can also use the card to renew my domain name with Godaddy, Webhosting with HostGator, Google Apps and buy a lot of things online.
But all is not well though! I'm loosing sales. Most of my clients in India are unable to pay me for my products or services offered them. They don't have access to Payoneer. They are also not able to use Paypal. So you see how far this issue with Payoneer India is affecting us ?
So let me hear from you guys
Is there something underground? Any idea what's happening to Payoneer India?  What's your opinion? How have these restrictions affected your online business? Share your views in the comment box.
Click here to apply for your free Mastercard if you are not from India