Live videos on Social Media platforms is becoming phenomenal promotion tool for businesses of all sizes, churches and social institutions all over the world.
These platforms all have basic features to allow anyone go live from the comfort of their mobile phones or personal computers.
But if you want more interactions to keep your viewers wowed and stuck to the screen, you must go beyond the basics of platform offerings and get something that gives you more flexibility like learning how to make banner for free.

I'm talking about an app for live video streaming like StreamYard, which we are going to be looking at more closely in this post.
StreamYard Review – Give your Facebook, YouTube, LinkedIn live videos more life
For a quick note, this is based on my personal experience with the tool. I was not given any reward of any type for this post and the views here are strictly mine.
I got really impressed when I went through this fb live streaming software and discovered it's huge potentials. I do not see it in terms of features but uses. So let's see how this can help turn your live presentations around.
#1. Split Screen Interviews and guests.
Have you ever wanted to go live and have guests with you at the same time? StreamYard allows multiple guests with ease. With up to 6 guests at the same time, this is definitely a Social Media Live app to give a try.
And the sweet part?
Your guests don't have to signup to any of these Social Media platforms to be in. All they need is a laptop or desktop with a webcam and mic and the recent version of Chrome or Firefox. Of course they have to be connected to the Internet.
This FB live split screen app may just be what you have been looking for.
[thrive_link color='orange' link='https://enstinemuki.com/streamy' target='_blank' size='big' align='aligncenter']Create A Free StreamYard Account Here[/thrive_link]
#2. Facebook Live (YouTube, LinkedIn, etc) with Green Screen and custom background
Green screen allows you to transform your shooting environment. This makes your stream more professional even if you are not broadcasting from an attractive studio. With green screen, you can transform your bedroom, sitting room, office, etc, into a powerful studio.
All you need is any background image of your choice: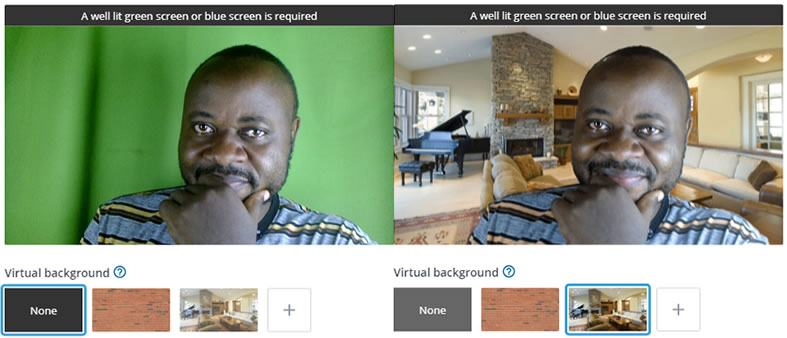 #3. Simulcasting (multistreaming)
Do you have an audience on different Social Media platforms?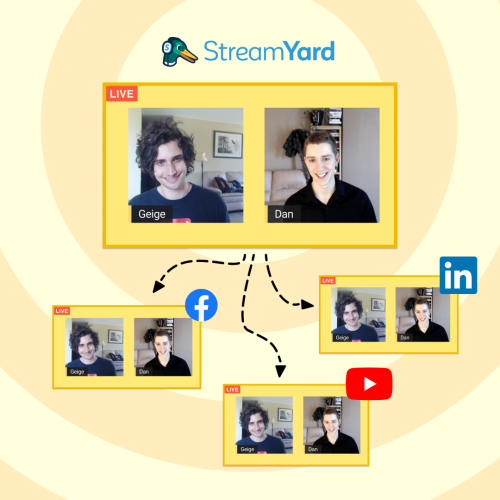 You are on Facebook. You want your audience on YouTube to be following your live cast as well. You don't have to do several live broadcasts for different platforms.
StreamYard has multistreaming support, allowing your live videos to be live on different platforms at the same time.
Beside broadcasting to multiple platforms simultaneously, StreamYard allows you to schedule the broadcasts. In addition, comments from all platforms come into the streaming studio so you don't have to divide attention.
#4. Screen Sharing
One of the things I have always wished to have is to be able to share my screen live with my audience. For demonstration purposes this comes in as a very useful feature in this app.
As a host, StreamYard allows you to share your entire screen, browser tab or any application window (powerpoint or keynote) with your audience. It also allows your guests to share their screens, making it one of the best Live video apps with screen sharing feature.
At the bottom of the screen, click the Share Screen button:

Screen sharing is enabled with audio. This allows you to share other videos playing on YouTube or directly on your computer. Awesome Youtube live split screen app right?
#5. Adding banners and tickers
Get some information on the screen while you broadcast.
This live streaming app allows you to push some sensitive information (promotions, discounts, time sensitive info, etc) to the screen while live:

#6. Overlays and backgrounds
Special backgrounds and overlays give more power and make your Live video more sticky.
Overlays are custom graphics on top of your stream.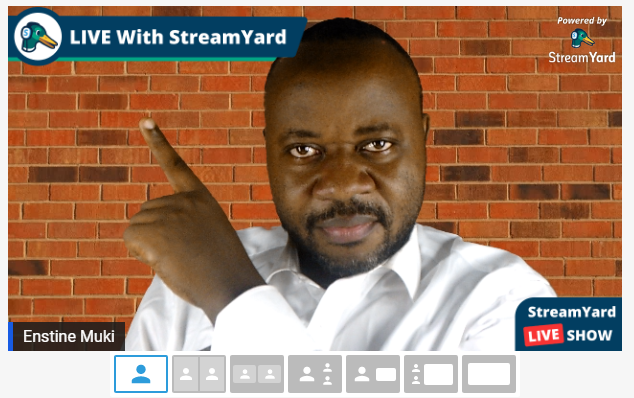 Transparent PNG/GIF images make sure you don't get covered by the cover image. This feature allows you to upload short video clips for intros/outros.
Backgrounds are just like overlays except that they sit behind your overlays.
#7. Comments and private chats
Enabling comments and private chats allows your audience to participate in the live stream and make it more engaging.
Comments and private messages on different streaming platforms show up directly in the StreamYard studio, giving you the moderation power at one place.
Other streaming platforms enabled
I mentioned earlier that StreamYard is a multistream platform. Popular Social Media platforms covered are:
Facebook
YouTube
LinkedIn.
The list extends to:
Twitter's Periscope
Amazon's Twitch
Other points to note
Mobile support
Door bell (Rings each time a guest comes in)
Audio processing for noise reduction  and improved sound quality
Manage multiple brands and shows
How to youtube live stream with StreamYard.
Follow these simple steps to go live on Youtube with StreamYard. Make sure you have your account setup.
Sign in and click on Create a broadcast button:

On the popup, click the (+) to add a new destination.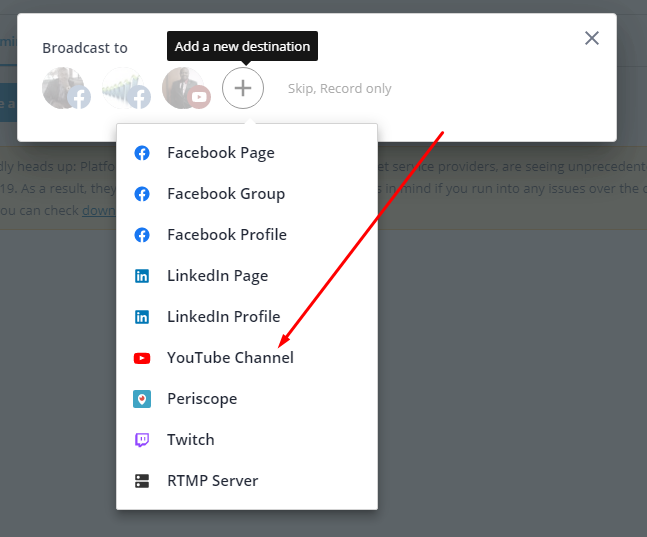 This will take you to your Google account for authentication. Do not panic because because YouTube is a Google service.
Once you've granted access to the app, you will be safely taken back to StreamYard  where you are expected to enter the Live Broadcast's Title and Description. Note that the Title and Descriptions will be seen by your audience on YouTube.
Check the option to schedule the live event if you are not going live instantly: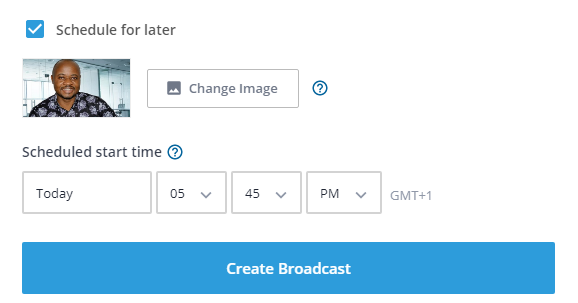 Then click the Create Broadcast button.
On the next window, you may want to click the Cam/Mic button to make sure your Camera and Microphone are properly set: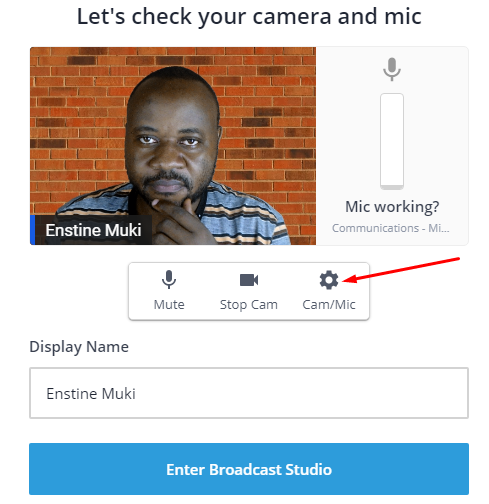 Click the button to enter broadcast studio.
In the studio, you will be able to take control of your live event:
Moderate comments
Create banners
Create overlays and backgrounds
Invite and manage guests
Etc.
How to fb live with StreamYard
It's easy to find social media users looking for how to facebook live stream. Facebook itself offers this possibility. But as we know, it does with limited features. This doesn't allow you to take your stream to maximum levels.
StreamYard allows you to do Facebook live stream with ease. The steps are similar with YouTube video live. On the 'Add new destination' drop down list, you have to select one of the following options:
Facebook Page
Facebook Group
Facebook Profile.