If you were wondering how to show reviews as stars for Google, you are in the right place. This article will show you the easiest way to do this.
How to show reviews as stars on Google?
One of the easiest ways to collect reviews on Google is by using software that will pile up the reviews for you and show them on Google. AddStars is one of the best software that will help you with that. Here is a short overview of this software.
AddStars At Glance
Best for:
Marketing agencies
Developers
Web design agencies
Whitelabel
AddStarts allows you to:
Collect reviews from multiple platforms around the web and display them on Google
Bundle reviews in total and presents them on Google SERPs
AddStarts Review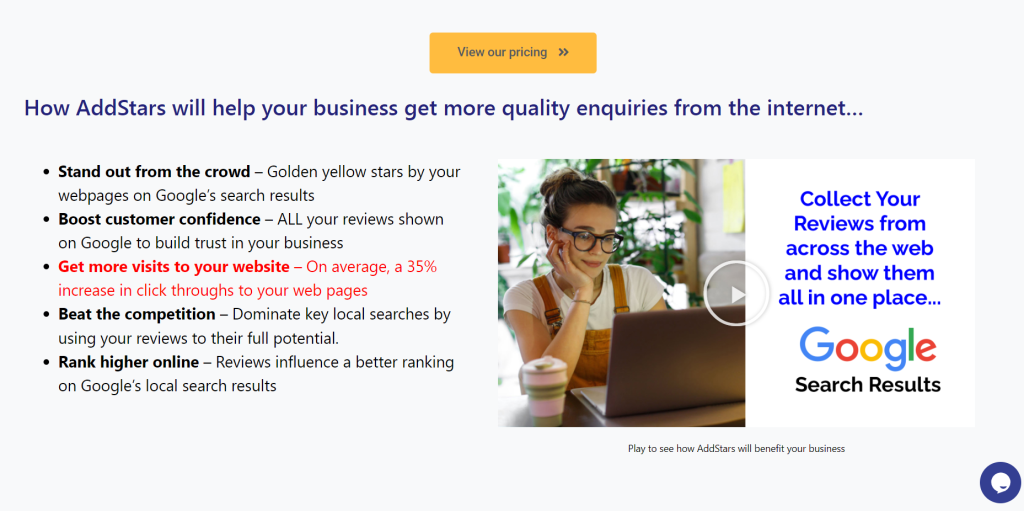 AddStarts is an exceptionally convenient tool because it collects all your business' reviews from around the web. The software then displays those reviews on Google Search results, making it easier for your business to stand out.
AddStarts currently collects reviews from 12 platforms globally. Platforms that are on the list include well-known review platforms like Google My Business, Yelp, Trustpilot, Booking.com, and Facebook. But this is not the end. The AddStarts team plans to include reviews from other platforms like AppSumo, eBay, Amazon, Reviews.io, Yotpo, and more.
The platform is easy to use, and you don't need coding, schema, or snippets to install it. All you should do to get going with AddStars is to add an ID to your site. Plus. it only takes five minutes to set up and get started.
AddStars features:
Whitelabel feature to help you customize your dashboard
Reseller option
Lifetime license at a fixed price which you can later resell monthly or yearly to clients
AddStarts WordPress plugin
AddStars unique code for any website header or footer
Autoindexing automatically suggests Google re-crawl your website after you install the platform.
Access to all current and future tools
Live chat support
Option to compare your business with competitors
WhiteLabel WordPress plugin
WhiteLabel assets
Whitelabel reseller dashboard
The best thing about AddStars is when you once install it, you don't need to upkeep it. Also, the platform offers many handy tutorials that can help you install AddStars on your website.
AddStars Pricing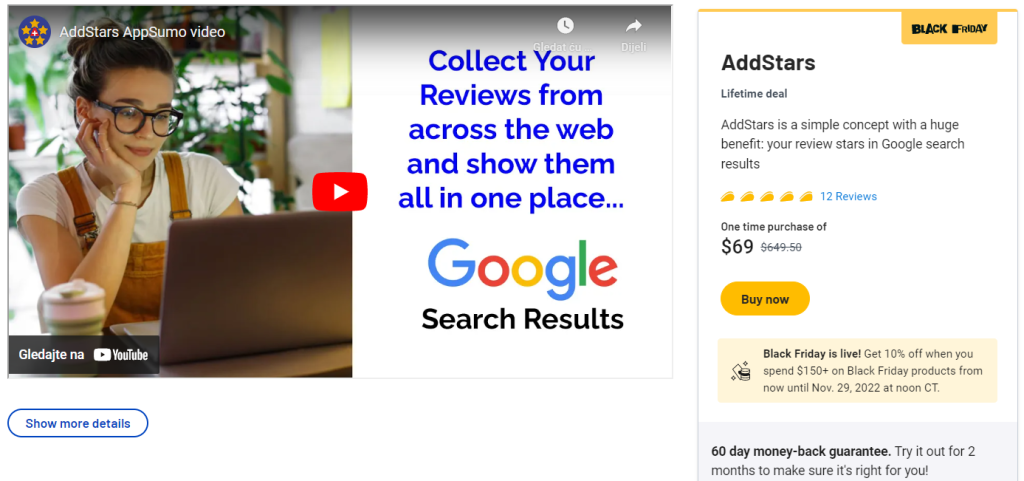 This software costs $69 for a lifetime deal. The users get a 60-day money-back guarantee.
This plan includes the following:
Whitelabel dashboard
Whitelabel assets – email, blogs, graphics
Auto indexing
Reseller option
Affiliate Program
Unlimited number of review platforms
Compatibility with all website types
Free additional license when you sign up
Wrapping up
AddStarts is one of the best tools to aggregate and show reviews as stars on Google and to leverage your customer feedback. It tracks some of the most famous platforms and collects reviews, displaying them on Google and helping you to build trust among the audience. So, if you want something that can leverage reviews from multiple platforms, AddStars is the best option.