Welcome to another exceptional introduction! We continue our journey of talent discoveries today by hooking up with someone exceptional.
This is just an episode in a long series whose end is unforeseen. Check out exceptional bloggers and businessmen I have feature in the past here.
I love us to discover more bloggers. I take the initiative to talk about any influencer here. This is done completely free. However, if you don't want to wait for your time, we may discuss a fee.
Meet Shobha Ponnappa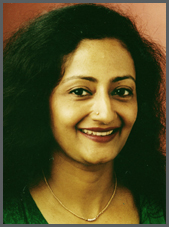 Shobha Ponnappa, a senior Consultant in Digital Marketing for the last 35 years, has a forte in producing "breakthroughs" for the client brands she works on.
Having worked with over 125 client brands on the extreme cutting edge of digital technology she has developed a breakthrough thinking style all her own. She can "imagineer" competition-transcending brand strategies that allow the brands she works on to "float sublimely above the market, with least effort and maximum buoyancy, finding nothing but open spaces to grow larger in".
A triple background in agencies, entrepreneurship and consulting
Shobha has had a variegated career giving her both depth and width of experience in her line.
In the first 17 years of her career she held positions with three multinational advertising agencies – Ogilvy & Mather, JWT and Lintas  Lowe Advertising – where she worked on large multinational clients . She rose in the advertising industry to handle high positions as both Creative Director and Account Director, and won numerous national advertising awards.
In the next 6 years, she achieved high success and international acclaim as an entrepreneur. She became the founder and head of her own multi-million dollar digital content and brand experience innovations company, where INTEL was one of her equity investors. She steered the creation of more than 125 international web innovation projects for her global clients, and enabled her company to win major international awards. Her company had close to 200 employees.
In the last decade or so, she has been an independent specialist/consultant for mid-to-large sized corporates and disruptive entrepreneurial clients in the US, UK and India. She helps clients maximize their returns on marketing investments and business objectives.
Shobha's differentiated approach to Digital Marketing … in her own words
Shobha says of her passion for breakthrough ideas: "My mojo comes from not competing or fighting for share of audiences and minds. My thrills come from helping my brands rise elegantly with least cost and strife above the din and dust of competition into the uncontested market space that is vast and untapped … and to make the competition completely irrelevant.
I've had the opportunity to handle global mega brands as well as some very small businesses with disruptive technologies in emerging sectors. What I've learnt is that the size of organizations or the size of their budgets seems immaterial when it comes to brand strategy, content marketing or social media innovation. Getting the big idea is everything. The right idea grows larger and larger the higher it goes."
Website, Services Repertoire and Case Studies
Shobha Ponnappa's website is at https://shobhaponnappa.com. Here, the complete matrix of services she offers as part of her consulting repertoire is detailed, along with case studies on every one of these 24 areas of expertise.
BRAND STRATEGY:
Brand Audit
Brand Positioning
Brand Promise
Brand Personality
CONTENT MARKETING:
Content Storytelling
Audiences & Personas
Customer Journeys
Content Planning
SOCIAL MEDIA:
Social Listening
Social Delivery
Influence & Community
Engagement & Experience
SEO & DIGITAL MARCOM:
Search Engine Marketing
Email Marketing
Digital Advertising
Digital Public Relations
MOBILE & TARGETING:
Marketing Automation
Mobile Marketing
Multiscreen marketing
Social Television
ROI & LOYALTY:
Customer Conversion
Commerce & CRM
Metrics & Returns
Loyalty & Advocacy
On her website, Shobha also offers a FREE one–hour Skype consultation for all prospective clients … and hosts free webinars through her BRANDCLINIC where she demonstrates a comprehensive strategy reset for any volunteering brand that wants to perform better in the online space through an idea breakthrough.There is also an interesting ASKME feature on the site where Shobha answers reader queries on diverse topics that vex brand marketers who are confused by evolving technology when "doing it all on their own".
An informative blog with analysis on trending topics in a blended format
If you like reading more than just your regular "how-to" articles and get a sound understanding of where the big opportunities lie in the digital marketing space for brands, you have to read Shobha's blog regularly and subscribe to her newsletters.
Some of the latest topics on her blog for instance cover topics like:
The most shared content on social media: following the herd?
Brand storytelling: inspire your customer to play a stellar role!
Influencer marketing: how to set up a vigorous campaign!
Buyer persona templates: we need a whole new approach!
Customer loyalty and advocacy: how brands can drive it!
What is content marketing? And what is it definitely not?
What is Social TV? How can brands use it to benefit?"
Online reputation recovery: gain spectacularly from setbacks
Always in an experimental mode, Shobha has of late been exploring the idea of "layered blog posts". Take for instance her post on "Email marketing lists: the brand new ways to segment them" …
…you'll find the core topic covered by a detailed blog post, and there is also a companion Downloadable Checklist, a Slideshare presentation, an Infographic and a YouTube video, all on the same topic, but from different angles of analysis.
This layered approach seems to be an interesting way of creating "blended content", so diverse readers can pick the information they need in a way that matches their attention span and preference of delivery style. This type of layering of content also seems to raise the ranking potential of the post.