Wow! It's going so fast.
Do we still have 24 hours a day?
We are Thursday again and I'm  here to talk to you about another blogger. I have spoken about may and will keep talking about these awesome friends till the Internet is taken down.
I have featured both men and women that are making it happen in blogging. You can find them here.
If you want to be featured too, just keep hanging around my blog. I surely will spot you one day.
Meet Akaahan Terungwa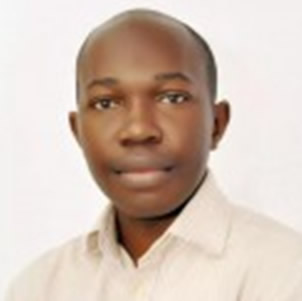 Writing in a conversational manner that is entertaining and worth reading (even when one is tired) is rare – not many writers and bloggers have the gift. However, when one lands on NoToPoverty.com – the blog run by Akaahan Terungwa, it is clear to see that he knows exactly what he is doing. It is also crystal clear to see that apart from writing in a very clear and entertaining manner, Terungwa also clearly displays dexterity with the use of English as a medium of communication. It is indeed clearly impossible to decipher that he is not an original English speaker…truly, for some, the art of writing – and writing excellently is a gift; a gift that has been clearly nurtured, cultivated and developed.
However, something bothers Terungwa: he believes that aside being a good writer, one should also be smart enough to monetize his/her writing for power, money and fame. This, he has sadly discovered, is not the case with many (otherwise) great writers. For all such writers, their talents simply amount to nothing. Or mere stress at best!
With this reality haunting him, Akaahan Terungwa launched the very first course he prepared for his growing number of followers/readers called SBA (Smart Bloggers Academy). This course is an 8 week intensive course that teaches what blogging is and how to intelligently leverage the vast opportunities that come with the reality of blogging for greater heights both in life and in one's chosen endeavors. This course opens only a few times a year. In it's course detail, Terungwa treats such important details as:
A blog is not a business (but rather, a tool/leverage to take an existing business to the next level).
Alexa rank, Page rank etc. are all useless…what matters is conversion!
How to effectively monetize a blog with traffic that is in it's 100's.
How to sell with every blog post.
And many other amazing things the pro bloggers are passionate about hiding from you!
Terungwa holds that if you are not a professional blogger, then, certainly, you are a dumb one. Which are you?
Aside writing blog posts and other awesome entries, Akaahan Terungwa has written many eBooks amongst which is the Mini Importation Millionaire: an eBook that teaches the basics (and details) of importing anything from China, Europe and the US to any part of the world, especially, his native country, Nigeria. This eBook alone has been purchased over a thousand times!
Akaahan Terungwa is a damn good writer and writes in a manner that makes his readers easily comfortable with him and makes conversion a breeze! However, because of his very busy schedule, he hardly advertises the fact that he writes in a freelance manner. If you are lucky, you could get him to write for you by contacting him directly. Please, note however, that Terungwa may turn down your offer if you are not serious and do not appreciate the quality of great writing.
Here are some of his masterpieces:
My Struggle Living The Dot Com Lifestyle: 4 Lessons You Can Learn From Me
How To Make Real Money With Affiliate Marketing
Legitimate Academic Freelance Writing Companies That Actually Pay
Blogging Is For Fools…Don't Do It!
Time to interact with Akaahan
Akaahan will certainly want to chat with you.Drop him a comment and he'll be around to respond