Please Note:  Coupon code for your 600 credits below!
One of the new features I added on BroadedNet is the Sticky Post feature. What this does is stick your campaign on top of the widget until assigned credits get used up.
For the past 2 weeks since this feature was added, I have been monitoring the results with a lot of interest. Initially, after discussing with a few friends, I wanted to implement this on the widget and draw a conclusion to discontinue or maintain it.
Looking at the impressions and clicks for the past 2 weeks, there is every reason to make the feature even stronger. Kharim Tomlinson was the first guy to jump on this offer for $35. Then Chendong, the badblogger came in just after him.
Let's look at Kharim's stats and see where this feature is taking us to. Before we get there, you may want to visit Kharim's blog here. He's one of the bloggers that got me fueled when I started blogging.
Broaded Sticky Post Feature!

Kharim posted on the 15th of Feb 2015. Today, we are 27th of same month and that's about the 12th day. There have been 1,875,032 impressions generated, 401 valid clicks from 83 different blogs in the network (list of these 83 blogs available in Kharim's account).
Note here that the number of credits offered does not influence the ranking. This feature is programmed to keep your entry on top. But users whose blogs generate the clicks get 50 credits per click.
My suggestion is for Kharim to tweak the title. He may generate more clicks with another version.
What does it look like on blogs?
Your sticky campaigns will appear on other blogs differently, depending on designs, gravatar option and position. This is just an idea what it looks like on some blogs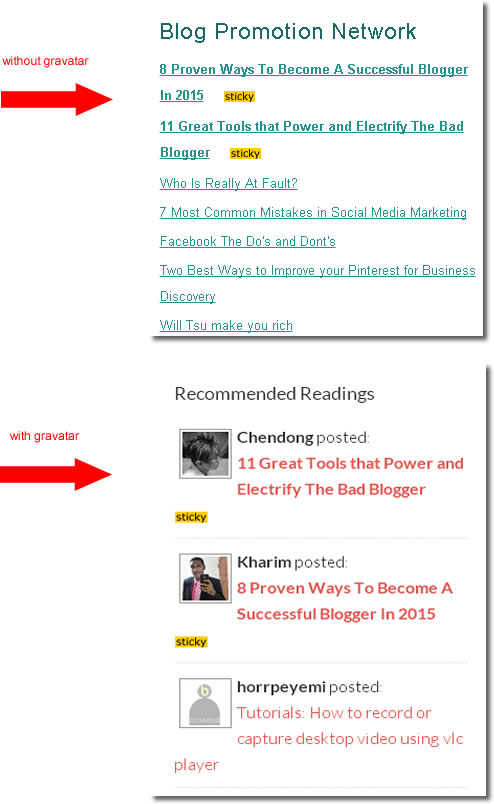 Is this worth the $35?
Sticky posts are priced at $35 each. This guarantees 500 targeted clicks from around the globe at the rate of $0.07 per click. To the best of it, this is about the cheapest you can get in the industry. To add to this, you are given access to all the blogs from where clicks where generated.
As a blogger, this can help you to connected with these bloggers and expand your community.
There is no way I can give any guarantee that this traffic will buy your products, comment on your blogs or sign up to your list. I can however guarantee the clicks are from real visitors who got attracted to the title of your campaign.
Other factors like the sales copy, blog design, commenting features, quality of your content, etc will determine how engaged the visitors become once on your blog.
Limited number of Sticky Posts!
Given the limitation imposed by the widget, there cannot be more than 4 live sticky posts in rotation on top of the widget. Any posts from the fifth entry will be paused and queued until the next available space.
NB: Once published, your campaign remains stuck to the top of the widget until you get the guaranteed 500 clicks.
What can you promote with Sticky Posts?
Don't forget that this tool is for bloggers so my priority is blog posts. You can however use this feature to promote affiliate marketing product through a review post on your blog.
What I mean is you may not be allowed to link directly to the product page through your affiliate link. The best way to generate sales as bloggers is review the product on your blog, then promote the review post.
If you are product owner, you can use this feature to drive traffic straight to your product. However, I'm being so selective here. Please, contact me before you go ahead to order a sticky post.
How to order Sticky Post!
Go to BroadedNet and create a free account!
Please Note: While creating your account, use an email address that is attached to Gravatar with a clear image (your pic or product logo).
Click "Create Campaign" on top menu and move to the next page. Click the button as shown below.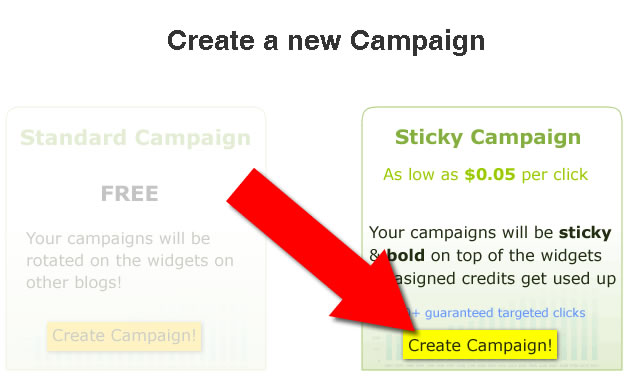 This will take you to the payment page where you will be expected to pay $35 with Paypal. without this payment, it won't be possible to continue.
After completing payment, here is what you do next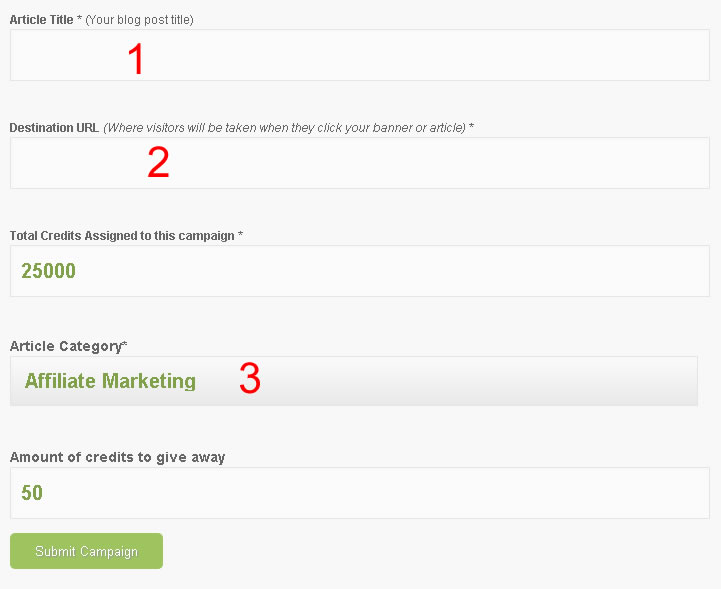 1) Enter the title of your campaign. That's what visitors will see on other blogs before clicking. Make it as attractive and relevant as possible.
2) Enter the destination url. This may be your blog post or product sales page. You may want to use any tracking system of your choice to track clicks from this campaign.
3) Select the most appropriate category.
Submit your campaign and wait for approval.
Free 600 credits to start with
I want to add 600 free broaded credits to your account. This will not be used for sticky post. You can use it to post free campaigns. Unlock the content below to access the code.
Thanks for supporting us. The coupon code is: STICKY
Go to your broadedNet account and click "Got coupon code?"
If you have any issues, don't fail to contact me.
Let me know what you think about broaded in the comment box.