Are you looking for  qualified SEO companies in Denver or you are an SEO newbie looking for SEO firms to help?
SEO (Search Engine Optimization) is tricky and I understand why you want to hire the best SEO company in Denver to grow your natural traffic or looking for a company to help your SEO strategies to boost your rankings
There are many SEO companies out there. But I want to focus on Denver because I have a particular interest in what's going on there on the SEO landscape.
Google and other search engines have been moving at the speed of light.  Everyday, there are algorithmic updates and this impacts the way we do SEO.
Recommended: Interesting SEO backlink strategies for content marketer
Denver SEO optimization companies are reputed for their skills in optimizing and following up with search updates. By doing this, their clients don't loose traffic when the search giant carries out a change.
Top 13 SEO companies in Denver to grow your natural traffic
I will be listing these SEO agencies in no specific order. At the end of this post, I will give you some tips on things to look for when hiring an SEO agency in Denver or elsewhere.
1. Altitude Agency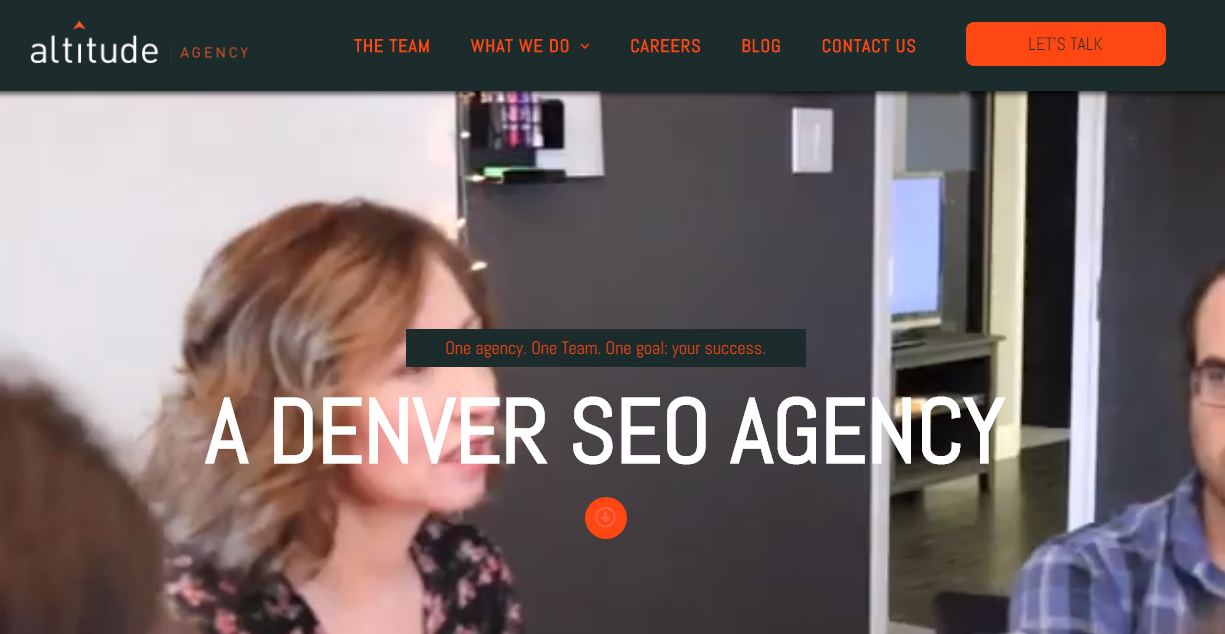 This Denver SEO company describes herself as a digital marketing powerhouse with a creative firebrand focusing on Enterprise SEO, Local SEO and Reputation SEO.
While Digital Marketing envelops what they offer, their team is composed of talented SEO experts who focus on solving Search Engine Optimization problems.
Other digital marketing services include:
Content Creation and analysis
Web development, branding and design
Reputation management
Social media marketing
Pay-per-click (PPC)
2. Sapid Agency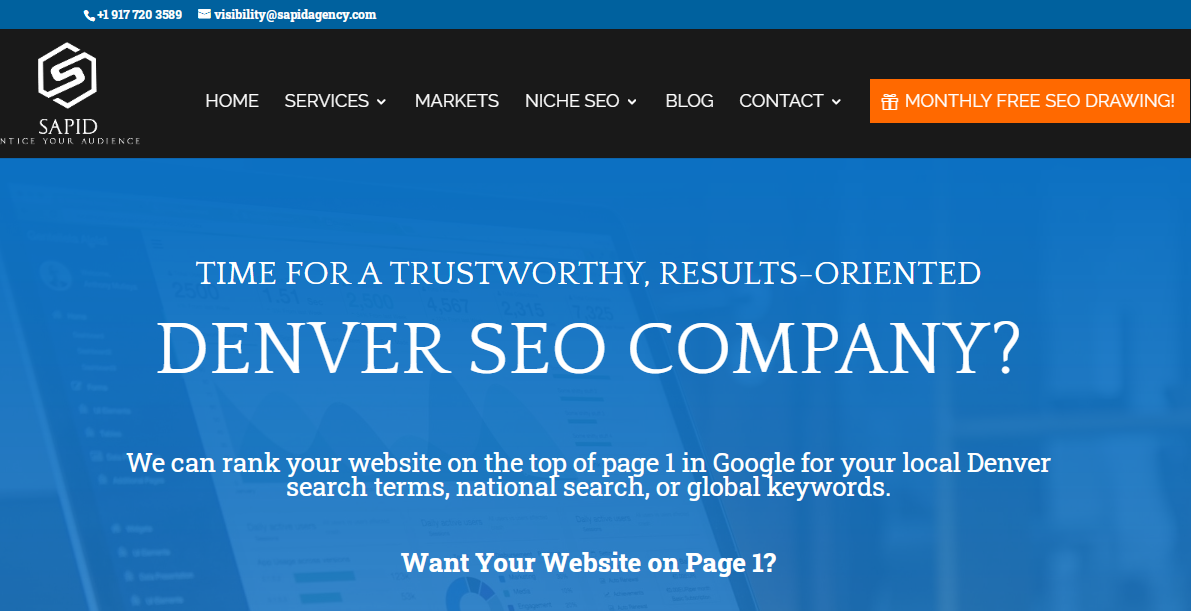 If you want to hire an SEO agency in Denver to boost your natural visibility in Google and other search engines, you definitely should give this agency an amount of attention.
Sapid will deliver result in Local SEO, national search and global keywords optimization.  Their ranking process goes through these 3 steps:
Understanding your goals
Doing your keyword research
Optimizing your website to have it ranked
Apart from optimizing your website performance and keyword research, Sapid indicates they will step Off Page and handle your backlink building and mentions
Take a look at their website here
3. Denver SEO Geek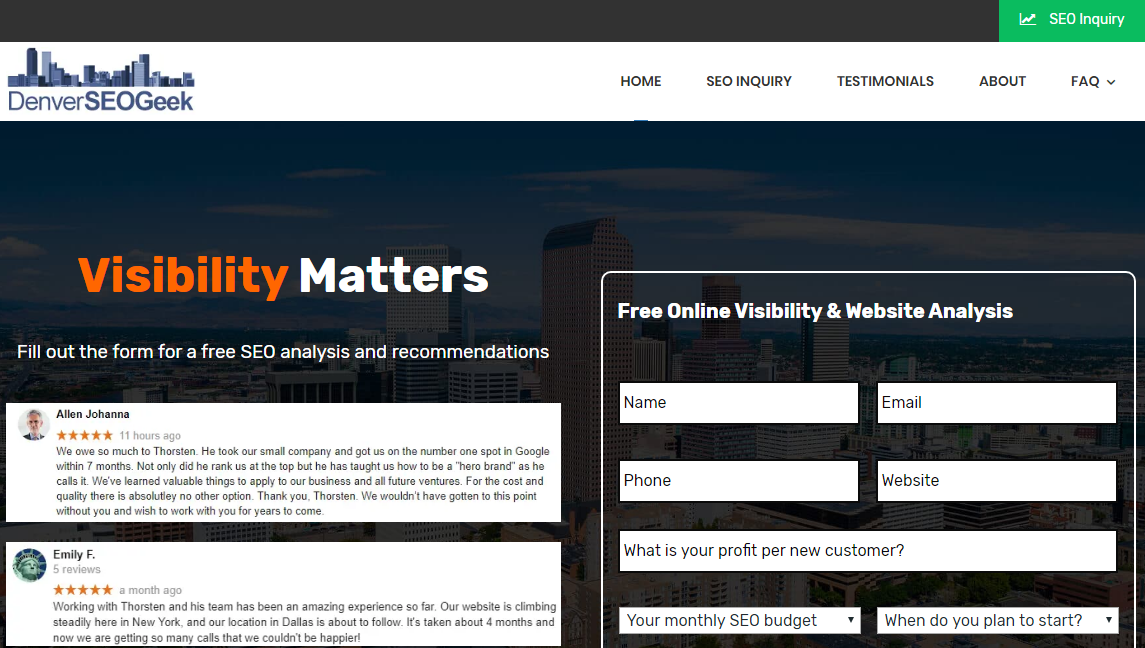 If you need the services of an SEO consultant, this probably should be on your list. Founded by Thorsten, a leading online visibility expert, this Denver agency specializes in:
Denver Local SEO
Global ranking
Social media integration
YouTube video ranking
Reputation management
Etc
According to Thorsten, dealing with a Denver SEO consultant, you stand a better chance to see a tremendous boost in your SEO visibility than having to work with Agencies which are generally run by marketers who care only about the income.
For details, check out their website here
4. Ad Infusion
You need a professional SEO consulting service that is capable of ranking highly competitive keywords to increase your search visibility.
This Denver SEO firm will get you on top of Google and other search engines for your targeted keywords and phrases.
For local businesses in Denver, Ad Infusion does your Local SEO in three phases:
Local Profile Setup
SEO Campaign Management
Reporting and Recommendations
Industries covered by this Denver SEO company include  Accountants, Automotive, B2B, Beauty & Fashion, Dental Offices, E-Commerce, Entertainment and Media, Financial, Food & Beverage, Government, HVAC Companies, Luxury, Non-Profit, Publication, Real Estate, Schools & Institutions, Small Business, Solar Companies, Sports, Technology Services, Travel, etc
5. Webcures Denver SEO Company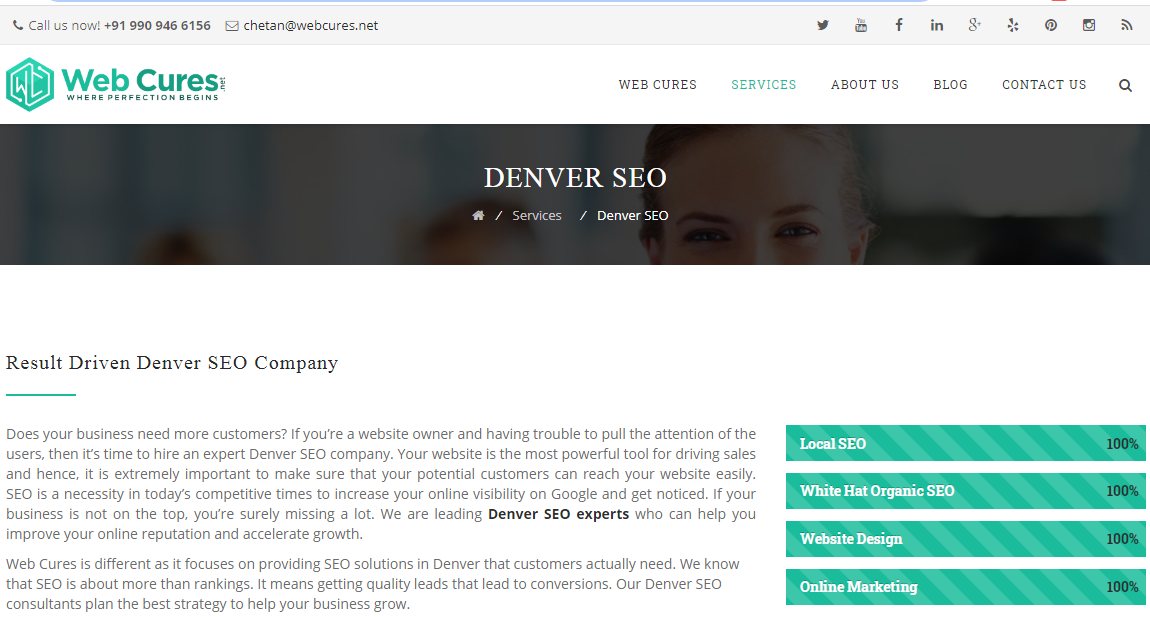 WebCure is an expert Denver SEO company which believes in the power of content when it comes to boosting your SEO.
Once you outsource your SEO to them, their team of expert and SEO professionals will perform keyword research and come up with a list of keywords and phrases your site will rank for.
The next step will be the production of high quality and SEO optimized content for your site. As a matter of fact, this company builds your SEO campaigns in the following steps:
Conduct a Website Audit for the site you want to rank
Perform Keyword Research for you
Carry out an SEO competitor research
Do SEO rich content writing
Optimize and publish your content with Onsite SEO at the focus
Proceed to Link building (Off Site SEO)
Do your Social media optimization for social media traffic
For more about WebCure, check out their site here
6. Webolutions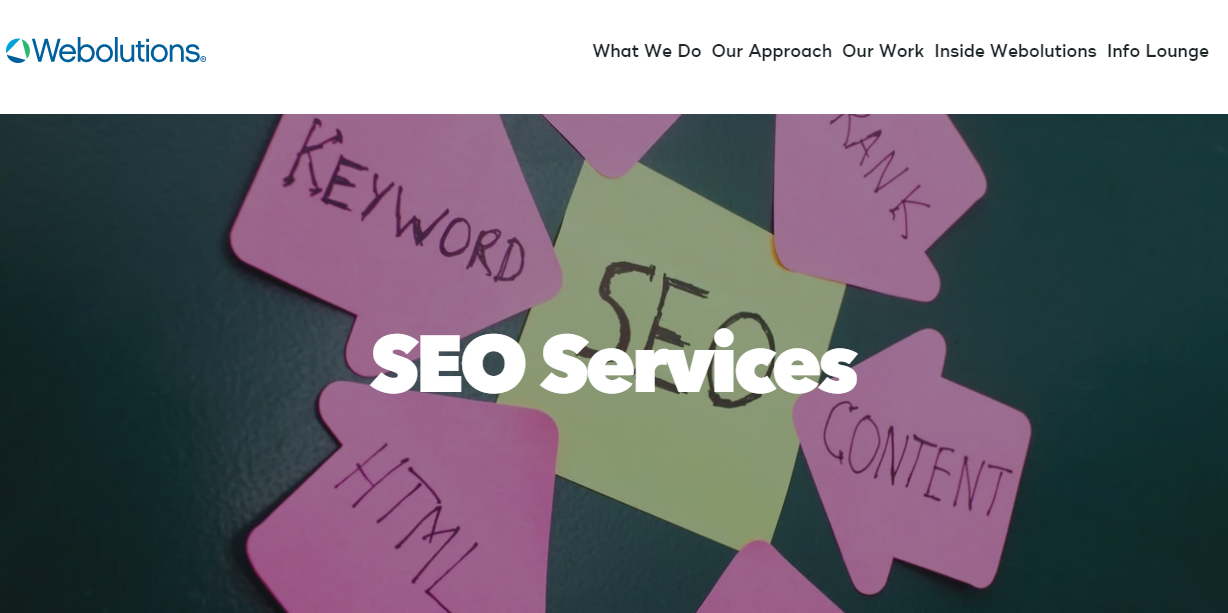 This is one of the SEO companies in Denver you may want to consider working with. Located at Denver Tech Center, Websolutions is a Denver Internet Marketing and Web Design agency.
The team of experts handles everything from building a website that's search engine friendly to completely ranking it on major search engines for your chosen keywords.
Other services you get from this Denver SEO company include:
Web content development and marketing
Google PPC advertising management
Web development
For more about their services and how to hire them, check out their website here
7. Hive Digital Strategy, a Denver SEO company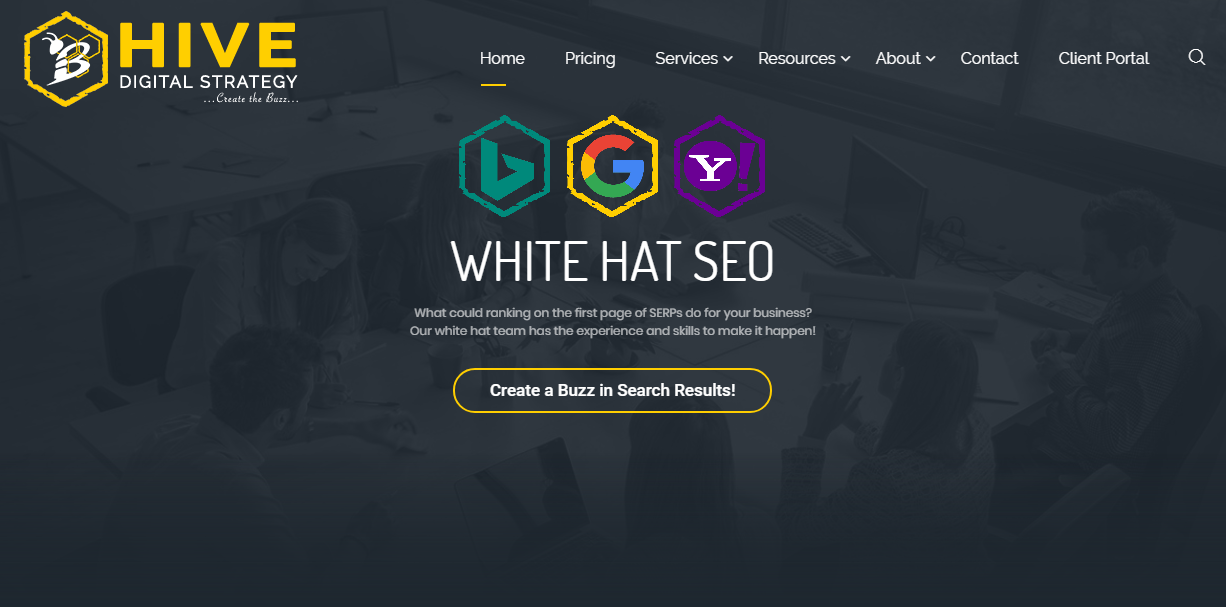 The SEO industry in Denver is rich. It's made up of highly qualified SEO companies delivering results. One of these top SEO institutions in Denver is Hive Digital Strategy.
Their SEO service begins with:
Keyword research
Local optimization
Backlinking
Content development
With SEO packages ranging between $800 and $2400 monthly, Hive will optimize and position your business in search engines for up to 100 keywords.
Note that with Semantic SEO, optimizing 100 keywords may end up driving traffic from hundreds of other related keywords.
For more about this Denver SEO company, check out their website here
8. Social SEO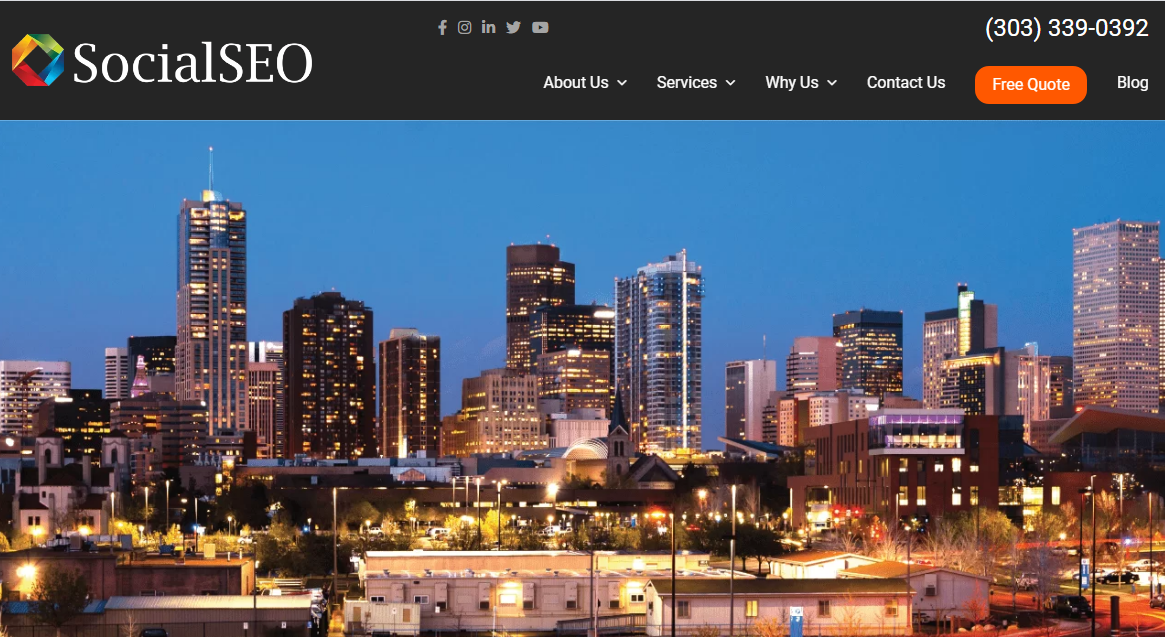 This Award winning company is definitely one of the top SEO companies in Denver with packages in:
Local SEO
E-commerce SEO
National SEO
Social Media Marketing
Paid Advertising (PPC)
Video Production
SocialSEO will help your business found on Facebook, Google, Twitter, LinkedIn, Instagram and Google places.
Being one of the Fastest Growing Google Solution Providers of 2017, Taking a closer look at what they can offer won't be a wrong idea at all.
Find out more from their website here
9. Firestarter, a Denver SEO Agency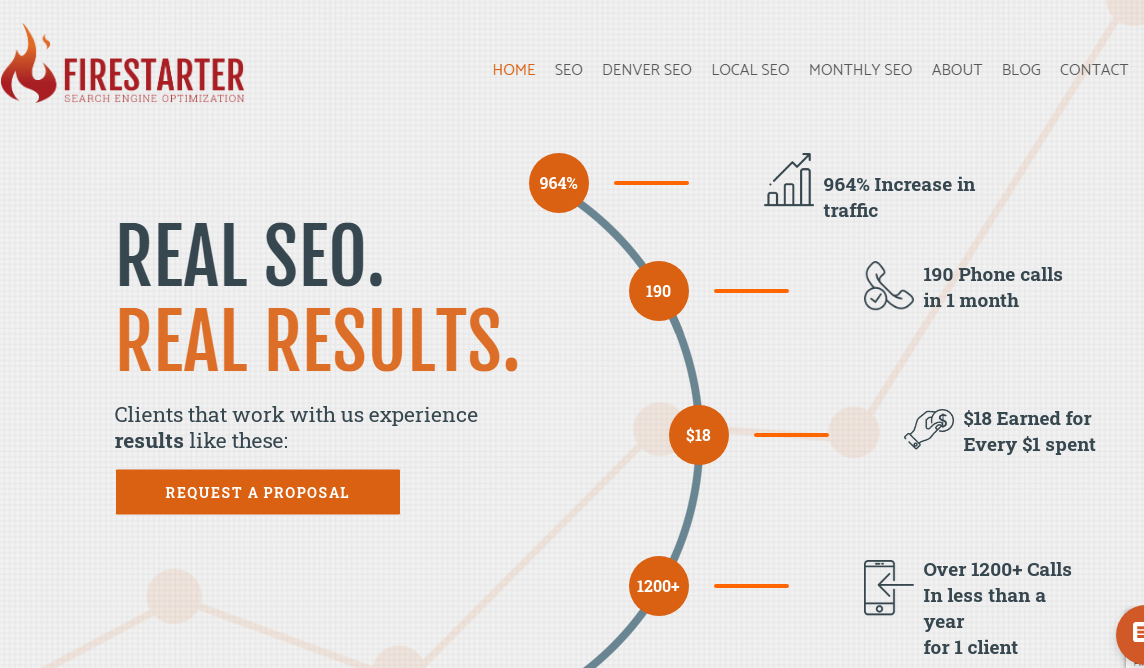 This is the Denver SEO company with a special bond for Denver, Colorado. Backed by result, they claim to be the best SEO company in Denver.
In order to provide their clients with transparent and actionable results, they apply top-of-the-line search engine optimization knowledge on their clients' websites.
Voted as top SEO firm in Denver in 2017, Firestarter positions itself as one of the leading natural traffic agencies in Denver to give a consideration.
More about them on their website here
10. Targeted Laser SEO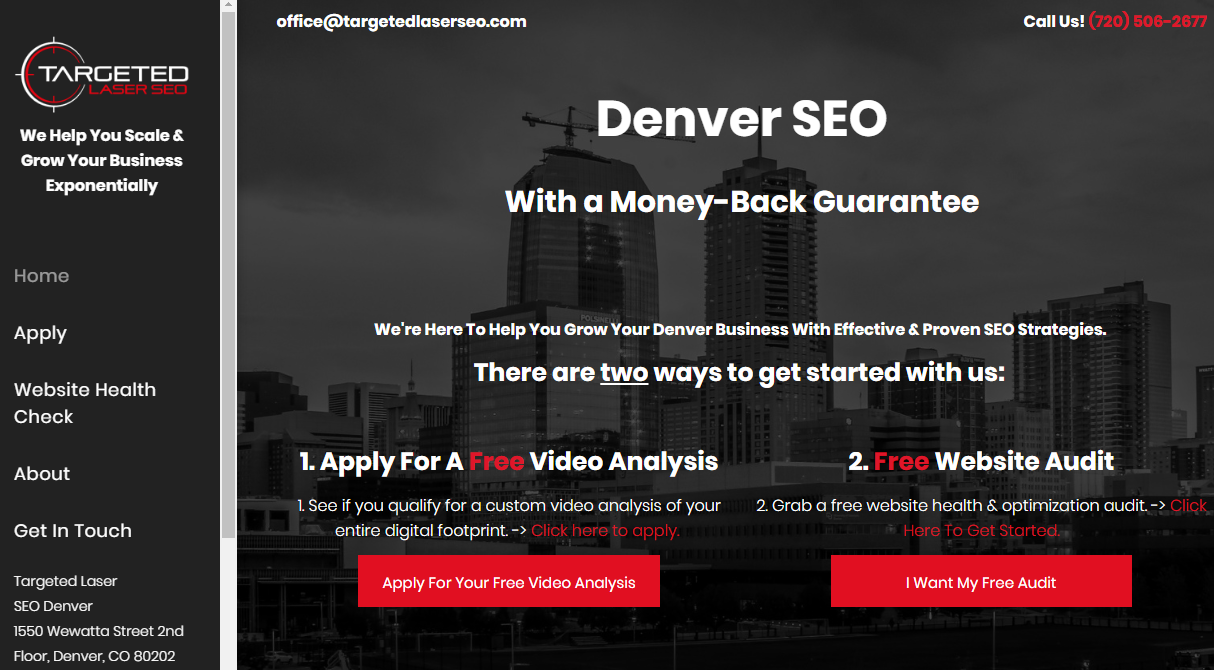 This is the Denver SEO company that will help local businesses grow their search visibility and traffic. To start with this agency, you have to follow these two steps:
Apply for a free video analysis
Then get a free website health and optimization audit.
This will help you know your search engine position and measure the amount of energy needed to take your SERP listings to page one of Google.
Working with this SEO Agency, they will work on identifying your problem. This could be from keyword research to content creation. It could also be a technical SEO issue, related to your hosting service configuration, Site Map setup, theme issues, mobile unfriendliness and other problems related to technical SEO.
Once the problem is identified, they will proceed to implementing a solution that will certainly lead to improved search ranking and traffic.
For more about how to work with this agency, check out their website here
11. Over The Top, an SEO company in Denver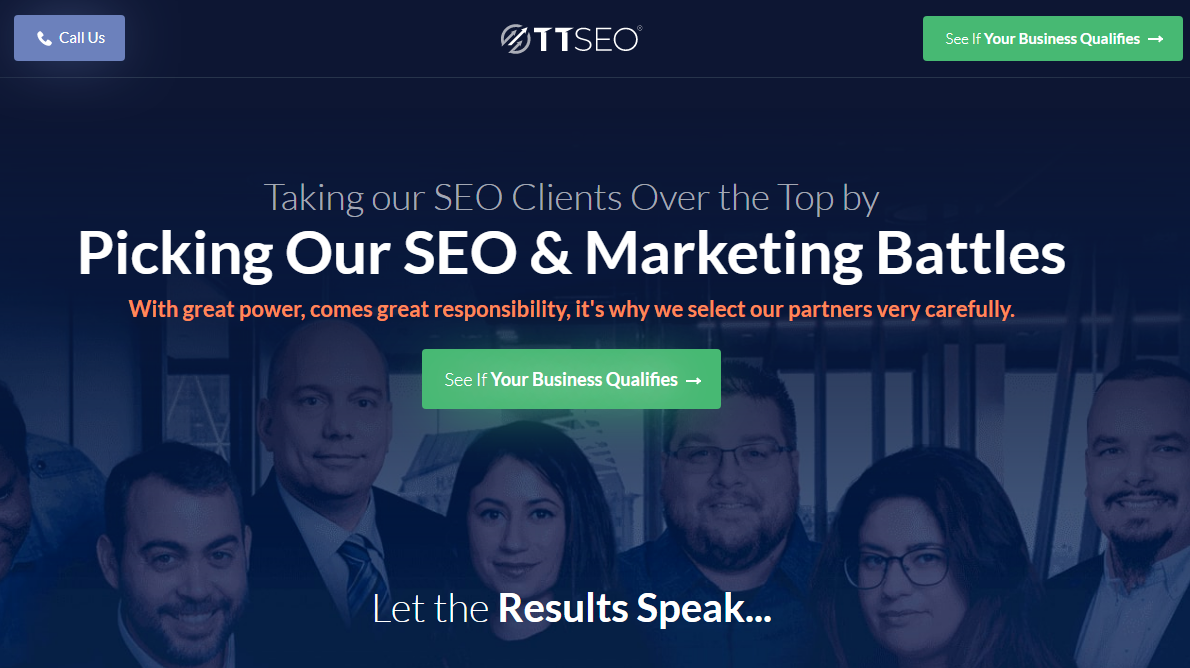 You want an SEO company bent on producing satisfying results for their client? I think OTTSEO should be on top of the list based on their claims.
This company focuses on Local business SEO, Enterprise SEO, Reputation management, Google map Marketing, Pay-Per-Click management, Franchise Marketing, Social Media Marketing, Drug rehab marketing, WordPress website design, Penalty recovery, Email marketing, Graphics and Logo design, Healthcare marketing & SEO, Lawyer SEO, Non-profit SEO, Ecommerce SEO (Shopify, Amazon, ebay, Etsy,etc), SEO hosting, SEO speaking and much more.
I'd recommend you step over to their website for more here 
12. Epidemic Marketing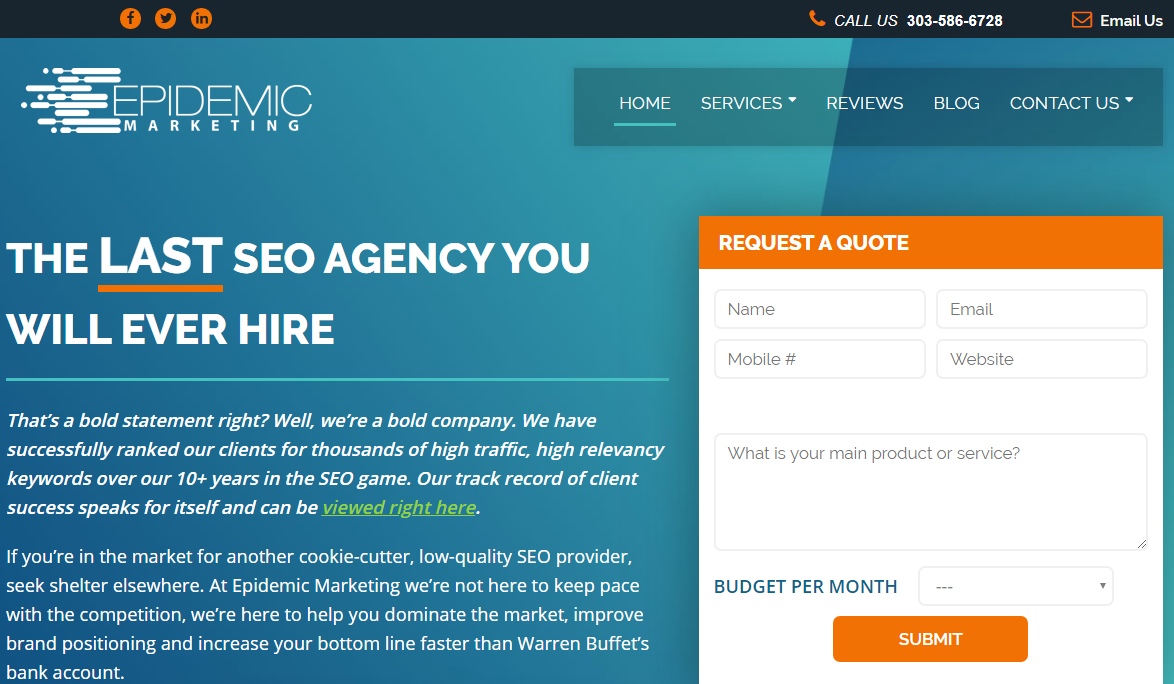 This is an SEO company in Denver, Colorado with more than 10 year experience in the industry. According to a statement on their website, they've successfully ranked their clients for thousands of high traffic, high relevancy keywords.
With a fresh approach to SEO, they believe that taking the time to understanding their client's goals is the solid foundation to a successful SEO strategy.
Their services include:
Web Design
Search Engine Optimization (SEO)
Conversion Rate Optimization (CRO)
Logo Design
Restaurant SEO
SEO for HVAC (Heating, Ventilation, and Air Conditioning) companies
If you want to read more and contact them, check their website here
13. Ethical SEO Consulting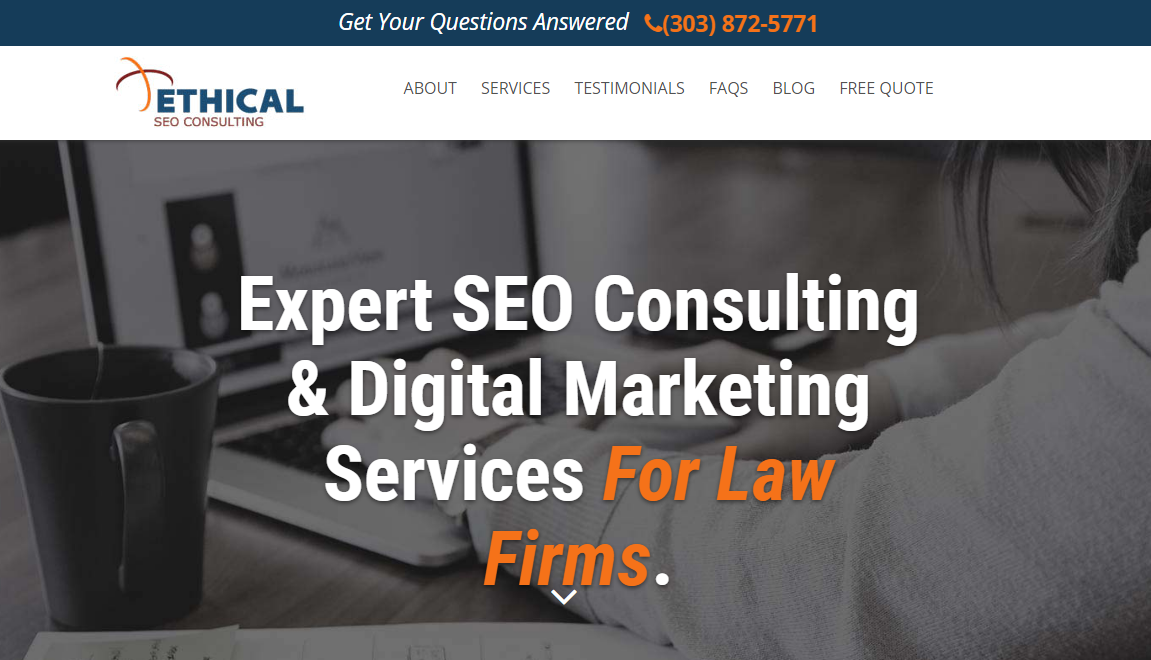 This is a law firm SEO company. Ethical SEO Consulting helps their clients grow their search visibility since 2010. The list of Denver SEO optimization companies can not definitely end without this.
There service include:
Over the phone SEO consulting,
SEO Audits,
SEO training,
Website design,
Development and optimization,
Monthly SEO campaigns
Penalty Recovery
Link building
WordPress optimization
Go checkout their website here
Conclusion
I hope this post on SEO companies in Denver has helped you with some key information to locate the agency to help handle your SEO campaigns.
Here are a few points to consider before choosing an SEO agency in Denver to outsource your SEO:
Choose a Denver SEO agency with track record
Allow trustworthy, sincere customer reviews to guide your choice
Choose an agency closer to you so can have a face-to-face consultation meeting
When you speak, listing and take from the SEO experts
Don't compromise on deadlines and results
Try out more Denver SEO optimization companies before making a final choice
Etc
Good luck!