Protecting your new WordPress blog should be a top priority especially if your copy is self-hosted.
A common deadly mistake I see around is a hurry to start pulling traffic and publishing articles on a newly installed self hosted blog without taking some necessary security steps. That's foundation for disaster.
Can't access your site? Have you been hacked? Lost your password or entire account? Are your core files compromised? The free Emergency Recovery Script will solve your nightmare with a single click.
This is part 6 in the series to build a money making blog. If you missed the other 5  parts, here is the front page for a list of contents.
In part 5, we saw how easy it is to install WordPress. As a matter of fact, it takes less than 3 minutes to get a copy installed.
NB: I recommend WPX Hosting,Siteground orBluehost to host your WordPress site.
WPX Hosting does daily automatic backup of your site (For free) and keeps copies for 2 months. Backup is the foundation of every safety major you are ever going to implement on your blog.
In part 7, we are looking at setting up the right theme to monetize your blog.
NB: 9 ideas to create your new business on WordPress
The copy we installed in part 5 is still virgin and vulnerable to attacks and damages. In this part, we are going to implement basic and solid security to our fresh copy. While it is not common to have a 100% secured blog, it's going to keep you very safe from your end.
How to protect a new WordPress blog
Basically, what we will be doing here is to:
Change some critical database setup entries,
Rename some key directories,
Rename some key urls,
Lock the admin access,
Secure against brute force attacks,
Setup backups,
etc.
I don't need you to have any technical knowledge in PHP. The good news is that all of this will be achieved simply by clicking buttons, thanks to one highly recommended plugin.
Login to your WordPress dashboard and be sure you upgrade to the latest version of WordPress. That's the first thing to do.
Next, on the left menu, point your mouse to "Plugins" and click "Add new". The window that opens should be something similar to the image below:

Enter "iThemes" in the search field and click hit the Enter keyboard key. You should have it as the first entry on the list of plugins on the result page.
Click "Intall Now" and "Activate"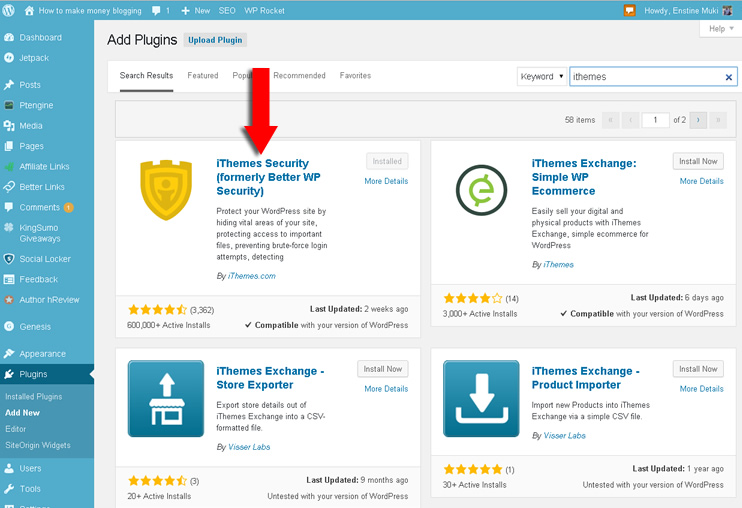 After activation, you should have a new entry on the left menu of your WordPress Dashboard. Look for "Security" and click it.
NB: I'm going to have to ask you to go straight to the plugin website here for updated instructions on how to have it setup.
The reason is that the team behind this wonderful plugin keeps working and changing the interface. In order not to mislead you, go to the security section of their website for the latest update.
See you on part 7 here. Share your thoughts in the comment box. Also share on social media.