To buy Gmail accounts in bulk may be a common thing now. Have you heard about scheduling your emails? Do you want to be able to schedule emails with gmail?
I mean you want to write an email today and set it to be sent later for perfect timing.
We live in different time zones and some times, there is need to make sure your message gets to your recipient just at the moment they are available to read it.
If you are doing some email marketing for your business, you must be using an email marketing platform like MailerLite that allows you to create and schedule campaigns.
Now, this is something that lacks in almost all of the personal and business email services. Most of these would only provide facilities for Vacation Auto Replies or Out of Office messages.
If you are using the very popular free Gmail email service by Google, I want to propose something you may find very useful.
How to schedule emails with gmail using an app
We are going to be using a piece of app called Right Inbox
The first thing you should do is get the browser extension and install. This is available for Google Chrome and Firefox popular web browsers.
Next step is to enable the Right Inbox app for your Gmail account: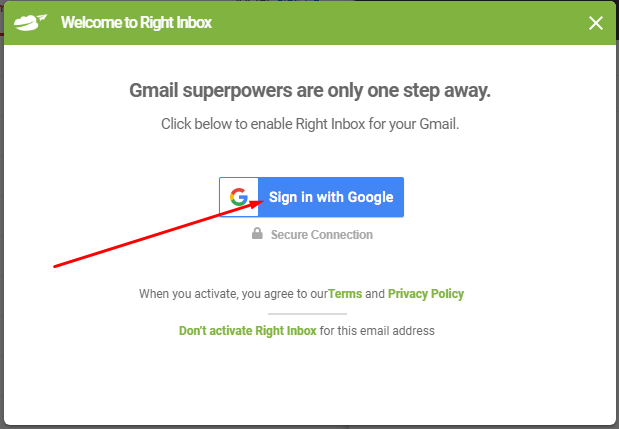 This will not ask for your password. Take note that any app that requires your username and password is certainly going to create a security panic point.
On the next window, click to grant limited access to the app: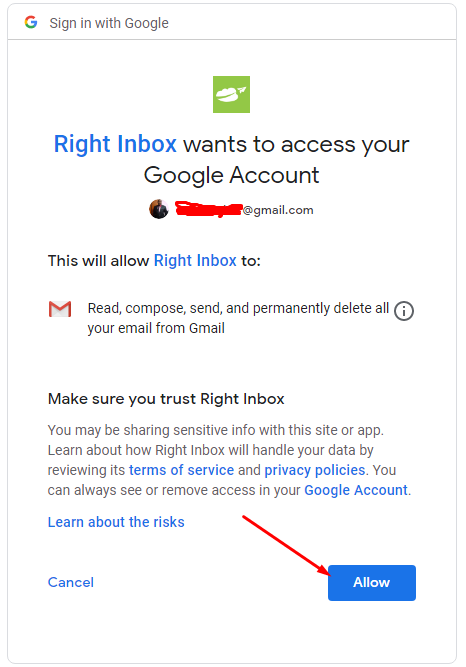 You are done!
Each time you want to compose an email in your Gmail account, you're going to be given options to schedule the message using the app.
As a matter of fact, Right Inbox is a lot more than a tool to help you schedule emails in gmail. You are also going to be able to:
Insert animated gifs in your messages from a massive library of funny animations
Create and manage email templates
You will be able to create and manage rich signatures
Sync email conversations with your CRM tool using a unique BCC email address!
Set tracking preferences
Set reminders
Create recurring messages (monthly invoices, weekly meeting agendas, etc)
Schedule emails in gmail with Right Inbox
Now you have the app install. Click to the compose window: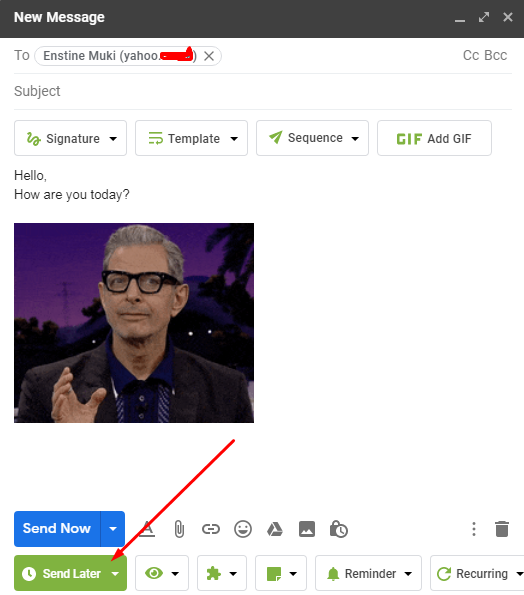 This will bring up a window with different scheduling options. Set the most appropriate time you want the message delivered to the recipient and let the app take control of the rest.
Schedule your messages with Gmail feature
Gmail, unlike other email services has recently added a facility to allow users schedule messages to be sent later. Once your message is set, enter the recipient and click the arrow on the blue "Send Now" button. This will bring up the following Window: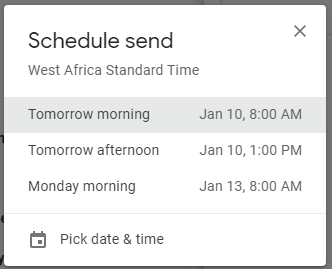 Set the time for the message to be delivered as per your preferences.
Right Inbox's Send Later Vs Gmail's inbuilt message scheduler
Gmail of course has this facility to schedule your message for later delivery. Why then worry about a third party app?
First, I have listed a couple of other features you get with Right Inbox above. Secondly, the app allows you to effortlessly synchronize with different time zones, which is something the Gmail default scheduler lacks: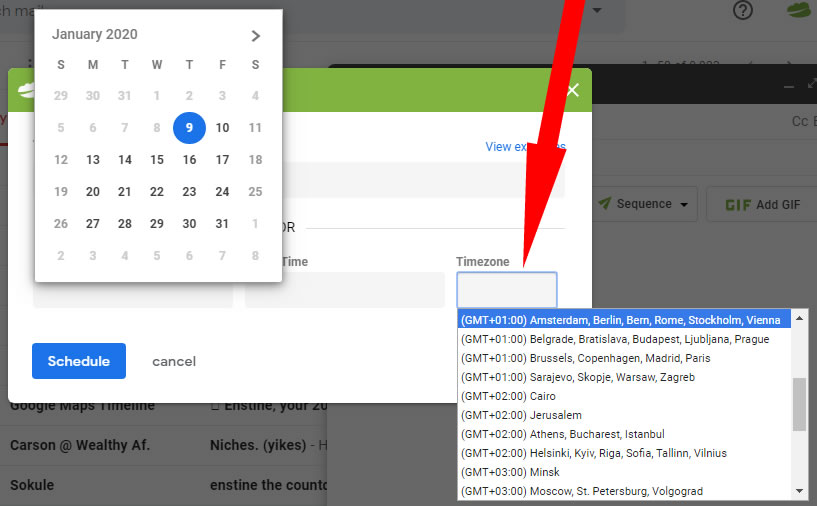 Right Inbox Upgrade
You are able to schedule emails with gmail using the free version of the app. However, there are still some limitations. These includes:
10 Schedules a month
You will 10 reminders a month
The free version gives you 10 private notes per month
5 signatures
5 templates
Etc
Full access to the app is available in the paid package, available for both individual and team uses: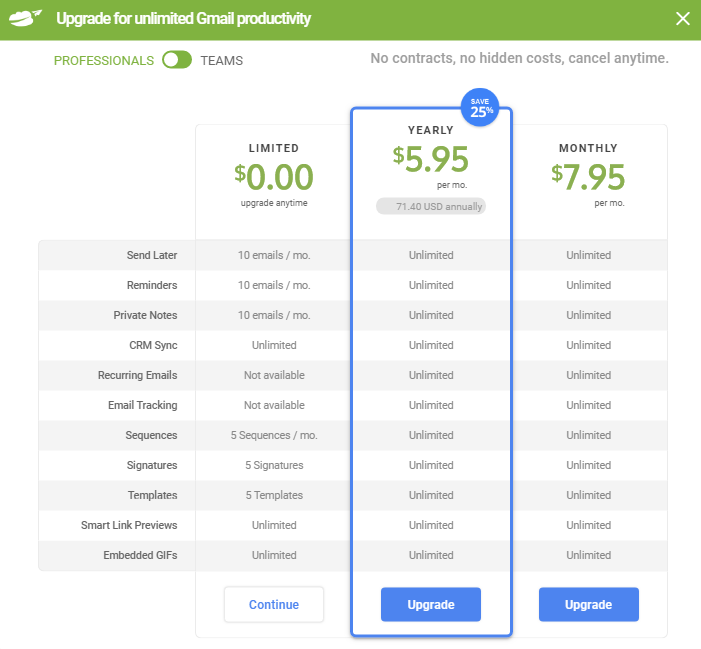 Give it a try
Are you using any tool to schedule emails in Gmail?
Let me hear what you think in the comment box.