My recommended Rank checker tool for 2018 and beyond!
Whatever the business you are into online, it's important to pay attention to traffic from search engines. The simple reason is that SEO traffic is most targeted and converts the most.
Getting indexed by search engine is one thing. Being ranked on a traffic generating position is another. That's why we need the best search engine rank checker to monitor and adjust for better position.
Most of us get traffic from search engines but without proper SEO activities. One of the things you must do to beat your competitors and pull more of the traffic is, monitor your SERP position for different keywords using the most appropriate rank checker tool.
Once you know the position you are on SERP for specific keywords, it will be easier to adjust your strategy and move to a better position.
The real question however, has been … how do I know my position for which keyword? That's the reason for this post. Coping with these search engine position rank checking task manually is immensely time-consuming and, in fact, close to impossible.
Luckily, here are some search engine rank checker tools to automate, streamline, and accelerate all keyword research and rank checking tasks, saving hours of your valuable time every day.
[page_section template='1′ position='default']
Search engine rank checker tool – keyword position checking and monitoring tools !
[/page_section]
-> Rank Tracker
This is my favorite desktop keyword position tool and rank checker. It will help you find profitable keywords and check your site's rankings in Google, Bing and Yahoo!
Rank Tracker collects data from 456 different search engines and shows if your site moved up or down in search results for each keyword. It also helps you discover profitable keywords you've been missing out and shows you the BEST keywords to optimize your site for
Check out Rank Tracker here! or Download a free copy here
Once you've installed, create a new project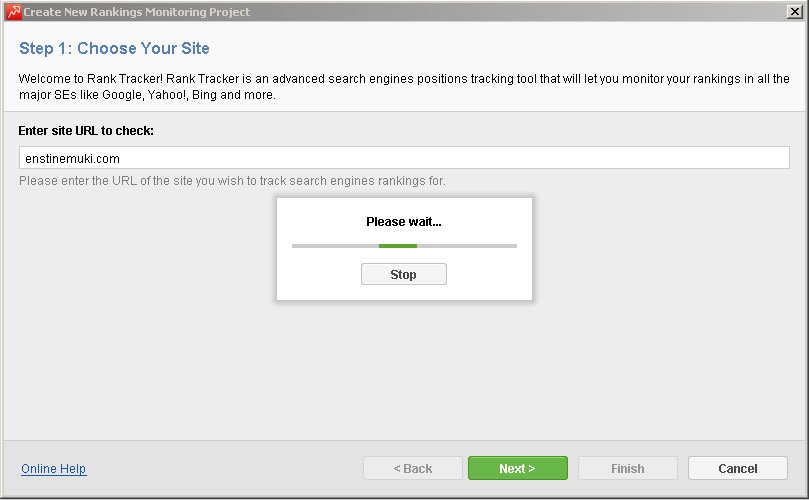 You will then need to connect your Google Analytics and Google Adword accounts. Rank Tracker will need to collect crucial data from these accounts.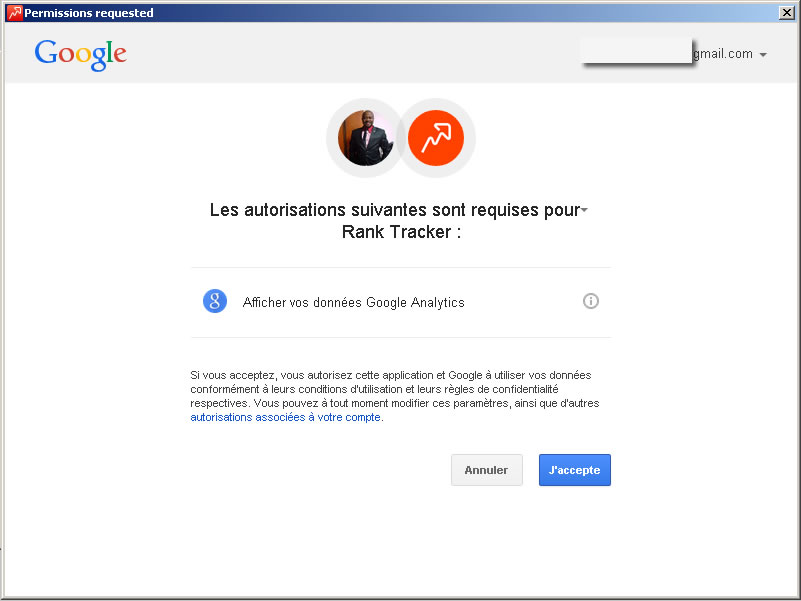 Once both accounts are connected, Rank Tracker will collect keywords you already rank for, check your position on SERPs for these keywords, calculate your Keyword Efficiency Index (KEI), etc.
Rank Tracker is quite an exciting rank checker tool.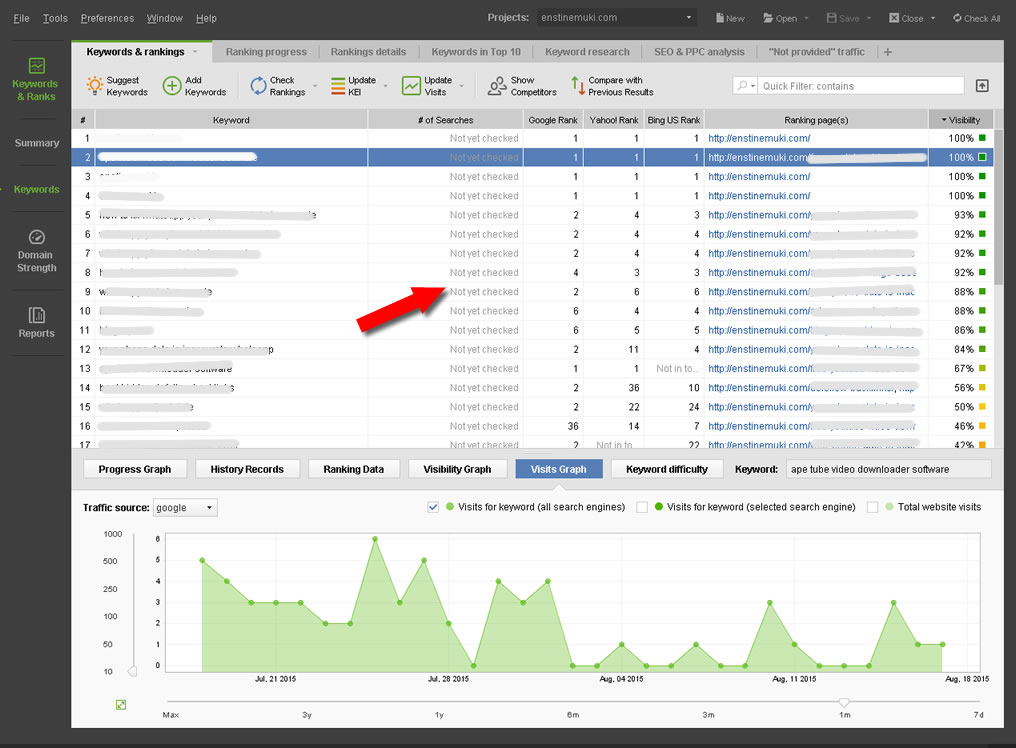 At a glance, you can view your keywords, the position in major search engines, the url to which it drives traffic, etc
NB: In the screenshot above, the "# of searches" column shows "Not yet checked". That's because I didn't link my Google Adword account to this project. Adword account allows Rank Tracker to calculate search volume per keyword.
Manually add keywords
Apart from connecting to Google Analytics and automatically pulling keywords that already drive traffic to your blog, Rank Tracker SERP rank checker tool allows you to add keywords manually to the list
Keyword Suggestions
Rank Tracker can help you get a list of more keywords from the seed keywords using the Keyword suggestion feature.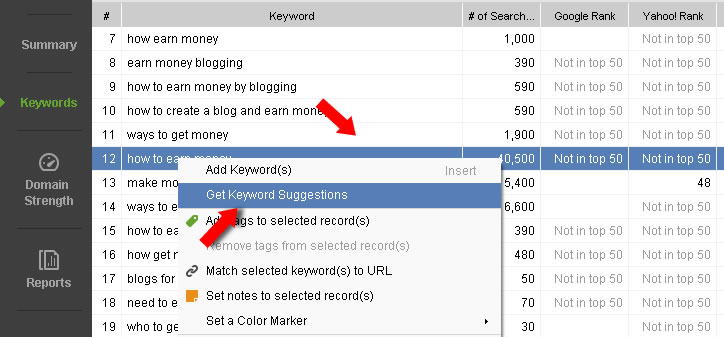 There are about 20 keywords suggestion methods. However, Google Adwords Keyword Planning is the most recommended. Others are SEMRush, Google Trends, Google Search Console, Bing search Suggestions, Google Autocomplete, etc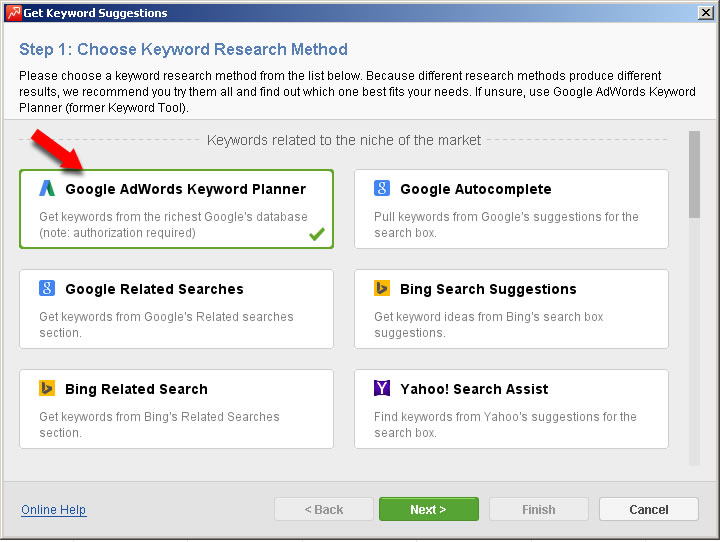 Price
The price is an important factor. Rank Tracker comes under two license tags – Professional and Enterprise.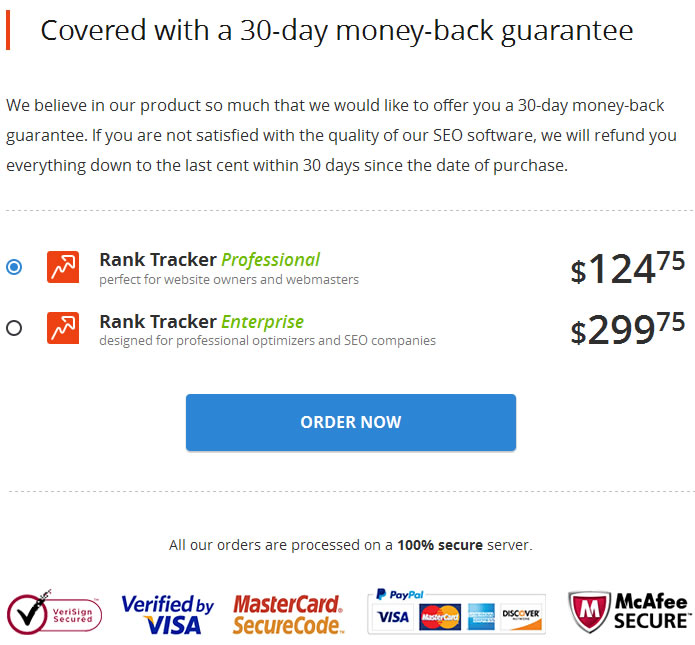 When you buy this keyword rank checker tool, you'll get a free 6 months subscription for the Search algo updates. When the time expires, you need to prolong your Search algo updates subscription on a paid basis to keep Rank Tracker in line with search engine algos
Pros
Rank Tracker is rank tracking tool that adds more to simply checking your position on SERPs. While checking for your position, it helps you discover more keyword to pull more traffic to your site.
The support service from the team is commendable
Rank Tracker's scheduled tasks run an autopilot. All you need is make a couple of simple settings adjustments once, and then the rank checker will do all tasks according to the schedule. The entire job is done without any interference on your part! All you do is look at the results on your computer screen.
The software is pretty fast. It will check several hundred keywords within a couple of minutes, depending on the speed of your Internet connection.
It's available for Windows, Mac OS X, or Linux.
Cons
This is desktop app, meaning your computer will have to be constantly on and connected to the Internet to have it function.
More keyword position checking and tracking tools
Here are some more excellent keyword rank checker tools to check and monitor your keyword position in search engines. As webmasters, bloggers and SEO experts, it's important to have the right tools to check website ranking on SERPs.
1 -> Rank Watch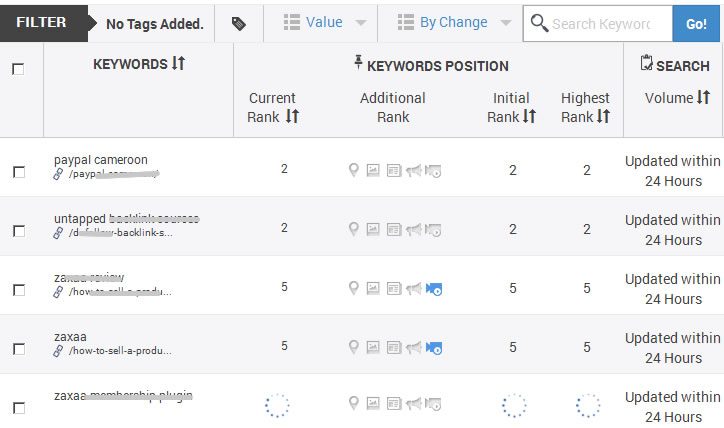 When I signed up to Rank Watch, I got seduced by its features and how this can help boost my SEO. Not only is it tracking my keyword position on 177 search engines including Google, Yahoo, Bing , etc, Rank Watch rank checker tool also helps discover some hidden keyword that send traffic to my site.
What this means is I'm being able to tweak the articles receiving traffic from these hidden keywords for better ranking.
One of the features of Rank Watch gets comprehensive in-depth analysis on what you are doing right and wrong with your website/url. It also helps check your site's responsiveness.
Rank Watch helps you analyse your competitors and see exactly their position for specific keyword, compare their keywords to yours and see exactly who is dominating the market.
Beside your ranking position for different keywords, Rank Watch will calculate your backlinks in seconds and display them according to different parameters such as Newly Added Backlinks, Do Follow Vs. No Follow, etc
This tool takes away the hard task of searching for position fluctuations of your keywords. It automatically triggers email notification once there is a change in your keyword position. Note that you are allowed the flexibility to set different situations when the tool sends a notification.
2 – > RankTrackr
This is one of the most accurate Search engine rank checker tools I have used. It's simple but it does the work in the most effective and pleasant way imaginable. RankTrackr is a serp rank tracker tool used by 1000s of SEO experts and site owners worldwide.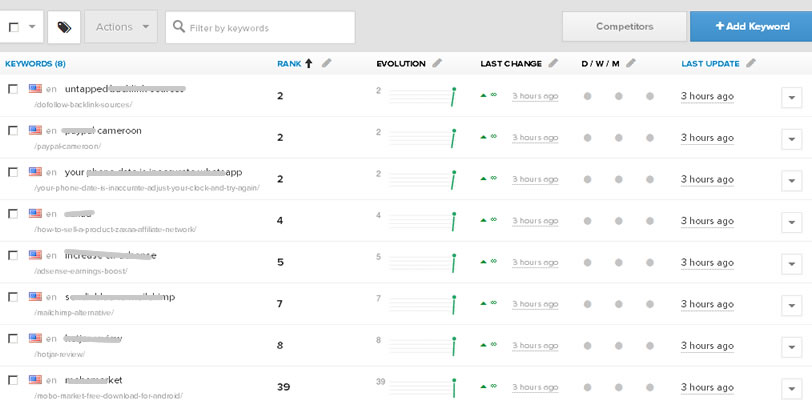 One of the things I found interesting with this tool is the ability to track rankings with precise accuracy in a geographical area of your choice (by city, zip code, region and country). This is unmatched tool for local SEO.
Just like most rank tracker tools, you get notifications each time your position changes for specific keywords.
You are able to filter your keywords to determine which are doing the most for your site. This helps you to tweak for better results.
Competitor Analysis is not left out in this tool as it allows you track your competitors and see how they rank for specific keywords.
3 – > Rank Monitor
This is described as most complete SEO Rank Tracking tool in the industry. It's the rank tracker that allows you to track your competitors and monitor your SEO performance.
It's a search engine rank checker tool you have to consider before making a final choice. It will check your rankings daily and keep you up-to-date. Any movement, up or down the SERP will be tracked and a notification sent to your email.
If you want to monitor and check website ranking for any keyword, I think you should try this out too.
Conclusion
Those are some keyword position checking tools I wanted to present to you today. Let me know in the comment box if you are using any of them to check your website position on SERP for any keywords.
Drop your comments below and let's talk.