An online video maker is a complex, yet simple-to-use web application that helps in producing marketing videos.
There is no doubt that videos are crucial in today's business expansion. That can simply be explained by the rapid growth of video sites like Youtube.
Producing marketing videos used to require huge monetary investment. Given the important demand in the this industry, there really is need for developers to sit up.
I recently came across MakeWebVideo.com, an excellent online video maker. I was seduced by its ease to use, the number of professional templates available and the top quality of the final product.  So I thought sharing about it will help my readers gain an edge over their competitors in video marketing.
As a matter of fact, I have come across a couple of such video producing applications.  For the most part, the quality of the final product is often not worth the investment.
That's always the trouble. As long as visual and sound qualities are not maintained, the very purpose of the sales video is being compromised.
While playing around with MakeWebVideo online video software, I noticed a few qualities that make it stand out;
Simplicity!
Here is what the video editing wizard looks like. Just select a clip and you are presented with a user-friendly clip editor!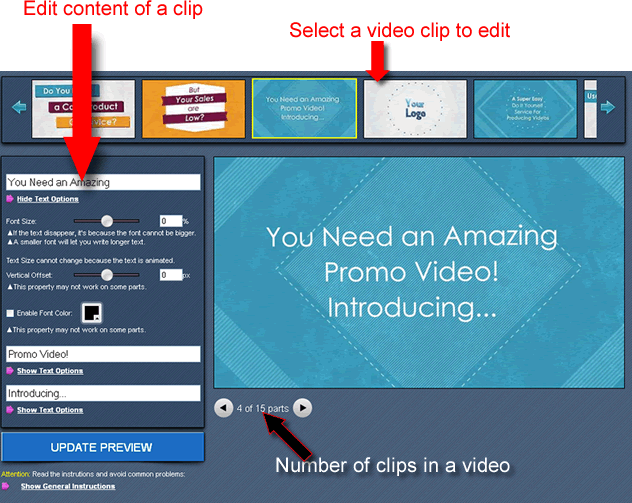 It's so simple off the bat. In just 3 steps, (30 minutes or less) you are done with a high quality HD video;
Choose a template – Excellent templates produced using Adobe After Effects.
Insert your own text, images and music.
Create your final video – You either download your videos or let them hosted by the service. It's super easy to share and embed the hosted video on your website to play on all pc's and iOs devices.
Customization!
One of the first things I loved with this app is how much I was able to customize my videos. What I needed to do was just pick a template and then start changing text, graphics and sound.
Each video is broken into parts or video clips. You can easily select any clip and edit its content – text, text colors, images, etc. Once you are done with editing and doing the necessary modifications, with a simple click of a button, your video is ready.
Professional Adobe After Effects Templates!
There are quite many impressive themes available in these categories;
Explainer Videos
App Promo Videos
Corporate Videos
Cartoon Videos
3D Design Videos
Text Only Videos
Slideshow Videos
Ink Effect Videos
Trailer/Titles Videos
Scrapbook Videos
Pop-Up Book Videos
Quality Stock Music!
I went through the platform and found a huge collection of quality stock music in different categories. Though each video template has a default music built in, you can select a sound track from the stock and replace the default sound. You also have a possibility to upload your own mp3 file to your video.
Some demo Videos
Here is a demo video that took me less than 30 minutes to complete. Isn't this really cool?
That's one quick video I did so you can have a feel of how this tool looks like and how it's a perfect online video maker for your web video production.
There are a couple more demo videos I want to show you on Youtube. Here are they;
Whiteboard Business Promo

Video Marketing – Promote Your Business with video

Here is another demo video

Now you are able to appreciate both the visual and sound qualities of these videos.
MakeWebVideo is the online video maker, a complete platform that fits every aspect of video marketing. With it, you will be able to do your;
Web Video Production.
Promotional Videos.
Business Video Production.
Explainer Video Production.
Sales Video Production.
Marketing Video Production.
Mobile App Marketing Videos.
Animated Business Videos.
Etc
Do I intend to switch to another online video maker?
Absolutely no!
Right now, this tool perfectly fits into what I want in a web video maker. The quality is top. I can fully customize by adding more photos, sound, importing more videos to clips, etc.
Once a video is complete, there is always the flexibility to apply more changes.
The fact that they host my videos too is another plus. I won't have to download and reload on Youtube or on any other video platform.
Is this online video maker affordable?
You can have a professional web or HD video from $39 upward. This is unlike elsewhere where you pay hundreds of dollars for such videos.
However, the longer your video, the more you pay.
Give it a try!
Go to https://makewebvideo.com. Sign up and create free videos. All the tools are available for free trial. You only make payments if you are satisfied with the results.