Planning to choose MilesWeb to host your WordPress site? Want to get your website hosted by a good yet affordable host? Well, you have landed at the right place! In this review, we'll share a complete WordPress hosting overview on MilesWeb.
Today, there are plenty of WordPress hosts in the market like Bluehost, GoDaddy, Kinsta, and many more. But their hosting price is too high. Here, we've chosen MilesWeb and covered its specific features, prices, and discounts. Let's first see what MilesWeb is all about in short.
MilesWeb in Short
MilesWeb was launched in 2012 and has grown fast to become one of the big players and trusted web hosts worldwide. This hosting provider has six data centers worldwide. They are located in the USA, UK, Canada, India, Singapore, and Australia.
They have a broad range of web hosting services, from shared hosting, reseller hosting, VPS hosting, dedicated server to WordPress hosting, and cloud hosting. Their strong technical support team constantly strives to offer stellar support to customers.
Here's MilesWeb in Numbers

MilesWeb's WordPress Hosting Review – Full Features
Let's talk about MilesWeb's WordPress hosting features. When you consider opting for their hosting plans, they are reasonably cheap compared to other competitors like HostGator, Bluehost, and more. Here are some of its most notable features.
Free Domain for One Year
There are web hosts that offer you domain registrations but might charge you an extra penny for it. Unlike them, MilesWeb offers a free domain with the managed WordPress hosting plan, but you will need to get it for at least 1/3 of a year to get it. The domain name is completely free for the first year, and then the renewal charges will kick in after a year has passed.
Automatic WordPress Updates
When you host your site with MilesWeb, you don't have to stress about the updates that pop up frequently. The manual updates are here to take care of that for you. Their software at the backend of your site will automatically upgrade your WordPress to the latest version.
This one is a good feature that you get with MilesWeb. Also, their technical team keeps track of new updates related to the WordPress platform or plugins as soon as they are released.
Free SSL Security
Usually, most hosting companies offer free SSL as an extra addon. Just like most hosting companies, MilesWeb also offers a free SSL certificate with their hosting plan to ensure the security of your website.
Data Center Choice
If you want to have a perfect data center, then you need to find the region where your target audience resides. With their WordPress hosting plan, there's an option to choose a data center closest to you. Their data centers are located at six different locations globally. You can choose the nearest one.

Fast Provisioning
Before picking the host for your site, you need to ensure that the host offers robust and scalable hosting in every aspect. With MilesWeb, you get, ultra-fast, scalable, and robust WordPress hosting. Their cloud architecture is scalable and can launch cloud instances within a few clicks to influence your next website project to take off in just a few minutes.
Is MilesWeb fast for WordPress?
When the host fails to provide a good server response time, the company tends to lose customers. Sharing my experience with Bluehost, I always had an issue regarding server response time.
But certainly, I never experienced this issue with MilesWeb. To boost your WordPress site loading speed, here is what you need to know about the exclusive WordPress features that MilesWeb offers.
GZIP/Brotli Compression: Gzip is a form of compression software used with all their WordPress hosting plans to improve the delivery time of websites despite the sizes.
CDN: They offer integrated CDN service with WordPress hosting. It helps in expanding the reach of performance of your site to improve the experience of visitors worldwide.
HTTPS by Default: HTTPS indicates if your website is secure or not.
WP-CLI: WordPress Command Line Interface. It is a powerful toolset that MilesWeb offers with the managed WordPress hosting.
Server-Side Optimization: Their specifically configured servers help in boosting the performance of your WordPress sites.
While reviewing, I found that these features can beneficial to your WordPress site at the maximum level. Hostinger too offers such features with their plans, but their plans cost more. Overall, MilesWeb offers you rich features at affordable price points.
Customer Support
An important aspect that you need to consider before getting into the hands of a web hosting provider is their customer assistance. A few years ago, when I hosted my website with some other hosting provider, I got a bit of a pathetic experience with their support team.
Since then, we always suggest web hosts that offer good customer support.
While you are setting up your website using a WordPress hosting plan with MilesWeb, you get dedicated customer support from them. Their support team is helpful and ready to assist you 24*7*365 with your queries.

To test it out, we sent them an email regarding some technical WordPress hosting. We received the response quite early, which was good.
Pricing (80% Off on WordPress Hosting!)
Finally, here we come to the pricing section of MilesWeb's review. MilesWeb is currently offering huge discounts, wherein you get 80% off on their WordPress hosting plan.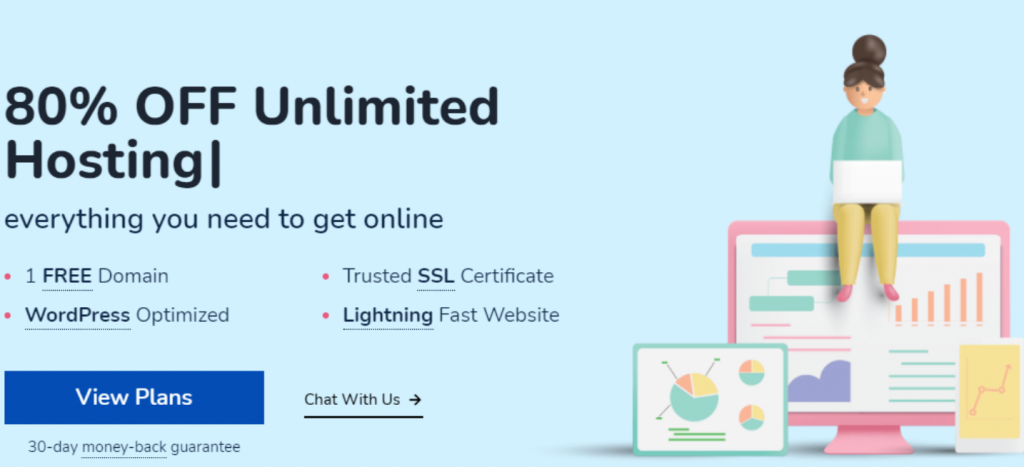 All plans come with a 30-day money-back guarantee, 24*7 support, and 99.95%, which is worth it, I think. When it comes to WordPress hosting, MilesWeb offers managed services at an affordable price in the market.
MilesWeb has three WordPress hosting plans: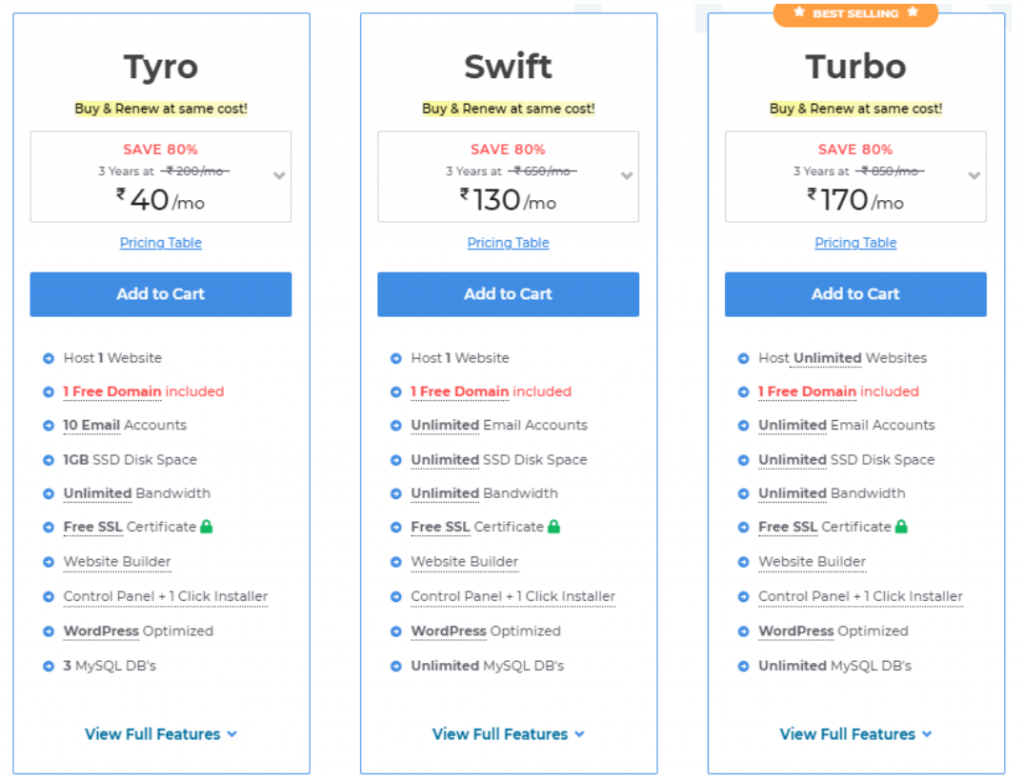 Tyro (Rs.40 per month): The basic Tyro plan, which is the lowest cost starter plan in the market. If you're a beginner then, I would suggest you go with the basic plan. It is perfect for blogs and small websites. Also, you get 1 Free Domain, WordPress Optimized, and a list of unlimited features.
Swift (Rs.130 per month): If you're ready to spend a little more, you can go with their Swift plan. You'll get 1 website, 1 free domain and Unlimited Bandwidth, SSD Disk Storage, Email Accounts, MySQL DBs, etc.
Turbo (Rs.170 per month): The last is the higher-tiered plan from MilesWeb (Turbo plan), which lets you build unlimited websites on your account.
If you want to host multiple sites, you'll need to sign up for their pro plan at a pricier of Rs.170/mo. For beginners, this is a good host, and you can upgrade your plan as your site grows at any time. But trust me, this is the best cost for hosting your WordPress website.
What Customers Say About MilesWeb?
It's important to know the customer feedback before picking the right web host. In this section, you will get to know what customers are saying about MilesWeb.
On Trustpilot, MilesWeb is rated as follows: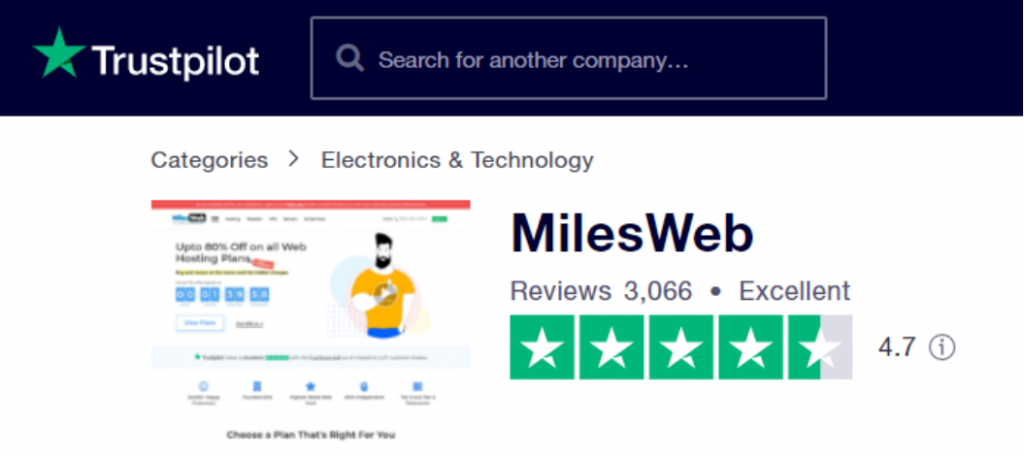 So, here MilesWeb has been rated excellent by Trustpilot, and the users gave it 4.7 out of 5 ratings. Also, it has 3,066 reviews, which is amazing.
Here is what their customers say about WordPress hosting on Hostadvice, the biggest review platform!

Pros
Let's take a quick overview of the pros of MilesWeb WordPress hosting.
The support team is helpful and there around the clock to assist you.
They offer an integrated CDN service with WordPress Hosting.
WordPress hosting plans are affordable.
Free WordPress migration.
Free domain included.
Final Verdict
Do we recommend MilesWeb?
Yes, MilesWeb is a good choice if you are planning to host a WordPress website. From the review, you could have formed a clear idea about the features and responsive customer support that MilesWeb offers. So, if you're looking for a trusted and affordable web host, then you can consider MilesWeb. Overall, its performance is great. You may face glitches sometimes with their hosting. After all, you can pick the right web host that fits you best!