In today's fast-paced environment, it is expected that we act fast and offer instant support. Website customer service is an integral part of any business, small or big. That can potentially not only boost your sales but also help you understand your visitors' behavior. There are so many benefits from communicating with users in real-time.
For example, no matter what part of the world your customer is in, you can offer help at any time through online support. Instead of setting up offices worldwide, live chat has made it so much easier for businesses like you to interact with customers.
Although email is still the preferred method of communication for many businesses, the customer would have to wait longer for their response, usually 24 hours. They need help instantly. For example, they need more information about signing up or have forgotten their password, and if not provided right away, they might turn away from your product and search for one that is more accessible.
You can increase your business credibility with this method. This form of real-time communication that offers on-spot professional help will result in making your business more credible.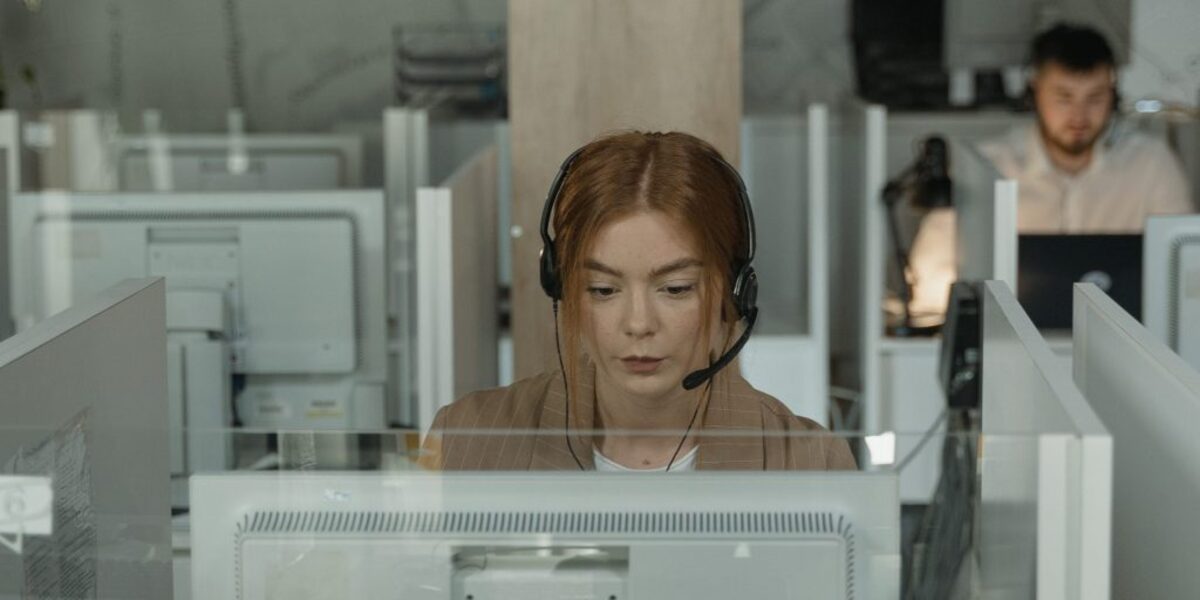 Using phone support has proven to be more expensive, and you can only handle one customer per call. With real-time chat, you can handle multiple customers simultaneously. This method will require fewer employees, which will reduce your costs.
Make your customers more comfortable by letting them interact with another human being that understands their needs. If they have forgotten their password or have an issue installing the software, you'll be able to help them with step-by-step instructions or send them screenshots to make the instructions easier to follow.
There will be no need for multilingual agents, as online tools will help you respond efficiently to customers in all languages. Some real-time chat software have a built-in translation feature. Simple greeting messages that pop up while a customer is scrolling through your page can go a long way.
This will give you a better chance of scoring a new customer. As soon as they respond to that message, you can use your charm and sale skills to make them stay and eventually buy your product. Tools like GetLead.page and REVE Chat can help you on the way to good communication with customers.
GetLead.page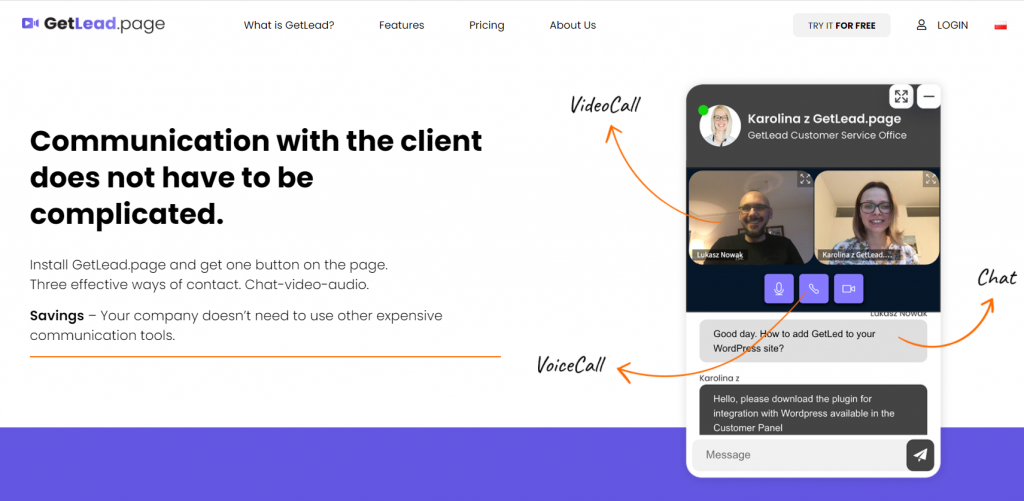 This business messenger will connect your online visitors directly with associates via text message, video call, or voice call. We are talking about GetLead.page.
Its main features are:
Make sure you don't miss a word customer says, record video and voice calls, and review them later again if needed.
Review the history of any call, when it happened, how long it lasted, and the agent assigned.
Always keep in touch with your customers, even when you are unavailable.
Own a database of contacts.
Installation of GetLead.page is easy and fast.
It comes with an easy-to-use widget creator.
Once you install GetLead.page, you'll need to set up the messenger. On your dashboard, you'll see tabs like Departments, Workers, Widgets, Offline Leads, Orders, etc. Under the Departments tab, you can add/create new departments based on which faction of your company a visitor would want to contact.
You can create a list of departments and edit or delete any of them at any time.  Under the Workers tab, you'll be able to add employees that will be interacting with customers.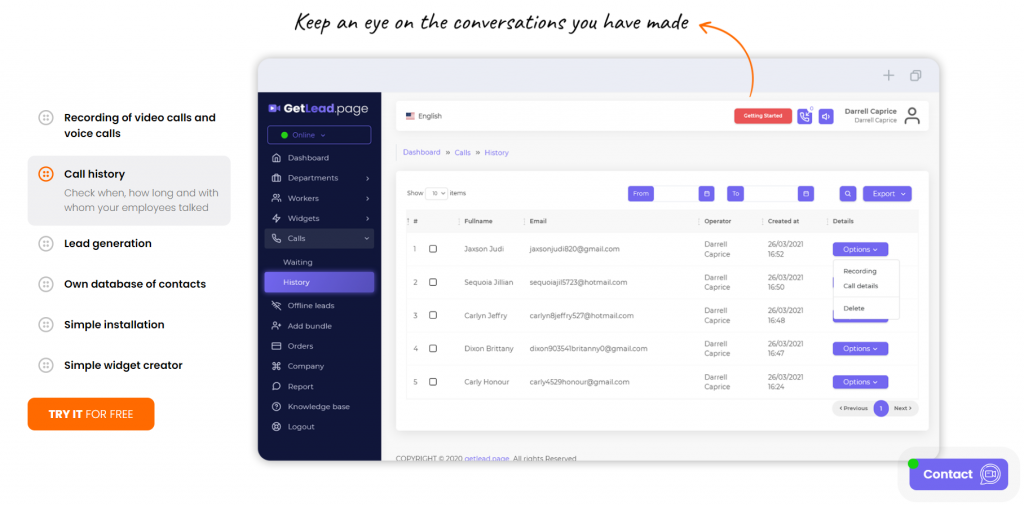 The Widget tab lets you set up your support service widget. For example, you can choose any design color you want, or in the message box, you can set your contact methods or let the customer choose, and when the operator is not available, you can hide the widget.
Offline leads let you respond to messages customers had sent to you when you were unavailable. GetLead.page will help grow your client base and make communication with visitors easy and joyful.
Pricing
There are three different price tiers for this tool. The first Tier costs 49$ and offers 500GB of video storage and five consultants. Tier 2 costs 98$, comes with 1TB of video storage, and gives you to option to have up to 10 consultants or employees. Or if you have even more than that, there's always Tier 3 for 147$ that comes with unlimited video storage and allows for up to 20 employees.
REVE Chat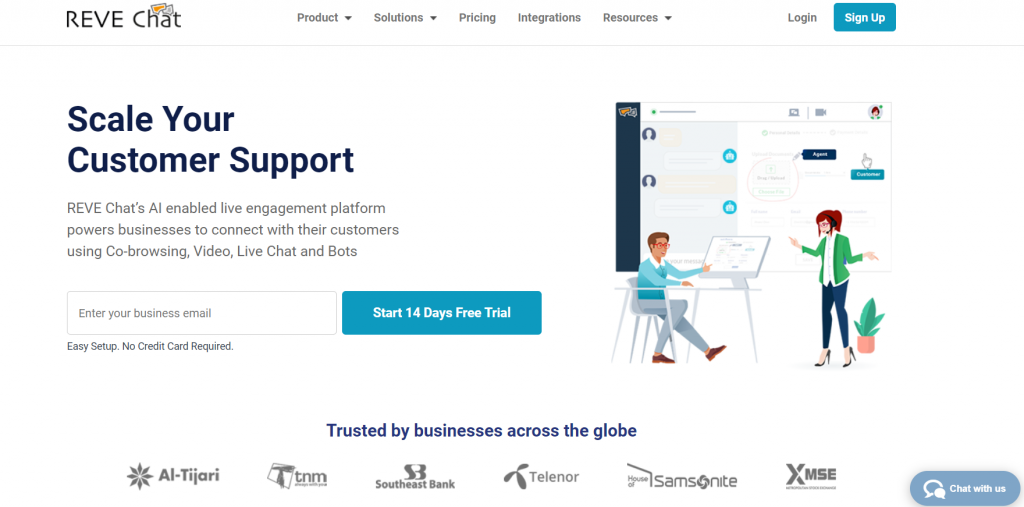 REVE Chat is a customer engagement platform that allows companies to connect with visitors in real-time. It's simple yet powerful software.
Its main features are:
Ability to talk to your customer in real-time via live chat
Make user real-time communication experience better with collaboration tools like video chat, voice chat, screen sharing, and co-browsing
RAVE Chat supports other popular messaging apps like Facebook Messenger, Viber, Skype, and Telegram
Work efficiently with the usage of tags, canned responses, desktop notifications, etc.
Instantly add in-app messaging support, voice, and video to your web or mobile apps.
Mobile apps allow you to reply to a customer from anywhere and at any time
Get daily reports about the efficiency of your team and complete visitor analytics.
Once you decided to get this software, the next step is to set it up. The first thing you'll see is the dashboard. There are displayed sections like real-time status, chart summary, channels, chat tags, and many more, to help you understand visitors' behavior. Next to the Dashboard tab is a Chat Window tab, click on it, and from there, you can install REVE Chat on your website.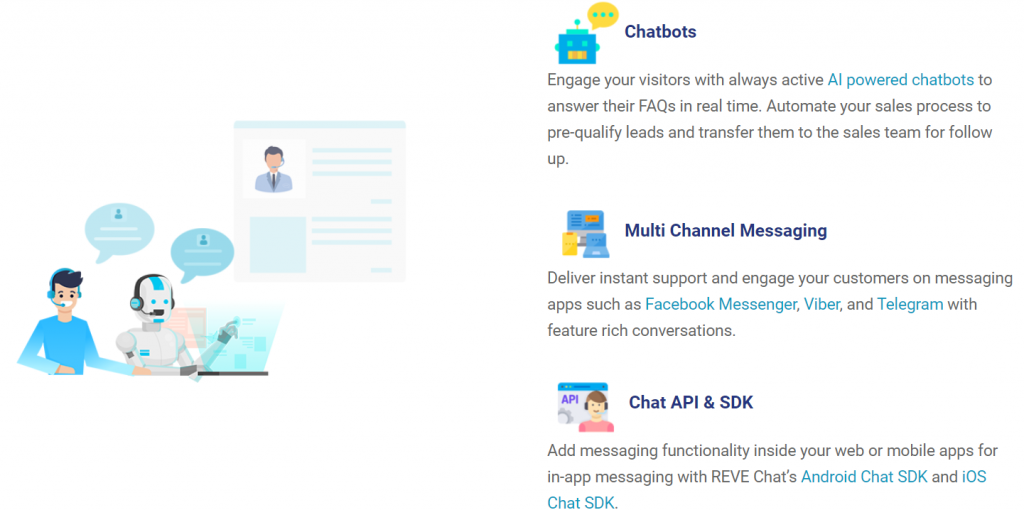 Then you will be forwarded to the Integration tab, where you will given a code that you need to copy and insert into the code of your website. Here you will also see which third-party apps REVE Chat supports. The next tab is Reports, where you'll see the summary of chats(analytics, history, etc.).
The Customization tab lets you change the chat window's appearance (change chat button icons, theme color, enable/disable different features).
The Agent tab refers to the employee that is handling the conversation. Here you add one or multiple agents that will converse with visitors. The settings tab lets you go into details on how you want this messaging software to work. And the last tab is Bot Builder, where you can choose, create and customize the bot. Overall, REVE Chat is powerful software that can boost your sales conversions.
Pricing
There are quite a few different pricing plans for REVE. If you're a small business, we suggest you take a look at the Business plan at 13.50$/mo per agent. However, if your business is larger you might want to look into the Advanced plan that costs 22.50$/ per agent or even the Enterprise that comes around to 45$/mo per agent.
Conclusion
We must establish good communication with users on our website. That way, if there is a problem, users can contact you directly, and together you can solve the problem in a few minutes. GetLead.page or REVE Chat can help you out with that. They will make sure you receive a message on time and that the customer gets instant assistance.