Welcome to another Thursday post featuring a very unique blogger. There are other bloggers I have featured in the past so you can check them out here.
I'm really enjoying these Thursday posts as they draw me closer to so many great men and women in the industry. I also  use this opportunity to let you know more about them so you can connect and boost your online presence.
Our blogger this week is exceptional. I don't know how he does it but I'll be sharing more about him below. His story will blow your mind away. He is a huge dose of encouragement. He makes me believe that everyone, no matter his/her disabilities can succeed in this world.
Meet Maxwell Ivey, the blind blogger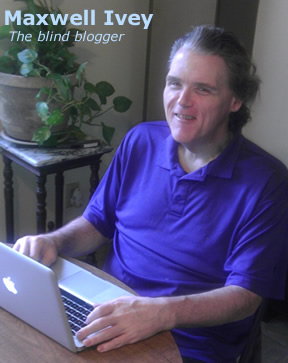 My first meeting with Max was on my guest article published on aha-now. I shared some hot tips on how to attract advertisers and make money with your blog. I encourage you check out this post. Click here!
Maxwell Ivey, known to his friends as Max, Mr. Midway, or The Blind Blogger; is someone who has reinvented himself several times to become the person he is now.
He operates two companies. At his primary business the Midway Marketplace he has the unusual occupation of being a full time reseller or broker of amusement equipment and related items. He also does appraisals, and his site has a wealth of links to the amusement industry and the companies that supply it.
At his new coaching practice he shares his personal experiences as a totally blind entrepreneur. He uses his approach of combining a positive attitude with taking small consistent action daily to set an example for his readers and potential clients.
He had to be convinced of his role as someone who can inspire and motivate others. He still has trouble seeing how extraordinary he is, but he reminds himself that there are too many people in the world with no physical disabilities who fail to take action to achieve their goals or even chase after their dreams.
He started his first blog about six years ago. It was on blogger, and he set it up because so many people online said that if you are going to be in business you have to have a blog. While he has moved on to a new and improved version of that blog on word press he still keeps the old site out of nostalgia. He isn't sure what to do with it but just can't bring himself to close it down.
The midway's current blog is a little over two years old and can be found here.
The Blind Blogger!
Max's latest addition is where he shares his more personal posts. He decided to call the site The Blind Blogger because that is how people on several social media blogging groups had referred to him. He says that when you are blind quite often you are the only blind person that most people know. So it wasn't unusual to be called the blind blogger. He knows there are many other talented visually impaired bloggers out there and he does his best to bring attention to them.
Out of Darkness to light!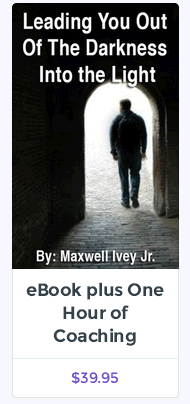 Maxwell has recently published his first ebook. It is a short motivational one called Leading You Out of the Darkness Into the Light. In it he shares his path to personal growth and strives to help the readers do the same. He took the unusual approach of asking readers to email him with their progress while working through the exercises included within.
He says that he has known too many people who have read the book, listened to the audio, watched the video, or even attended a seminar live; who still weren't able to follow up on the teachings on their own.
He worked with two talented people to complete the book his editor Lorraine Reguly and a graphic designer who created the cover image named Angela McCall.
His book is currently available through selz.com for $4.95. You can purchase it at this link. He hopes to have it available on Amazon Nook, Create Space and others soon.
He chose Selz for now because it fits into his core belief that it is better to do what you can today and do more or do it better tomorrow than it is to do nothing while you wait until you are able to do it exactly how you envision it in your mind.
He believes that by putting things off until tomorrow, next week, next month, or that mythical time known as someday; that you will never get anything done.
Life before now!
Before he sold amusement equipment or thought of becoming a life coach, motivational speaker, or author; Max wanted to run his family's small carnival. His father persuaded him to try to go to law school as the best way to help the family out. When that didn't work out, he tried working for the Internal Revenue Service. He finally left that sole stealing job to return to the family business helping with games and the bookings.
When his father's early death from lung cancer resulted in the show going out of business, he turned to helping friends and family sell their surplus rides and this eventually became a full time profession. And in the winter of 2008 he finally convinced his family to let him leave the road for good and start working on building the new business full time.
He has been featured in several interview posts, written some inspiring guest posts, written for an online magazine, and appeared on many podcasts and radio shows. You can find links to all of these on his as seen online page.
Some of Max's must-read blog posts!
His most important blog post was Think I'm ready to be an inspiration where he explained how he came to the understanding that he had far more to share with the world than only being an amusement equipment broker.
His most well received post on the midway marketplace was one he wrote about using Pinterest as a blind person. 
The one thing all his posts are known for is their extreme honesty and transparency. He has often been criticized by people in the amusement industry for having shared too much information.
Regardless of whether you call him Max, Mr. Midway, or The Blind Blogger he is a truly helpful person. He wants to be there for his readers and find ways to solve their problems. He appreciates hearing from readers and is always up for a good conversation either by email, phone, or skype. And if you connect with him on social media or send him a request to he will always accept.
You can find him at the following places;
Phone: 979-215-1770
skype: Maxwell Ivey
Youtube
Linked In
Face Book
Wow! such a man! I'm so excited to have him around. How about you? Ain't you impressed?
I'm sure you want to engage with Max now. Talk with him in the comment box below. Share this post and give Max a boost.