In this ManageWP review post, I want to introduce you to a turnkey solution for your WordPress blogs management. This will help  you manage multiple websites in one dashboard. That takes the hard and time consuming tasks off your fingers.
If you have more than 1 active blog, I understand your pain browsing between tabs/windows, jumping from one dashboard to the other moderating comments, updating theme and plugins, publishing new posts, etc. I have once been there but now a completely new world is opened to me, leaving me with few clicks to accomplish multiple tasks on more blogs at once.
ManageWP is an excellent dashboard to completely manage any number of blogs you have. It's a perfect solution to your worries about keeping and managing multiple passwords, backups, security, etc. I will break this review into 6 different parts for better understanding.
ManageWP review in 6 parts
Basic Maintenance
Managing plugins, themes, posts/pages, users and comments
Backups and security
Monitoring your blogs for performance
SEO Optimization
Clone/Migration Wizard
1 – > Basic Maintenance
It's amazing how you can perform basic maintenance and speed optimization tasks on any (or all) of your blogs from your ManageWP dashboard. Such tasks as databases optimization, post revision cleanup, etc often requires an additional plugin.
You can with a simple click run Plugins/themes update and database cleanup. Imaging having to log into different blogs to perform these tasks.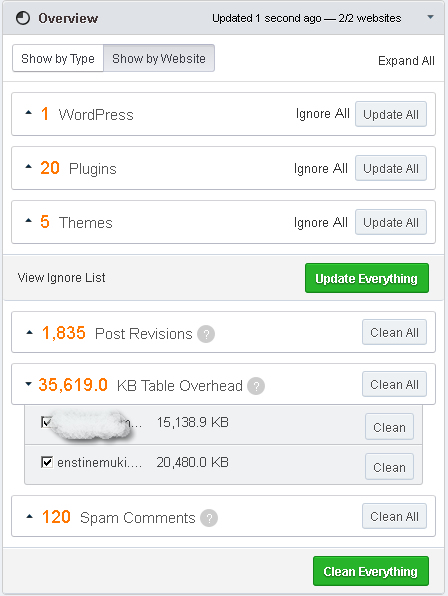 You see from this image, you can update everything (the green button) or update blog after blog. Just with a simple click, you can update themes, plugins, clean up your db, remove spam comments on multiple blogs, etc.
2 -> Managing plugins, themes, posts/pages, users and comments
a) Plugins and Themes: There are generally three things you do with plugins and themes from within your blog dashboard. These include;
Installing new theme/Plugin.
Updating existing and active plugin/themes.
Disabling/Uninstalling existing plugins/themes.
ManageWP enables you perform all of these tasks on multiple blogs from a single dashboard.
b) Creating new posts/pages: One of the reasons we log into different blogs often is to publish new articles. With the ManageWP dashboard facilities, it is practically easy to publish your article on any blog under your control. You can also pull out articles on different blogs, modify them and save.
Each blog post has three essential components;
SEO properties
Media properties (images/video)
Text
All these properties are flexibly available within ManageWP
ManageWP dashboard will load any specific post publishing plugins that are installed on any of the blogs added.
I have SEO and affiliate link plugins installed on one of my blogs on the ManageWP dashboard. I was agreeably surprised when all these plugins were available on my publishing window within ManageWP.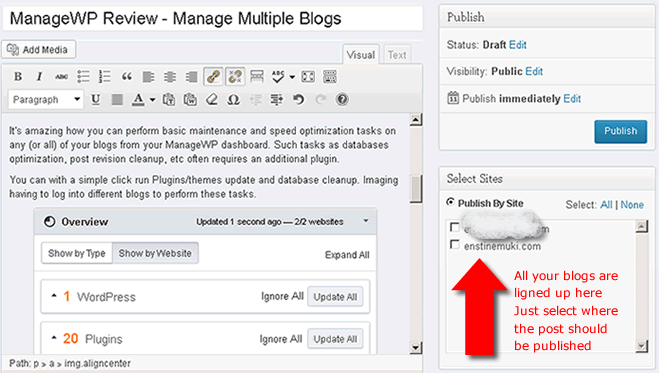 NB: Every tool and plugin on your article publishing window is available: permalink, tags, categories, featured image, SEO options, etc

You can create your free account and add your blog to see for yourself. Click here to sign up
3) Comments: Comments are essential parts and one of the excitements of blogging. There are 4 categories of comments;
Approved
Pending
Spam
Trash
Within this unique dashboard, you can access your comments on any blog and deal with them accordingly – trash, approve, unapprove, edit, reply and spam.
4) User management: If you have blog(s) with different users, you won't have to log into different dashboards to manage them. ManageWP gives you a cool tool to interact with your blogs' administrators, editors, contributors, authors and subscribers.
3 ->  Security and Backups
Security is one of the most attention-grabbing areas of any online business today. The net (especially the WordPress Platform) is full of wickedness every single minute. So any relaxing on online security will be a foundation for disaster.
The guys at ManageWP are fully aware of this. That's why they have provided a scanning tool that scans and generate detailed Report on the security status of your blog. You can run this tool on all your blogs from just within 1 dashboard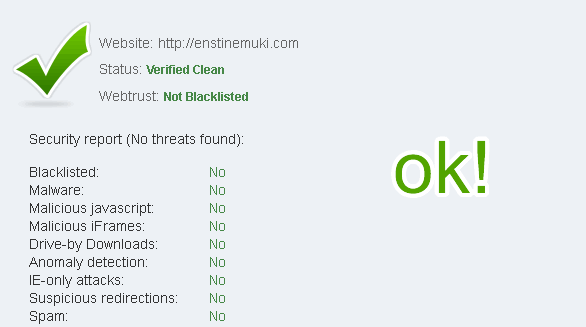 NB: This image is just a portion of the detailed report generated by the scan facility
Backup is one of the most crucial security tasks you will have to keep an eye on daily.  This is because it helps you keep copies of your blog you can always bounce on if danger strikes and takes down your content.
While there are paid plugins out there, ManageWP has this facility available to run on all your blogs with the simple click of the mouse.
You can schedule backup tasks that will run automatically daily, weekly or monthly, at specific hours.
Most of the backup plugins out there are limited to database. However, an essential part of your blog, the media directory should not be left out of every backup task. This is where your images are stored. That means all the images you upload into your blog posts and pages are stored up in this media folder. What happens if you don't get them back while restoring your hacked blog ? The result will simply be terrible posts and pages.
ManageWP backup tool gives you the option to backup just your database or database plus files. Now you may not want to copy some core WordPress files that will evidently be recovered with fresh WordPress installations. That's why the backup wizard provides space to simply enter those folders you would want not to backup.
Another excellent option I found here is the option to optimize database before backup. That avoids copying and saving databases with errors. If your backup is set to run daily, that will also help keep your database constantly optimized.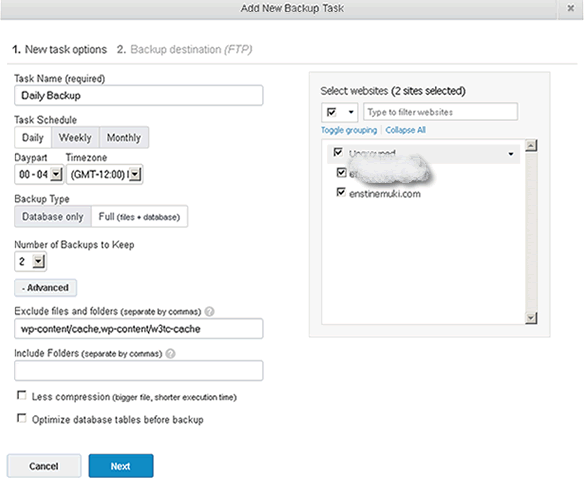 On the next page of this backup wizard, you will be expected to create a backup destination. That's where your database and files will be stored following your timing.
Backups are normally stored on your server. You can also use an alternative backup destination if you want to store backup files on an external FTP, Amazon S3, Google Drive, Dropbox account or email.
4 – > Site Monitoring and Alerting
This is one additional feature I think is great with ManageWP. Imaging yourself at the beach and your sites get turn off for some reasons.
This tool is handy at alerting you on some major changes concerning your blog – downtime and traffic change. You will get an email telling you your site is down, your traffic has moved up or down, etc.
5 – > SEO
ManageWP can also monitors your blogs' SEO and Keyword Rankings and detailed reports and statistics udated generally on Mondays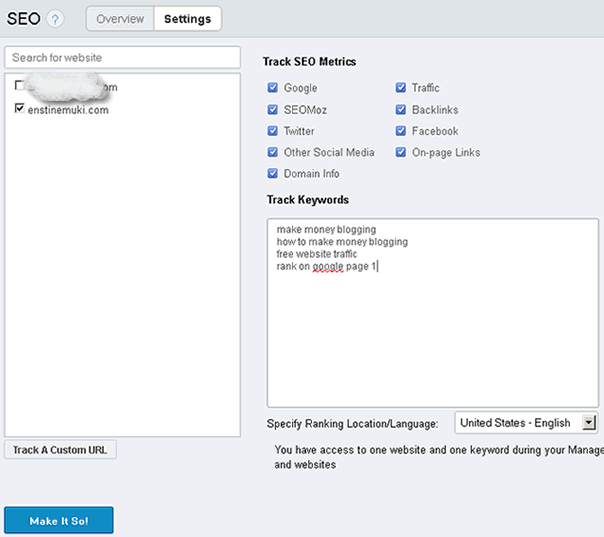 Each domain in your ManageWP can be monitored for 20 keywords. ManageWP will help you to determine which keywords you should be targeting. The weekly report will provide the following information:
Google
Backlinks – the number of backlinks
Page speed – page speed score 
Reading level – Google users can filter search results by reading level 
Google Pagerank – pagerank is your ranking on Google
Indexed Pages – the number of pages indexed by Google
Cached Timestamp – the cached version of your site stored by Google
SEOMoz
Backlinks – your SEOMoz ranking for backlinks
Mozrank – SEOMoz link popularity score
Traffic
Alexa – your ranking on Alexa
Compete rank – your ranking on Compete
On-page links
Meta robots – whether you are telling search engines to crawl your site or not
Internal links – number of internal links
External links – number of external links
Internal no-follow links – number of internal no-follow links
External no-follow links – number of external no-follow links
Twitter
Retweets – the number of tweets of your site
Facebook
Votes – number of Facebook votes
Likes – number of Facebook likes
Shares – number of times your site has been shared
Other Social Media
StumbleUpon – number of StumbleUpons
Reddit – number of votes on Reddit
Diggs – number of gigs
6 -> Clone/Migration Wizard
Moving from one host to another is common these days. This is absolutely an amazing tool to move your sites between hosts easily.
"… thousands of successful site copies have made the ManageWP clone tool the most robust one on the market. It will handle huge databases, different environments, replacing URLs in serialized data after cloning – basically anything you can think of. And if there is any problem there is always our fantastic customer support…

You could also use the clone tool to deploy a client's website from a test server to their server, or to migrate your site to a new server or domain. You can clone to a new site, or overwrite an existing one"
You can start using ManageWP right now
I can't end this manageWP review without encouraging you to sign up for free. This will help you discover these amazing features. Click here for your free account.
Let me also know in the comment box if you have more than one blog and how you manage your multiple blogs