After a break on my Thursday Series, I'm back and this time, with a bit of spices added to the mix. I used to just present exciting bloggers but from today hence, I will be doing some product presentations too.
I have so many bloggers who have exceptionally great products to power your business and it will be my pleasure to let them talk to us about their products.
Donna Merrill, Don Purdum, James McAllister, Brent Jones, Joy Healey, Adrienne Smith, Carol Amato, Ryan Biddulph, Tim Soulo, etc are authors and product creators so we will be hearing from them on Thursdays.
Today, let's kick off with Uttoran Sen. He talks to us about his platform and how this can help you market on social media. Let's hear from Uttoran so over to you buddy… 
---
Social Media. It is a lot of things.
For some – it is a connection. For others it is their life.
Status Updates starting with morning selfies to dinner food shots, from news updates to life events – everything is social media.
But you are not here to check out cat photos. No, unless of course you are in the business of cats.
You are on the social media for promoting your business, getting your brand out there – to be heard and finally sell.
If that is your goal then you feel the same way about Social Media as the rest of us – It is loud.
Noise and Clatter! Too much to navigate and much too difficult to be heard.
If you want people to hear you – there are only three ways to do it. One, you somehow silence them and make yourself heard. Or you raise your voice and talk over others. Since both are not possible, let us focus on the 3nd alternative where you get others to post on your behalf. More precisely, get others to echo your voice and leverage their reach to meet your goals.
On Guest Crew, we worked hard for the past year or two and built a loudspeaker that will effectively amplify your voice by the power of the crowd and create the buzz that your business requires.
– Uttoran Sen, Co-Founder GuestCrew
So, what is Guest Crew?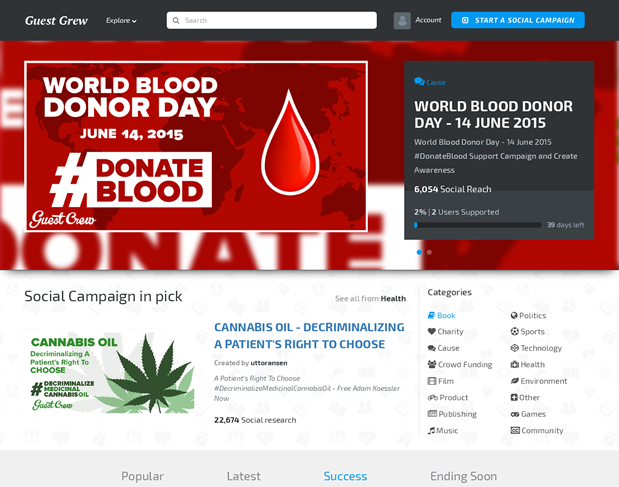 Guest Crew is a Marketing Platform which helps you to launch your business, ebook, products, service and pretty much anything.
In short, Guest Crew is your Business Launch Specialist.
How Does Guest Crew Work?
On Guest Crew, advertisers create their campaigns. A campaign can be on any topic from charity, causes and social events to websites, business, ebook launch etc. While the campaign is running, any social shares that are posted on the campaign via. using the social buttons (facebook, twitter etc. ) available on the campaign page – are stored in the Guest Crew system. On the due date of the campaign, all the buffered social shares are released – automatically, at the same time. This is done via Social Apps.
So, instead of random likes and tweets that are posted now and then – Guest Crew buffer them. And release them all at once.
You are a marketer – you can understand what will happen if hundreds of likes that you get on your blog posts over several weeks time – Gets Posted at Once. Yes – it will create a social buzz. Might even get your hashtag to start trending on Twitter, Facebook etc.
But this is not all. Guest Crew has an established membership base that can be reached by newsletters which includes bloggers, journalists, activists and buyers who are looking for exciting products and discounts. Thus the full force of Guest Crew is leveraged on these campaigns to create a buzz like none other.
Along with that, you too can promote your campaign and add more value to it.
Check out the recent Infographic that explains Guest Crew and its features.
Is this a Paid Feature?
Guest Crew believes in free tools and making things simple and easy to use.
As a Guest Crew member, when you support a campaign by any of your social accounts, like Facebook, Twitter etc – You Earn Credits. Depending on the followers and friends you have in your social profiles, you earn anything from 2 credits to 20 credits per support. To start a campaign you will require 100 such credits. You can easily earn that by supporting a few campaigns.
Yes, there are paid plans that provide you with additional features. Check out the pricing details here. In a paid marketing campaign GuestCrew flexes its marketing muscles and provides you a complete marketing solution starting from social, to getting published on A-list blogs and magazines, to social sites like Facebook (which includes some huge and active pages with over 200k+ likes example: iPhone, Shopping, Cars etc. ), Twitter and Reddit to PPC, Press Release and much more.
Enstine here …
Thanks buddy for taking the time to talk to us about your wonderful platform and social media marketing tool 😉
So it's time now for everyone to interact with Uttoran Sen in the comment box. Ask him questions and he will be here to answer. Please share this post on social media.