Google Adsense of course is a quick way to make money online if you've got some traffic.
There are more different ways to monetize your website but contextual advertising seems to be generating huge passive income for many.
I don't care how much money your Adsense ads are bringing in right now… as a smart online marketer you should always be asking yourself this:
Are the ads on my website(s) positioned in the absolutely best possible way?
Could I be getting a higher CTR (click-through-rate) on any one of my ads?
How much Adsense revenue am I actually leaving on the table?
I've been optimizing Adsense earnings for my weight loss blog for over ayear now…but it wasn't until a couple of days ago that I realized I was making one of the most expensive mistakes of my online career.
You see – during all that time -my "top performing" ad could have been bringing in over 70% more money.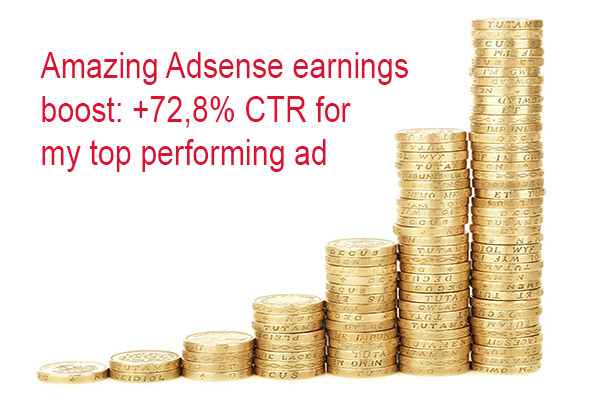 I will tell you exactly WHAT I did and WHY I did it to increase Adsense CTR and give my earnings such a huge boost – so make sure you read every word of this post, because it could easily be one of the most profitable things you've ever read.
When are your website visitors ready to click your ads?
If you want to increase adsense ctr and make the most out of your ads, you first need to understand how your typical website visitor behaves.
For example – let's say one of my visitors discovered my blog because he googled "water fasting for weight loss".
As soon as he arrives at my blog, his attention is focused almost exclusively on what he was looking for – information on water fasting.
He doesn't care about that wide banner ad that I used to have at the top of my blog.He doesn't care about that square ad I used to display at the top-right of my blog – he doesn't even care about that ad I put in the beginning of every article (even though the article text "floated" to the side of the ad).
All he really wants – in those first critical moments upon entering my blog – is to satisfy his strong curiosity,that made him type in his original search query in the first place…and until he's ready to focus on something else, he probably won't be too trigger-happy to click on your ads.
Just think about it – all those "above the fold" ads (the ads that are displayed above or at the beginning of the article) are trying to grab the attention of your visitors as soon as they arrive at your website.
But doesn't it make more sense to place those ads at the points in the visitor's journey – where most of your visitors are ready to leave your website?
I'll just let the numbers speak for themselves.
How to increase adsense CTR by more than 72%?
Before I could test my theory, I had to develop a custom plugin that would insert the Adsense code right before the second heading (the first subheading) of all my articles.
After the plugin was finished, here's how my top performing ad looked like: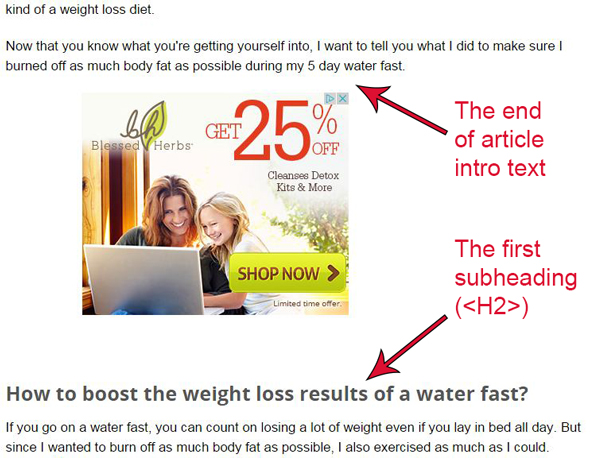 Why did I place my first ad right before the first subheading (the first <h2> element) in an attempt to increase Adsense CTR?
Because I figured – after my typical visitor reads the article introduction, he'll arrive at an important crossroad.
Maybe his initial curiosity will already be satisfied (because his most important questions were answered in the article intro)…maybe he'll realize my article doesn't have the information he was looking for…or maybe, he'll simply get bored after reading those first couple of paragraphs.
Now, many readers will definitely want to read the rest of the article…but for those who are about to leave my blog – this would be the perfect "hotspot" to offer them an ad to click on.
And boy was I right.
How much more Adsense money could you be earning?
Here are the numbers from my Adsense account:
Now, your own click-through-rates might be different – because CTR highly depends on your content, the kind of visitors you're getting to your website and the niche you're in…but that's not the point here.
The point is – I have been unable to increase the CTR for my top performing ad beyond 0,6% CTR until now. But with this latest test, I have been easily able to break past 1% CTR.
For a more "plastic" representation of just how much more money that is…take a look at this screenshot of my Adsense earnings:

The lowest (longest) green bar shows the earnings for my top performing ad – while the other green bars show the earnings for the rest of my ads.
My last ad beats my formerly top performing ad by 72,8%.
In terms of actual money – that's $172.8 instead of $100 from that one ad (each and every month).Or $17,280 instead of $10,000 – if you own a high-traffic website.
Two highly-profitable code modifications I did to increase Adsense CTR
There are two things I changed about the default (responsive) Adsense code – and both helped me increase my Adsense earnings way beyond what I thought I was possible: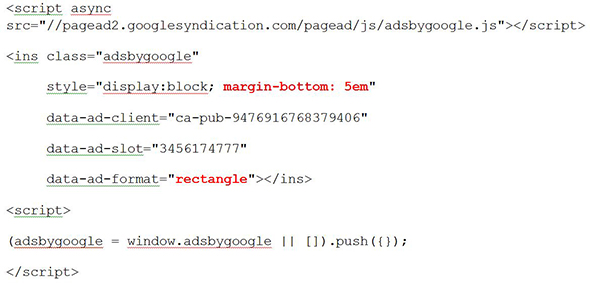 I changed the data-ad-format attribute from "auto" to "rectangle" to exclude those wide banner ads that take up very little vertical space + I added "margin-bottom: 5em" to create a little more vertical space after the ad.
I did both these things to "push down" the articletext – to separate the rest of the article from the introduction text.
Nothing too extreme, just to make my ad stand out a little bit more – making it a little more obvious for my visitors to click on it…
What else can you do to increase Adsense CTR and earn even more from your ads?
Use keywords with higher adwords bidding on your content. I understand most of us blog and just flow in our writing. But keywords help Google filter the ads on your blog.
Keywords with higher Adwords bidding (Cost per click) will provoke more relevant ads and pay you more on clicks.
Use the giant 300 x 600 large skyscraper ads. These are large enough to attract eyeballs and clicks.
You may want to use WordPress plugins to get your ad units properly placed if you a WordPress blog . I do not actually use any but take a look at Q2W3 plugin.
Display Network Vs Search Network
If you are an advertiser who wants to tap into the vast coverage of Google, try the display network option of Google Adword. The search network option actually displays ads on the Google search results
Are there some Adsense alternatives
Of course there are many advertising networks out there to make money online. Though most of these revenue sharing platforms make it quite difficult to get involved, most of them have a higher pay per click rate than Google.
Let's see some of these ad networks:
1 – Mediavine
This is one of the most common Adsense alternative to diversify your income streams and earn extra cash from your personal blog or your own website.
2 – Ezoic
If you don't find it easy with Google adsense, you may want to try out Ezoic to increase your ad revenue. They are more flexible and with a more attractive RPM. Note however that this, like other pay per click advertising platforms are not get rich quick schemes.
3 – Media.net
This is another Ppc advertising network in high demand. It's run by Yahoo. If you want to make extra money with online advertising and Google Adsense isn't making things easy, try out this platform.
4 – Chitika
Many people who are rejected by Google Adsense still are confused how to make money online. But Adsense denial isn't the end of it. Try out Chitka.
5 – Adbrite
Do you have over 100k monthly page views, you should try out this platform. It's one of the platforms with very attractive RPM.
Let me know what you think about this secret strategy. What do you think about how to increase CTR Adsense? Enstine and I are waiting to engage with you in the comment box below.
Save on Pinterest for later: