Last week, I got a call from a childhood friend who works offshore. He just returned and told me on phone he was looking for how to edit a pdf document and thought I could help with some software. That was something I had not done before so I told him I was going to call him back.
I quickly turned to Google, looking for software that has the facility to edit pdf files. What I found was amazing so I decided I was going to share it with you. Of course, this helped in sorting my friend's issue out.
My excitement with this pdf software is that it has exceptional features that literally makes it an unbeatable pdf machine. For a quick start, you can use it as a pdf reader but that's the very basic functionality.
If you have been wondering how to edit pdf files, I've got you completely covered in today's soda PDF review.
Soda PDF Review – How to edit a pdf file!
Soda PDF is a robust pdf creation and management software with powerful features that will help you save time as well as money. It currently has 9 features that cover just every function you need to manipulate your pdf documents. Let's examine these features one after the other!
1 – Read PDF Files!

This is the very basic feature every pdf software should have. But Soda PDF takes this far beyond its competitors, adding 3D mode with page flipping animation, Search, Navigate, Zoom, Rotate, Bookmark, etc Beside the traditional Single Page Mode, Soda PDF includes the Continuous Page Mode which gives your eyes an easy flow while reading your PDF document.
2 – Create PDF files

A common way to protect and share your electronic documents is transform them to pdf files. This is because documents in pdf format are not easily editable. Whether it's an image, Word, Excel, PowerPoint or web document, Soda PDF makes it easy to convert it into pdf files while maintaining its original quality.
Once installed, you are able to generate PDFs from the print menu of any application with a simple click.
3 – Convert back to PDF

While PDF is most portable way to share files, there is often need to bring them back to their original format without loss of quality or information. You may receive a pdf file with a table that has some data you need to process. Converting that pdf file to excel document is almost an obligation.
Soda PDF helps you convert documents from pdf to MS Word (.docx), MS Excel (.xlsx),MS PowerPoint (.pptx) , HTML viewable in a web browser, Text files (.txt) and, images (.png / .jpeg / .gif)
4 – Edit pdf file
This is the feature that helped me discover this pdf software when trying to answer my friend's question on how to edit a pdf document. Soda pdf is an amazing pdf file editor.  We know sometimes, we find the need to edit pdf files.

Now, with Soda PDF, I found out that you can conveniently make modifications directly in your PDF file without the need to export it to another format. It enables you to;
Add, edit or move text in your PDF.
Change the font type, size and style.
Replace, move, and delete pages in a PDF.
Extract and Split PDFs into multiple documents.
Etc
5 – Insert pictures and links into PDF

Now this is one very cool feature of Soda PDF. It's exciting how you can insert header and footer, new pages, page numbers and links into your document. You can also insert images, clip, crop and change their resolution.
The Insert Module also allows you to add watermarks to the background of your documents and resize your images to fit accordingly.
6 – Review Module
I had a client who sent me a specification document for a web application job I was to work on. An aspect that caught my attention were colorful annotations. I was wondering how he did that in pdf. I dared not ask him 😉

That's exactly what the review module in Soda PDF allows you to do. It helps you collaborate on your documents using the review tools to annotate your PDFs as well as compare two  documents. You can insert comments, sticker notes and stamps, add shapes like arrows and stars, etc.
7 – Forms Module

Soda PDF forms module allows you to create html forms in your pdf files. That was some crazy function 😉
You can add text, check boxes, radio buttons, combo boxes, push buttons and other fields. It has a form submission and e-mail integration so forms can be submitted directly from within the document.
8 – Secure and Sign Module
It's exciting how this world turns around. While others are worried on how to edit a pdf file, some are worried about protecting their pdf documents. I understand that as an author of a pdf document, you may have need to modify it without necessarily turning to the original file.

Now, security is a critical issue in the digital world. Soda PDF 6 has a strong security module that enables you create password and signature to protect your file against unauthorized access. To make it more complete, you can create different access level. While some readers can only view, others can view and edit.
9 – OCR PDF Module
The Optical Character Recognition (OCR) feature is what nails it and makes Soda PDF 6 the master in the industry. This is a powerful capacity to read text from a scanned document or an image.
Imagine having to re-type a 10 paged document. That's some amount of work to do. With Soda PDF 6, all you have to do is can your document and its OCR module will extract the text for you.
Now if you were looking for how to edit a pdf file, you understand that Soda PDF 6 is a complete pdf solution that you need. Let's look at the pricing plans
How much does this pdf edit software cost?
You may not need all the features this tool has. It has been strategically chopped into modules so you can pick which one you need.
However, the view and the create modules are free. Other modules have specific prices so you can buy just what you need.
There are also 3 professional packages you can chose from depending on features in each package. If you want something above these configurations, you can contact them for a business solution.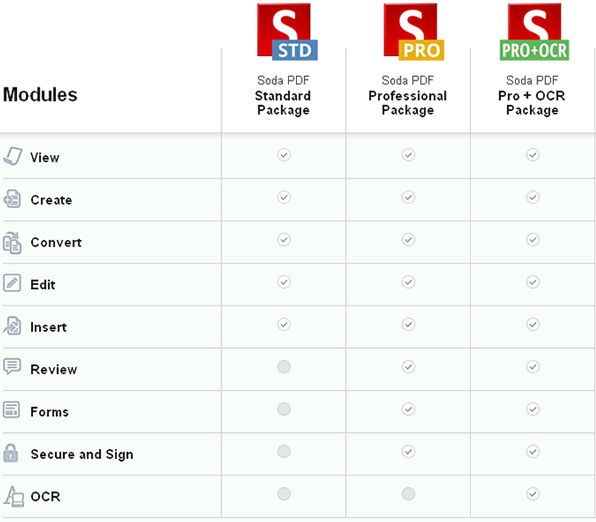 Soda PDF 6 System Requirements
This pdf complete solution is developed for both MAC and Windows users. Here are the different requirements for both operating systems;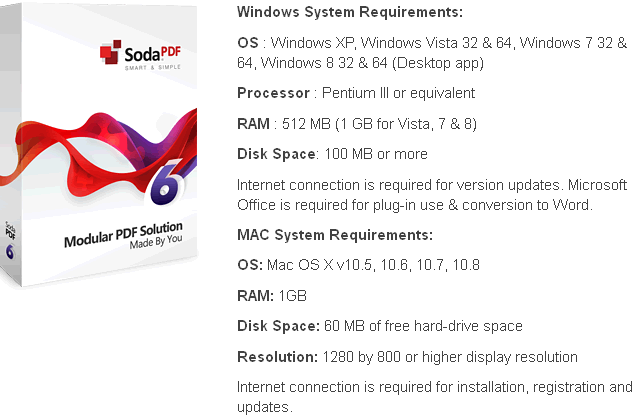 Soda PDF is also available online!
If you don't want to download and install the desktop version, you can simply create your account online where you have similar modules.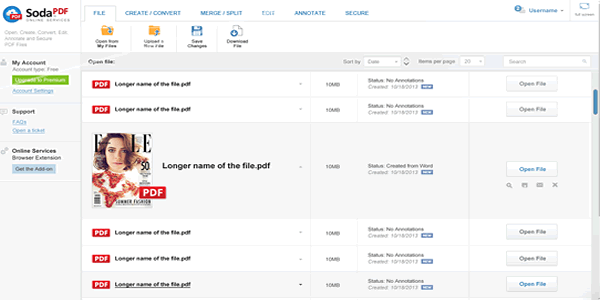 While the online version is more flexible, making it possible to access your files any where (on MAC or Windows), some of the core modules of the system are still being developed. I'm sure it's just a matter of time.
You can even have a free online account that enables you to create unlimited PDFs, convert PDF to Word, RTF and store your files securely online. The rest of the modules are only available in the paid package.
Conclusion
That's the pdf edit solution I found while searching for a solution to my friend's question on how to edit a pdf file. From its features, you agree with me that it's a complete pdf management system. Whatever your pdf needs, you are covered. Click here to download a free trial.
So let me know if you have used it before.