Ensure to read this post to the end, I've got an awesome surprise and gift for you if you do.
As the title of this post suggests, I'm going to show you how you can get professional Infographics uniquely designed for your Blog for free.
But before I talk about the how, I believe I should talk about the why.
After all, it's often said that if the purpose of a thing is not known, abuse is inevitable.
So why Should I use Infographics?
1 – Infographics can Drive Massive/Viral Traffic
You know that Guest posting is one very effective way of building backlinks, traffic and brand exposure.
But today, you will learn a strategy way more powerful than Guest posting.
Brian Dean of Backlinko called it Guestographic.
People love to share Infographics because most of us are visually inclined.
What is Guestographic?
Guestographic is simply Guest Posting with an Infographic.
Instead of pitching bloggers for Guest Posting opportunities with your usual text post; you rather pitch them with an Infographic.
As you can already imagine, this will greatly increase your chances of being accepted for a guest posting gig.
But do you know what is more powerful?
You don't have to keep creating different Infographics for different blogs.
You can use one Infographic to Guest Post on several blogs, all you need to do is write a unique text content each time you Guest Post with the Infographic and you are fine.
You get the drift?
Brian Dean shared a case study of how 2 bloggers (Perrin and David) had amazing results by using the Guestographic method.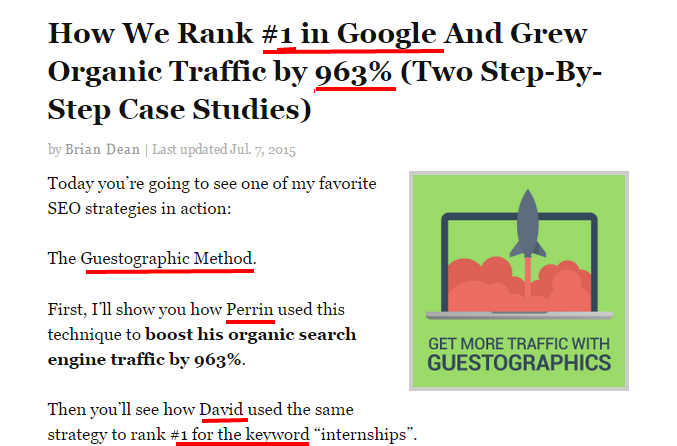 With Infographics, you are bound to increase your traffic, reduce your bounce rate and increase the average time-spent on your site as seen in the image below.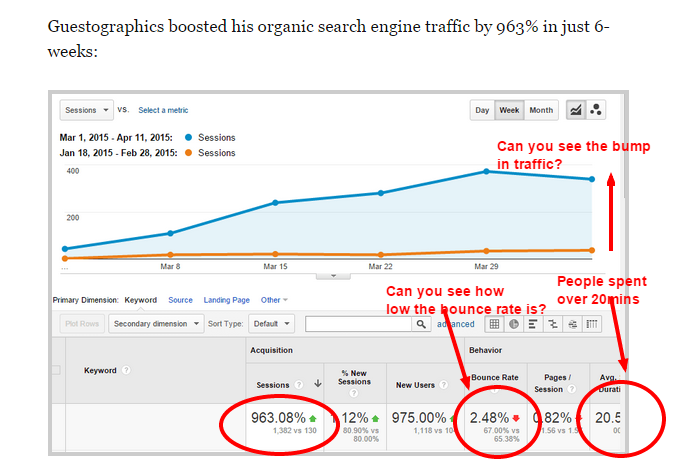 4 Simple Steps to Use an Infographic for a Guest Post
Step 1: Find sites that write about your Infographic's topic (Use Google or Buzzsumo)
Step 2: Show them your Infographic (Send them an email)
Step 3: Offer them unique content (offer to write an accompanying unique introduction to go with the Infographic)
Step 4: Get your contextual backlinks (Most bloggers will let you link to your blog)
2 – Backlinks from High Domain Authority Sites
I'm yet to know any one strategy that will make high domain authority sites not mind linking to a newbie site like Infographic Guest Posting (Guestographic).
The beauty of it is that as these Infographic posts go viral, you'll enjoy the traffic; also as more bloggers embed the Infographic, you'll get more backlinks.
Infographics are Expensive to Create
The truth is that good Infographic designers are in short supply and according to the law of demand and supply, they become expensive.
Take a look at the image below to see a conversation on Brian Dean's site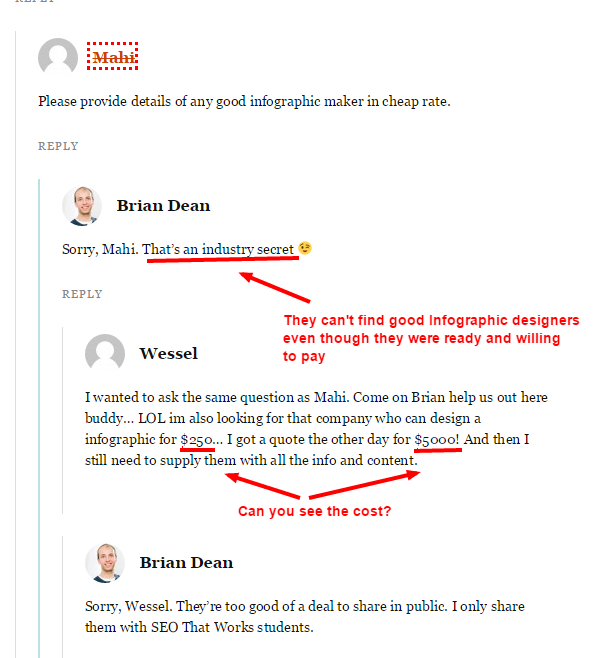 You are considered fortunate if you find an Infographic designer for $250

How to Get Professional Infographics for FREE
We want to work with select bloggers to power their Content Marketing with Infographics.
What You Should Expect From Us
We would create Infographics for you for free.
We would give you the right to use the Infographics as your own any way you deem fit.
What We Expect From You
You would give us a minimum of 2 do-follow backlinks from the post.
For now, we can only deal with bloggers with a minimum monthly visit of 10000 and 100+ daily visits from the Search Engine.
Here is how to apply for free;
Go to BlogExpose and create a free account.
Make sure you login.
Then click the button below to apply.
Click here to apply for a free professional infographic
Don't forget to share this post on social media and please drop a comment