One of my readers contacted me and asked Enstine how do I make money on twitter? It is not an embarrassing question because Twitter is growing and getting many more new users every day.
I understand people allover the world are looking for new ways to make money. With COVID-19 obliging everyone to stay at home, the search for new income sources on the Internet is on the rise.
There are several ways to  make money online. If you have a Twitter account, I will show you in this post some simple steps to take to start monetizing your tweets.
How do I make money on twitter in 2020?
Twitter is definitely on the list of the biggest social media platforms in our days. The micro-post platform has attracted attention from businesses and Governments worldwide.
Though Twitter only allows 280 characters (up from 140) as from 2017, it's enough space to stand out and drive attention to whatever you want to share.
To make money on Twitter is quite challenging. That's because Twitter doesn't pay you for any activity. Unlike Google and her YouTube, Twitter and social media platforms (Facebook, LinkedIn,etc) don't have a revenue sharing system. So you have to come up with your own money making methods in a way that does not step on their toes.
[page_section color='#cde9f2′ textstyle='dark' position='default' padding_bottom='on' padding_top='on']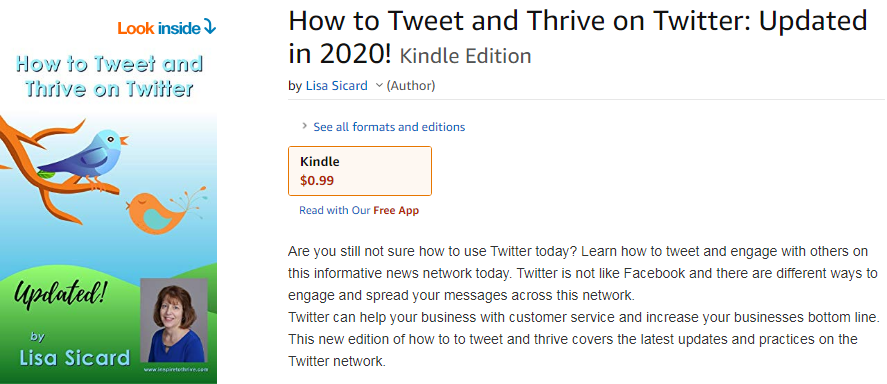 This is an exciting eBook by Lisa Sicard of Inspiretothrive. Click here to order a copy
[/page_section]
Here are four unfailing ways to make money using Twitter:
[page_section template='1′ position='default' padding_bottom='on' padding_top='on']
#1. Build a marketplace on Twitter
[/page_section]
One of the best things with social media platforms is that they allow you to build a marketplace. A marketplace is an arena of commercial dealings.
Two things must happen if you want to build a Twitter Marketplace that gets you the right results:
Increase the size of your marketplace: This is done by getting more and more followers. The more human followers you get on the platform, the larger the size of your marketing place.
Get the right people to follow you: It's not enough to add many followers on Twitter. There must be a high sense of relevance when attracting followers.
There are many ways to build your Twitter following but if you want the kind of followers who engage and click your tweets, you must pay attention to who follows you. Here are some tips to attract the right followers:
Start by building a professionally looking profile that will place you as a real person to be trusted, not a robot.
Then, move on with following people who are interested in what you offer. Engage with their tweets (like, retweet, comment reasonably, etc)
Take steps to expose yourself and talents to the right audience:

Create a blog and drive traffic to it. Give your readers the ease to follow you.
Be active on other (not many) social media platforms
Build an email list. This is one of the best ways to catch and keep new visitors. Now, you can always engage with them and let them know you are active on Twitter.
Attend off line events and engage with other participants.  Print and share your business cards with your Twitter handle.
Monetizing your Marketplace
Now, this is where money making on Twitter comes in. Your marketplace only allows you to make offers that provoke sales and profit or commissions. These are three main ways to make money on Twitter by monetizing your marketplace:
1. Sponsored posts
This is basically getting paid to tweet a piece of content to your followers. How much you charge depends on the size of your marketplace (follower base),  the quality of your followers, the industry you are in and the clients you get.
All things being equal, the larger your number of followers, the more you charge per tweet. If you have highly targeted followers made up of people with good spending power (business executive, successful business people, etc).
Some industries have juicy budgets on advertising (Retail, Financial services, Telecoms, Automotive, Oil, etc). John Chow, one of the blogging influencers shared on his blog how he got $1000 per tweet some years back. He share here how he makes money as a bloggers.
The question now is where do I get these sponsored posts offers to money my Twitter Account?
There are many places where sponsored posts offers for social media are found. First, make it know to your audience that you offer the paid service. Many of your followers could just become high paying clients.
Secondly, signup to sponsored post platforms. Take a look at SeedingUP and SponsoredTweets. You may want to signup to these and some other platforms and stand a chance to get many more paid tweet offers.
Another place to get more sponsored post offers is Fiverr. Create gigs about your paid tweet services:
2. Affiliate Marketing
This is basically the easiest and quickest way to monetize your Twitter account. The reason is that you don't have to wait for clients. All you do is signup to affiliate offers for products you know your followers would be interested in. Get your affiliate links and short descriptions of these products and tweet to your followers.
The key here is not to share just anything. The more relevant products you promote, the more your conversion.
Do make more affiliate sales from your Twitter account, it's better method to pre-sell the products you promote. What this means is that you do not send direct traffic to the product pages. Create a page (possibly on your blog) where you share your opinions, results, etc, about the product you promote. This has proven to convert more.
Tips to pre-sell an affiliate product
Pre-selling any product is your power to boost conversion. As a matter of fact, it's a less Salesy way of convincing your readers with proof of results from a personal and testimonial perspective.
A high converting pre-sale landing page should include:
Product features
Product use cases
Personal testimonial of experience
Proof of results
How-to guide
Custom discount code
Scarcity marketing
Etc
If you want to learn more about affiliate marketing, you may want to purchase my ebook here
3. Sell your own products/services
You can make money on Twitter by selling your own products or services. Remember once the marketplace is being build, all you need is tell your audience about the services you offer.
If you do not have any services or products to sell, try out sponsored content and affiliate marketing.
Tweet Reasonably
This is one of the things that make Twitter Marketing more exciting. It's not just about marketing. It's social first. So the social character of the platform has to be highlighted.
Your tweets should not just be promoting something. If you do this, you are going to kick your followers away.
Engage with your readers. Like and retweet their tweets. Answer to comments and comment on their tweets. Be positive and contribute sense. Don't be a sales person. People don't want to be sold to. They want to be presented solutions to their problems.
I personally encourage creating polls to collect relevant data to help in your marketing. Polls are an excellent way to know what's in the minds of your followers: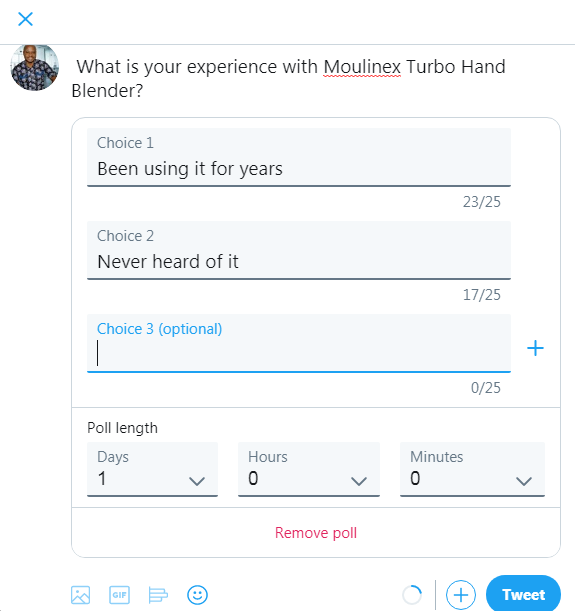 The results of these polls will help in selecting affiliate products to promote.
[page_section template='1′ position='default' padding_bottom='on' padding_top='on']
#2. Build a Twitter membership app
[/page_section]
This is by far the best way to build a steady flow of income on Twitter. Twitter allows members to build applications using their APIs and there are thousands of these apps out there.
The only problem you may have here is how to come up with a profitable Twitter App idea. However, you may clone an idea and do better.
When I created my first Twitter App (EasyRetweet sold out), one of my users cloned it and came up with JustRetweet (sold out too). My app (before I sold out) was generating averagely $1000/m. Selling it for $13500 to one of the members on board was a good deal then.
One of the main problems with Twitter Apps is API compliance. It's actually a serious issue if you want to build your business based on someone else's business.
They have the right to change API terms and restrict how far you can go and any violation will lead to your API suspension. If suspended, definitely, your business will collapse. Look at what happened to JustRetweet: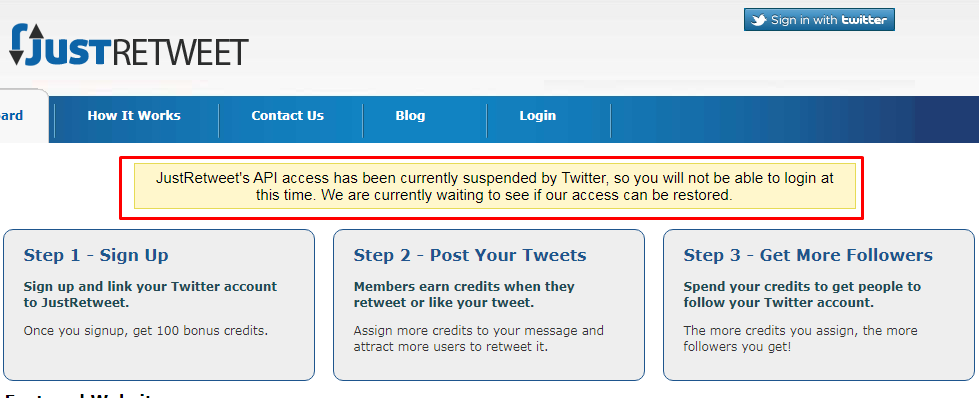 But that shouldn't scare you away. There are many other successful Twitter Apps generating a lot of money for their users. You just have to be inline with their API terms.
[page_section template='1′ position='default' padding_bottom='on' padding_top='on']
#3. Write a Twitter book or create a course
[/page_section]
Did you ever think of this idea to make money on Twitter?
With more and more members signing up everyday, there is need for educative materials. There are many areas of the platform that needs education. I mentioned Lisa's book earlier, being just an example of money making ebooks written uniquely for Twitter.
Checkout video training platforms and you'll find Twitter based courses. Once you have a book or course, you just have to promote it to start making the money.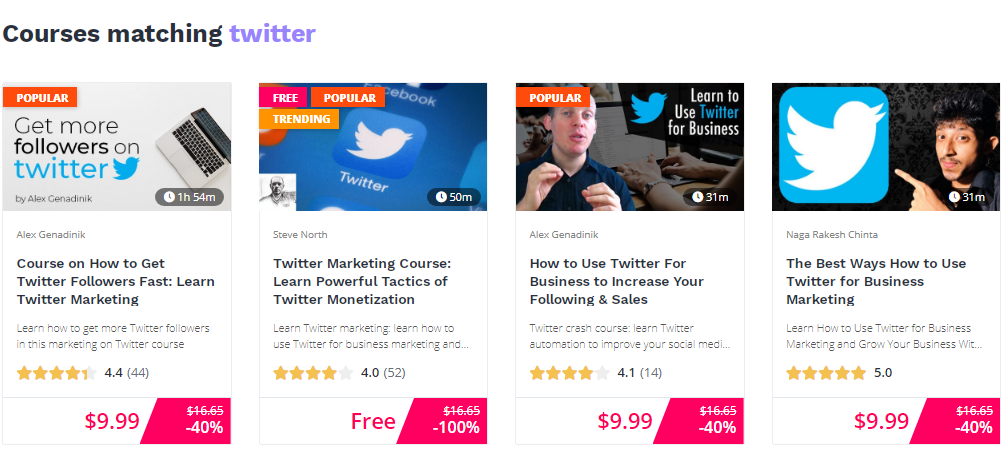 Bitdegree is one of the most interesting course platforms with encouraging earning rates. You may want to give it a try for your online courses.
[page_section template='1′ position='default' padding_bottom='on' padding_top='on']
#4. Become a Twitter Consultant
[/page_section]
Consultancy pays big time. Companies and businesses need help thriving on Twitter. As a consultant, you may want to organize paid training events targeting businesses which need help to succeed on Social Media.
Offline events in your town may witness exciting participation from corporate clients who are able to pay well per ticket.
I have an idea for a book or product. What next ?
The  beautiful thing about online business is that it has just one big hindrance. Once you break through, the rest isn't really a big issue.
The big hindrance is the product idea
Once you have the product idea, you don't need to be an expert developer or writer. In this post, we discussed how to create a money making product no matter your level of coding or writing.
All you have to do  is hire the talents you need to realize the projects. There are many platforms like Freelancer, upworks, etc to find experts just for any business.
The EasyRetweet user who copied the idea and created JustRetweet was very far from a developer. But he ended up with a good product that fetched up over $25k by hiring a developer on Freelancer for $500.
So if you've got the Twitter book or app idea in an area you don't have expertise, go ahead and hire someone to g