Hostgator coupons  – save up to 25% on hosting: Shared Hosting, Reseller Hosting, Dedicated Servers, VPS and Windows Hosting with evergreen discount code!
Hostgator Coupon 2015: hostevergreen
There are hundreds of Hostgator coupons out there that will soon expire. Some have expired so you won't get any discount using them.
Here of course is an evergreen Hostgator discount code you can use at any time and be sure to save up to 25% on your hosting purchases
Go straight to HostGator Now and apply this code!
I remember my first local Webhosting Business I started in 2008 with HostGator and it's been an exciting ride till date.  I started with a reseller package and as business grew, I soon ran out of space. There was therefore the need to upgrade so I pushed it up and acquired a dedicated server for my business.
Webhosting business is an exciting niche though with a lot of challenges especially dealing with customer account renewal. In countries like ours where automatic billing is high end luxury, it becomes even more of a breakage on the way.
However, personally I think the hardest nut to break is locating a reliable service provider – from reseller accounts through VPS to dedicated servers and I think Hostgator has proven to be up to the tasks.
Now a couple of things keep me going with Hostgator. These include;
Excellent support service through live chat, emails and phone calls.
Excellent server configurations – speed, tools,etc
Frequent promotions and price cuts – New Hostgator coupon codes resulting in big savings.
Recent cPanel Control Panel.
One-click WordPress, Joomla, etc installation.
Etc.
Hostgator Coupons – 25% Off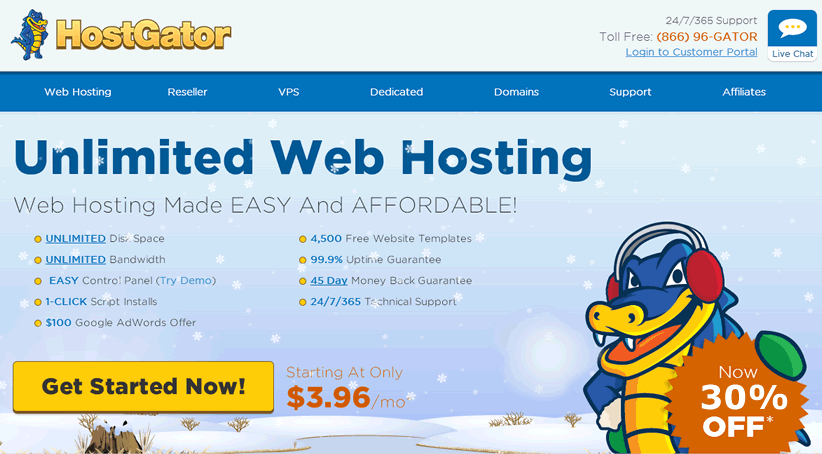 Hostgator has a wide range of products in the webhosting industry from the most basic one-website hosting to the most robust dedicated servers in the industry.
The discount code I mentioned above will help you save up to 50% on any of these hosting services;
Shared hosting
Dedicated Servers
Reseller Hosting
VPS Hosting
Windows Hosting
Note however that this only applies to new accounts. Renewals and domain name registration are not part of the package 😉
How do you apply Hostgator coupons?
This hostgator coupon cuts 25% off your hosting bills with Hostgator. The first thing you'll have to do is Go to Hostgator by clicking here!
Then locate the product you want (shared hosting, reseller, dedicated or VPS hosting). Make sure you select the billing cycle – usually 12 months.

Then click the Sign Up Now button (or Get started for reseller, VPS and dedicated hosting).
You will make sure you fill the form to create a billing account with Hostgator. This is not actually you web hosting account (which you only get after completing the purchase).
The Hostgator billing account is where your invoices are located. If you have more than one product (including domain names) with Hostgator, the Billing Account puts all of your transactions in one place.
After filling the form to create your membership account with Hostgator, move down to the coupon section on the page.
NB: For Shared Hosting!
Before you get to the coupon section, there are a couple of things you have to note on this order page. Specifically, section 4, additional services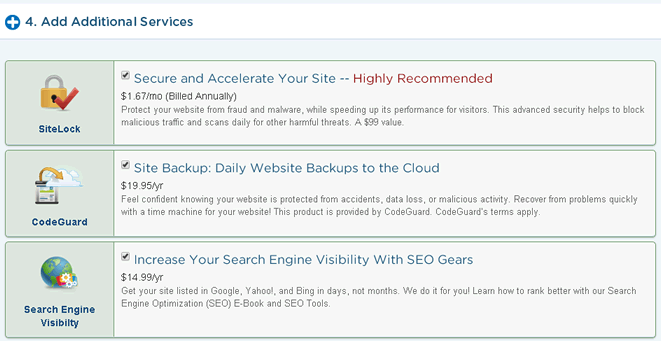 These additional services are pre-selected and of course that adds to your bill. However, you are free to un-check if you are not quite comfortable with them.
My personal opinion though is you keep these extra services just for what they are. SiteLock is highly recommended so I call your attention to it.
Fast-forward to section  – 5 Enter a Coupon Code!
Hostgator has a defaut coupon code SNAPPY which gives you 20% OFF. Remove that coupon from the Coupon Code field and enter the 25% OFF coupon hostevergreen
Then click "Validate" button to apply the code.
Use the Hostgator Discounts on any order page on Hostgator. It however does not apply to domain names.
NB: This is an evergreen discount codes among thousands of hostgator coupons. Like I mentioned above, you can use it anytime!
Share hostgator coupons with friends
If your friend or family member is about purchasing a hosting service, one of the things you can do to help is recommend an excellent hosting service. Hostgator, as a matter of fact is a premium host so you won't hesitate to recommend to your friends.
Help your friend save up to 25% Send them Hostgator Vouchers and you would have been of great help.
Other hostgator coupons!
I thought I should through in some other evergreen hostgator coupons. Note that these are not Hostgator 1 Cent Coupon codes. Apply these codes and get up to 25% off your purchases:
DPHOSTSPECIAL
HOSTINGPLANS
CUT25HOST15
Special hostgator coupons
These are some more coupon vouchers to help you save up to $9.94
Please note that at the moment of writing, there is no Hostgator Domain Coupon available. Hostgator is mainly a web host but it also resells domains for a registrar.
Have fun as you enjoy these hostgator coupons