Ever since its launch in 2019, HostArmada has been making ripples in the web hosting industry. Starting a hosting business is not an easy job by today's standards, especially when the market is so saturated. Despite the fact, they are confident in what they have created, and I am happy to introduce you to my experience with them.
HostArmada is an ambitious project envisioned by a group of associates that worked together in a few of the most famous hosting companies on the market. Having similar ideas and visions caused them to leave their jobs and come together and create an all-rounded, robust, speedy, and reliable hosting experience. No matter your website's scale or your online business, HostArmada has you covered, offering versatile solutions for small, medium, and large companies.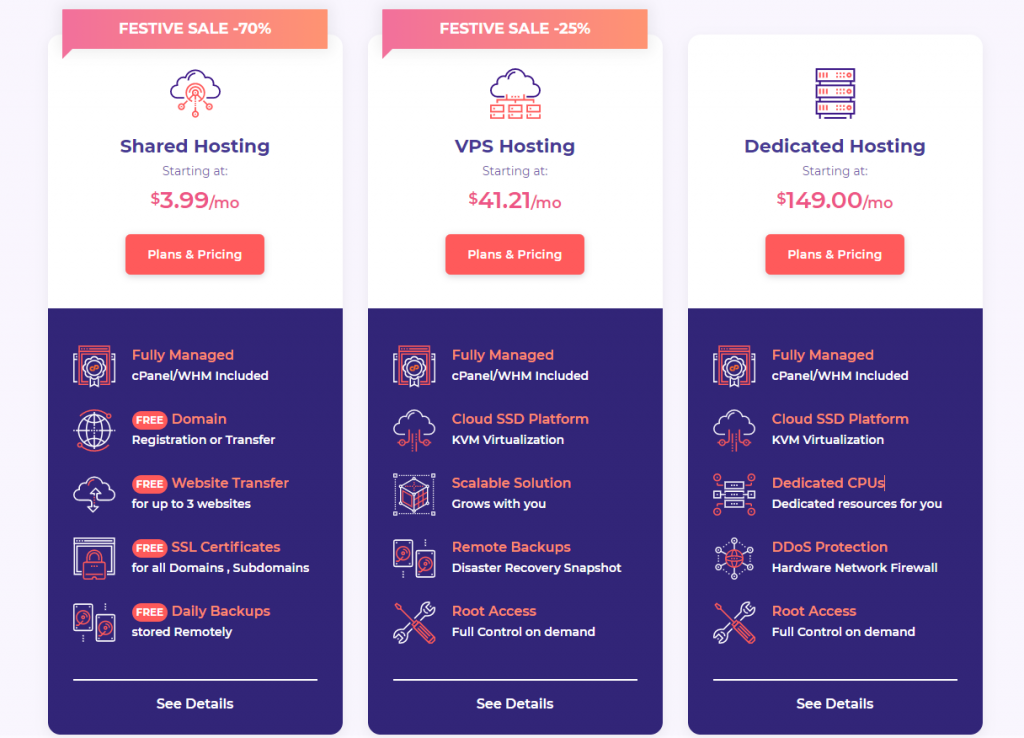 Please do not get discouraged because they are new, as these guys know what they are doing. Offering their clients over ten years of experience in the web hosting field, innovative ideas, and exceptional support, they can easily match the industry's giants, such as Bluehost, SiteGround, and HostGator.
What makes HostArmada so great?
Speed, security & reliability. These are the ideas that HostArmada preaches, and if you think about it – what else do you need from a hosting provider?
A lot of people struggle when they search for the "best hosting". It is good to inform yourself and get acquainted with what the market offers, but you need not complicate it. Let's go over the three pillars of web hosting and explain why that is.
Speed
Not a single person out there likes slow websites. You know who else does not like sluggish websites – search engines. If you ever want to outrank the competition, speed is the first metric you need to make sure is outstanding.
HostArmada fully understands speed concerns for the modern webmaster and developer, thus they have put a lot of thought and effort into fine-tuning their infrastructure for performance. What does HostArmada offer in terms of speed?
First and foremost, HostArmada offers nine datacenter locations options: Dallas, Newark, Fremont, Toronto, London, Frankfurt, Bangalore, Singapore, and Sydney.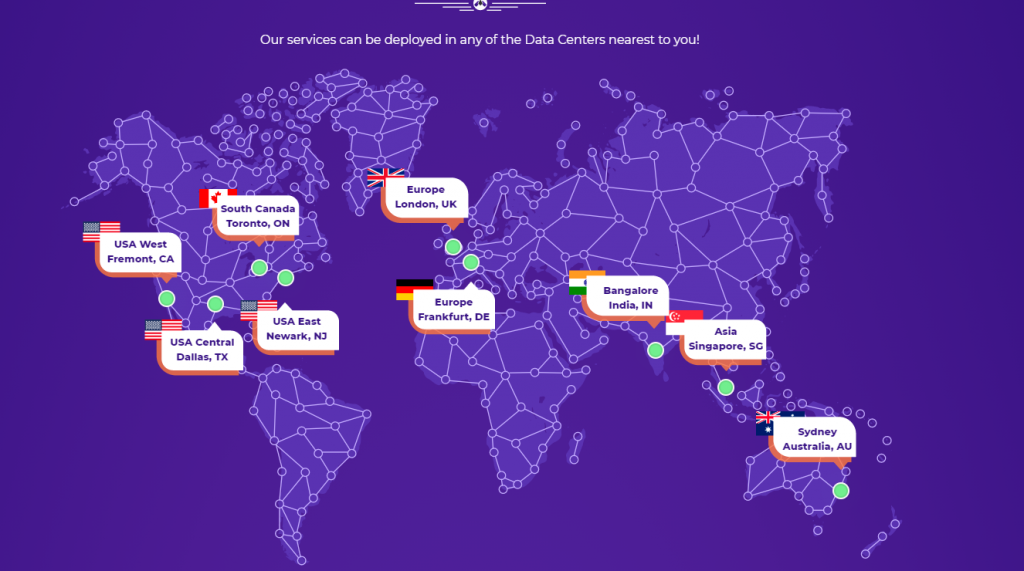 Deploying your site closer to your audience will guarantee exceptional performance and server response time. I highly recommend selecting a data center location nearest to your viewers to ensure the most optimal UX and ranking in that region.
You may think – but there are CDN service providers that can help me with that. While CDN does improve visitors' loading speed farther away from your website, it adds an extra element of complexity to your website. It is often associated with paying extra or getting more technically involved instead of focusing entirely on your site and building up your online presence. Save yourself the nerves and time needed to go through all that – select a data center location closer to your visitors, and you will be satisfied with the results.
Another essential aspect that highly determines the speed of your site is the webserver. HostArmada has built plans that incorporate either LiteSpeed or NGINX – two of the fastest and most stable web servers out there. Both of them reduce your website's response time, minimize server load, and increase the traffic your website can handle dramatically. When choosing, it comes down to personal preference and how well your website responds to either of these technologies. In my experience, LiteSpeed has a slight edge over NGINX, but there are plenty of benchmarks out there that you can take a look at before picking the right tech for you.
Lastly, but certainly, not least is the hardware and software used on the server. HostArmada uses pure SSD drives on all its solutions and has implemented the latest stable PHP and MySQL versions. They also make sure to deploy the newest performance updates on all their servers to ensure that you get the absolute best speed for your sites!
Security
Many people get carried away when picking their fully managed hosting service and often overlook a crucial aspect of a web hosting server – Security! No matter how fast your website is, if the environment welcomes malware due to its poor security, it will most likely suffer from downtime or slowness. All that effort you made in looking up the fastest service provider is gone to waste, and you end up having to go through the entire process, but add security into the equation.
HostArmada did not compromise in this regard. They implemented a vast, self-learning, sophisticated system using machine learning to monitor the server proactively and handle malware before it even reaches your website. In addition to that, their IP-based Firewall combined with hundreds of custom-tailored mod_security rules turn it into a potent WAF(web application firewall) that will safeguard your applications from brute force attacks, SQL injections, and DDoS.
Keeping your applications, their plugins, and themes up to date, reduces your likelihood of getting hacked when hosting your projects with HostArmada.

In an event where this happens, HostArmada has you completely covered, offering a Malware scanner that can detect even the most trickly malware embedded in your files. The scanner is a completely free option that comes with the service, and you can request it whenever you think that you are compromised.
Suppose the scanner cannot detect malicious software. In that case, HostArmada can restore your website from a backup they create for it daily, returning it to a state before the hacker injected the malware. This option gives you enough time to review the site and search for loopholes responsible for this.
I can stress enough the importance of SSL certificates. It would be best if you always looked to have an SSL and force your application over HTTPS. Doing so will breathe confidence and security in your visitors, making them much more likely to stick around on your site and come back. HostArmada offers free SSL certificates on all their plans for all your domains/sub-domains hosted on the server!
No matter how dire the situation – HostArmada will be able to offer you a solution.
Reliability
What good are speed and security if your server is facing downtime? All the cool security and performance features are completely lackluster if your hosting is down or fluctuates in performance.
To ensure the highest possible reliability, HostArmada offers cloud-based servers that are a staple of reliability. Guaranteeing a 99.9% uptime on all servers, HostArmada provides an industry-standard to all its users.
Another aspect I will add to reliability is, of course – technical support. Having access to a responsive, fast, and knowledgeable support team is vital. HostArmada offers 24/7/365 free, premium technical support for all their customers over three support channels: phone, live chat, and tickets. The response time for the telephone and chat is instant, while their support answers tickets within the 10-minute mark!

Besides supporting you with hosting-related issues – the HostArmada support team is highly skilled and experienced with most of the open-source applications out there – especially WordPress. They will be happy to install or update your application, generate backups or staging environments, install SSL certificates, force them over HTTPS, and much much more. The best thing about it is that it is free and you will never have to pay extra for it.
Transferring your website to a new hosting provider is often a very stressful task, especially when your website is in production, and you have a lot of visitors. Well, you can leave all your worries aside as HostArmada offers free website transfers done by industry professionals that have moved thousands of websites. They are with you through the entire process and will explain what the best practices are. That way, you will not experience any downtime whatsoever, and the transition will be really smooth, which is not a very common outcome with most hosting providers out there.
Now that I went over what makes HostArmada different from the other hosting providers let's go over their hosting plans and pricing. Here is where things will get even better! (Yes, this is possible)
Speed Comparison
I decided to compare a website's speed on HostArmada with a fully managed WordPress hosting solution – WPX to see how they compare, and the results were pretty shocking.
HostArmada's most affordable plan sitting at $3.99 outperformed WPX's most affordable package, starting at $24.99:
WPX results: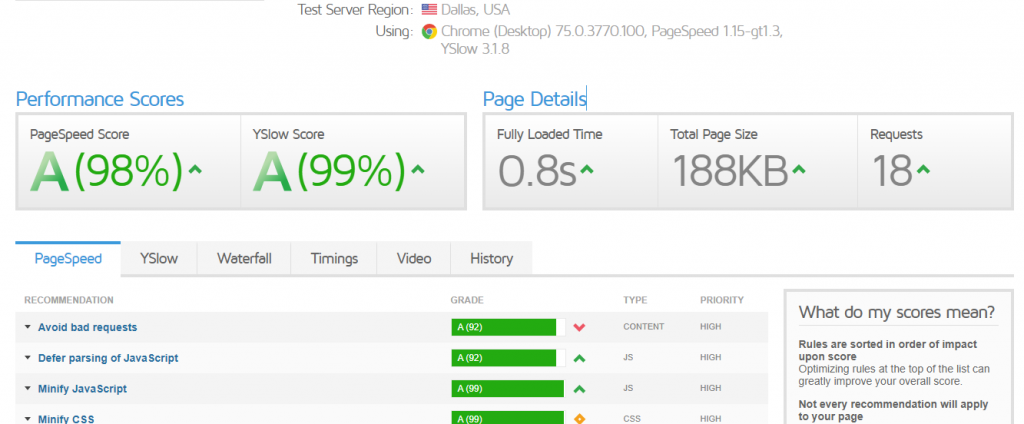 HostArmada result:

You didn't expect this result, did you? The HostArmada plan is more than $20 cheaper and gives you better results in speed!
Plans and pricing
HostArmada offers three types of packages: SSD cloud shared hosting, SSD VPS cloud hosting, and SSD cloud dedicated hosting. The plans are based on versatility and scalability.
If you have just gotten into web development, you can start small and grow your business up the ladder. If you have an existing business – no problem at all, based on your current project HostArmada will suggest the best solution and even go as far as fine-tuning it exclusively for your projects!
The number of features you get for the pricing is genuinely impressive, and few hosts can compete with this. Their lowest plan starts at $3.99 per month and includes everything I talked about earlier. Their lowest LiteSpeed plan comes at the price of $5.69 per month, and combined with all the above-mentioned features, it is a tough price to beat!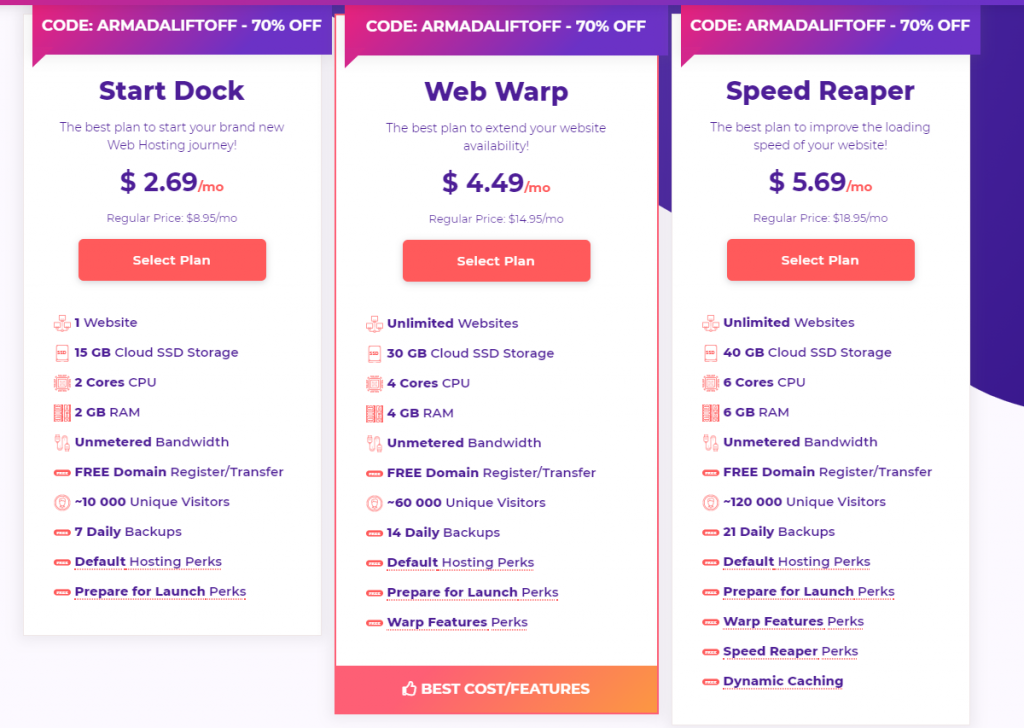 SSD Cloud Shared Hosting
HostArmada offers three shared hosting plans: the Start Dock, the Web Warp, and the Speed Reaper. Each one of them is designed to appeal to a specific web hosting user. Typically, shared hosting is great for start-up companies or people who own average-sized businesses. Here is what the plans include:
Start Dock ($3.99 per month): Free domain name, one site, 15GB pure SSD Storage, NGINX server, ~10000 monthly visits.
Web Warp ($4.49 per month): Free domain name, unlimited sites, 30GB pure SSD Storage, NGINX server, ~60000 monthly visits.
Speed Repair ($5.69 per month): Free domain name, unlimited sites, 40GB pure SSD Storage, NGINX server, ~120000 monthly visits.
SSD Cloud VPS Hosting
Web Shuttle ($41.21 per month): Unlimited websites, free domain, 50GB pure SSD Storage, 1 CPU Core, 2GB ECC RAM, NGINX server, unmetered monthly visits.
Web Voyager ($48.71 per month): Unlimited websites, free domain, 80GB pure SSD Storage, 2 CPU Cores, 4GB ECC RAM NGINX server, unmetered monthly visits.
Web Raider ($63.71 per month): Unlimited websites, free domain, 160GB pure SSD Storage, 4 CPU Cores, 8GB ECC RAM, NGINX server, unmetered monthly visits
Site Carrier ($101.12 per month): Unlimited websites, free domain, 320GB pure SSD storage, 6 CPU cores, 16GB ECC RAM, NGINX server, unmetered monthly visits
Dedicated CPU Cloud Hosting
Armada DS – LIFT-OFF! ($149 per month): Unlimited websites, free domain, 160GB pure SSD Storage, 4 Dedicated CPU cores, NGINX server 8GB ECC RAM, unmetered monthly visits
Armada DS – Low Orbit ($209 per month): Unlimited websites, free domain, 320GB pure SSD Storage, 8 Dedicated CPU cores, 16GB ECC RAM, NGINX server, unmetered monthly visits
Armada DS – High Orbit($329 per month): Unlimited websites, free domain, 640GB pure SSD Storage, 16 Dedicated CPU cores, 32GB ECC RAM, NGINX server, unmetered monthly visits
Having such a vast web hosting plan option gives you peace of mind when selecting a hosting service, as you know that you can grow your business with them and cater to your every need.
Pros & Cons
Now that I have gone over what HostArmada offers, let's summarize what I said into this section:
Pros
Affordable pricing and flexible fully managed hosting solutions that cater to small, medium, and large businesses
SSD drives on all servers
WordPress optimized
NGINX and LiteSpeed web server options
Free premium technical support 24/7/365 over three channels
Free website transfers
Free domain registration
Free updates & installation services
Free daily backups
Free malware scanner
Free SSL certificates on all domains and sub-domains
Nine strategically placed data center locations around the globe
Free Cloudflare integration
Free tutorials & knowledgebase
45-days moneyback guarantee
9% uptime guarantee
Cons
No Windows hosting options
No monthly plans for shared hosting
Final Words
I hope that the information provided in this article was enough for you to appreciate the featureful experience HostArmada offers. I believe that anyone looking for fast, reliable, and secure hosting should pick them up, and they will thank me afterward as this is such a jewel of a service that is rarely found these days in this price category.
No matter how acquainted you are with hosting or web development – you will be in safe hands as HostArmada will handle all the technical stuff for you while you focus on what is truly important – your site!