Traffic is one of the most sought things online these days. Well, this is also true for offline businesses. Every brick-and-mortar business strives to have as many visits as possible from far and near locations.
Without this traffic (people visiting your website or physical business location), business is dead.  Traffic can thus be considered as the lifeline of any business.
It's needless to mention at this point that without targeted traffic to your blog, you are as good as not having one or not being a blogger.
There are of course tons of ways to generate this so much wanted traffic – some free and others paid. While free traffic sources seem to be very attractive, I want to discuss a little known paid traffic source that's capable of pulling targeted traffic to your blog posts or e-commerce website like crazy.
Do you use Facebook?
Silly question isn't it?
Well, here is another stupid question …
Do you have a Facebook Fanpage for your business or blog? 
Well! This last question may not be as silly as you think. Most people don't have one.
Though some people argue that Facebook Fanpage utility is decreasing by the day, I want to discuss a little way to use this property to siphon targeted traffic to your blog posts.
First, you need a Facebook Fanpage. When Facebook just launched the post boosting feature on Fanpages,  the basic requirement was at least 1000 fans per page to have the boost option enabled. But that has changed. I have a page with just 60 fans with the boost option enabled each time I create a post.
NB: Buying Facebook Fans is not a pretty idea. You have to grow your fans naturally. 1000 Natural fans are far better than 10000 bought fans. On the other hand, some strategies can benefit from purchased likes and followers, and if you fall into that category, see: 10 Best Sites to Buy Facebook Likes & Followers (2021)
What's the deal with Facebook Post boosting?
Post boosting is a Facebook Fanpage feature that can take your posts above the limit of your fans. You can show your post to a very large number of Facebook users depending on your budget and other parameters discussed below.
Post boosting is not free
Yes! this feature is paid but I think it is dead cheap. On the image below, I can reach 3,100 to 8,100 people with just $5.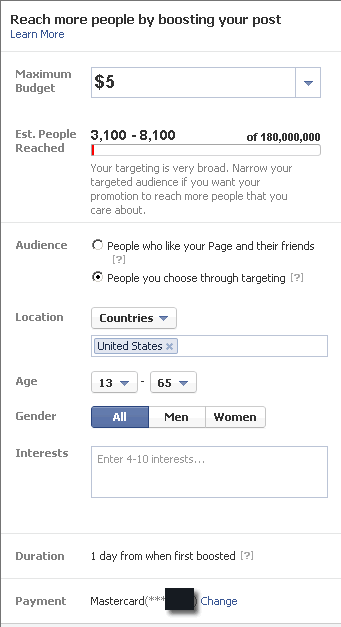 Facebook post boosting is very exciting. You can take your blog posts to the right target audience just for the price of a cup of tea.
You can choose to reach just your fans and their friends. What happens here is that your posts will be displayed to your fans and their friends. However, we can go further and target even more people based on more stringent settings. That will be available by checking the option "people you choose through targeting"
From the image above, you see clearly that we can target people based on their location,age groups, sex and interest. This is where it becomes more interesting for us bloggers.
NB: Here is how to build a very popular blog in just 90 days
How to boost your post
The obvious first step is you need to have a Fanpage. Click here to create one
Post an update on your Fanpage
Click the 'Boost Post' button bottom right of the post
choose your settings and make payments
That will be it…
Have you tried this before? What have been your results? Let me hear your thoughts in the comment box below