Hurrah! Hurrah 😉
This is Thursday and I'm here with another great guy I have know for some few years.  Here is an active blogger you should check out and connect with.
Before I get into his details, check out who has been featured in the past here. These are all men and women in the blogging industry that are worth networking with.
You know success in blogging hugely depends in how big and active your community is. Having real bloggers with an active online presence around you will help boost your blogging. So check them out and hook up
Fabrizio Van Marciano is a proud father of two, a devoted husband to be, a professional blogger, internet entrepreneur, web and graphic designer from England, UK. 
The Fabrizio only few people know about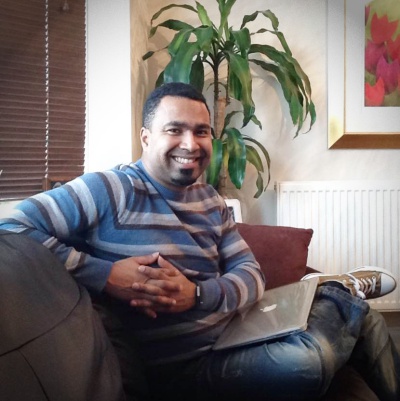 Fabrizio is a devoted family man, when he's not working late into the early hours of the morning on his online businesses, he's spending as much quality time with his family. He loves travelling, surfing and he's a huge lover of street food.
How it all began for Fabrizio
Fabrizio started his online venture in 2006 as an aspiring artist, after leaving full-time work as a sales supervisor for a local firm. At the time he was searching for new ways in which to promote and sell his artwork online to a larger audience.
He built a profitable online art business which he continued to run until early 2010. During those four years Fabrizio learned as much as he could about website design, online marketing and self-promotion, as well as how to run a successful business from home.
Fabrizio has sold more than 3,000 pieces of his art worldwide, but when the economy declined and the UK was thrown into a recession in the last quarter of 2008, Fabrizio's online art business took a huge hit. Sales dropped rapidly from taking multiple sales daily to just a few sales per week by late 2009.
His art business never recovered, and by the middle part of 2010 Fabrizio was left with few options, one of which was to go back working full-time, 9 to 5. The thought of going back to work a sales job again didn't appeal to Fabrizio.
Blogging
Fabrizio first discovered blogging when he purchased a book by pro blogger John Chow called "The Roadmap Of A DotCom Mogul – How to make money online". This book was what started it all off for Fabrizio, so during the summer of 2010 Fabrizio spent his days and nights learning about blogging and how to use WordPress.
This was an overwhelming challenge at first, but this really interested Fabrizio. By October 2010 Fabrizio finally launched his first blog Magnet4Marketing, an online marketing blog where he would share his personal tips and ideas for marketing and promoting a business online.
Over the last 4 years Fabrizio has started and ended a small handful of blogs in various niches, but his most successful venture before Magnet4Blogging was of course Magnet4Marketing.
The Wrath Of Google
Google Panda and Penguin affected a lot of websites and blogs during 2012 and 2013. Fabrizio watched as many of his blogging colleagues came and disappeared… then Fabrizio's blog was hit too. In December of 2013 Fabrizio was forced to end Magnet4Marketing, it wasn't an easy decision to make, but one that he felt he had to pursue, because continuing to focus on a business that was no longer profiting was simply not viable. Fabrizio learned a hard lesson, never to rely on one single traffic source again, especially traffic from Google.
Fabrizio gave blogging and the online world a rest and spent the next three months re-evaluating his goals and directions. Around early March of 2014 Fabrizio began working on a small blog project called Magnet4Blogging, nothing he was too focused on at the time, just something to keep him occupied.
After reading an inspirational post on QuickSprout and leaving a comment, Neil Patel kindly left a reply that simply changed Fabrizio's mindset, that comment alone reinforced his ambitions and fired up the furnace inside him once again… Amazing how a simple reply to a comment from someone so influential, can have an effect on somebody in a positive way.
Finally not willing to admit defeat, Fabrizio supercharged his efforts with his new blog venture. With the knowledge he had, with the mistakes behind him and the passion reignited, Magnet4Blogging was to be his next serious blogging venture.
Fast forward to almost a year later, this is where Fabrizio devotes most of his time. At Magnet4Blogging he enjoys building a community, teaching and sharing his tips, ideas, failures and successes and his personal strategies and insights into blogging as a business.
Making Money
Whilst making so many mistakes in the early years with his first blogs, Fabrizio admits he has learned a great deal about how to make money from blogging and how not!
Magnet4Blogging is not even 1 year old yet, however 60% of the income he generates from this blog is from affiliate marketing, reviewing and promoting a bunch of high quality products that he is currently using, and that are related to his business.
In addition to refining his affiliate marketing efforts, Fabrizio also now provides professional WordPress design and graphic design services via his blog too, this is a relatively new service, but these are the core of his blog monetisation methods for the time being.
What are Fabrizio's plans for 2015? 
One of the biggest mistakes Fabrizio admits to have made when he started out in the world of blogging was to try and do everything all at once, or simply taking too much on. Fabrizio now appreciates the immense benefits and qualities of just taking on 1 thing at a time.
Each week Fabrizio sets himself one single goal, whether it's to write an epic blog post, create a useful YouTube video, create an online presentation, write an eBook, complete a client logo design project, what ever it is, he has learned to narrow down his focus to achieving one thing at a time.
Currently Fabrizio's ultimate goal is to continue building a community for Magnet4Blogging, creating amazing problem solving content for his blog and audience, and marketing his WordPress design and graphic design services.
Who influences Fabrizio?
Fabrizio looks up to several industry leaders as influencers, including many great individuals he has had the pleasure in connecting with in his industry over the recent years. These include Neil Patel, Adrienne Smith, Harsh Agrawal, Ileane Smith, Ryan Biddulph and Pat Flynn.
But perhaps Fabrizio's biggest influencer has to be his loving partner and soon to be wife Samantha; A hard working, well organised professional business woman herself, a devoted mother and the one person that has driven him to keep moving forward in building his online businesses and finding success over the years.
How To Connect With Fabrizio Van Marciano
You can connect with Fabrizio on the following social networking sites below, where he is usually active the most.
Time to engage with Fabrizio! Leave him  a comment below and he's be here to talk with you 😉