The average salary of a consultant is "right around $75,000 per year".
This is what Consulting.com found after looking at the salaries of everyone with a "consultant" in their title across three major salary tracking companies. It seems that being a consultant is actually a lucrative career path.
But apart from adding a consultant title to your LinkedIn profile and bragging about how you can help people achieve what they want, you need to have the right credentials in order to be a successful 6-figure consultant.
In this article, you're going to read about three essential factors that make up your credentials as a successful consultant in your niche. 
1- Have a deep niche expertise
When it comes to consulting, people are not expecting some general ideas. The surface level is the general advice that is accessible to almost everybody (through internet maybe — i.e. if you want to lose weight, follow a low-carb diet and go running) but a consultant is expected to enter the realm of the specific, gauge the situation, and offer advice that arises from past experience and goes deeper than the surface (if YOU want to lose weight, you need to follow this diet specific to your budget, and do these exercises specific to your time and lifestyle).
Sarah Pappalardo, co-founder of Reductress says:
"When someone you're not particularly close to presses on the question, 'But how did you do it?' it's usually code for, 'Tell me step-by-step exactly what you did so that I can do exactly the same and have the same results as you did . . . . If [their inquiry is] something that can't be answered by just Googling it, that's usually a hint that what you know has value. The more you start talking about detailed execution over vision, you're getting into consulting territory."
As Consulting.com explains in its guide on starting a profitable consulting business, people are constantly looking for ways to move away from their current undesired states to a desired state: "As a consultant, your job is simply to help people bridge the gap.
The value you bring to the table is the ability to help someone move from their current state to their desired state." If a more confident self is the desired self of a person, a good consultant is the one that gives him a road map that is personalized and specific to his needs.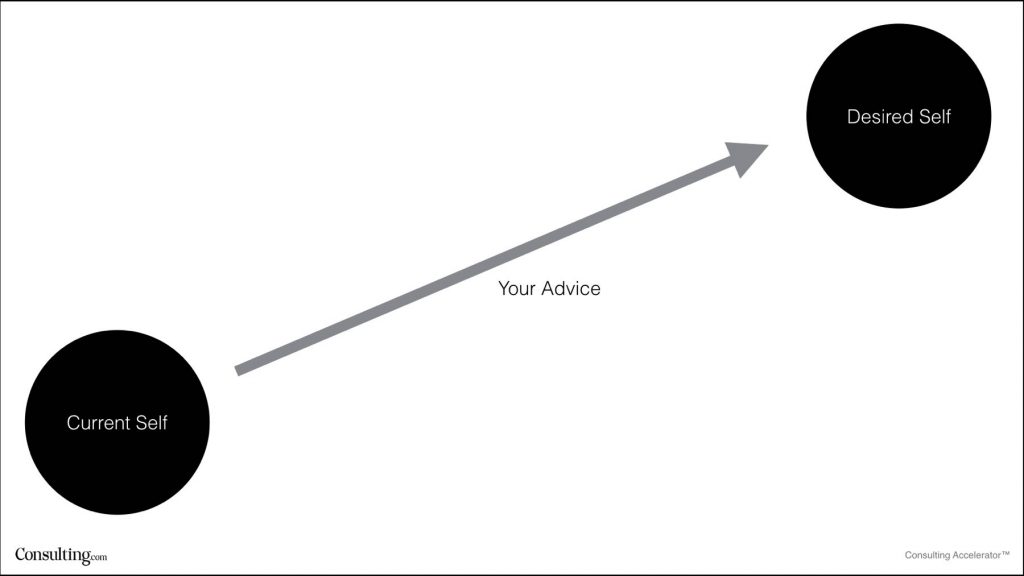 2. Have a strong portfolio
As a consultant, people would rely on you for their strategic planning. Your work would basically go beyond a single piece of work that if gone wrong won't have a big negative impact on the bottom-line.
A small mistake in your job might mean a big blow to your client's reputation or even the end of their career.
This is why unless you have a strong portfolio, you won't be able to earn people's trust as a reliable consultant in your niche.
How to make a strong portfolio?
Basically, making a strong portfolio demands a lot of time and patience. Assuming that you have a lot of experience and the right skills in your niche to persuade people to work with you, building a strong portfolio has two main ways:
work with small brands and be the strongest factor in their growth

work with big brands for little money
Working with big brands is a big merit but persuading them to work with you demands strong relations and a lot of patience. If done right, these clients in your portfolio could easily persuade people to trust you. Imagine opening the website of a content strategist and seeing these prestigious icons: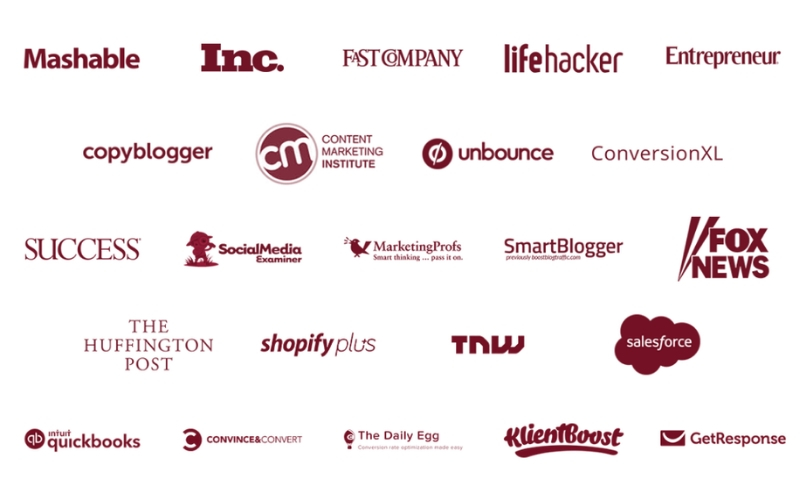 What are the odds of trusting this guy to revamp you whole content strategy? Very high right?
Although these are the website that Aaron has published guest posts on (i.e. he has written for them for free), they make up a strong portfolio for him.
Social proof is one of the greatest ways to persuade people to trust you. These are testimonials, case studies, reviews, etc. from other people telling about the results they got from your work and recommending you to other people.
A customer feedback software such as Osifeedback could be a great help for collecting and managing your customers' feedback.  
The psychological value of social proof is undeniable. People trust customer reviews 12 times more than the descriptions by the service provide. And in conversion optimization, social proof is an inevitable element.
To increase the credibility of your social proof, you can do the following:
Use pictures of the people who give testimonials or get featured as case studies: 

Study

shows that using a picture could increase people's acceptance of a claim.

Be more specific about the person giving the testimonial: 

Mention the person's name, company, role, and if possible a link to his website or twitter handle.

Feature someone your visitors know well and can relate to:

don't just use anyone. Testimonials and case studies work better from a famous guy.

Use Videos: 

It goes without saying that videos are more believable and engaging.

Avoid the general and be specific:

a good testimonial or case study highlights a benefit, explains how the benefit solves a problem, and is specific in the achieved results.

Link to off-site reviews:

people know that you're only featuring a handful of positive reviews on your website. If you link to the reviews on another website, chances are people will trust you more.
Another element that could increase people's trust to you when visiting your website is prototypicality. People can tell from miles away if the looks of your store or your website is professional or not.
A study shows that high prototypicality of a website (or how a website represents as the prototype of its category) makes it highly appealing for its visitors.
According to GoodFirms's web design research, "flat design, expressive typography, broken grid layouts, virtual reality video, voice user interface and search" are the latest trends that are getting more and more interesting for users.
Combine these website design trends with a powerful and reliable hosting (Bitcatcha is a handy host performance analysis tool you can use here) to increase your websites speed (learn how to speed up your WordPress site), and you've taken a big step in proving your trustworthiness.
The web design research also tells us that crowded web design, no call-to-action, and hidden navigation are the top three web design mistakes by businesses.
Keep these mistakes in mind and try to avoid them in your website's design.
3- Have authority in your niche
Authority is an important factor in the success of your consulting career. Because people are going to pay for your advice and base their strategy on your opinions, they're looking for someone with a high authority in their niche.
How to establish your authoritative voice?
Apart from having an impressive track record, which is the most important factor in persuading people to trust you as a consultant, producing content around the most controversial issues in your niche and providing solutions for them could establish you as an authority.  
In fact mentioning your professional past experiences in your content does magic in terms of gaining trust.
Use any media outlet (e.g. social media, email, your own website, major publications, books) to express your opinions about real issues in your industry.
You might not get immediate results from publishing but with enough persistence, you'll be able to establish yourself as an expert.
It's also a good idea to use to use paid advertising to promote your content. Twitter advertising, for example, is one of the most undervalued ways to get more exposure.
Check out App Institute's step-by-step Twitter advertising guide to learn learn how to create Twitter ad campaigns that would actually work for you. But you need to remember as Tony Restell explains social media is a marathon rather than a sprint — it might take some time before you see real results from your efforts.
Here's how Neil Patel could grow an authoritative voice by guest posting on major marketing publications such as Forbes, Inc. HuffPost, Entrepreneur, etc.
[youtube https://www.youtube.com/watch?v=KYMEmtI8U5Q]
Jacob McMillen, a content strategist and consultant, could rank second for the keyword "professional copywriter", a sought-after keyword among content strategist. The keyword drives a good targeted traffic to his website and he gets more and more clients without even trying.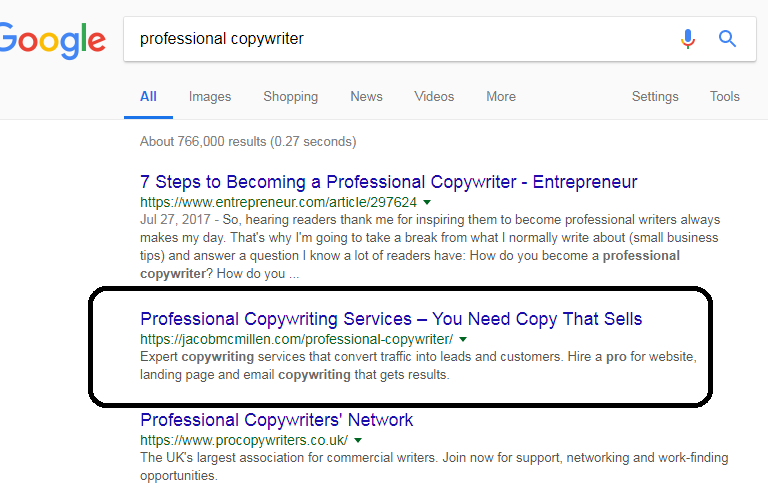 It's undeniable that ranking for some competitive keywords is hard work considering the number of websites targeting the exact same keywords as you. To deal with this you could either think of hiring an SEO professional or a top SEO agency or, if you want to take your time and do it yourself, use an SEO toolkit such as WebCEO's SEO analysis tools.
Whatever the case, having your own website and publishing your insights on it is a must-have strategy for establishing your authority in your niche.
Experts also recommend email marketing as one of the most effective ways to prove your authority to your audience.
Ben Settle is a well-known email marketing professionals who makes a living only by sending multiple emails per day and selling his own products (his printed newsletter, books, courses, etc.). He uses a technique that he calls "infotainment", merging information with entertainment.
Start with a reliable email marketing software, build your list gradually, and create newsletters that will "infotain" your audience about how you can elevate them from them current hell to their desired heaven.
Finally:
Consultants are people with a lot of successful past experience who have established an authoritative voice and who can make the best strategic decisions by going deeper than the surface and connecting the dots. If you're willing to make a substantial income being a consulting in your niche you can't ignore these factors.