25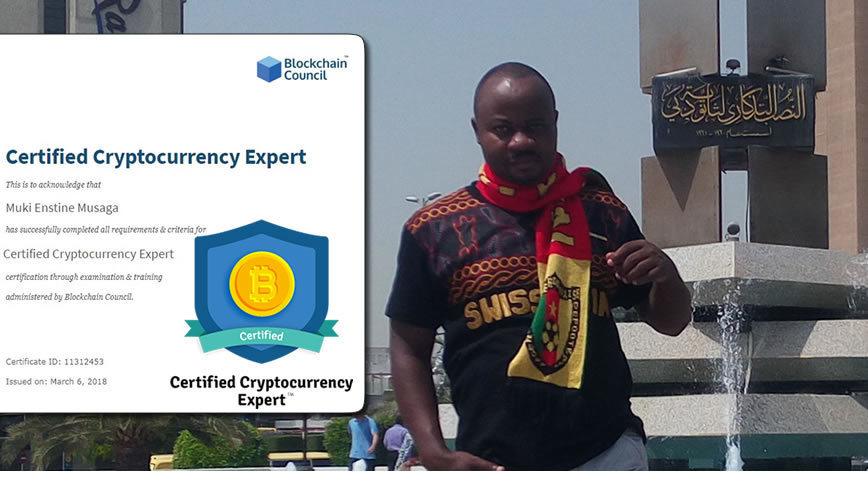 Cryptocurrency Certification ~ How I got Certified as Crypto Expert!
Cryptocurrency certification, blockchain certification, Ethereum developer, Bitcoin certified expert: Hot certifications now.
I got into Cryptocurrency in the month of July 2016 and it's been quite exciting learning and making profit with Bitcoin and Altcoins. There is been a drop in my blogging activity as I spend more time researching, trading, organizing presentations and sometimes traveling.
Recently, I decided to take a step forward by going in for Blockchain Council's cryptocurrency certification training and exam. The industry is young, volatile, growing and facing a lot of challenges from institutions and legislation. But it's going to where – trust me.
NB: Download my free report on Initial Coin Offerings (ICO). See how it's making huge earnings today.
Blockchain certification in general is hot cake at the moment. I started with cryptocurrency but a couple others will follow (Solidity Developer, Ethereum Expert, Smart Contract Developer, Blockchain Developer, etc) . At the moment, it feels good to be a Certified Cryptocurrency Expert by Blockchain council.
Visit Blockchain Council!
Cryptocurrency Certification by Blockchain Council
Being in the industry for over a year, it was not quite a big deal going through the certification. That shouldn't suggest it was with the click of the mouse though.
It was quite exciting going through the excellent video Certified Cryptocurrency Expert course put up by the guys at Blockchain Council.
The most thrilling moment was when I had to sit for the exams. The questions were touch, technical and required thorough and in-depth understanding of the industry. It's not easy to be an expert BTW.
Both the Training & Exam are aimed to provide a proof-of-knowledge of the certificate holder in Blockchain and Cryptocurrency space. The course is made up of 25 videos and 1 exam.
Here is the course curriculum:
What is Blockchain?

Private and Public Blockchain

What is Cryptocurrency?
Anatomy of Cryptocurrency
Why would you use a Cryptocurrency?
How Cryptocurrency works?
What are some famous Cryptocurrencies?
What defines the price of Cryptocurrency?
Pros and Cons of Cryptocurrency
What is Blockchain Mining?
What are miners and what do they do?
How to mine Cryptocurrencies?
What is an ICO?
How ICO works?
Why ICOs are gaining so much traction
Introduction to Trading
What Cryptocurrencies you should buy?
What are Exchanges
Secure wallets and why are they used?
What are ERC20 token and wallet?
How to trade Cryptocurrencies Part – 1
How to trade Cryptocurrencies Part – 2
How to trade Cryptocurrencies Part – 3
Risks and rewards
Current trends and analysis
Who is this cryptocurrency certification course for?
Investment Banker, Consultant & Advisers
University Professors
Engineering & Management Students
Programmers & Developers
Software Engineers & Architects
Application Architects
Cryptocurrency Enthusiasts
CEO, CTO, CIO, CISO or any other CXO
Operation Heads in Businesses
Senior Government Officials
Security Professionals, Administrators
Venture Capitalists, Angel & Seed Investors.
The Training of 3 – 4 hours can be taken as per candidate's availability & speed. The exam duration is 1 hour and candidates should have 60+ marks to have a pass.
Candidates are allowed to take the exam at a maximum of 3 times. If you fail after your first round, you are allowed 2 more chances. If you still don't make it after the 3rd time, you will have to request for more help from the organizers. It took me just 1 round to score quire high, above the minimum.
More about courses here
Does Cryptocurrency Certification have a place?
In today's world of growing digital adoption, businesses are switching to blockchain environments. Blockchain companies have need to associate cryptocurrencies and utility tokens to their business portfolios.
This therefore ushers in high demand for blockchain and cryptocurrency experts. Certification is the way to sealing consultation and developement deals. It empowers holders with knowledge to make new utility tokens and Cryptocurrencies and help their client develop profitable blockchain businesses.
Understanding Blockchain in Simple Terms
The blockchain industry is highly technologically jagonised. This deters many new comers who always think it's not for them. But the truth is, it ends up being amazing with just a little effort and determination.
Note that Blockchain is a technology and Cryptocurrency is a service on the Blockchain infrastructure. Think of it like Blockchain = Microsoft Windows OS and Cryptocurrency = Adobe Acrobat Reader. While Blockchain was initially designed to powered Cryptocurrencies, the use-cases today are ever expanding. It's like the operating system that runs diverse applications or software.
One of the top Certifications that get highly sort after is the Blockchain Certified Expert. While my Cryptocurrency certification is as hot, I will be taking the blockchain cert soon.
Thanks for reading and let me hear your thoughts.