Crowdsourcing is simply the process of getting the best content, service or idea by soliciting contributions from a crowd of people, usually on the Internet. There are quite a huge number of platforms on the Internet where you can meet experts in different fields willing to contribute their ideas so you can pick out that which is your best fit.
One of such platforms or platforms is CrowdSite.  Few weeks back, while searching the net for qualified designer to work with on one of my projects, I came across this platform.  I thought it's a good thing to tell you more about it so if you need a professional logo, flyer, website, or T-shirt design, you should know where to go.
I have a couple of reasons this platform is my choice. I'll share with you below so keep reading.
Crowdsourcing on CrowdSite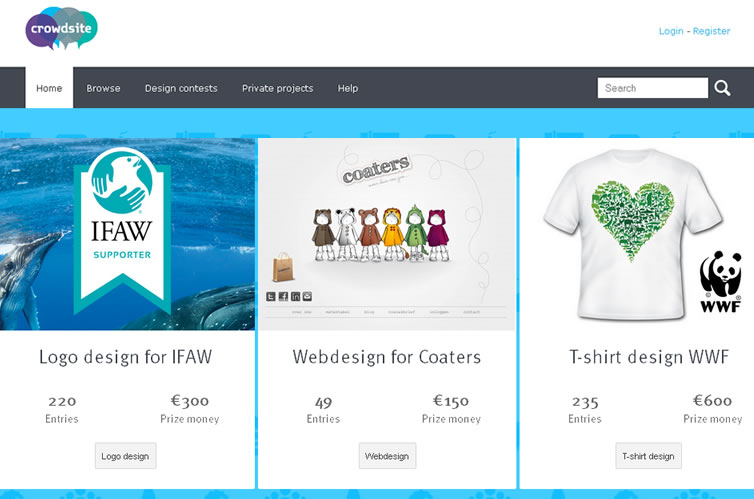 The growth in technology and Internet has brought a lot of facilities and people closer. Today, crowdsourcing platforms are almost everywhere but finding the best with filtered and professional crowdworkers is no day's job.
With about 50,000 professionals  and 1,047,291 designs, CrowdSite has a profile that speaks for itself. At the moment of writing this post, there are a couple of things you can get done on Crowdsite;
Logo design
Web design
T-shirt design
Name finding
Flyer design
Translation
How does it work on CrowdSite?

Crowdsourcing on this platform is quite simple.  First, you have to  launch a design contest.  Provide details and the required information.
Designers will enter and compete. They will create different designs with each trying to be the best. You will then receive professional and custom designs that suits your company. After 7 days, you will be expected to choose the winner and get your work delivered to you.
Launch a poll to help in your selection
Sometimes it becomes difficult for you alone to come to a final choice. CrowdSite has provided the Poll feature to help you launch a poll and get assistance from friends and colleagues. With this feature, you can select up to 10 designs and you'll get a unique link where your friends can cast a private vote.
On Crowdsite, you can run 3 different types of contests. This makes the crowdsourcing exercise interesting on this platform. Here are the different contest types:
1 – Guaranteed Contest: In this contest type, the designers that contest get paid even if you don't choose any. This will encourage participation from designers and ensure higher quality in every design that enters the contest
2 – Closed Contest: In this contest type, your contest and designs are only visible to registered members. Search engines and non members won't be able to access your details.
3 -One-on-One Contest: This contest type will keep your designers and their works private. No designer will be able to view the works of other designers.  This protects the designers individuality and helps give you more original designs. You will be able to have a private conversation with each designer.
3 reasons to Crowdsource on CrowdSite
There are quite a good number of crowdsourcing platforms out there right? But I think CrowdSite is worth trying for these reasons;
1 – Attractive Commissions: They charge 30% of the price money. That makes them about 15% cheaper than most competitors that charge up to 45%.
2 – Escrow service: Escrow is a service that protects buyers online. This helps CrowdSite to keep your money safe while your job is being worked on. Your money will only be released to crowdworker after confirmation from you that the job is satisfactory.
3 -The best crowdworkers: This is where you get high quality crowdworker all over the world. While quality is the watchword, CrowdSite also prides in having over 50k crowdworkers. You understand why they are this popular.
So you know know where to go to get the best done for you. Check out CrowdSite and let me know what you thin in the comment box below.