Writing your business proposals in Word is how it's always been done and has worked for many years. However, times are changing quickly. In many cases, it's not enough only to have a well-developed business proposal. Instead, it also has to be visually appealing. This is why business proposal creating software has become so popular in recent years; it makes your proposals look better and lightens your workload as well. 
Many of those software solutions also have plenty of other features that you could find useful, such as analytics, e-signatures, payment management, and so on. So, maybe this is the right time to leave the past behind and move on from manual proposal creation. 
In this article, we will be presenting you with a few software solutions for creating business proposals that we consider to be the best. Let's check them out!
1. Fresh Proposals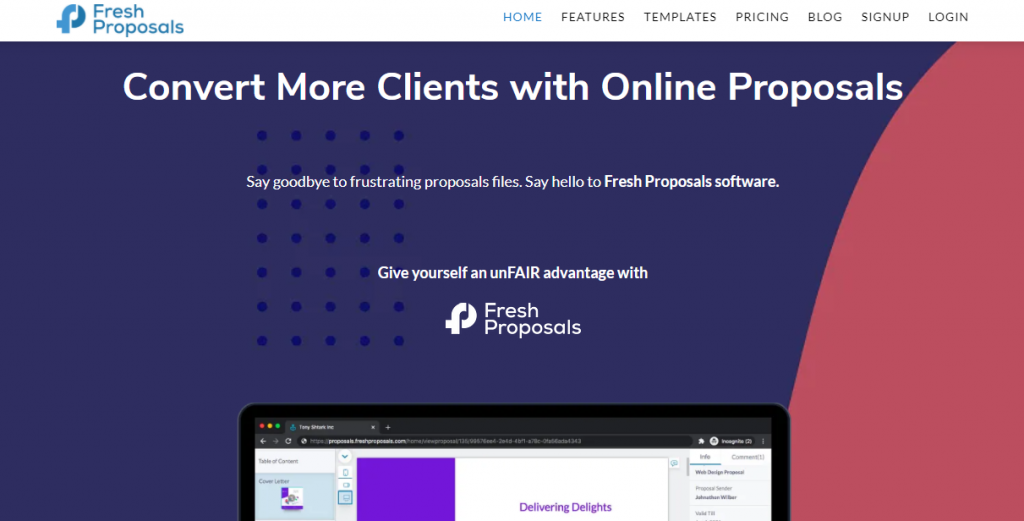 Fresh Proposals offer many great proposal templates, even templates for project proposals, that you can customize to your heart's desire. The template editor is a drag-and-drop one, which makes catering things to your own liking even easier; you can add text blocks, virtual signatures, and even videos.
Another thing that's completely up to you is what a customer can add or remove from the price list. You can use existing email templates or make your own. There's also an option to send emails to nudge your clients in the right direction or send thank you emails once a client has accepted your proposal. The choice is yours.
The best part about the entire thing is that clients can interact with your offers instead of just sending them back to be fixed. You can also see when a client opens an offer, how many times they've seen it as well as digitally sign and comment on the proposal. 
FEES: AppSumo is currently offering a special deal on Fresh Proposals. There are three different versions up for grabs, and the only thing that differs is the number of users and proposals; all features are included in every version. The Single version costs $49, the Double $98, and the Multiple $147. All prices are referring to one-time purchases. 
2. Proposify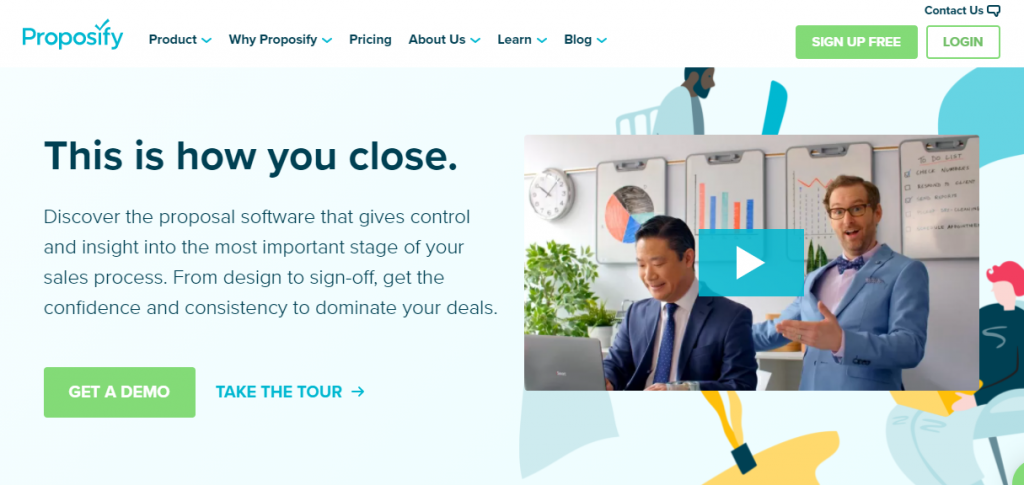 Given the many features this software offers, it's no wonder Proposify has become very popular in recent times. Their content library is full of useful options that are sure to make your job a lot easier, like; being able to mass update all templates and save yourself time by not doing it manually, organizing all information that you need for your proposals into files and folders to make it more manageable and being able to customize a great deal of what you put on the template itself.
There are also restricting options for admins to make sure only the right people can edit proposals, and a proposal never goes out to a client without a green light from the right person.
Proposify also has a great analytics tab where you can monitor how well your past and present proposals are doing and maximize your productivity even more. Plus, there's a mobile version available, so you'll never miss an update.  
FEES: There are two different versions you can get if you opt for Proposify. The first is the so-called Tall version aimed at individuals for $19/mo. Then there's the Grande version for $49/mo aimed at sales teams. If, however, what you need is an enterprise deal, you'll have to talk with the team behind Proposify for more info. 
3. PandaDoc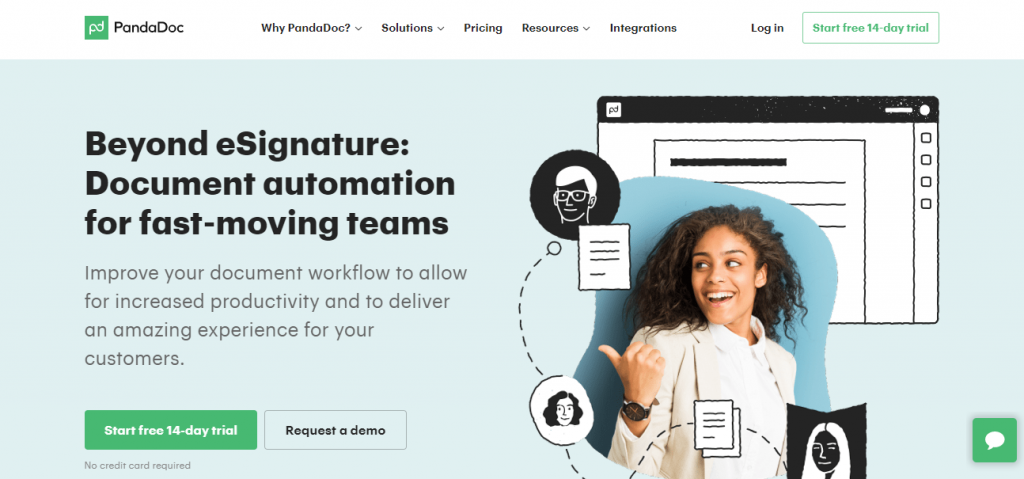 This software solution is more for companies and larger enterprises, which has its ups and downs. There's plenty of useful features, but these kinds of tools normally come with a price tag to match.
PandaDoc has hundreds of templates for you to choose from, as well as a built-in editor to make the templates truly your own. It integrates well with tools you already use like HubSpot, Zapier, Salesforce, and many others.
With it, you can create contracts and add e-signatures to keep the process fast and efficient. After that's all done, PandaDoc also gives you the option to collect payments and have everything settled in as little as two days. 
FEES: There's a free version that you can use to collect e-signatures for your payments. But to use this tool for its main purpose of creating proposals there's the Essentials version costing $19/mo per user and the Business version, which costs $49/mo per user. Larger plans are once again negotiable. 
4. Qwilr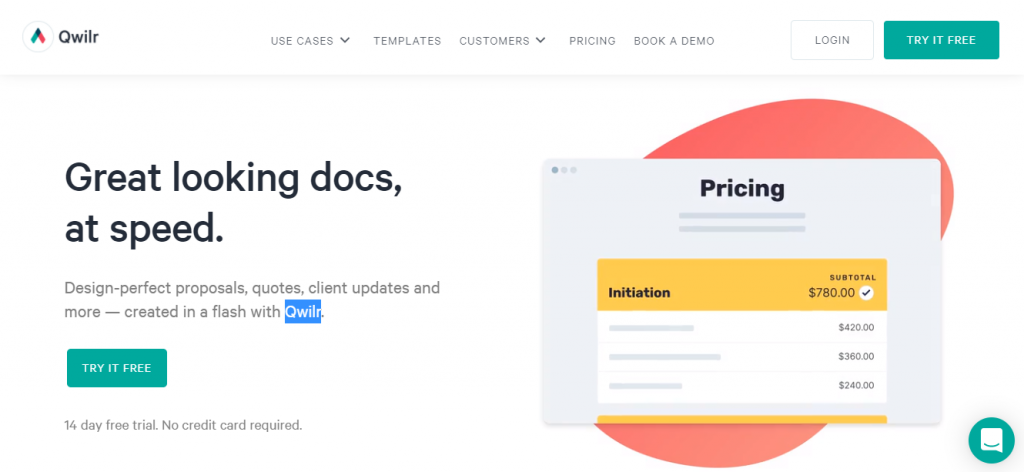 Qwilr's design is probably one of the best out there. It's modern, elegant, and minimalistic. It really catches the eye, and their templates are no different. There are over 50 of them you can choose from, and their design is surely going to make your proposal stand out among the competition.
The software is also equipped with interactive quoting, which means that you can eliminate the tedious process of going back and forth and have clients choose the price package that's right for their business by themselves.
The analytics feature is also designed in a handy way that helps you keep an eye on everything.
Qwilr only integrates with nine apps, but those nine are enough. The mobile support is also quite great, so you can always be on top of things no matter where you are. 
FEES: There are two versions you can choose from if you decide to get Qwilr. The first one is the Business version that comes around to $75/mo for up to 3 users. If, however, you own a larger business, you'll probably be looking at the Enterprise version that comes around to $490 for up to 10 users. But you can get a discount for the Business version if you choose to be billed annually. 
5. Indy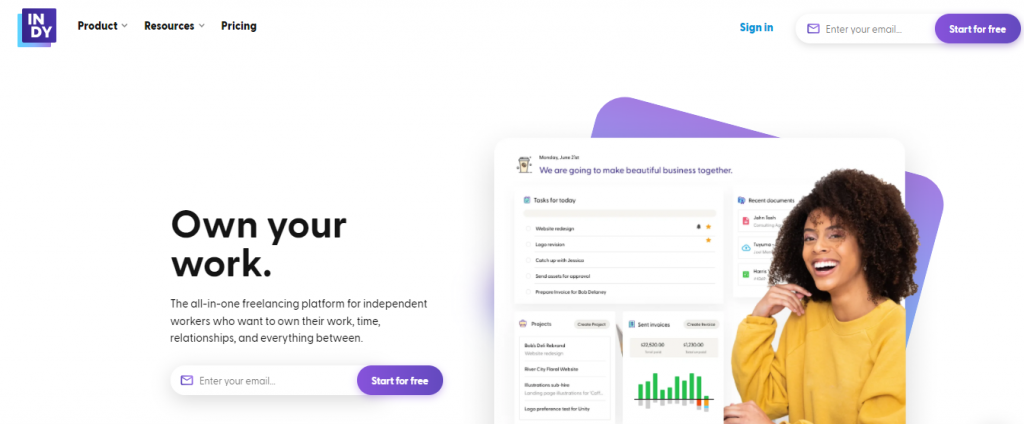 Creating professional proposals as an independent contractor, or freelancer, is easier with Indy. Indy's simple, drag and drop interface allows you to create smart proposals in minutes. You can also add your own logo, information, and branding.
Indy's strength lies in its integrated approach to your admin workflow. So, you can use one platform to create a lead capture form, store the lead's info, use that info automatically in your proposal, and transform your proposal into a contract once the client accepts your proposal.
Once you open a proposal, you can add preformatted blocks of content, such as text blocks, a timeline section, an estimate calculator, and a signature section. Each block can be easily customized to suit your needs.
Indy is an effective platform for freelancers to manage their admin all in a single app. It also works with its own app, so you can have your proposals with you wherever you go.
FEES: Indy has a Free plan. With Indy's Free plan, you can use our basic tools as much as you want each month, free forever. However, the Pro Bundle costs just $9 per month. So, for less than two cups of coffee, you can save yourself loads of time every month with Indy's Proposals tool.

Final Thoughts
Making your business proposals functional and appealing is rather important, and all of the tools listed above are created to help you with exactly that. We believe that at least one of them could be the right match for you.
If, however, you are still unsure which tool to get, allow us to recommend Fresh Proposals. It's currently on sale, there's plenty of features that suit both smaller freelancers and bigger companies, and it's a lifetime deal, so you won't have to bother with subscription fees, not now, not ever. 
We hope you've found this article helpful and that your perfect software for creating business proposals is just around the corner.