47
5 Types Of Blog Home Page templates ~ Which is yours?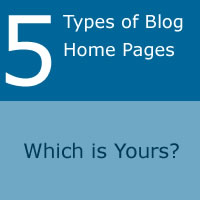 There are different types of blog home page templates available today. So I'm happy in this post, we are going to look at five of these and how to get them activated on WordPress blogs.
Trust me, this is going to give your blog a new phase and add quite some bit of more value to your business.​
Looking at my stats in the past couple of months, my home page has been one of the most active pages on my blog. I'm sure yours too has been pretty busy. As a matter of fact, this page is the second most viewed page on my blog.
More...
It therefore makes a lot of sense to pay attention to it and give it some elements that will convert its traffic.
But here is something!
According to the list of landing pages within google Analytics, my home page comes at the 35th position. That means most traffic from search engines doesn't drive to my home page.​ I can perfectly understand this.
As per JetPack, for almost the same time frame, the stats are completely different. My home page is second on list!
What you must understand is that Google Analytics Landing Pages show a list of pages receiving traffic from Google while the JetPack stats is all about page views generated by traffic from both external and internal sources.
Most of the referral, email and SEO traffic I get to my blog posts end up clicking to the home page. The question is, what are they looking for?
Well!​
One thing I have also noticed recently is a significant drop in overall bounce rate. Though I can't say with accuracy where most of my incoming traffic clicks to, what I'm sure about is that about half of them click to my home page.​
From these stats, if we do some maths on traffic from search engines, about 117 out of 8,677 bounced off. That means about 8,560 clicked to different more articles on this blog.
Get my free report how this can affect your income. Click here to download
Now this is something impressive isn't it? It shows must of my readers actually stick around for more of my content. BTW, that's not the focus of this post 😉
The WordPress traditional home page template
What you will see on most blog home pages is a listing of most recent posts. Some have them listed horizontally and others vertically. On some blogs, above the fold is a lead capture form.
While some bloggers think this is the best presentation, it doesn't really allow you the opportunity to expose more of the stuff you are made of to your visitors.
I believe if readers these days are clicking from inner pages to your home page, they expect to see something they haven't found on your category listing page, sidebar and single post details page.
So let's see how your home page can be made more useful to your business by looking at the 4 different templates shipped with Thrive Content Builder​
5 different types of blog home page templates and how to easily create them
There are 5 different types of home page templates I have been able to identify. Now, in the video below, Shane from Thrive Themes explained the 4 of these and how you can easily activate them without hiring expensive designers:
Here is a quick look at the blog home page templates discussed in the video:
The Offer Focused Home Page​
The Author Focused Home Page (focused on personal branding)
The Content Focused Home Page
The Hybrid Home Page, a combination of a bit of everything
Of course, the fifth blog home page template not discussed in the video is the traditional post listings as we all know.
​There are different plugins out there that allow you to create different templates for your home page. But I'm wondering if any of them is as flexible and Thrive Content Builder.
Besides, with Thrive Content Builder, you will drastically reduce the number of plugins on your blog, which of course has a huge positive impact.​
If you have the plugin already, you can go ahead and activate any of the home page templates supplied with it. The beauty is its flexibility. You absolutely don't need the paid services of any designer.
If you still don't have Thrive Content Builder, I recommend giving it a deeper thoughts. If you want stunning blog posts and something that will help you kill many plugins, you definitely should check this out.​
GIVE YOUR BLOG POSTS A STUNNING LOOK!
Create contents that keep readers longer on your blog..
NB: Want to know why I bought Thrive Content Builder? Check out this post
Over to you!
What do you think of your own home page? What do you think of these options by Thrive Content Builder?
Please drop a comment and let's have a chat ;)​